As in '58, this Savage rifle brings features hunters want at a price they'll pay. That's how new becomes ordinary.
by Wayne van Zwoll
The prairie holds many more deer than you see. Still, I'd combed it for three days and found only does and young bucks. Autumn had been dry, harvesting conditions good, so much of the corn was off the fields, denying resident whitetails those islands of cover. Where were the old bucks?
Yes, hunting pressure had ramped up over the last eight years; perhaps the deer that once blessed our camp with thick, long-tined antlers were no more….
Nah. Don't despair. Optimism keeps you afield. My better angels were probably tired of chanting such hollow cheer.
One day left. Dawn was a pink promise over heavily frosted grass. Skeins of fog laced the creek bottom, curling over low bluffs ahead. I blew on stiff fingers, pressed binocular to brow for one last look. Another step and I'd leave the cover of a shelterbelt.
The 8×42 Sightron drew detail from the plain, but no deer. Sun-shot fog now engulfed it in white glare. The burden of hunting toward the dawn—imposed here by property lines—was today a heavy one.
Keep Looking
He appeared as a gray blip on the horizon. Had he not been many furlongs distant, he'd have seen me, spot-lit now by sunrise. He paused at what appeared to be the only tree between me and Minnesota. I bellied down, .308 in my elbows, and crocodiled forward as if ducking wire on a battlefield.
I can't remember when a Savage rifle didn't end a hunt by dropping deer, elk, or caribou. I'd used Model 99s and an 1899 from the Arctic to the Great Plains and at 10,000 feet in the Rockies. But after the 99 fell from Savage's line 20 years ago, the Model 110 got belated press. Named after its debut price of $109.75 in 1958, it was then a "completely new bolt action rifle developed and manufactured entirely in America. Brilliant simplicity of design and precision engineering have produced a rifle that combines beautiful lines and perfect balance with rugged strength, velvet-smooth action and exceptional accuracy." So Shooter's Bible puffed it in '59.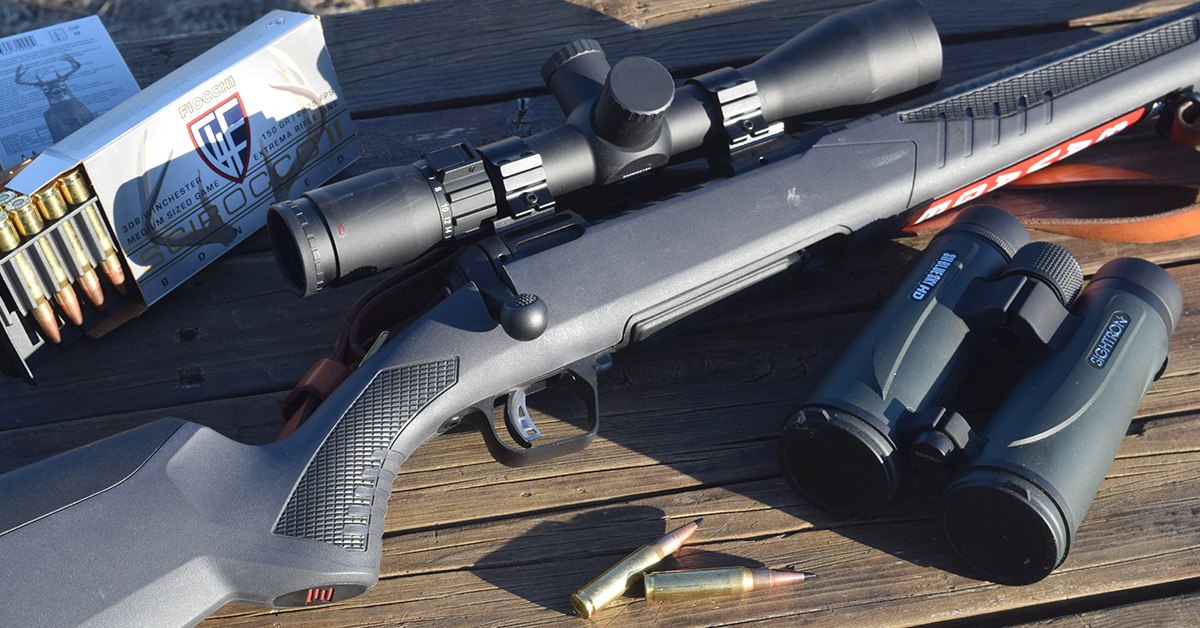 Six decades later, Savage's 110 comes in 24 versions and every chambering worth a glance. Last fall, I snared an Ultralite—at 5 ¾ pounds, a most appropriate choice as I bellied toward that buck.
The first 110 came only in .270 and .30-06. It weighed a half pound less than the Remington 721 in those chamberings and over a pound less than Winchester's more costly Model 70. Given the walnut stocks, steel bottom metal, and sights on all those rifles, the 110's sub-7-pound heft was notable.
The Savage action got sunny reviews. A recessed bolt face with twin lugs was fully enclosed at lock-up. The receiver had twin gas ports. A tang safety, unique on bolt rifles then, delighted lefties. Even the first 110 had an adjustable trigger. The internal, staggered-stack magazine held four rounds. It fed a 22-inch chrome-moly barrel that floated in its channel—a novel idea at the time. An elevator-adjusted rear sight paired with a gold bead on a removable ramp. Early 110 stocks were of checkered walnut, with grip cap and aluminum butt-plate.
In Africa, I once hosted a lass using a 110 with a low serial number. I cheeked it. The sight came instantly on target; the bolt ran as if buttered; the trigger broke cleanly at a nudge. Though thousands of such rifles came off the line before bean-counters got their ink-stained fingers on the 110, I've seen few. They must earn their keep.
By the end of its first decade, when I was chasing deer with a $30 iron-sighted SMLE, you could still get a 110E for under $110. But the stock was of hardwood, with pressed grip panels. Other versions—left-hand, magnum, and rifles with detachable boxes—wore walnut, from $127.50.
Myriad sub-models have since appeared, with short and long actions, chrome-moly and stainless steel, and walnut laminated and synthetic stocks (hand-laid and injection-molded). Savage introduced its jar-proof, adjustable AccuTrigger in 2003. It sparked an industry trend to "light but safe" two-piece triggers. The tang safety got a third detent for trigger-blocked cycling. Simplified labeling of the growing ranks of sub-models brought two-digit numbers for short actions, three-digit for long.
An improvement in molded rifle-stocks came in 2009, when Savage found an economical way to install an aluminum spine during the molding process. This bedding block extends through the magazine web, so it accepts the rear guard screw. A third screw forward of the front guard screw engages a wedge to press the washer-style recoil lug against its abutment in the block. Flanking the magazine well, the sides of the block spring .010 inch as the receiver bottoms out, applying constant, stabilizing pressure.
In 2016, Savage introduced another stock improvement. I tried it afield on an elk hunt. After a bull in a distant burn caught my eye, I crossed an intervening canyon and climbed a rocky steep. The burn was thicker than it had looked. Then an antler winked in the shadows. Scrambling to find daylight ahead of the elk, I braced the rifle offhand on a charred bole. The .30-06 bullet reached the opening just as he did. Next minute, he was hurtling down-slope, legs flailing, to lodge, dead, against a calico larch.
A refined version of that rifle's stock appeared two years later in Savage's AccuFit series, which comprised 10 Model 110s. Five combs of different heights interchanged in a trice when released from chevron-shaped butt spacers. Each of those (in three thicknesses) mated seamlessly with the rim of the next. The spacers also maintained the stock's toe-line instead of changing it abruptly, as did most spacers. Perfect fit in minutes, without unsightly cut-outs, dials, or latches!
The Savage Ultralite I carried last fall had a gray AccuFit stock. Introduced in 2020, this rifle is now joined by the Ultralite Camo in Kuiu Verde 2.0. Common to both: a Melanite skeletonized receiver with spiral-fluted bolt and a carbon fiber barrel by Proof Research, threaded 5/8-24 for a brake or suppressor.
I'm fond of Proof Research barrels—very lightweight but accurate. A 6mm Creedmoor blessed me with a .3-inch five-shot group. On the Savage Ultralite, Proof barrels come in 6.5 Creedmoor, 6.5 PRC, .270, .280 Ackley, .28 Nosler, .308, .30-06, and .300 WSM. The Ultralite Camo chambers five of those, excluding the .270, .280 Ackley, and .300 WSM. Barrels are 22 inches long for most, 24 inches for the 6.5 PRC, .28 Nosler, and .300 WSM. Prices: $1,545 for rifles with the gray stock; $1,589 for the camo.
A 3-16×42 Sightron Zero Stop scope made my Ultralite field-ready. Its five-times power range makes this optic one of the most versatile hunting sights around.
Elbowing through the frost, thankful my rifle was so light, I couldn't rest. The buck was moving. When he turned toward a slot in the bluffs, I tugged the sling taut, wiped the breath-fogged scope and….
The sun was boring right into the lenses, the deer a faint smudge in a lemon blast of light. Oh no!
Then he stopped. I swiped the ocular again and steadied the crosswire. The muzzle was well into the grass. But lifting it would surely alert the buck, just 160 yards off. I pressed the trigger.
Thwuck! The deer staggered. Cycling the bolt quickly, I held the same, sent two more 150-grain Sciroccos. Both landed well. The animal collapsed.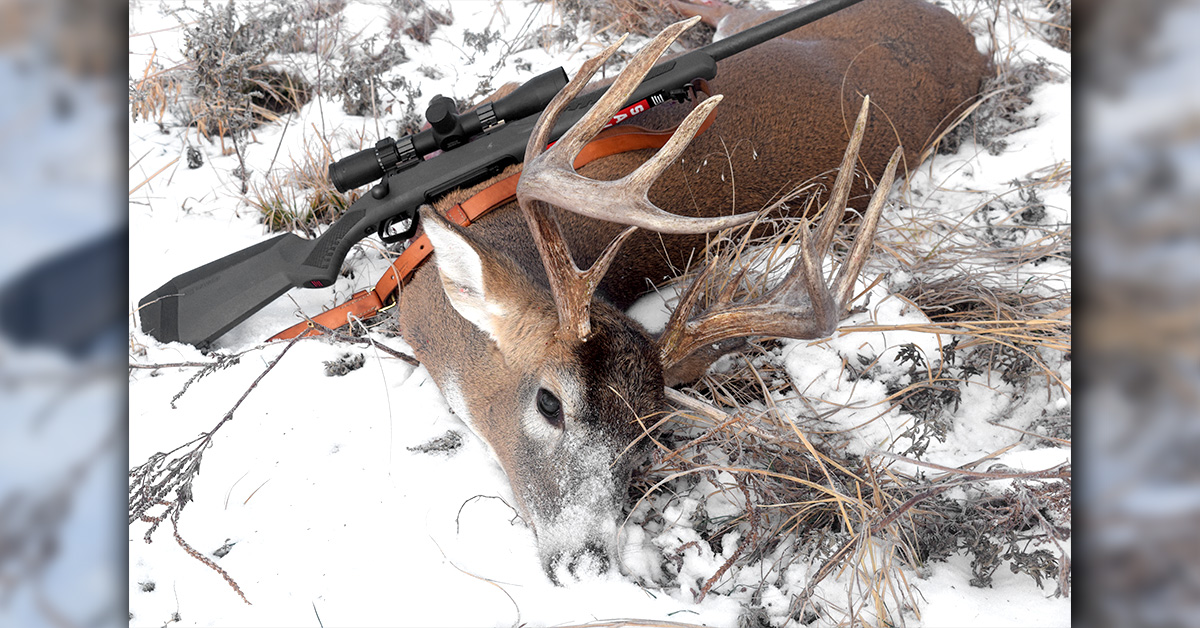 Age comes to deer that live in places you may have to comb repeatedly to glimpse your prize. A nimble rifle makes hunting fun even when the bucks hide well and keeps you fresh longer. Savage's 110 lightened the hunter's load in '58; its 110 Ultralite now joins the vanguard of sub-6-pound rifles topping sales charts—rifles so popular, they're bound to become ordinary.
Ordinary Cartridge, Frisky New Load 
The .308 Winchester dates to 1952 and has become the world's most widely chambered hunting round. Myriad loads would have served Savage's Ultralite. I used a new one, from Fiocchi.
Established in 1876, this Italian ammunition maker now has plants stateside in Missouri and Arkansas. Centerfire rifle ammo in Hyperformance and Field Dynamics sub-categories include a dozen popular big game cartridges and dozens of loads, from a 70-grain .243 to a 300-grain .45-70. One of five .308 offerings is a 150-grain Swift Scirocco at 2,875 fps, with 2,753 ft-lbs of muzzle energy. A ballistic coefficient of .430 ensures flat arcs and hard hits at distance. This Fiocchi load carries 1,700 ft-lbs to 300 yards! The Scirocco bullet was designed to mushroom at speeds as low as 1,440 fps but maintain integrity after 3,000-fps impact. At its debut years ago, I fired several from a .30 magnum into 5-inch wet spruce trees. They drove through with fist-shaped upset.