RRA's polymer-frame 1911 changed the mind of this "1911 originalist"  
by Rob Reaser
Forward-thinking manufacturers are usually looking for new ways to skin the proverbial cat. Some long-lived products take well to new variations on a theme. Some…not so much.
When GLOCK shook the firearm world with its all-polymer-framed pistol platform decades ago, the naysayers were abundant and vocal. Today, no one with an objective mind and real experience disparages polymer-frame pistols as "plastic guns" or relegates them to second-tier status in comparison to metal-frame pistols.
Nevertheless, when innovative gun makers shifted the polymer experiment to that American icon, John Moses Browning's evergreen 1911, the dust flew.
Sacrilege. Heresy. Abomination.
And those were the nicer descriptors 1911 acolytes applied to the new polymer-frame semi-autos patterned after Browning's hallowed creation.
I must admit a bit of that same bias when it comes to the 1911. Having been all-in on polymer-frame pistols for nearly a quarter century, I still considered the classic 1911 to be a special place — a niche where appreciation for precision metalwork, engineering excellence, and proven performance silenced all contemporary noise any time I wrapped my hand around that familiar slab-side grip.
"You can't go there," I always thought in reference to polymer 1911s. And so, I never did, thinking instead much like those who dinged the GLOCKs when they first entered the scene. The very concept of a polymer 1911 screamed to me, "Cheap knock-off!"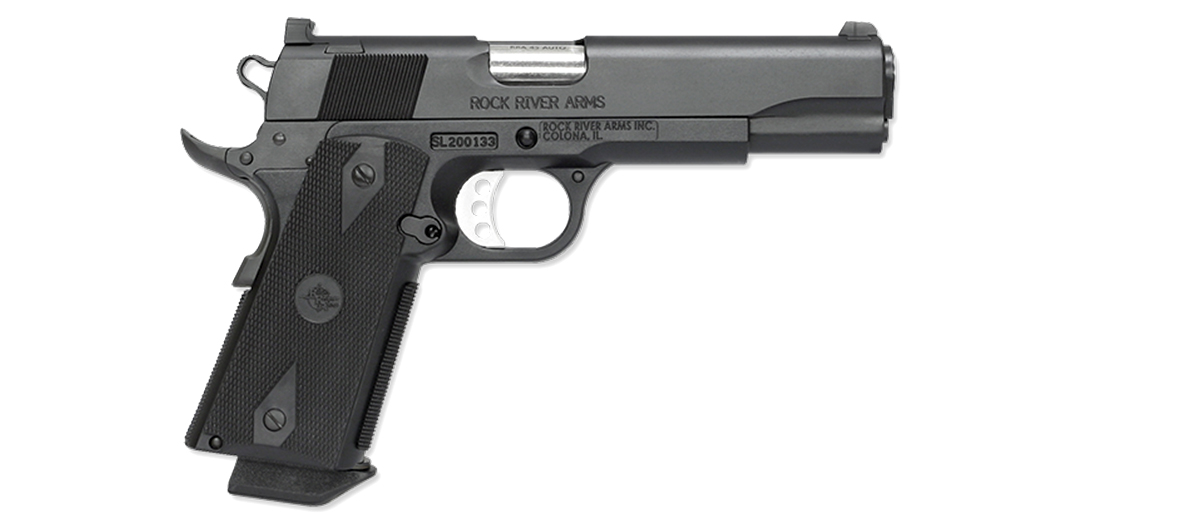 I can say with no humiliation that I was wrong — at least when talking about the Poly 1911 from Rock River Arms. Component fitment is exquisitely precise. Operation flawless. Controls are easier to manipulate than most contemporary high-end steel 1911s I've shot. Accuracy is right there. And talk about smooth shooting…I could provide a long list of clichés that hit the mark.
All this gushing isn't because the Poly 1911 is so much better than any of the premium steel-frame models on the market today, including those made by Rock River Arms. I say this because this gun feels and shoots within the orbit with those top-end guns. And in truth, that is to be expected.
What many Rock River Arms fans — those who run the company's notable AR-platform rifles — don't know is that RRA started as a manufacturer of precision, competition-grade 1911s. They are still a leader in this space, producing classic and contemporary models for everyday carry and duty up to National Match competition pistols. Naturally, when the company decided to cast its hand with a polymer-framed 1911, it had to hit a quality and performance mark set to RRA's demanding standards.
And the Poly 1911 surely does.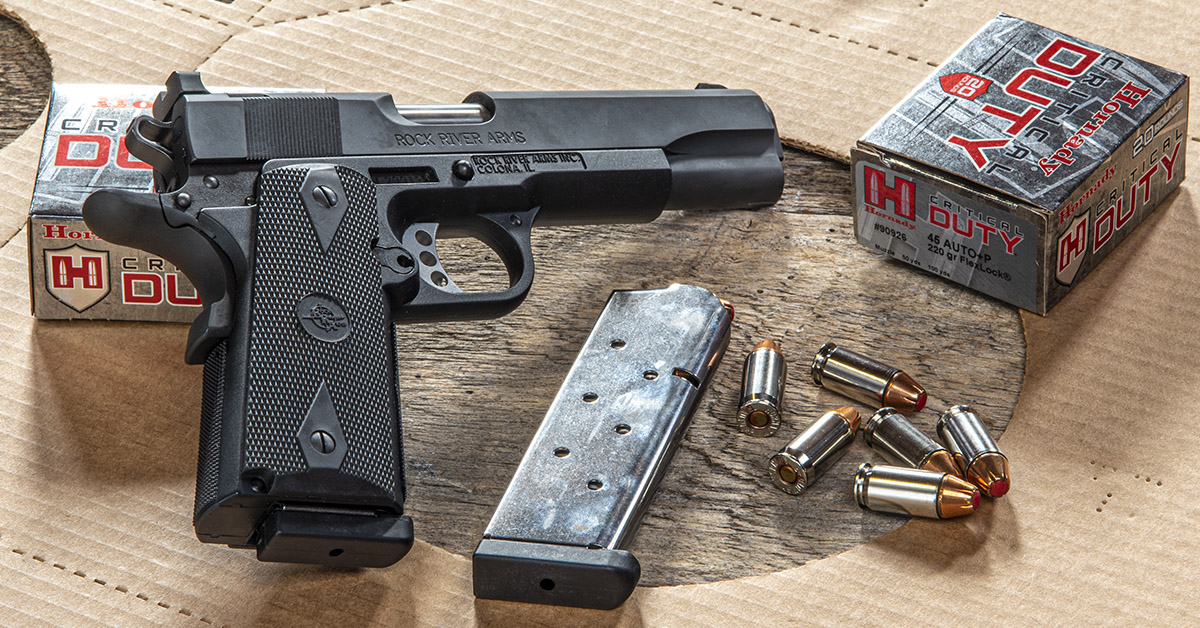 At first-glance, the Poly 1911 looks somewhat average. The Parkerized slide, black polymer frame and mainspring housing, and the staid-looking grips do not call out for attention. The racy aluminum trigger, skeletonized hammer, and pronounced beavertail grip safety, though, do hint that something different is afoot.
As you can see, the Poly 1911 is familiar territory for anyone who knows their way around the breed. The notable difference here is found inside the receiver. A steel insert is pinned to the polymer frame, on which the slide rides. While you might think this two-part receiver assembly would make for a handgun with a touch of wiggle between it and the slide, that is not the case. As with any well-made 1911, the slide and steel insert tolerances are tight and precise — something I didn't expect, but probably should have.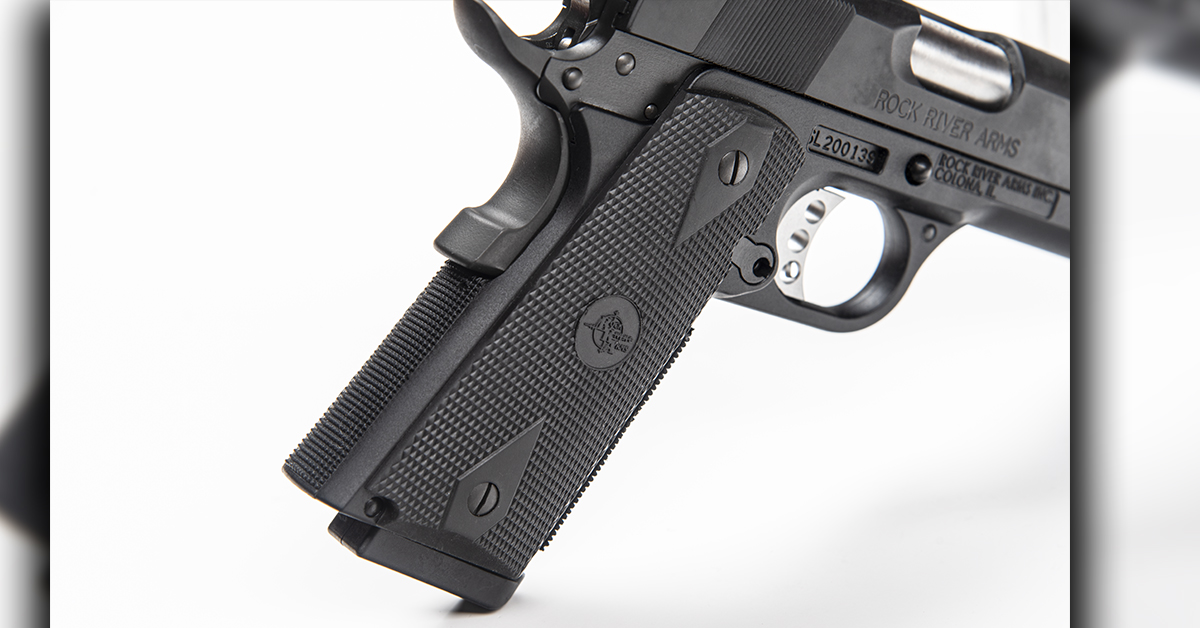 The one thing that immediately stands out as soon as the Poly 1911 hits your hand is the grip. These slabs aren't made of plastic, wood, or G10 but a tough rubber overmold. While the Poly 1911 uses a single-stack magazine, the grip is robust and wider than the typical single-stack 1911s. I measured it at 1.414 inches wide at the bottom compared to 1.327 on my MILSPEC 1911. It's also a tad longer front to back. Combined with significantly wider grip panels, those dimensions make for a full grip.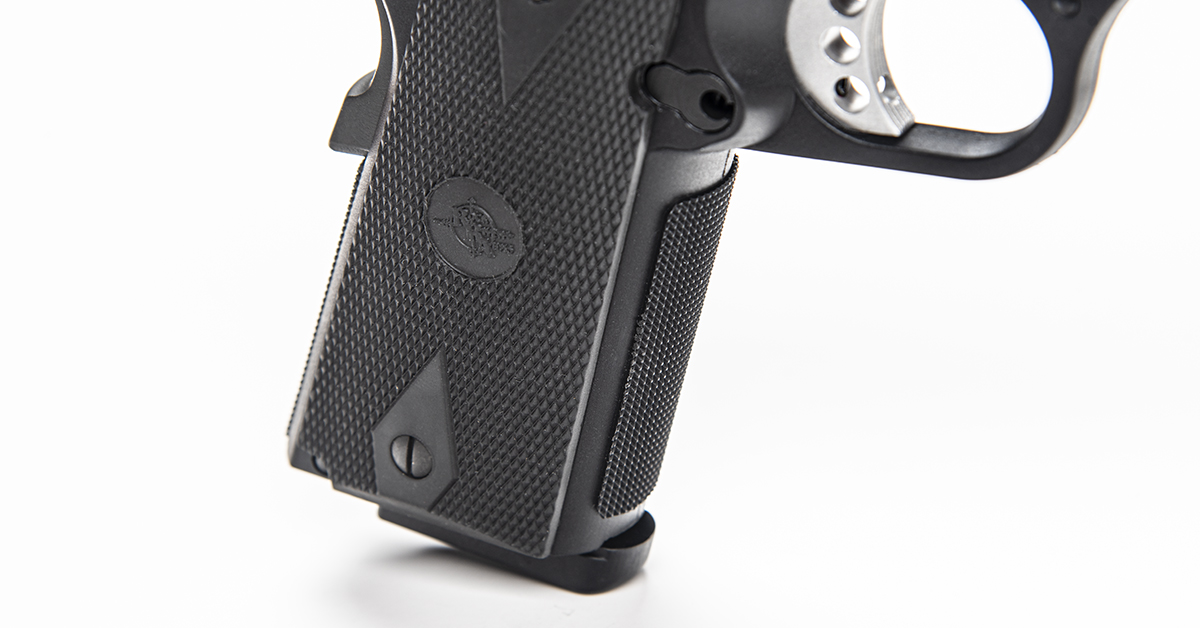 It that a bad thing? Absolutely not. It gives the firing hand plenty of purchase and, in my opinion, seems to minimize felt recoil with the more distributed surface area. Of course, the rubberized grip panels play a big part in reducing hand shock.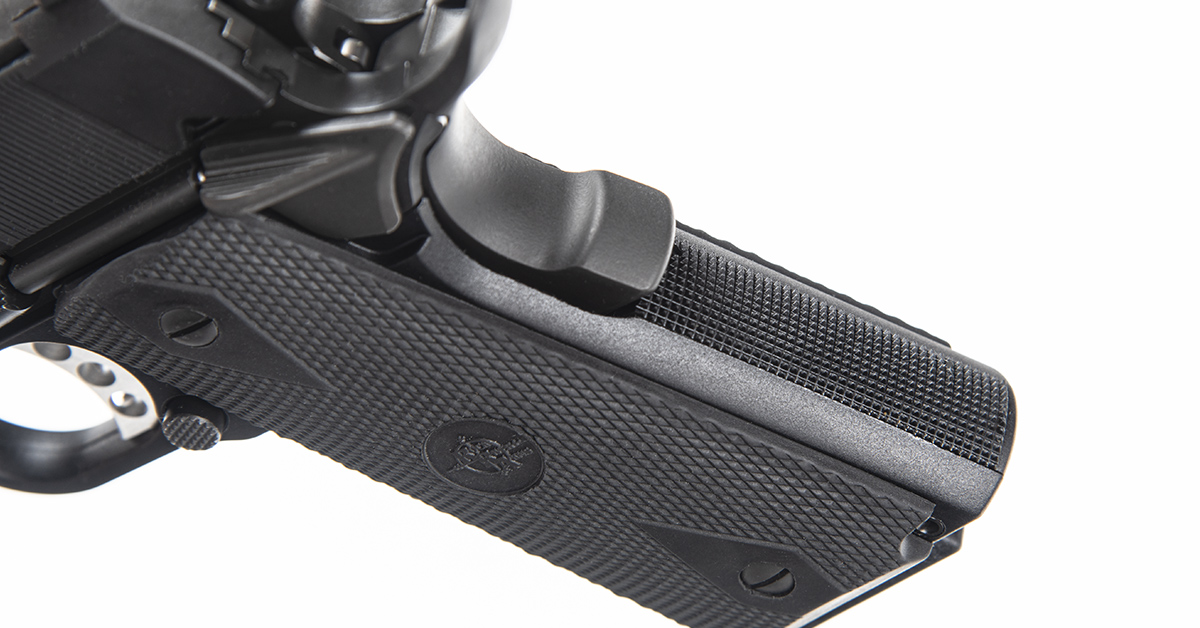 Adding to pistol control and retention is aggressive texturing on the front strap and mainspring housing. In short, the Poly 1911 delivers one of the surest grip configurations you'll find despite its girthy profile (again, compared to standard single-stack 1911 grips).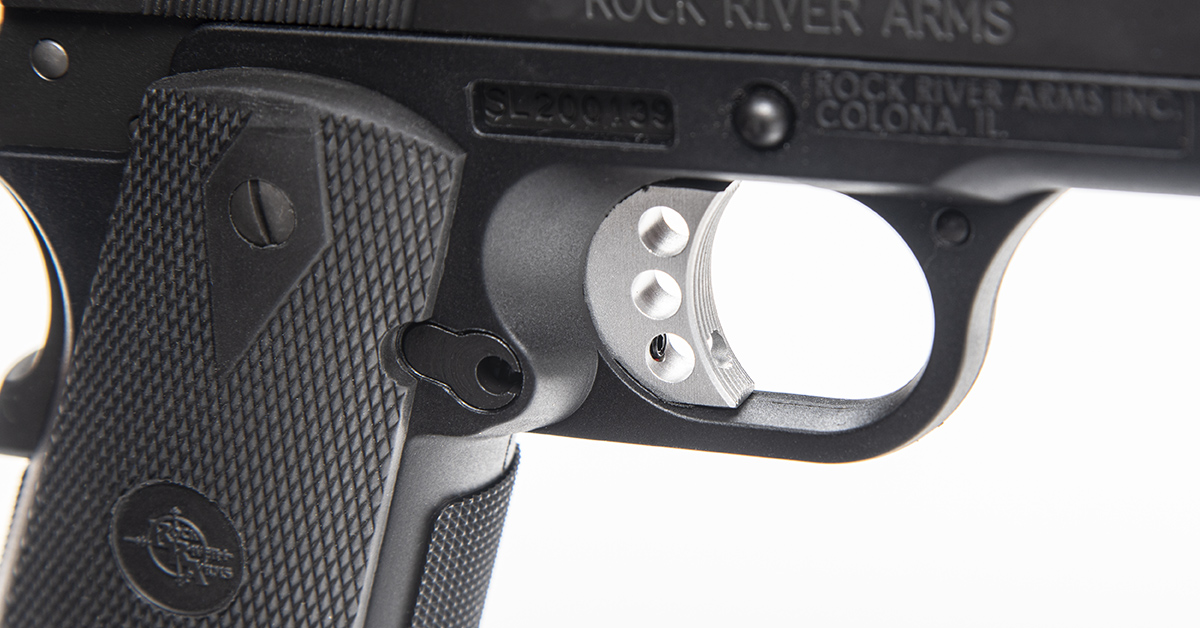 The trigger is another highwater mark of this pistol. After initial take-up, rearward movement is imperceptible until the light, crisp break. Some arcane gunsmithing work might be able to improve upon it, but I doubt by much. For a "factory" trigger, it truly is remarkable. The shoe is machined aluminum, which adds a small part to weight reduction, and is nicely serrated to give positive traction for your finger. Trigger pull measured 4.21 lbs. on a 10-pull average.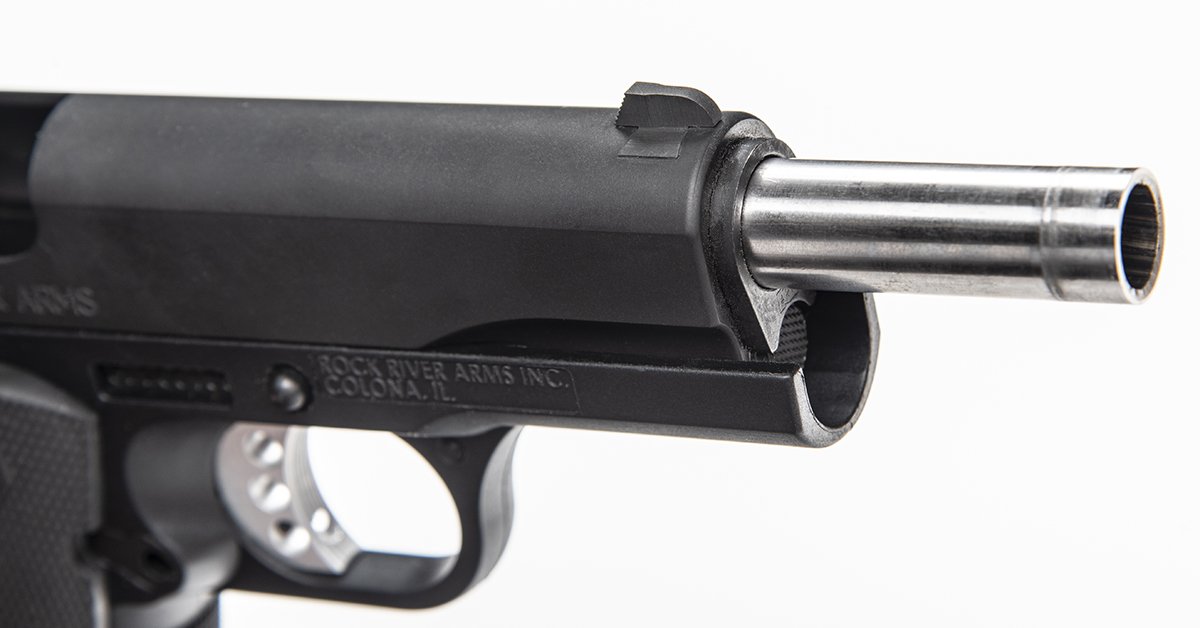 A chrome-moly 5-inch barrel with a 1:16 LH twist sends bullets downrange with precise authority. As with the slide-to-frame fitment, the barrel is wiggle-free when locked up. The barrel bushing also exhibits tight tolerance, and you'll not rotate it for disassembly with only fingers — a barrel bushing wrench is a must-have.
The Poly 1911 features a generous beavertail grip safety that promotes a secure, high hand position. Working with the round-spur skeletonized hammer, the hand is well protected during cycling. The manual safety is a bit stiff but not overly so. That's good because there's little chance of it dropping unless you mean for it to drop.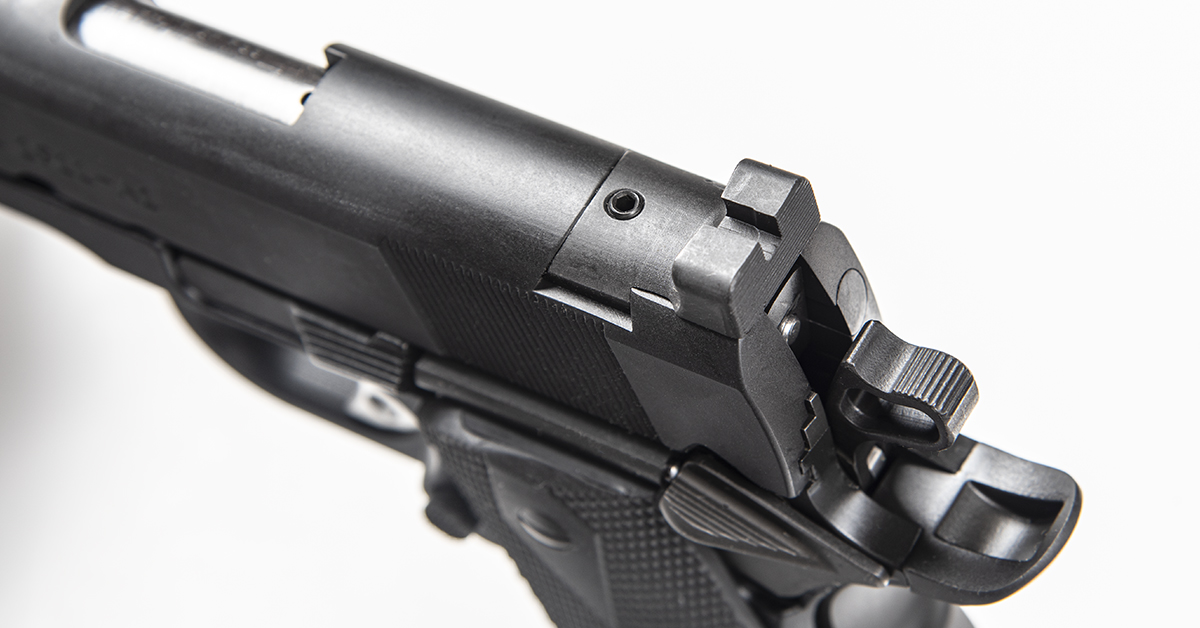 The sighting system is blessedly uncomplicated. The rear sight is of the square-notch design with rear serrations to reduce glare. The front portion curves forward slightly, making it possible to manipulate the slide one-handed by pressing the sight against a solid surface or even a belt or shoe sole.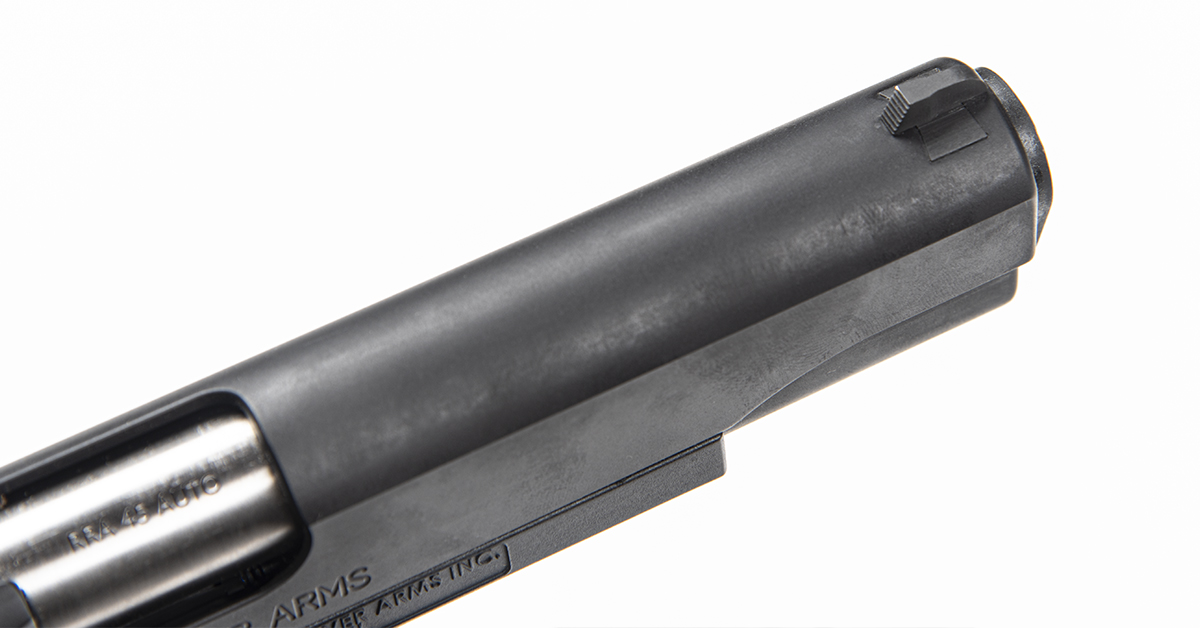 For the front sight, we find the standard square post, also with rearward serrations for glare reduction. Both front and rear sights have dovetail bases, allowing for upgrades if you are so inclined.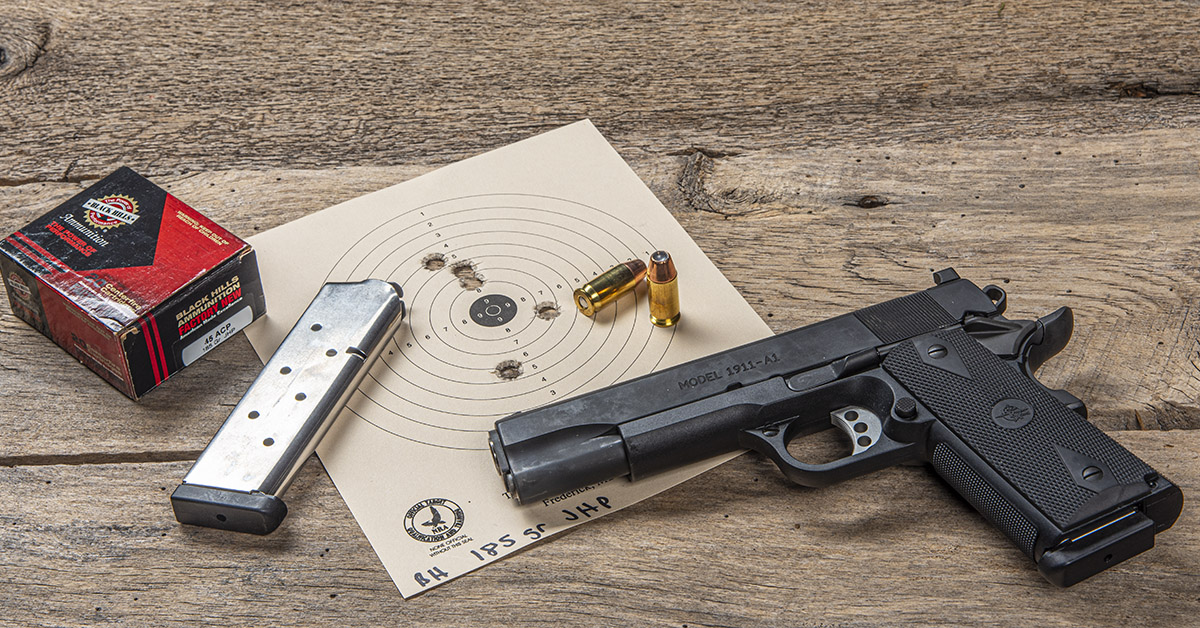 I always enjoy time on the range with a 1911, and punching targets with the Poly 1911 was downright fun. I did most of my testing shooting off-hand at 25 yards, with 5-shot groups from a variety of ammo coming in under 3 inches. Better eyes and a solid rest would shrink those groups considerably.
The big takeaway for me, though, was how comfortable this gun is to shoot and the smoothness of the controls. Send enough ammo downrange with most MILSPEC 1911s and your hand will know it. The Poly 1911, with its full-hand purchase and rubber overmold grips, never proved uncomfortable.
As a carry gun, the Poly 1911 doesn't solve the bulky issue that is inherent to this platform. It does, though, deliver a weight advantage. My MILSPEC 1911 without a magazine weighs 2 lbs. 5.1 oz. The Poly 1911 on the same scale came in at 1 lb. 15.7 ounces with no mag.
Polymer-frame 1911s have been around for a while, and there are a few good ones on the market. Many purists continue to cast a disparaging eye their way, and I get it. But until you give a premium example of the breed, like the RRA Poly 1911, a try you really shouldn't knock it. This gun shattered my expectations of what a "plastic 1911" could be, and it will do the same for you after emptying that first magazine.
Rock River Arms Poly 1911 Specifications
Chamber: .45 ACP
Barrel Length: 5-inch
Barrel Composition: chrome-moly
Twist Rate: 1:16 LH
Frame and Mainspring Housing: polymer w/steel insert
Slide: steel
Slide Finish: Parkerized
Trigger Shoe: aluminum "Speed Trigger"
Hammer: skeletonized "Commander Hammer"
Grips: RRA rubber overmolded
Safety: beavertail grip, manual lever
Sights: steel dovetail, front and rear
Weight: 2.04 lbs.
Includes: two 7-round magazines, lock, RRA case, warranty
MSRP: $1,100