This large-caliber mighty mite delivers dual-barrel fun in a pocket-sized format
by Barb Melloni
Famous for their pocket-sized derringers, Bond Arms recently released the newest addition to their Rough Series — the Bond Arms Grizzly. Cross-compatible with all standard Bond Arms barrels, the Grizzly ships with its three-inch barrel ready for .410 shotshells or .45 LC. Should you ever wish to switch to a different barrel or finish option, you have over a dozen to choose from in a wide array of calibers, including 9mm, .40 S&W, .45 ACP, .357 SIG, and more.
Aside from being able to customize your barrel option, you can also purchase various sets of grips to change up the look of your gun, although the rosewood grips that come on the Grizzly pair perfectly with the rough-and-tumble finish of the barrel. The rosewood grips have a carving of the gun's namesake.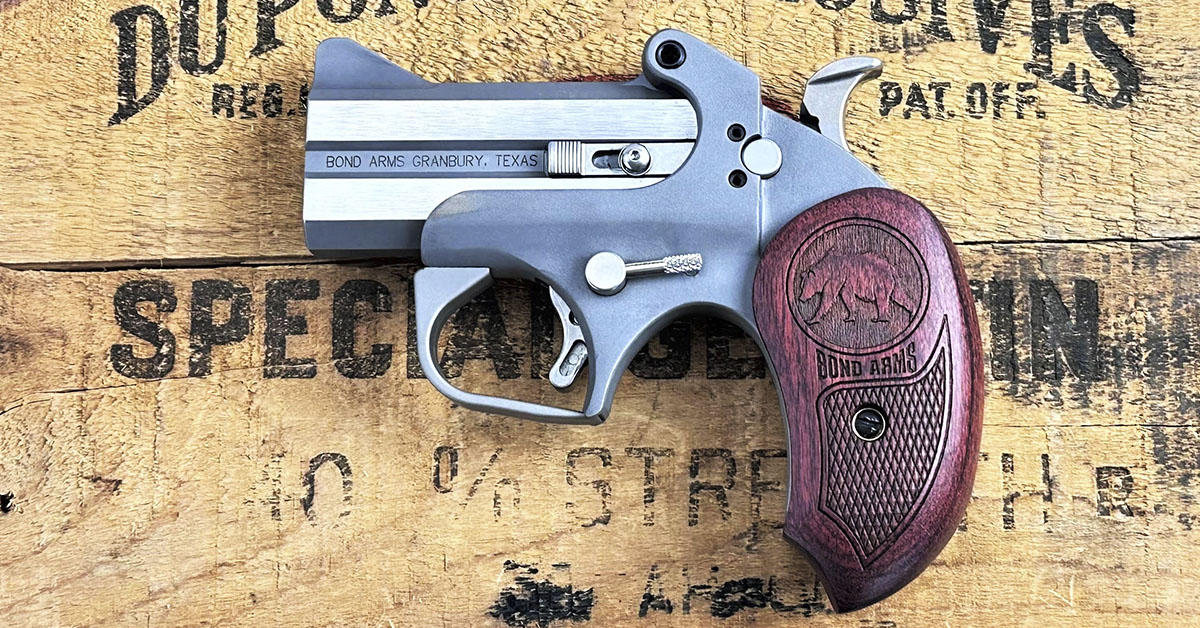 Lastly, ensuring that this gun is ready to be carried right out of the box, Bond Arms ships the Grizzly with its very own leather holster imprinted with the same grizzly motif.
Aside from the holster that is included with this gun and the additional barrels you can swap in and out, the Grizzly packs quite the punch in a small package with additional features including, but not limited to, retracting firing pins, a spring-loaded cammed cocking lever, rebounding hammer, cross-bolt safety, and more. The rebounding hammer on the Grizzly is an important safety feature as it brings the hammer back to what is essentially a half-cocked position, making it safer to reload. Sighting of this gun is kept simple with a fixed rear sight and front blade.
Fine quality craftsmanship is important at Bond Arms. This attention to detail and the inherent manpower required usually equates to higher costs. Bond Arms, though, reversed that trend. How? The answer is in the details. Like all derringers in the Rough Series lineup, each Grizzly is inspected to ensure there are no sharp or rough edges. Next, the finish undergoes a quick bead blast to create a uniform surface on all metal portions of the firearm. Things like tool markings and slight imperfections in the casting are left and not polished out of the surface, further reducing the labor put into each gun.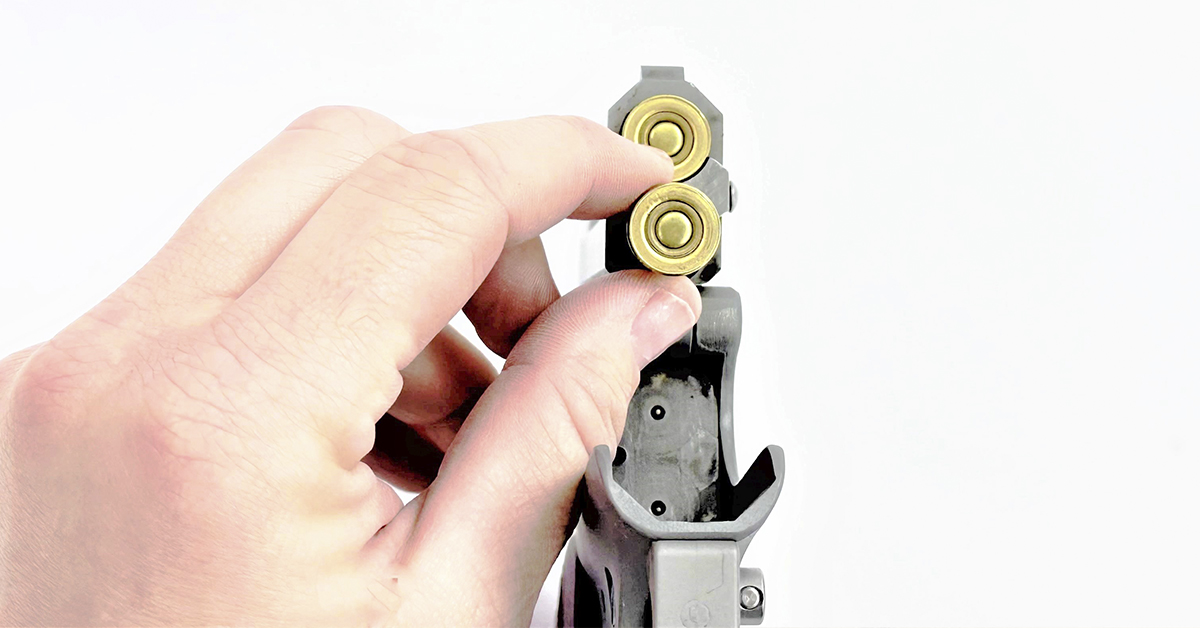 It is important to note that what Bond Arms is doing to save money does not in any way affect the performance or functionality of their product. The Grizzly is not a "safe queen" but is instead a "get down and dirty" type of gun that you can take wherever you may go, whether it be on a family road trip or into the woods on a hike. Personally, I take my Grizzly with me when hiking to check the battery life on my trail cameras as it is the perfect companion should I come across a rattlesnake or other critter that poses a threat.
On test day at the range, I chose to run a few boxes of .410 shotshells through the Grizzly since this would most likely be what I would choose to carry. The ammo du jour was Remington's .410 Express XLR. These 2.5-inch shells send a half-ounce of number six shot flying downrange at approximately 1250 fps, making it sufficient to address a feisty rattler mid-trail or to take out close-quarter small game. Shooting pair after pair of shotshells, reloading was smooth and efficient with the gun ready to go again in short order. People who have never shot .410 out of a handgun may tend to shy away from it due to the fear of recoil, but even with the Grizzly's small footprint, felt recoil is surprisingly minimal, undoubtedly in part due to the weight of the gun.
Overall, shooting the Bond Arms Grizzly is a pleasurable experience — surprising because the gun is about the size of the box of ammunition that it consumes.
Bond Arms Grizzly Specifications
Caliber: .410/.45LC
Barrel Length: 3 in.
Grip Material: rosewood
Grip Size: extended
Sights: front blade, fixed rear
Overall Length: 5 in.
Weight: 20 oz.
MSRP: $377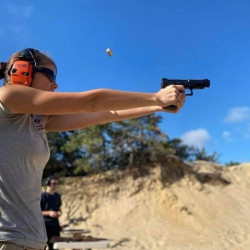 Latest posts by Barb Melloni
(see all)