Precision Rifle Giveaway Prize Details
Alexander Arms .17 HMR Varmint Predator Forest Woodlands
Shoot On featured a full review of the Alexander Arms .17HMR which you can read HERE.
– 18″ Barrel
– 1:10 Twist
– Threaded 1/2-28RH
– Midwest Industries 15″ Hand Guard
– Forest Woodlands Camo Cerakote
– MOE Plus Grip
– Magpul® CTR Stock
– Magpul® Enhanced Trigger Guard
– Velocity Trigger
– A2 Flash Hider
– Spiral Flute Barrel
– Raptor® Ambidextrous Charging Handle
– Two 10 Round Magazines
Hawke Optics Vantage 30 WA SF IR 4-16×50 Riflescope
Registered reticle design exclusive to Hawke. Bullet Drop Compensating (BDC) aim points calculated for your specific caliber. Easy to zero and outstanding downrange accuracy with illuminated aim points for all lighting conditions. Distances etched into the reticle field of view, designed for use on maximum magnification.
Designed for .17 HMR. Zero on 16x magnification at 100 yards and the bullet drop compensating reticle provides accurate aim points in 25 yard increments out to 375 yards. Ideal for 17gr ammunition at approx. 2550-2650 fps (777-807 m/s). Can also be accurately calibrated for 20gr ammunition.
The scope can be used for 100m zero with aimpoints correct in metric when the magnification is set to 13.1x.
Hornady Varmint Express .17 HMR V-MAX
From prairie dogs to coyote and fox, the Hornady® Rimfire line of ammunition offers varmint hunters high-speed rimfire cartridges. Loaded with either the V-MAX®, these loads deliver tack-driving accuracy and dramatic expansion on impact.
Polymer tip delivers more than tack-driving accuracy at long range—it also creates dramatic expansion on impact
Select brass delivers unparalleled case uniformity
Honest 200-yard performance: the most accurate long-range rimfire ever made
Order today!
Key Specifications
Caliber: .17 Hornady Magnum Rimfire
Bullet Weight: 17 grain
Bullet Style: V-MAX®
Muzzle Velocity: 2,550 FPS
Muzzle Energy: 245 ft.-lbs.
Ballistic Coefficient: 0.125
Case Type: Brass
Primer Type: Rimfire
Corrosive: No
Rounds: 200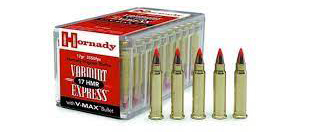 Latest posts by Shoot On Staff
(see all)