Whether for defense, training, or general carry purposes, these ten handguns are serious contenders for women shooters
by Barb Melloni
In the past few years, the firearm industry has seen a significant increase in the amount of carry gun options that have entered the market. Two of the fastest growing demographics when it comes to firearms owners are first-time gun owners as well as female firearm owners. At this point, we are on the downfield of 2023 and the offerings just keep on coming, thus joining the rat race of who can offer the most sought-after options at an affordable price point.
Although the following options can be enjoyed by all, here are our top ten models sought after by women seeking not only a reliable carry option but an overall enjoyable handgun they can take to the range.
Ruger Security .380
Small but mighty, this carry-gun option from Ruger is not to be underestimated. Chambered in .380, the Ruger Security ships with two magazines: a 15-rounder for increased capacity and a 10-rounder for optimal concealability, which is excellent for not only pocket carry but especially if you prefer to wear more fitted clothing. The easy-to-manipulate slide is a favorite feature amongst many, especially those who may have arthritic hands or general difficulty with slides regardless of brand. The Ruger Security .380 has an adjustable rear sight with a bright fiber-optic front sight that draws your eye straight to the target. MSRP: $369-$389.
Rock Island LI380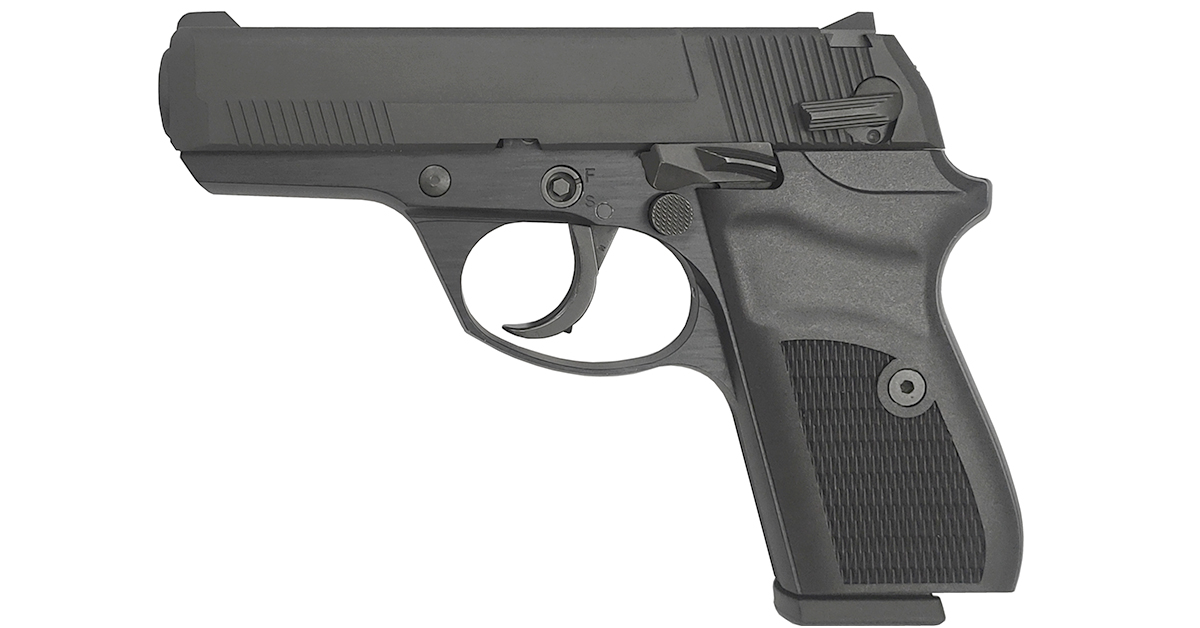 "High speed, low drag" is the perfect way to describe the LI380 from Rock Island. Simplistic steel sights are perfect for those who aren't fans of carry optics and who prefer to keep things old school. The weight of the steel frame, barrel, and slide balance the felt recoil quite nicely, meaning you're able to get back on target quickly after each shot. Further, the Rock Island LI380 easily fits into most budgets, which means more money left over for ammunition and training. MSRP: $299.
CZ P-10 C
Comfort is key with the CZ P-10 C. This carry gun has many features that make it a favorite amongst conceal carry holders, such as interchangeable back straps, a palm swell that is not too aggressive, reversible magazine release, and a grip angle known and loved by CZ owners. The short, crisp trigger breaks at around 4.5 pounds, allowing for quick follow-up shots on target. Lastly, the fiber-reinforced polymer frame and steel slide make this gun able to stand up to the toughest conditions and to run reliably. MSRP: $399.
Browning 1911-380 Black Label Compact
If you're a fan of the 1911 platform, look no further. The Browning 1911-380 Black Label Compact is a slim and lightweight carry gun that features a beavertail grip safety, white dot steel sights in the front and rear, a skeletonized hammer, extended ambidextrous safety, and more. With an overall length just under seven inches and weighing in at 18 ounces, you will be comfortable wearing this on your hip for extended periods of time. Another plus is that the 1911 Black Label series is offered in several slide colors. MSRP: $949.99.
Taurus Defender 856 T.O.R.O.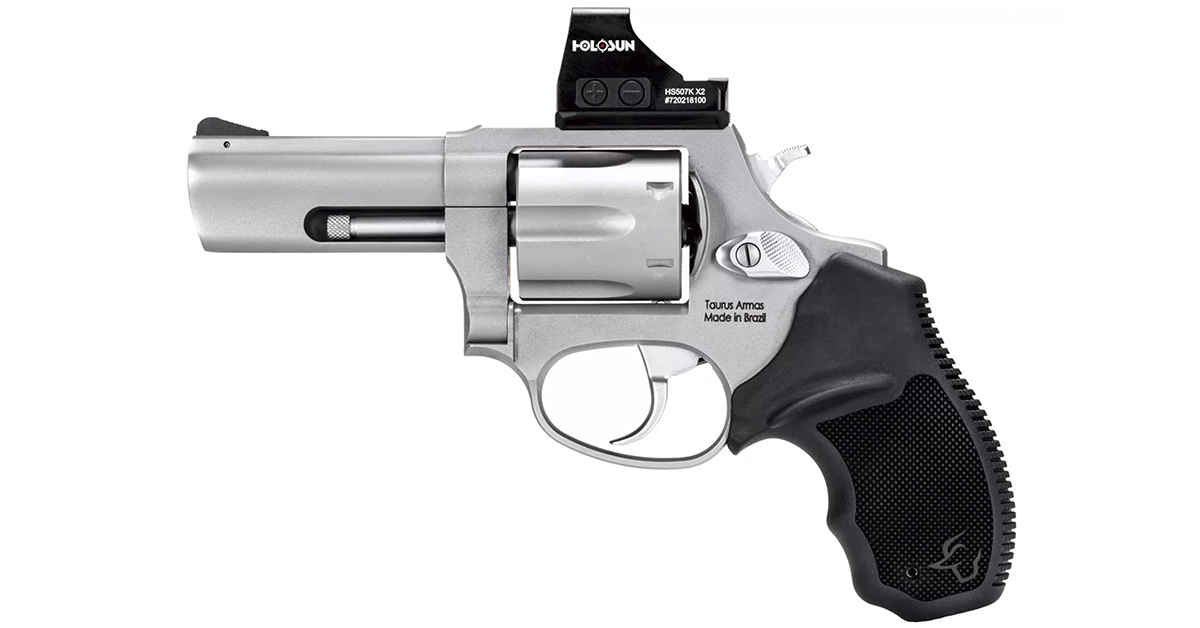 Perhaps you prefer to carry a revolver but are also a fan of all the optics-ready semi-autos on the market. Taurus recognized this often looked-over portion of the carry gun market and has released the first optics-ready revolver. Chambered in .38 Special, the Defender 856 T.O.R.O. can accept any red dot of your choice that fits a Holosun-K footprint. The rubberized grip not only provides comfort when it is in your hand but also goes a long way to minimize felt recoil. The slim frame of this revolver is also conducive to concealment. MSRP: $460.99.
IWI Masada Slim 9mm
Chambered in 9mm, the Masada Slim 9mm is a striker-fired polymer handgun that ships with a 10-round and a 13-round magazine. It is also optics-ready, fitting popular models such as the Sig Romeo Zero and Holosun EPS Carry, to name a couple. Should you wish to forgo the red dot, you can utilize the white dot front sight and blacked-out rear sight. The magazine release is reversible and easily converted at home without the need for a gunsmith. The oversized trigger guard is a handy feature should you be wearing gloves. MSRP: $450.
Sig P365 Rose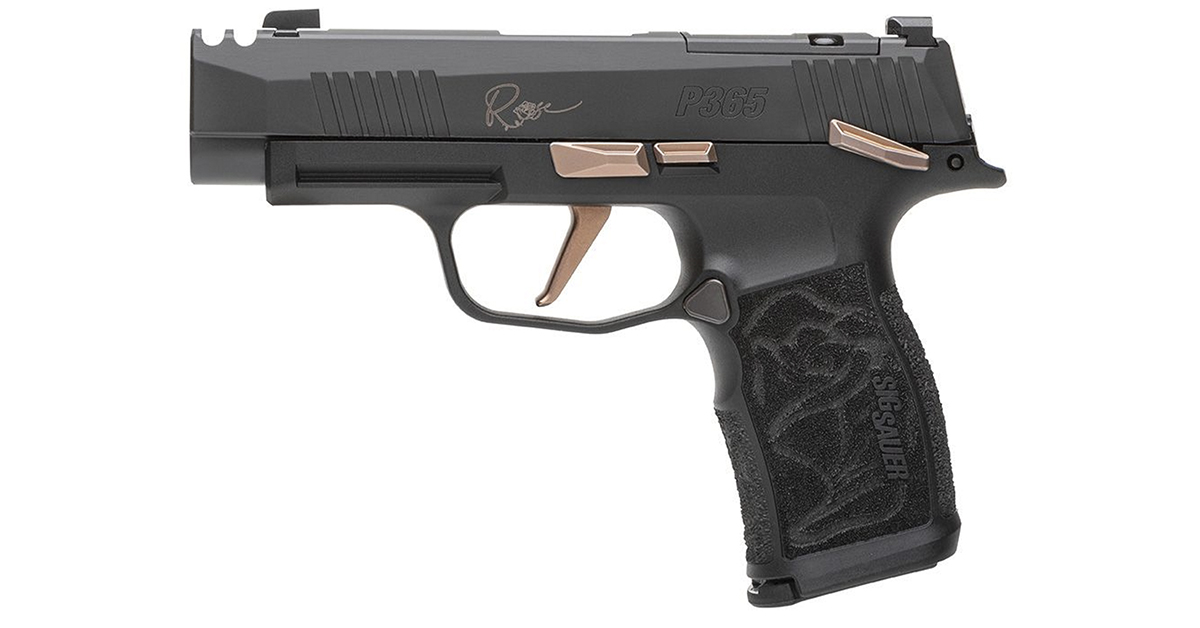 Pro shooter Lena Miculek joined Sig Sauer to launch the Sig P356 Rose Kit. Available in your choice of .380 or 9mm, each kit contains the special-edition P365 or P380 accented with rose gold finish controls. This kit includes two magazines, a magazine loader, five dummy rounds, and a Lifepod pistol safe. What's more, buyers receive access to a full online training course to help them become safe and proficient with their new carry gun. MSRP: NL
Beretta 80x Cheetah
The relaunch of the Beretta 80x Cheetah brings new features to this classic pistol. With 80X Cheetah double/single action, we first see a slimmer grip, meaning it will fit a wider range of hand sizes. The extended beavertail protects the shooter from slide bite while a two-slot Picatinny rail is available to attach your choice of accessories. When it comes to sighting systems, simply utilize the stock irons or slap on your preferred optic as the Cheetah ships optics-ready. MSRP: $799.
S&W Equalizer TS
Packing quite the punch in its small frame, the Equalizer TS micro-compact pistol from Smith & Wesson has a capacity of up to 15 rounds, depending on which magazine you choose. This easily concealable 9mm has a short and crisp trigger break, an easy-to-manipulate slide, and a white 3-dot sight system mounted atop the slide. The Equalizer ships optics-ready and includes a Picatinny rail to accept your flashlight or laser. The pistol gets bonus points for being able to be disassembled for cleaning and maintenance purposes without squeezing the trigger — an additional layer of safety. MSRP: $599.
Taurus TX-22 Compact
The little brother of the full-size TX-22, the TX-22 Compact is chambered in .22 LR and has quickly become a top seller. This feature-rich handgun ships optics-ready with an accessory rail for adding a flashlight or laser. Options are available both with and without a threaded barrel for those wishing to install a suppressor. Whether you carry a .22 as your secondary EDC, or as a primary carry option while enjoying the great outdoors, the TX-22 compact is certainly worth a look. MSRP: $399.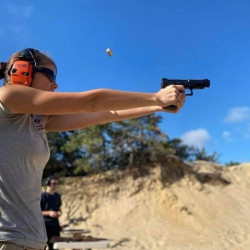 Latest posts by Barb Melloni
(see all)