Subtle features, expansive options, and a whole lot of comfort—introducing the all-new Xecutive holster from N8 Tactical
by Rob Reaser
I must admit that I have never much enjoyed carrying a pistol inside the waist band. Whether due to my body shape, the way I wear a pair of pants, or that I simply don't want to put up with the discomfort, I've always favored OWB holster for my concealed carry tasks. That, of course, relegated my choice carry pistols—a Springfield 1911 and GLOCK G17—to cold weather carry so I could reduce the print under a jacket or a "wear-over" flannel shirt. Summertime carry, therefore, has been limited to subcompact or micro pistols with IWB holsters that I merely tolerated.
Earlier this year, my outlook for finding an IWB holster that would actually work with me and be something I could comfortably wear with a full-size pistol began to brighten. The N8 Tactical folks approached Shoot On to be part of a beta testing group for a new IWB holster. Naturally, we jumped on board, eager to see what the N8 designers were thinking and to offer any feedback in this early stage. Given that the 1911 has always been a challenging IWB carry for most shooters, we requested a "Project X" prototype for this robust platform—the idea being that if it worked out with a 1911, it would likely be a home run for lighter and smaller pistols.
I spent several months wearing the prototype holster, which spanned spring and early summer, allowing for a cross-section of cool- to warm-weather dress. I'll not go into the details of the prototype performance because it was a test mule, but suffice to say, I liked it…a lot. The overall approach was to develop a minimalist IWB holster that offered comfort as well as versatility (something usually lacking or poorly executed in most minimalist IWB holsters I've encountered). The Project X holster carried my 1911 more comfortably than any previous IWB holsters I had tried, and its clip/mount design provided a broad range of height and cant adjustability that allowed me to fine-tune the holster to meet my carry preferences.
Along with fellow beta testers, I submitted my observations, made a suggestion or two, and pretty much forgot about it until the company announced that Project X was complete and carried the name Xecutive.
"The Xecutive holster is ready," I was told. "Do you want to test the final iteration and, if so, for what gun?"
"Heck, yeah!" and, "A GLOCK 48" was my immediate response. Having just acquired a G48, it needed a home and the Xecutive seemed like a good bet since the G48's Slimline frame bridges the full-size/sub-compact gap.
A week or so ago, the Xecutive arrived. While not a large stone's throw away from the prototype I'd worn a few months earlier, there were difference. The upshot: the N8 Tactical team took a great concept, worked through the test and refinement stages, and came out with an IWB holster that causes you to think, "How can it get any better than this?"
The Xecutive is made of .090 Kydex in a fold-over design, meaning the holster chassis is fully comprised of Kydex, not a Kydex half-pocket secured to a backer. This is the company's second all-Kydex holster, the first being the KO-1. If you're familiar with that model, you'll see its DNA in the Xecutive.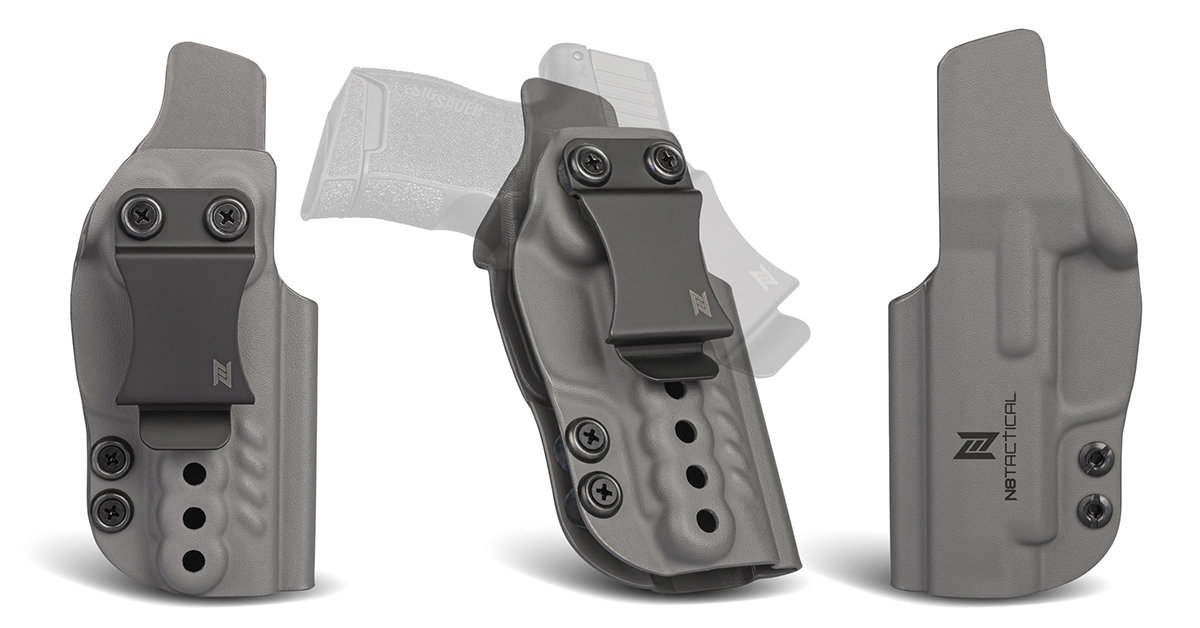 "Elegant" is not a word you would typically associate with most Kydex holsters, but the Xecutive carries it off quite well. The gray plastic is a welcome respite from the typical black and the outer texture is the perfect combination of smooth and subdued. In other words, it has a silky matte appearance that expertly matches the black satin finish of the standard Cerakoted belt clip. All edging is smooth, and the corners rounded, making the executive feel as svelte in the hand and inside the waist band as it looks.
Several different belt attachments are offered as options with the Xecutive. Seen above, from left to right, is the MonoBlock Clip (has underhook tabs and higher clamping force for beltless carry), TacClip, and IWB Loops. There is also the UltiTuck Clip available, which offers deep concealment, beltless carry, and allows the shirt to be tucked in. For those who prefer a higher ride height, the TacClip is a good choice, offering three different height positions.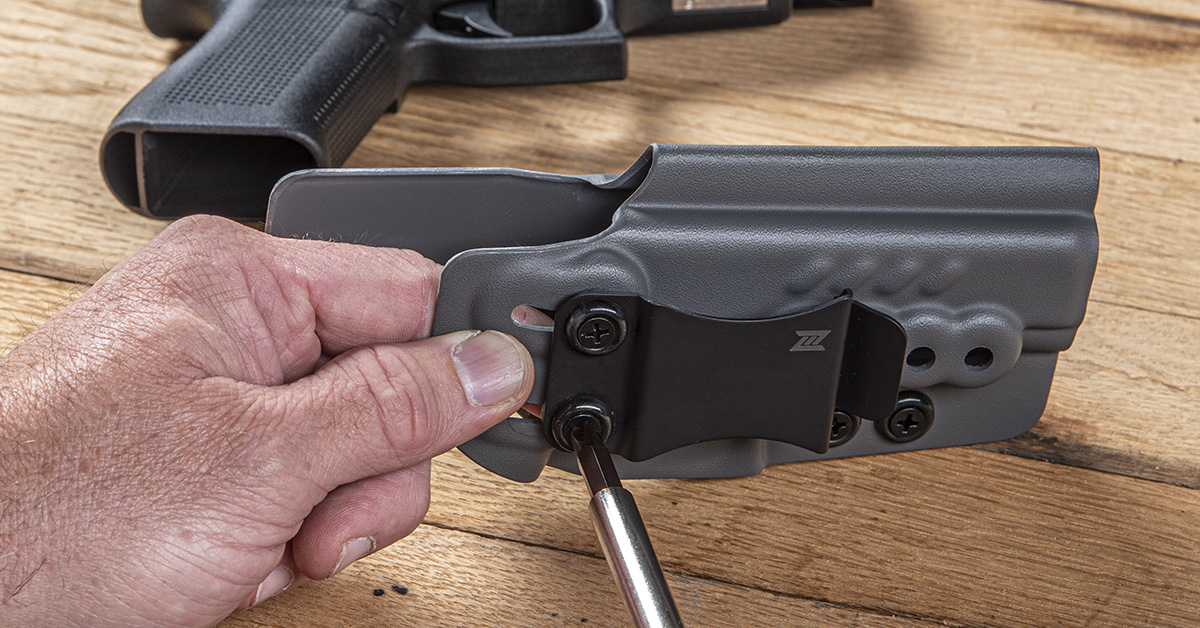 Cant and modest ride height adjustability for the standard clip, IWB Loops, MonoBlock Clip, and the UltiTuck Clip come by adjusting the position of these two clip screws. These Chicago-style screws use a Philips head screwdriver bit to easily position the belt clips to the desired height and the curved screw slots provide for cant adjustment.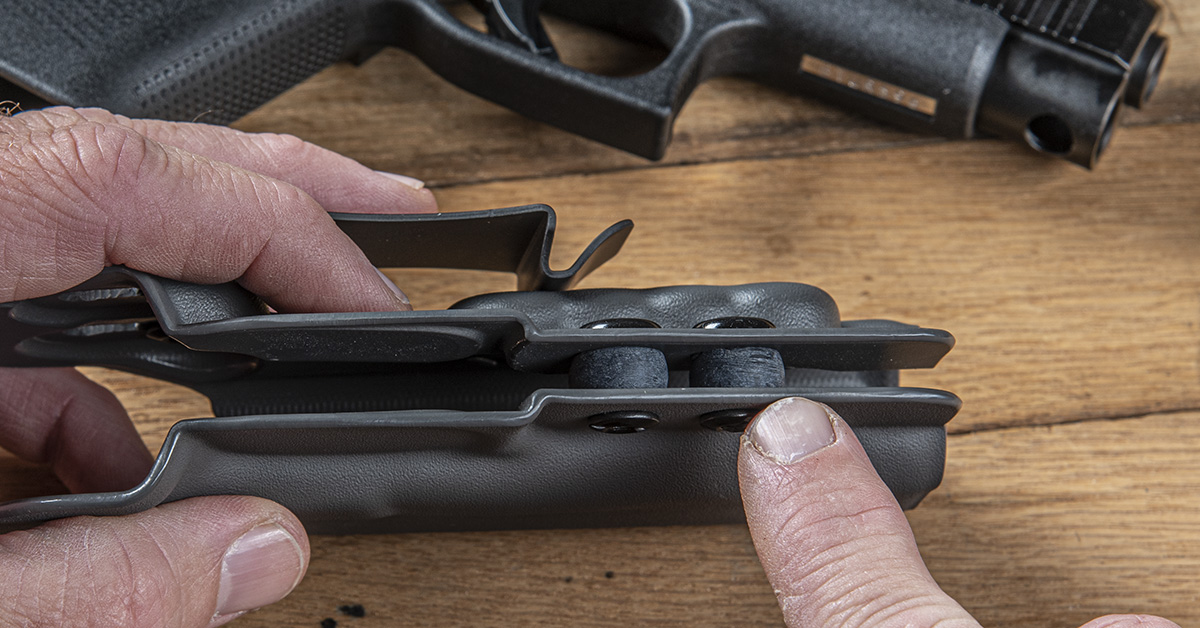 The open (non-folding) side of the Kydex holster hosts two Chicago-style screw/nut sets with rubber pillars sandwiched in the seam forward of the trigger guard. This is where you can make retention adjustments.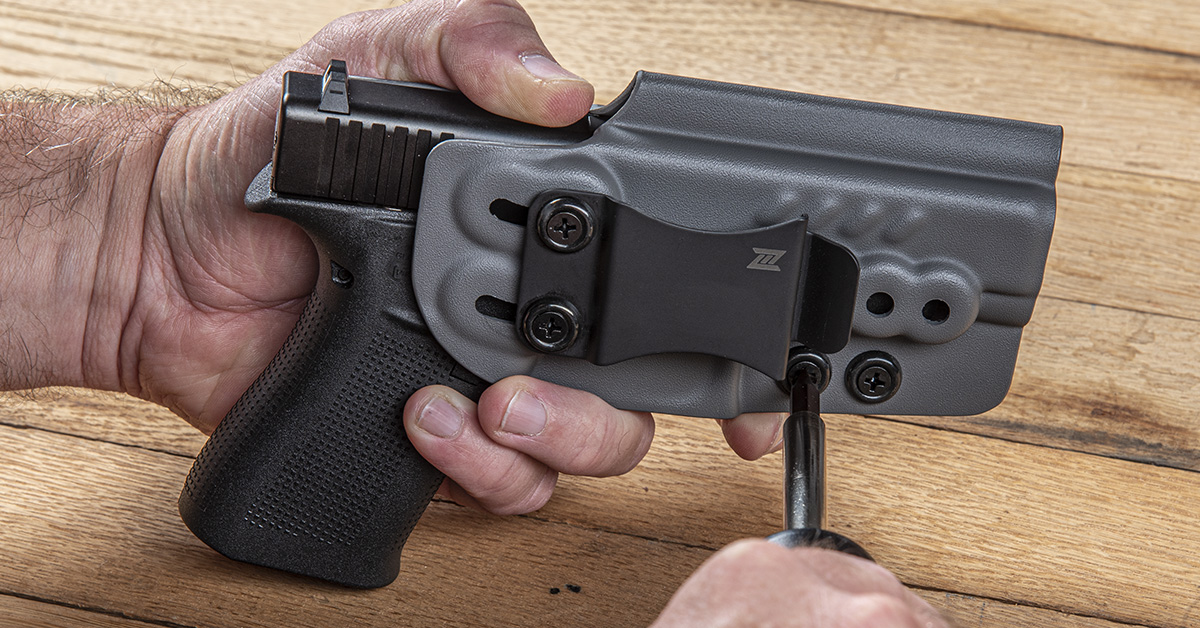 To adjust, simply loosen or tighten the screws until you achieve the desired tension. This, combined with the subtle snap-in retention at the front of the trigger guard, delivered secure, rattle-free retention of our G48 that proved easy to draw and to re-holster.
In keeping with the popular trend of red dot sights for defensive pistols, the Xecutive comes with an optic cut to accommodate electro-optics, if that's your thing.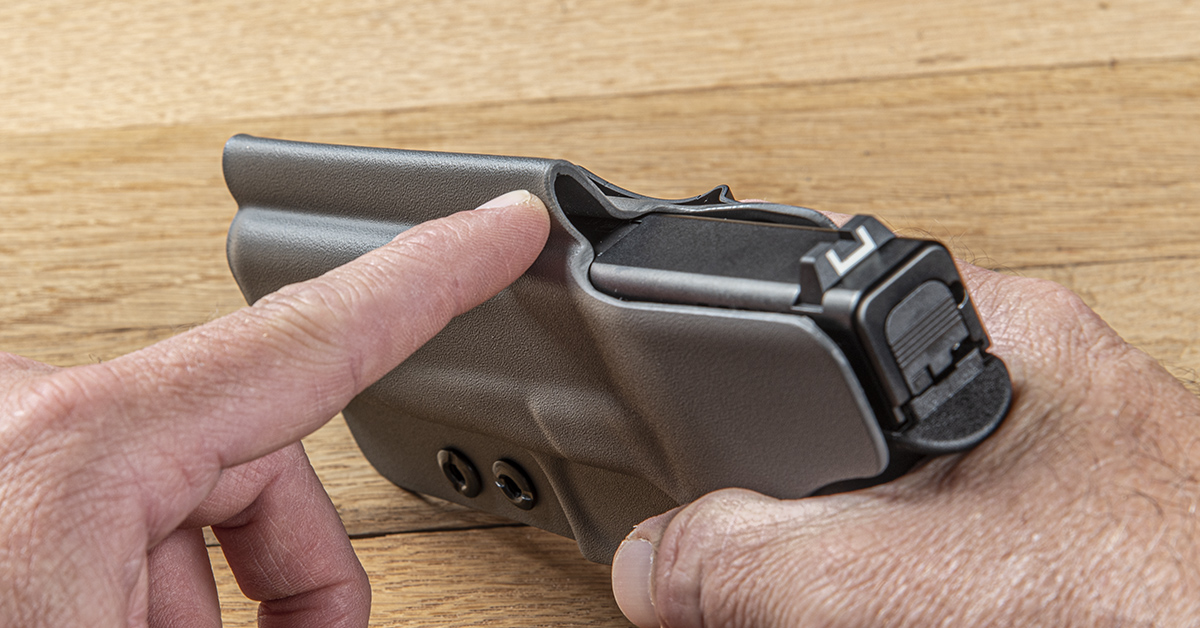 And since MOS-style or suppressor height sights are increasingly popular, the Xecutive's sight channel is raised to accept tall front sights.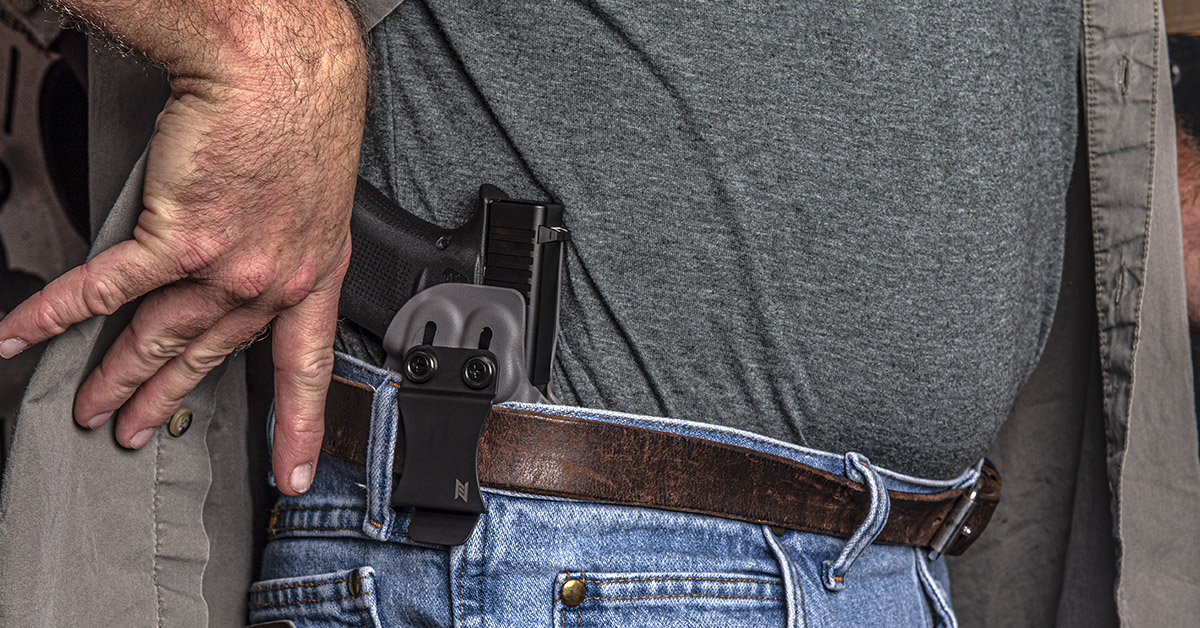 The N8 Tactical crew set out with a mission to create a durable holster that addresses all the critical needs of the EDC concealed practitioner beyond the expected retention and draw/re-holster performance—those three key points being versatility, concealability, and comfort. From our testing, the Xecutive tackled all three in fine form.
The slim, almost skin-like fit of the holster contributes greatly to minimizing bulk inside the waist band while offering ample structural support to keep the firearm from sagging and twisting into uncomfortable positions. The smooth contours and rigidity also facilitate easy re-holstering—something that is often lacking in an IWB platform. And because of the reduced bulk, the Xecutive conceals well.
As for versatility, the height and cant adjustment allow great flexibility in positioning, whether you prefer strong side, appendix carry, or cross-draw.
Although I did not get a holster for my 1911—my benchmark platform to evaluate a holster—the Xecutive was a dream for carrying the GLOCK G48. Whether wearing it while buckled into my rough-and-tumble 35-year-old Jeep Wrangler or while sitting on a hardwood church pew, the Xecutive proved to be comfortable and adaptable for every EDC scenario.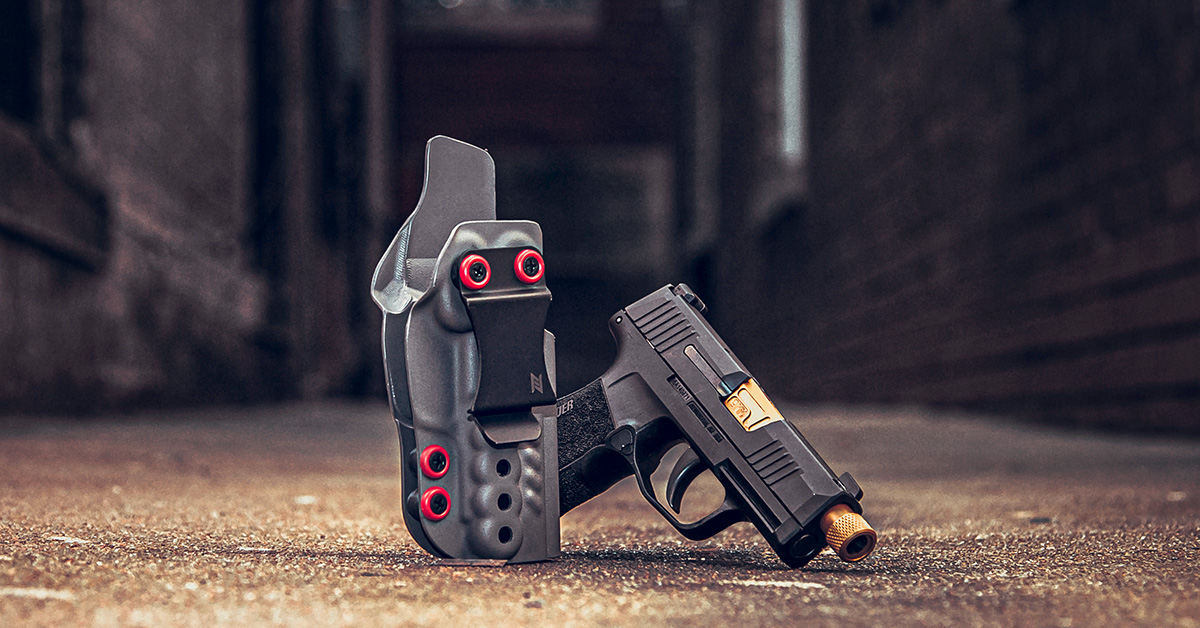 The Xecutive is available direct from N8 Tactical for $49.95, and is currently offered in right-hand draw for 1911, GLOCK, Sig Sauer, S&W, Springfield Armory, Taurus, and Walther. Additional options include a Romeo Zero light/laser cut. A ModWing, Wedge (to maximize a close-to-body fit), and one of four additional belt clip options are also available. N8 Tactical is even offering a snazzy red Cerakote treatment option for the belt clip and retention screw caps.
For more info, head over to N8 Tactical.