Mission First Tactical (MFT), manufacturers of state-of-the-art, USA made rifle/carbine accessories and holsters, is proud to announce the newest edition to the Belly Band holster family: the new Belly Band Ultralite. This new belly band holster was specifically designed without additional storage and engineered for smaller carry firearms.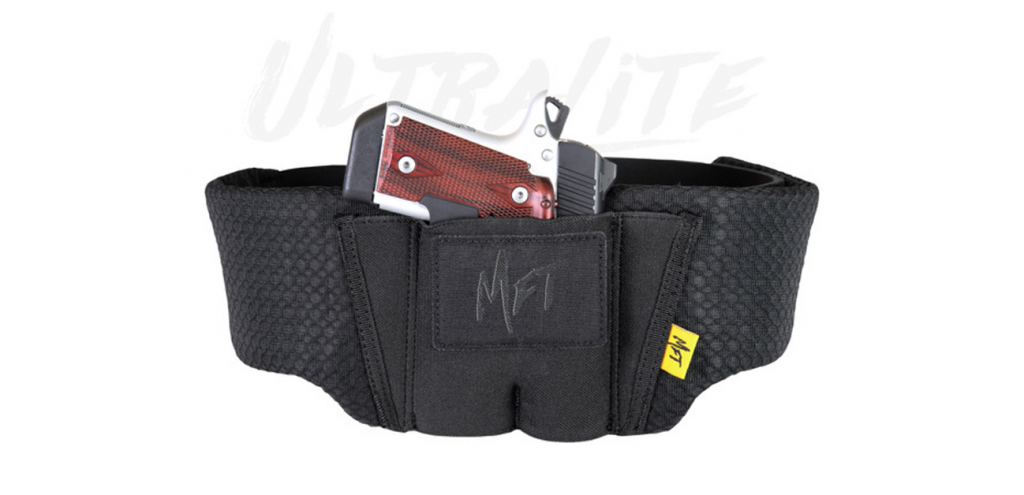 "We listened to the market and the end user when they asked for a smaller foot print for smaller framed people or those who prefer a minimal foot print and don't require additional storage, "said David Edelman, Vice President of Mission First Tactical. "The Belly Band Ultralite provides increased comfort and discreet concealability for those who choose to carry compact handguns."
The new MFT Belly Band Ultralite holster's comfortable, all-day carry is achieved with 3D Spacer Mesh Fabric. Special channels allow for more efficient airflow, increasing comfort in comparison with other elastic-type holsters. An open-air weave construction design provides for air/moisture to pass through, naturally hindering bacterial growth. Maximum breathability keeps you cool and dry all day long.  A soft, medical-grade hook & loop construction ensures no chaffing.
The Belly Band Ultralite holster has a self-laminated fastening end that can be cut and trimmed with scissors for a custom fit.  The hard laminate trigger shield protects the firearm's trigger from unwanted intrusion. It's ambidextrous and compatible with a wide variety of firearms. The best thing about this holster; there is no belt needed! It's great for walking, jogging, hiking and biking etc. It's designed to go wherever you go. This a great solution if you're wearing activewear such as shorts, sweats or leggings. The MFT Belly Band Ultralite holster is designed to accommodate waist sizes from 26" to 52". MSRP: $39.99
Features include:
– Hard laminate trigger shield
– Ambidextrous carry positions
– Multi-positional for appendix, side, back and hip carry options
– Pistol retention
– Moisture wicking
– Breathable
– Easily worn without a belt
To explore the full range of Mission First Tactical's offerings, including the Belly Band Ultralite Holster, please visit: www.missionfirsttactical.com. Stay connected with us on Facebook or Instagram  to stay updated on the latest news and releases.

Latest posts by Shoot On Staff
(see all)