Pretty much everyone gets their start with a .22 LR…and it's our duty as experienced shooters and hunters to pay it forward for the next generation
by Rob Reaser
It was 1977 and I was a tender 11 years old. I had been shooting a bow since the age of five, but my dad was more of an archer than a firearm enthusiast, so except for a seriously old Daisy pump BB air rifle, guns were not part of my world. Until, that is, the summer of '77.
I was staying with my grandparents for a week when my Uncle Bill came to town for a visit. Uncle Bill was the wild brother of the family—an oil field man a bit rough around the edges, a mischievous grin always at the ready, but with a heart of gold and nothing less than fun to be around.
Uncle Bill had walked over to my Uncle Tom's house just a short distance from where my grandparents lived. I remember asking Grandma where he was and she said in a devilish way, "I've got an idy!" (An "idy" is old-Appalachian speak for "idea.") It wasn't long before Uncle Bill showed up back at the house with a long box under his arm. Being that my Uncle Tom had a little gun shop he ran on the side, I knew immediately what was up.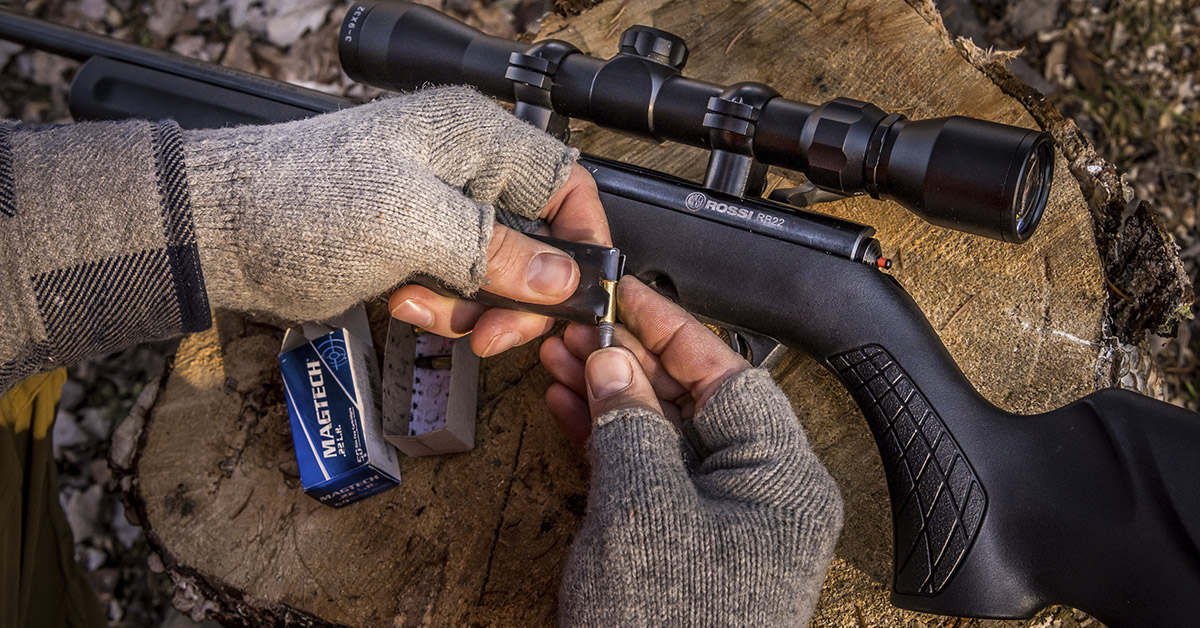 Yeah, I was excited. My parents had been reluctant for me to have a gun at that age, but leave it to Uncle Bill to push the boundaries. It was simply part of his jump right in, sink-or-swim, trial by fire way of living. And thus, I came into possession of my first firearm—a Marlin Glenfield Model 10.
The Glenfield Model 10 was about as bare-bones of a rifle as they come—a single-shot bolt action with a manual-cocking firing pin. This was the definition of rifle simplicity, but it was a treasure to me and after years of high adventure, busting cans and hunting groundhogs and rabbits with it, it still holds a venerated spot in my collection.
All that to say, we never forget the excitement of our first gun, and the .22 rimfire represents a life milestone for nearly all of us who grew up shooting and hunting. It's a thrill we enjoy sharing with the generations who come behind us because we remember the impact that first gun had on our lives.
With Christmas on the near horizon, we should all take stock of the young folks in our orbit—boys and girls who have the temperament and the desire to graduate from air rifles and move up to the world of rimfire. Of course, that places on us the responsibility of mentoring the youngsters in safe firearm handling and proper use just as our parents, grandparents, aunts, and uncles did for us so long ago.
One of our favorite go-to manufacturers for on-ramp rimfire rifles is Rossi USA. We've shot many of them over the years and have come to appreciate their straightforward quality and performance as well as their budget-friendly price. What's more, Rossi's rimfire selection covers the gamut—from bolt actions to lever action, pump, and semi-auto in calibers ranging from .17 HMR to .22 LR and .22 WMR.
Rossi RP Gallery Pump Action
When you factor in the fun quotient, it's hard to beat an old-school pump-style .22 rifle. The Rossi Gallery hews to the spirit of the gallery, or carnival, guns from way back in the day. These 15-round .22 LR carbines are offered in German beechwood or black polymer furniture with two different sight systems. The more modern spin is the black polymer rifle with high-visibility fiber-optic front and rear sights while the beechwood model sports the classic buckhorn rear sight and brass bead front sight. Both come with 18-inch barrels in polished black finish and a cross-bolt safety. MSRP is $346.49 (polymer) and $349.33 (wood).
Rossi RL Rio Bravo Lever Action
As with the Rossi Gallery, the Rio Bravo models come in two flavors—black polymer and German beechwood. These 18-inch barrel rifles hearken back to the late-19th and early 20th century, when guns were the hot ticket on the range and in the hunting woods. A 15-round magazine feeds the Rio Bravo .22 LR with a smooth lever action. While these are ideal for youth, they are also perfect for barnyard predator control or some stellar fun in the squirrel woods. The black polymer Rio Bravo adds a little extra spice with its adjustable fiber-optic sight system while the beechwood version sticks to the charming buckhorn rear/brass bead front sight configuration. MSRP is $355.85 (polymer) and $403.78 (wood).
Rossi RB Bolt Action
While Rossi's bolt-action rimfires come in at a price that satisfies most every budget, don't think the low cost reflects performance. It was not that long ago when Rossi revamped its small-bore lineup with a polymer stock that is one of the most ergonomic designs on the market. Ample texturing along the grip sections and  generous finger grooves along the forend combine with a Monte Carlo-style stock to provide a comfortable fit for most shooters.
The Rossi RB models are offered in several configurations, including .17 HMR, .22 LR, .22 WMR, and 18- and 21-inch barrels. The .17 HMR and .22 LR feature a fiber-optic sight system while the .22 WMR comes with a factory mounted optic base that's ready to accept a scope. All include a polymer stock and black polish finish. Magazine capacity is 5 rounds for the .17 HMR and .22 WMR while the .22 LR models comes with a 10-round magazine. MSRP is $189.01 (.22 LR) and $221.16 (.17 HMR and .22 WMR).
Rossi RS Semi-Auto
If you tend toward high-capacity, fast action shooting, the Rossi RS rimfires are your go-tos. These are built on the same shooter-friendly black polymer stock as the bolt rifles but are offered in two barrel configurations for the .22 LR—a conventional 18-inch barrel and an 18-inch barrel with a threaded muzzle for use with an aftermarket muzzle device or a suppressor. Both .22 LR models come with fiber-optic sights and 10-round magazines.
Those who like to put a little more sauce downrange can opt for the semi-auto in .22 WMR. This rifle boasts a 10-round magazine and a 21-inch barrel. Also included is a factory scope mount.
MSRP is $159.38 (18-inch .22 LR), $172.17 (18-inch threaded barrel .22 LR), and $343.40 (21-inch .22 WMR).
Raise Them Right™
Even if you don't have a child of your own or a family member to whom you can introduce to the world of shooting and hunting, there are many children and young adults who desperately need the support, encouragement, and mentoring you can provide them. A low-cost, entry-level rimfire such as the Rossi models described here is the perfect on-ramp for youngsters and is an excellent vehicle to help steer our youth in the right direction.
That's what Raise Them Right™ is all about.
Raise Them Right™ is an American movement that encourages parents and mentors to invest time with young people to build within them a legacy of values and virtues—empowering youth with self-confidence, wholesome relationships, and skills they need to succeed in life.
The erosion of our nation's core virtues—respect for others, honor, civic responsibility, stewardship, and service for the greater good—is leading our young people adrift, putting at risk our children's future and that of our great nation.
Raise Them Right™, with your help, seeks to reverse this alarming and dangerous trend. To learn more, visit RaiseRight.org.