Our recent conversion project transforms a "beater" lever action carbine into a contemporary performer…and you can do it, too!
by the Shoot On staff
If you've been hanging about the gun scene for a while, there's a good chance that you have more than a few rifles in the safe that have not seen the light of day in years…possibly decades. For long-haul gun owners, especially, that probably means there is a lever action rifle or two tucked somewhere in the dark recesses of old firearm purgatory.
Witness Exhibit A—a scratched up, saddle-worn Rossi 92 in .45 Colt pulled from a dusty corner of a Shoot On team member's gun room (name withheld to protect the guilty). As carbines go, a rifle like this doesn't get much more fun to shoot. The classic styling and straight-wall pistol cartridge chambering hearkens back to a day when men were men, women were women, and you expected a bit of trail grit in your coffee.
But as with most things, time passes, old favorites get a long rest, and before you know it, fancy, new hardware turns once-fun guns into fond memories. The recent upsurge in lever-action carbine interest, though, prompted one enthusiast to reach deep into his gun vault and bring this reliable Rossi out for a redux.
The goal? Apply new technology and design influences to create a contemporary lever action worthy of the deer woods and the hog swamps. And who knows what else? Maybe stow it in the truck or bring it out regularly for a little cowboy action…21st century-style.
Here are the high points of this remarkable transformation, a makeover made possible largely through the easy-install offerings from Ranger Point Precision, a made-in-the-USA gun parts manufacturer hailing from the Lone Star state. RPP makes a wide range of innovative and high-quality parts that can easily transform Marlin, Henry, Rossi, and Winchester lever rifles into platforms for which our range-riding forebears would have eagerly traded their last silver dollar.
Here's what we did…
Ranger Point Rossi 92 Trigger & Spring Kit
The Ranger Point Rossi 92 Trigger & Spring Kit includes a precision-machined trigger with an improved sear profile that delivers significantly crisper, more predictable trigger performance for improved accuracy. The trigger face also comes with ergonomic enhancements to provide the shooter with even more trigger control, such as a 0.030-inch wider trigger face with a flatter profile and subtle serrations for optimal traction when shooting with bare hands or gloves. The angle of the trigger's face is also altered from the stock version to provide a more natural pull.
Combined with the included spring, the trigger kit reduces pull weight by 3-4 pounds over the factory setup. For an even lower pull weight, a reduced power spring can be added.
Note that swapping the stock trigger and spring is a job that should be assigned to a professional gunsmith if you're new to the DIY guns scene.
Magazine Mods
While it may seem like a minor thing, even the lever action magazine can be "performance enhanced." Here, we tapped two companies—Ranger Point Precision and Steve's Gunz.
Steve's Gunz offers a replacement magazine spring for rifles with 24-inch or shorter barrels. The advantages of a stainless-steel spring compared to a standard steel spring are, understandably, longer life and more reliable performance due to the stainless-steel spring's corrosion- and rust-resistant properties. For rifles with barrels shorter than 24 inches, the spring can be trimmed to the desired length (6-8 inches longer than the magazine tube).
To further enhance performance, we chose RPP's  Rossi 92 Magazine Follower. This is no ordinary follower. It's machined from 6061 aluminum and anodized red, which not only won't rust and just looks cool (yes, you only see it when deep cleaning your rifle, but still…), it also is designed with a greater purpose than pushing cartridges downstream. The follower has a "pleated-style" skirt that helps clean any grit or debris that finds its way into the magazine tube and channels it away to deliver smoother operation. Combined with the stainless-steel spring, the upgraded Rossie 92 can be counted on to feed smoothly and reliably.
Furniture Upgrades
Furniture on conventional lever action rifles is limited to two items—the forend and the buttstock. Since we intended our Rossi to step lively in the field, we again turned to Ranger Point Precision for their "tactical-esque" M-LOK aluminum handguard to replace the stock wood unit.
Wow… The RPP handguard is all business. It may seem like an odd pairing with a lever gun, but this veteran technology has witnessed a serious uptick of interest among the personal defense and tactical set in the last couple of years. In short, the RPP handguard adds a lot of real-world function to the converted rifle, not just a fancy aesthetic upgrade.
For starters, the M-LOK mounting system means you can add a brace of accessories, from lights or lasers (if you are so inclined) to a bipod mount. Full-length recessed finger grooves across the top of the handguard (with 14 slots per side) provide excellent traction with gloved or non-gloved hands, and RPP courteously radiused, chamfered, or tumbled all edges of the handguard for maximum handling comfort.
One of the features we really appreciate are the flush QD swivel mount holes at the leading end of the handguard, allowing for left- or right-side placement of the sling, depending on your carry style preference.
The side and bottom panels of the handguard can also be removed. If you somehow damage one, it can be easily replaced, or you may replace them with different color panels for a stylish accent.
Included with the handguard is a bombproof barrel band to secure the front of the unit to the barrel and magazine tube assembly. In back is a self-bedding system that uses rubber pads to securely position the handguard to the receiver while allowing for dimensional variations in the barrel and magazine tube.
Another aspect of the RPP handguard we like is its flat bottom contour. It not only is comfortable and offers ample hand purchase for good muzzle control, the flat versus stock radius better stabilizes the rifle when shooting off bags on a bench or on a daypack in the prone position.
Installation of the handguard is straightforward and only requires pulling the magazine tube to remove the stock forend and install the RPP upgrade. Specs for the Rossi 92 handguard are 9.75″L x 1.5″W x 1.6″H. Available colors are black anodized, Sniper Green Cerakote, and Sniper Grey Cerakote.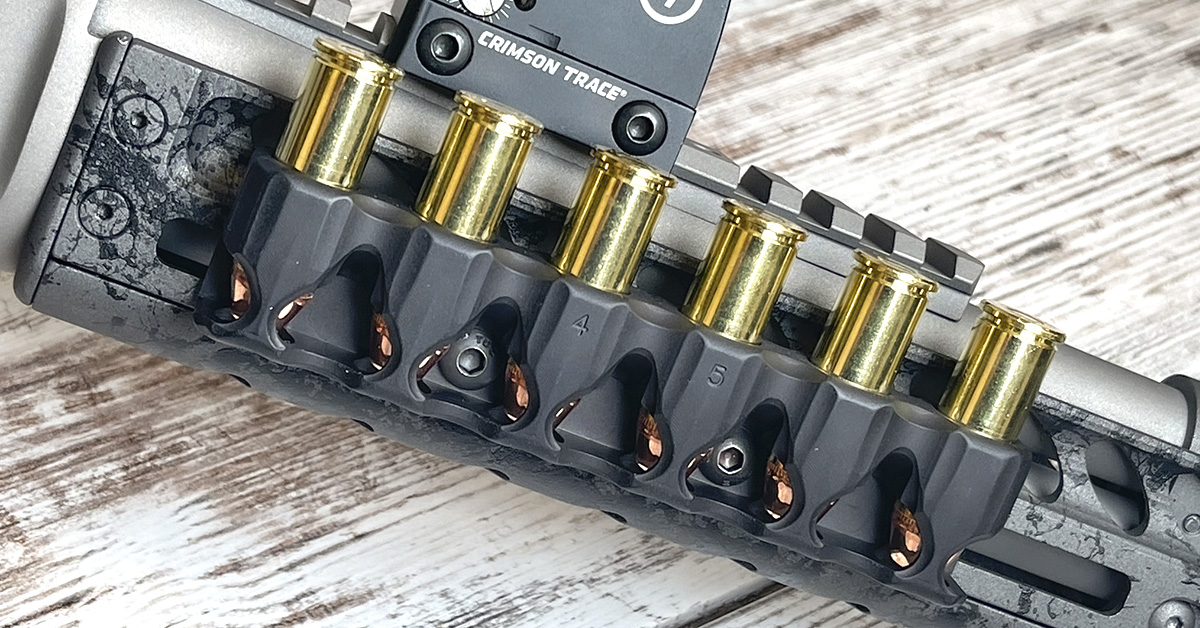 Now, here's a cool little upside option you may want to consider. RPP makes cartridge quivers for their handguards. Machined from 6061 aluminum, this M-LOK quiver holds six rounds of .45 Colt and uses a secure O-ring retention system to keep the cartridges in place and the bullet noses protected from impact damage. This was a must-have for our rig!
Moving rearward, our Rossi mods demanded a couple more upgrades—one we did "just because" and the other because we needed to.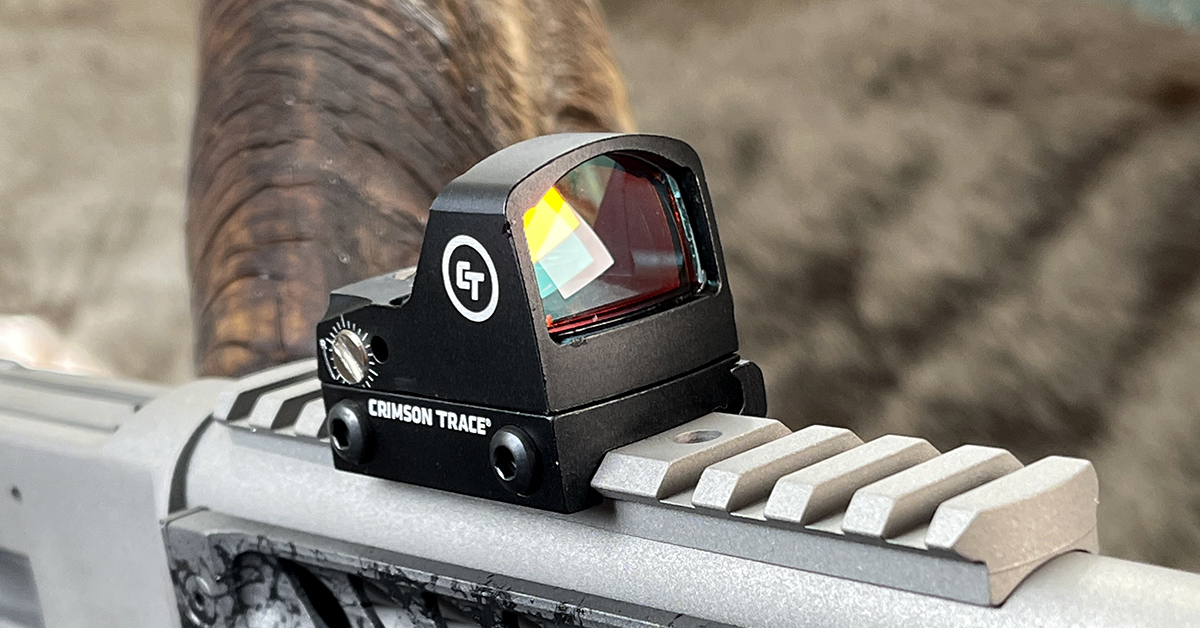 Starting with the "needed to," we went to Skinner Sights for their Rossi 92 Scope Mount. This mount is precision-machined to utilize the pre-drilled and tapped factory holes. Simply remove the factory rear sight and the mounting holes are underneath. The Skinner Sights mount delivered the base we were looking for to accommodate a Crimson Trace red dot. It all set up flawlessly, but the sight picture revealed an issue—we had a bit too much "cheek float" with this set up. The sighting plane proved to be a bit too high for comfort, so we devised a solution by installing a Kydex cheek rest onto the factory buttstock.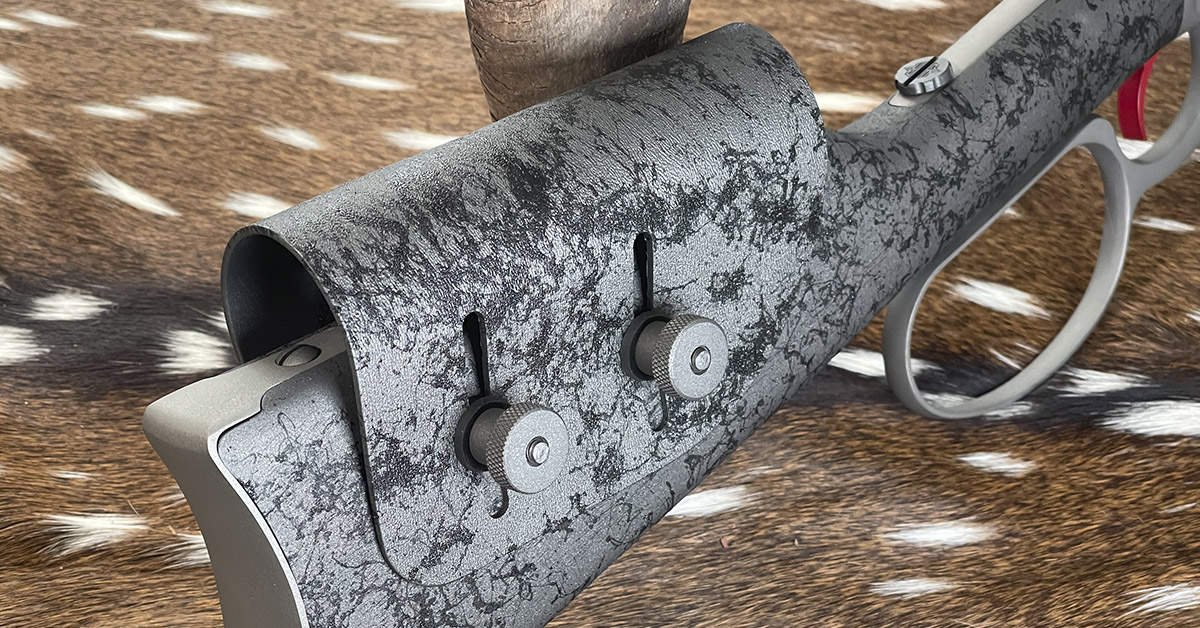 So, off came the stock, which we drilled to accept the cheek rest kit (you can find them on Amazon or at most gun parts retailers). Although it wasn't necessary, we decided to add pillars to shore up the adjustment bolts and to prevent deformation of the wood stock. A bit excessive, perhaps, but part of the fun of gun mods is, well…making your own modifications.
Since the buttstock was pulled for the cheek rest upgrade and a paint job, it provided the opportunity to fold in one more item from Ranger Point Precision that we found intriguing—the Quick-Detach Butt Stock Takedown Screw.
This is simply a screw with an oversized head that can be tightened or loosened with a flat-head screwdriver or coin. While most shooters will likely never need to remove their stock, this is a great addition for the backcountry hunter or personal defense minded folk who desire a carbine that can quickly be taken down and stowed in a pack for hands-free transportation.
In preparation for our hardware modifications, we trucked our Rossi to JW Gunsmithing for some snazzy finish work. Owner Jarrett suggested a two-tone Tungsten/Titanium Cerakote for the metal work, and we finished off the furniture and accessories with a spatter paint treatment.
The end result is a lever action featuring modern looks and function that finds that uncommon balance between classic styling and conventional performance. And don't think for a moment that this rifle will ever again collect dust in the gun vault!

Latest posts by Shoot On Staff
(see all)