For an easy-carry revolver around the homestead or a "light defender" for those who struggle with standard defensive calibers, the Taurus 942 in .22 Magnum is a solid choice
by Rob Reaser
There is no question that .22 caliber cartridges get short shrift in the handgun world, being largely relegated to "plinking" and recreational target duties. Rifles boasting .22 LR or .22 WMR chambers, though, earn top billing for everything from small-game hunting to precision target shooting.
In the broader scheme of things, that is as it should be given the reduced velocity and shorter sight radius of .22-caliber handguns compared to that of rifles. This is especially true with handguns chambered for .22 LR. But what about those reamed for the stalwart .22 Winchester Magnum Rifle cartridge?
The .22 WMR is the King of Punch in the .22 rimfire realm. Just consider the numbers in this paper tiger comparison between CCI 40-grain .22 LR and .22 WMR hollow points:
Velocitor HP .22 LR – 1435 fps
Maxi-Mag .22 WMR – 1875 fps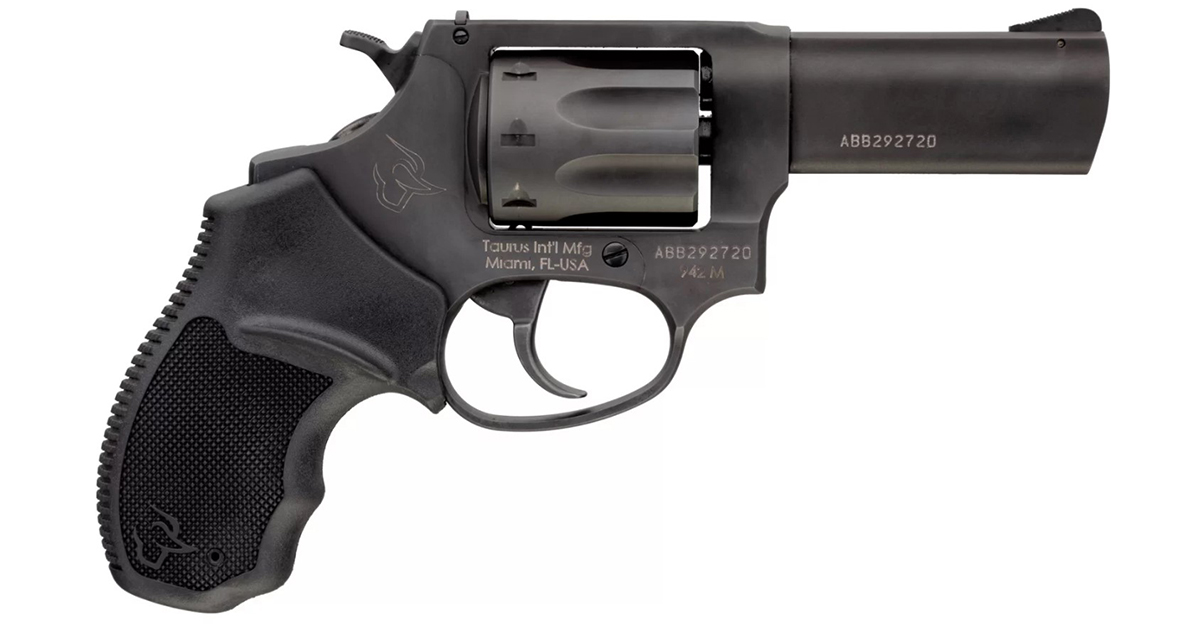 Although these factory numbers are derived from rifle barrel testing (pistol performance will be diminished due to the shorter barrel length), that represents a 440 fps edge in favor of the .22 WMR and a corresponding bump in energy of 129 ft-lbs (312 ft-lbs for the .22 WMR versus 183 ft-lbs for the .22 LR). Little wonder that the .22 WMR continues to be a fan favorite of the varmint hunting set for its extended reach and terminal performance when compared to the .22 LR.
So, how does this square with our handgun discussion? Quite simply, more is usually better, and that is certainly true if you are looking for a broad use rimfire revolver that can dispatch heavy varmints and, yes, stand in as a defense/deterrent handgun for shooters who aren't comfortable with conventional defense calibers such as the 9mm, .38 Special, .357 Magnum, et cetera.
Reams have been written and numerous dust-ups whipped up over the discussion of small-caliber ammo like the .22 LR/.22 WMR serving defensive duties. Would .22 caliber in either LR or WMR form be a first recommendation for a defensive handgun? Absolutely not. Can either be a deterrent in a defensive situation, incapacitate a deadly threat, or eliminate a deadly threat? They have the potential to do all three—and the .22 WMR more so than the .22 LR. This makes the .22 WMR a diverse chamber option for a carry around, kick around, play around handgun.
We recently did a little messing around with a dandy little revolver chambered in .22 WMR from the folks at Taurus—the Taurus 942.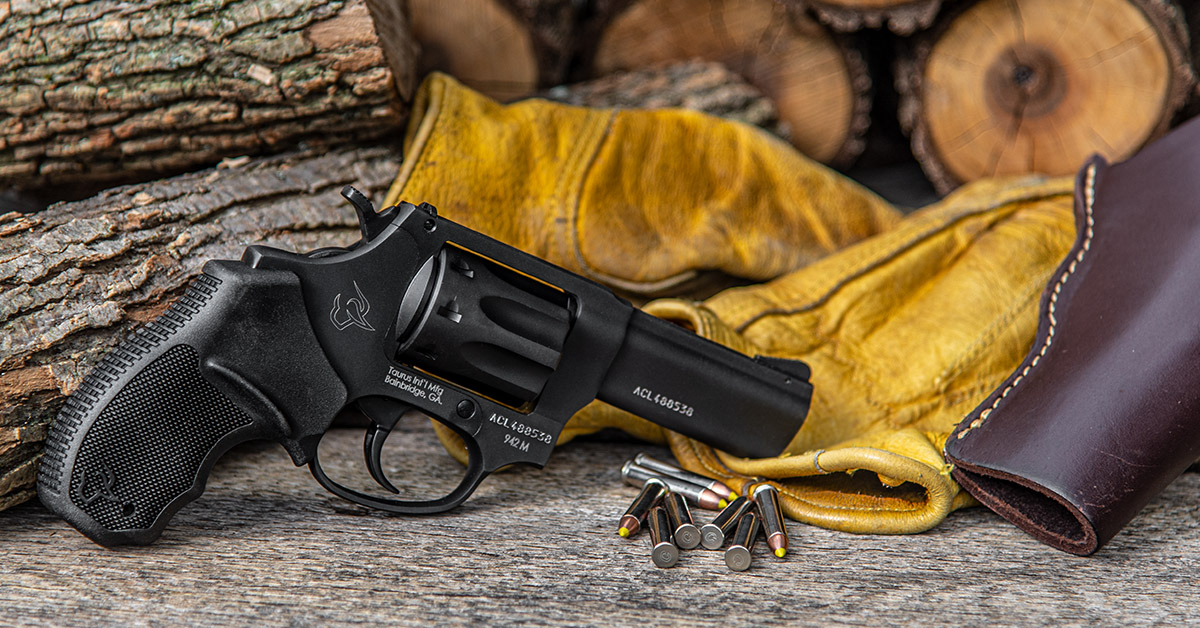 Taurus launched the 942 compact revolver a little over two years ago, first chambered for .22 LR and now for .22 WMR. The design was based on the company's diminutive 856 model .38 Special carry gun and has proven to be an ideal platform to host .22-caliber rounds. Like the 856, the 942 is offered in either 2- or 3-inch barrel lengths. Two of the available models sport aluminum frames and 2-inch barrels for those interested in further minimizing weight.
Whether you opt for the .22 LR or .22 WMR version, the 942 boasts an 8-round-capacity cylinder. Our test model presented spot-on timing and solid lockup, with empty cases easily dumped with a push of the ejector rod.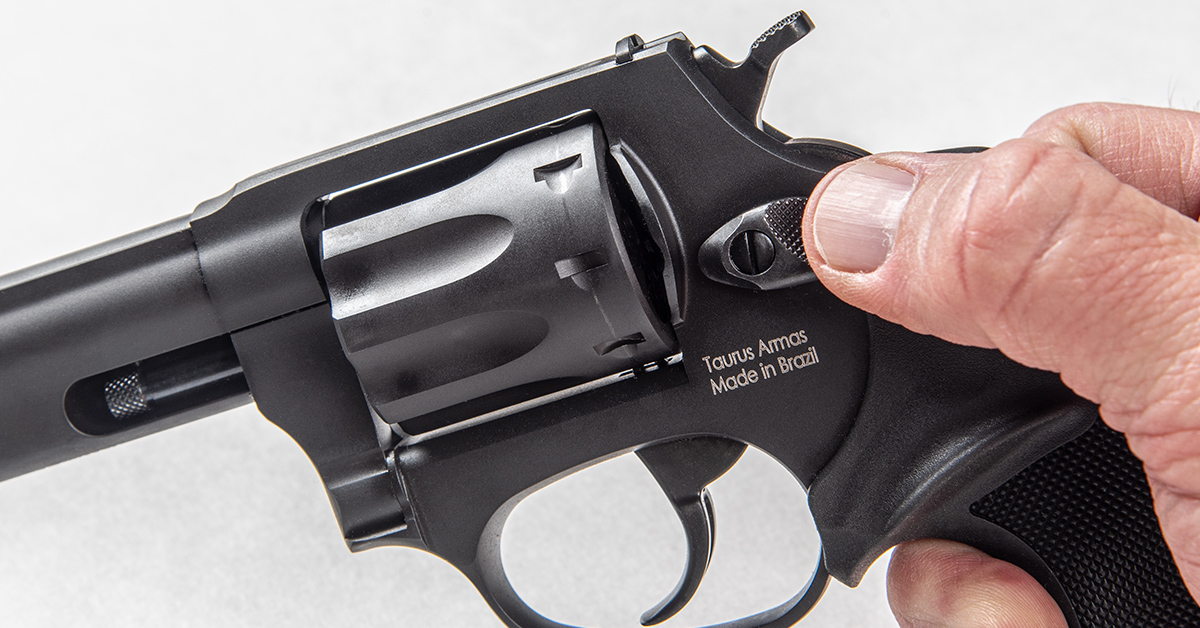 Operational controls are familiar to anyone with revolver experience. Push forward on the thumbpiece and push on the opposite side of the cylinder to swing out and load/reload.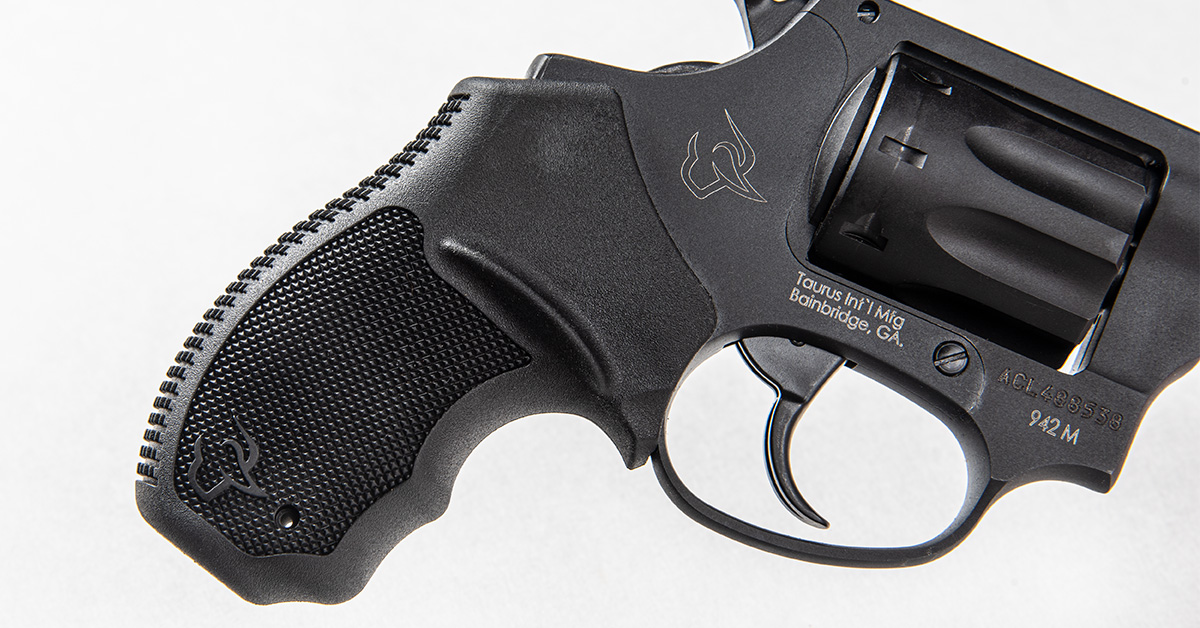 The 942's slim grip, while pleasantly sticky thanks to its soft rubber construction and ample texturing, is rather diminutive in an average-sized hand. It took a bit of shooting to become accustomed to a two-hand grip. Technically a two-finger grip, the bottom contour combines with the tractable rubber to deliver confident muzzle control for one-hand shooting.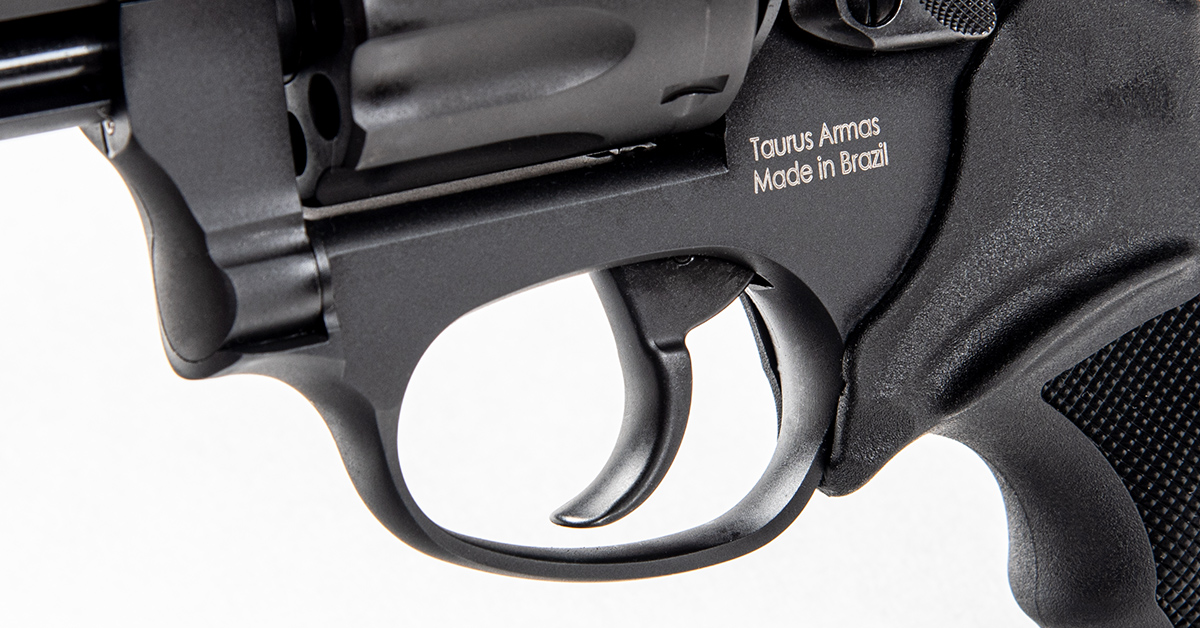 Double-action firing reveals a typical trigger pull length. The trigger shoe's deep curve ensures a solid finger purchase throughout the pull and good control right through the break. We measured the pull weight in double-action mode at an average (10 pulls) 11 lbs., 13.8 oz., which is right in the zone for a revolver. In single-action mode (hammer manually cocked), the 942 averaged 3 lbs., 14.0 oz.—pleasingly light and surprisingly short and crisp, just the way we like it.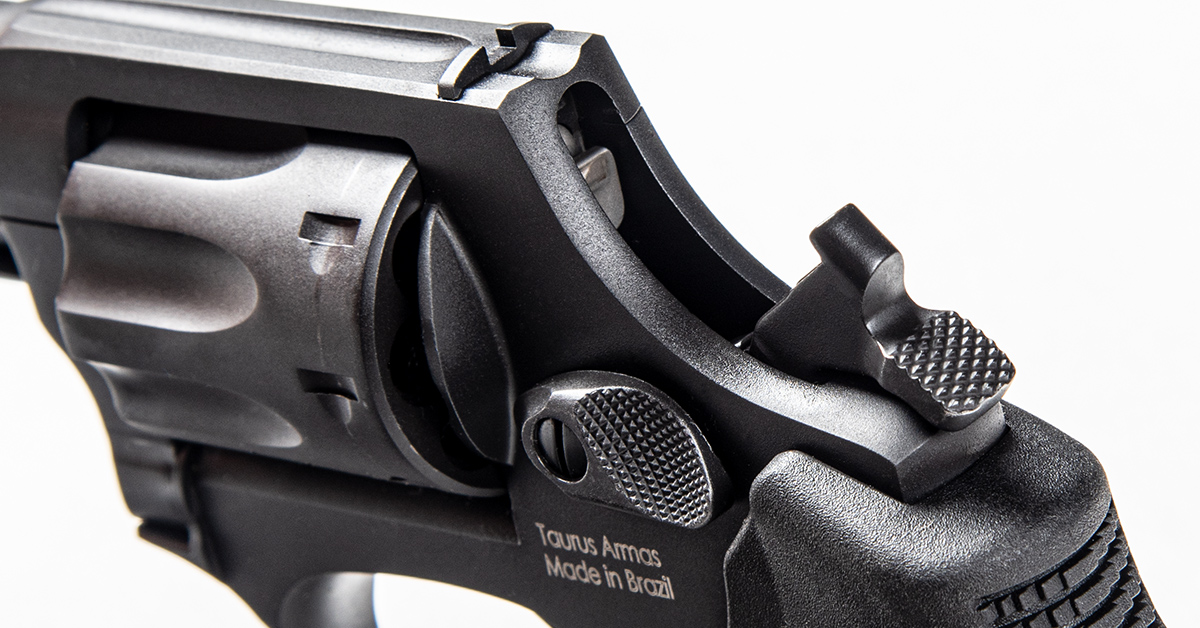 Single-action work is controlled by the hammer. It is a somewhat abbreviated in acreage, owing to the gun's compact design, but this is offset with robust and aggressive diamond texturing atop the spur for no-slip cocking and de-cocking. As you can see here, the 942 utilizes a transfer bar safety, meaning the gun cannot fire unless the trigger is pulled.
A pleasant bonus of the 942 is its windage-adjustable rear sight. The Taurus manual says it is "drift adjustable" but that is not the case if you apply the conventional notion of drift adjustable, where a punch and hammer are required to move the rear sight left or right in its dovetail joint to shift point-of-impact. Instead, the 942 uses a "floating" rear leaf that is held in position by a spring on the left side and an adjusting screw on the right. To adjust windage, simply turn the screw to move the sight leaf. Spring tension keeps the leaf in position.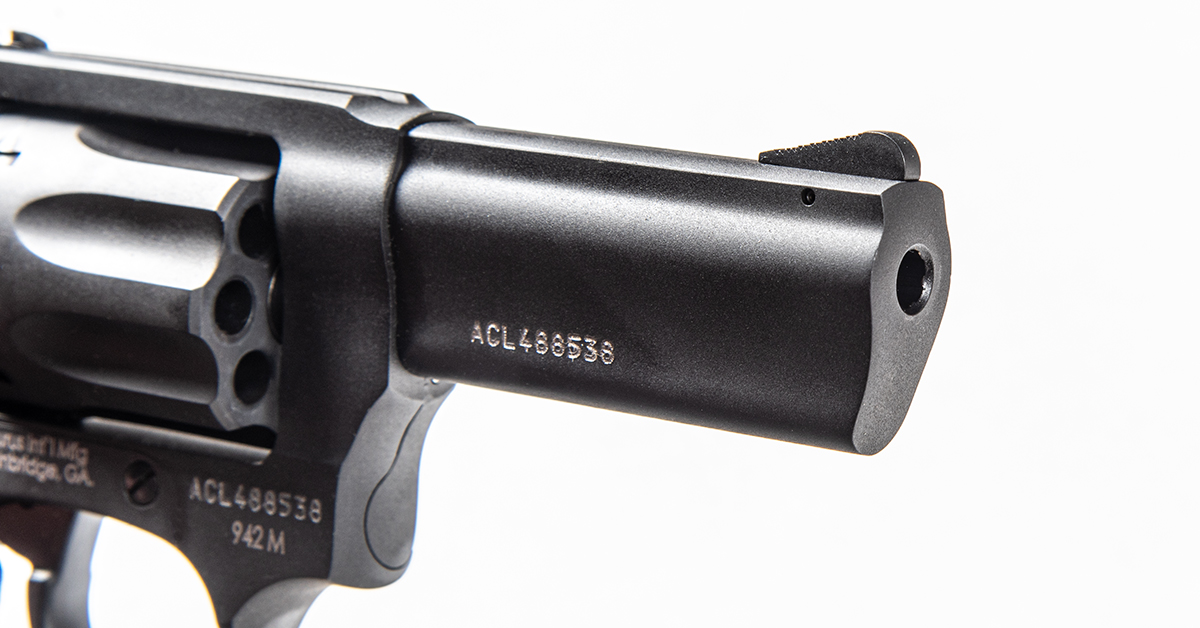 The front sight is a standard post configuration with a serrated ramp to reduce glare. It is secured by a roll pin instead of being machined into the barrel, but the construction is solid, and it is not going anywhere.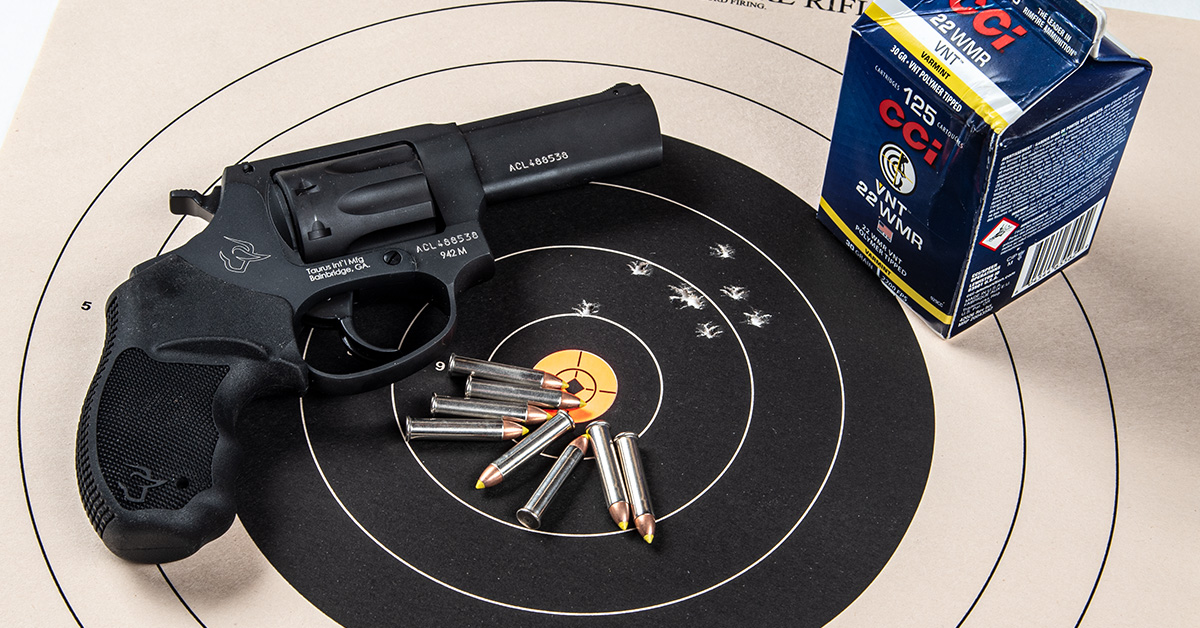 On the range, the 942 was all fun. We didn't bother trying to zero the pistol during testing because all our extremely limited stash of .22 WMR had slightly different points of impact; however, the various varmint loads we used all shot respectable groups from unsupported single- and double-action engagements. Recoil was negligible, of course, given the relatively light push of the .22 WMR combined with the cushy Taurus grip. That sticky grip also contributed greatly to good muzzle control and quick sight realignment.
Our conclusion—the Taurus 942 is a pleasure to carry, whether you're hiking through the woods or wrangling bush on the back side of the farm. As a purse carry gun for someone who isn't comfortable with heavier defense cartridges, the 942 in .22 WMR is certainly a compromised option, although we would suggest the Ultralight model for reduced weight.
Taurus 942 Revolver (as tested)
Chamber: .22 WMR
Capacity: 8 rounds
Action Type: double action/single action
Firing System: hammer
Safety: transfer bar
Front Sight: serrated ramp
Rear Sight: windage adjustable
Barrel Length: 3 in.
Overall Length: 6 in.
Overall Height: 64 in.
Overall Width: 34 in.
Weight: 25 oz.
Frame, Barrel, Cylinder: steel alloy
Finish: matte black
MSRP: $406.47