Looking for an affordable CQB optic? Check this out…
by Martin Topper
When someone says "battle sight" to an old-timer like myself, I think of a flip-style peep sight like the one issued on early versions of the M-1 carbine. Today, the term battle sight is also used to describe low-power optics that are designed to be used on tactical rifles. I prefer to think of these sights as "battle optics" rather than battle sights. Nevertheless, I was quite skeptical when electronic optical sights were first mounted on tactical rifles. I just didn't think that the electronics and optical coatings of the day would survive the harsh environments and heavy usage required in a combat scenario. Given my experience with telescopic sights that failed during hunting trips, I wondered why anyone but a sniper would rely on an optic in combat. On the other hand, there's been a great deal of improvement in scope housings, electronics, glass, and lens coatings over the last forty years, and seeing how well battle optics have held up in combat has convinced me that they are here to stay.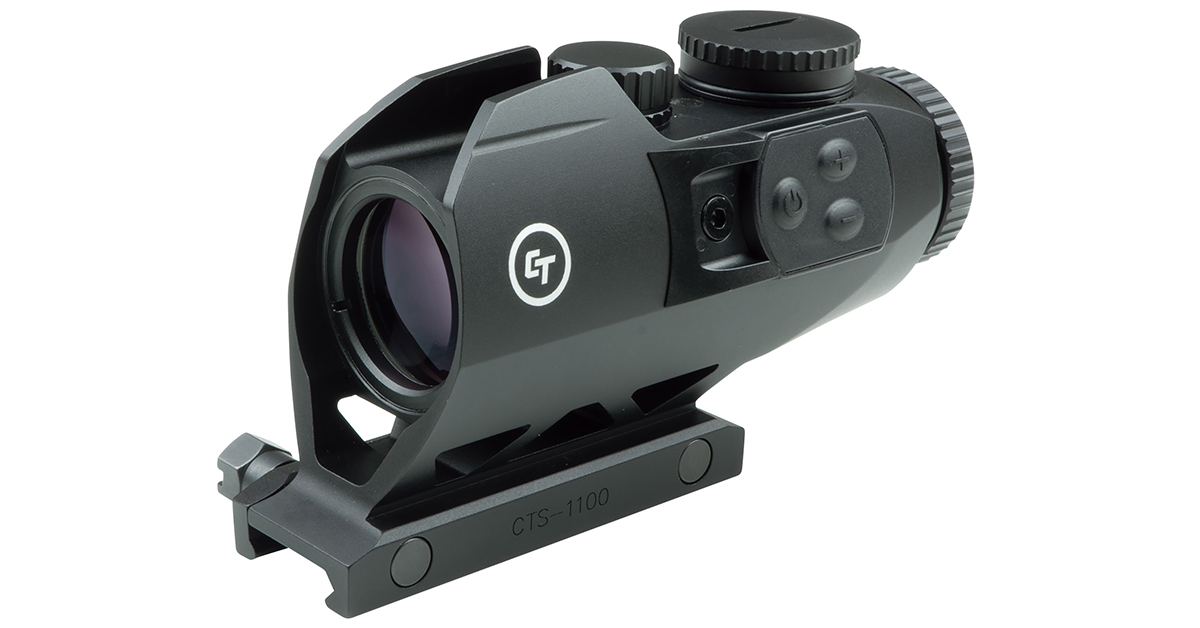 Recently, I've acquired a Crimson Trace CTS-1100 battle optic and it has proven to be fast, accurate, and reliable. It's one of an ever-evolving generation of battle optics which first appeared with introduction of the Trijicon ACOG in 1987. These battle optics offer the advantages of low power magnification scopes for shooting at targets out to approximately 500 yards along with the CQB potential of a one-power red dot. Therefore, a battle optic with an illuminated reticle like the CTS-1100 provides enhanced low-light capability far beyond that of non-illuminated telescopic sight reticles. I prefer battle optics that have magnification levels that are between three and four power because these can be used with the Bindon aiming technique, which allows you to shoot with both eyes open. The Bindon method gives its user a field of view that is not available to those who use higher-powered optics that typically require a shooter to close their non-dominant eye.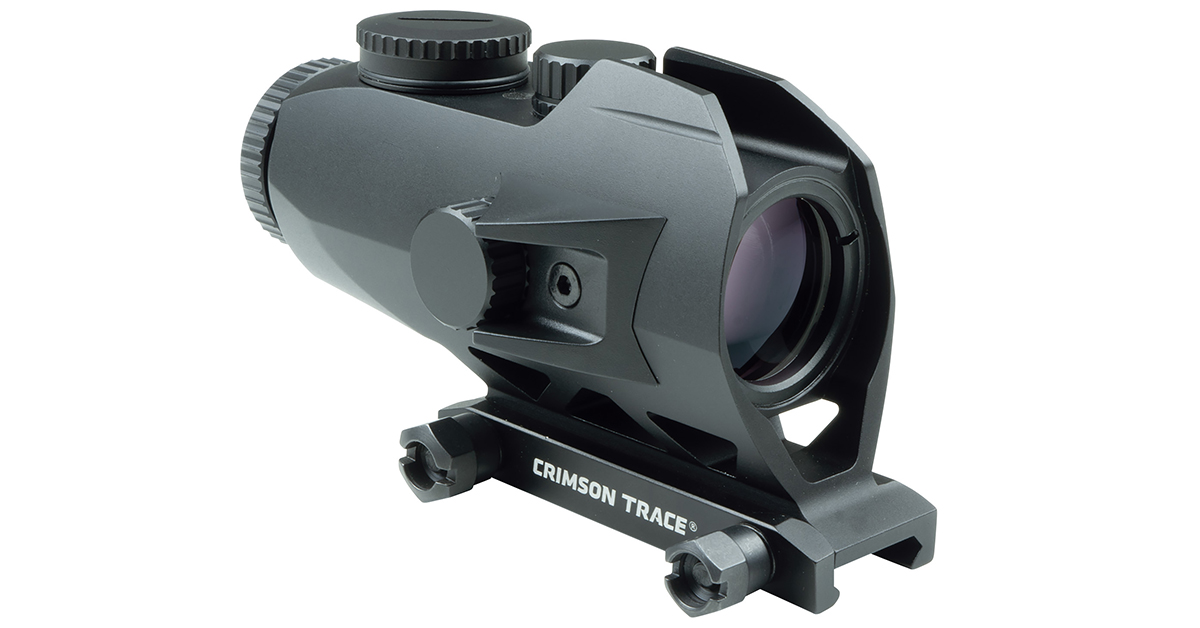 There are several other reasons that the CTS-1100 is one of the best battle optics available today. For starters, it has a rugged anodized aircraft-grade aluminum body that includes a sturdy M1913 Picatinny rail mount. The optic's body surrounds the recessed objective lens with a solid ring of thick aluminum that helps protect it from contact with obstructions such as brush, tree branches, and various forms of urban debris that may be encountered in field environments. The forward half of the sight's upper surface also has protective "ears" similar to the front sights of most WWII battle rifles. The ocular lens is also recessed but has no ears. This is important because the ocular lens is close to the eye and protective ears might interfere with peripheral vision, especially if you use the Bindon technique. In addition, the ocular and objective lenses have advanced coatings to increase light transmission and reduce distortion.

The CTS-1100's Hybrid BDC reticle is one of its more interesting features. This reticle has a 36 MOA semi-circle over a vertical aiming tree. The 36 MOA semi-circle is used for rapidly centering targets at close quarters. The ballistic tree has hold-over hashmarks calibrated at 4.2, 7.3, 11.0, and 15.4 MOA for shooting at longer distances. The tip of the ballistic tree is also a good aiming point for engaging close-range targets with rifles like ARs and AKs, where hold-over is a concern. Guns built on both the AR and AK patterns require about three inches of holdover at five yards due to the height of the battle optic above the bore. To use the tree at close range, simply place the sharp tip of the tree three inches above where you want the bullet to impact and press the trigger. Holdover usually decreases to zero at about 25 yards, where the trajectory of the bullet typically crosses the line of sight, depending upon the load you are using and the distance at which the rifle or carbine is sighted in. Overall, the illuminated Hybrid BDC reticle greatly extends the capability of the optic and its usefulness for its intended purpose.
To test the utility of the CTS-1100 in a tactical situation, I developed an action drill which used a target from Law Enforcement Targets. It depicted an attempted attack on a high-profile person by a man with a knife who successfully the penetrated the inner perimeter of her protective detail. Distance from me to the target was 15 yards. When the buzzer on my Competition Electronics shot timer sounded, I raised an AR from low ready, placed the tip of the ballistic tree at the lowest point on the left side of the assailant's shirt collar, and fired a double tap. Five repetitions of the drill produced ten hits in the upper left chest.
Conclusion
The Crimson Trace CTS-1100 is an excellent example of a modern advanced electronic battle optic. Priced at $619.99, it falls in the middle range of battle optic prices but delivers quality similar to sights that are much more expensive.
Primary Mission:
Battle optic for civilian defense, security officers, police, and military
What I Like:
Rugged construction
Lighted hybrid reticle
Perfect magnification for the mission
Intelligent Power Management with Auto Shut-Off
What I Would Change:
Increase range of operating temperatures
Compare to:
Trijicon ACOG
Primary Arms Silver Series 3X32 Gen II
SigSauer Bravo 3

Specifications
Magnification: 3.5x
Objective Lens Diameter: 30mm
Battery: one CR2032
Body: shock-, dust-, impact-, fog-, water- and recoil-resistant aircraft-grade anodized aluminum
Height: 3 in.
Length: 5.4 in.
Width: 2.3 in.
Weight: 16 oz.
Reticle: Hybrid BDC
Illumination Settings: 10 levels of brightness
Adjustment Range: 70 MOA
Adjustment Graduation: .5 MOA per click
Operating Temperature: -10 to +50C
Eye Relief: 3.5 in.
Field of View: 35 ft. at 100 yards
Latest posts by Martin Topper
(see all)