Balanced, tough, and comfortable as a hand-in-glove, this is the fixed-blade you may be looking for
by Rob Reaser
There is no question that folding knives take top billing among the tactical set, and for most hunters. Their compact design makes them easy to handle, discreet to carry, and they typically deliver all the blade you need for most tasks — especially those delicate operations that demand fine blade control. The shorter edge length typical of most folders also makes it easier for the average user to sharpen.
For over 40 years (yikes!) I have generally carried folders in the field. The Buck 110 I got for Christmas my 8th grade year has served me faithfully on hunting trips throughout the U.S. and continues to hold the "most loved" status in my collection…for nostalgia's sake, if nothing else. I did retire that faithful friend several years ago after I accidentally left it in the field. It required a four-hour drive to retrieve it, so after that little fright, I decided it would remain safe at home.
Much as I appreciate folders, though, good fixed-blade knives are my favorite. Yes, they are a bit bulkier to carry. Yes, they take more work to sharpen (usually). No, they are not the optimal choice for more intricate cutting jobs. But what fixed-blades often lack in portability and finesse they make up for in brute utility. The one-piece blade provides a confidence of strength that I've never really felt with folding knives, and the longer reach has its advantages in many situations. Twice I have had to dispatch large game with a fixed-blade, and it is in such eyeball-to-eyeball encounters that you truly appreciate that additional blade length and inherent design strength. (Having a full grip and your fingers protected by a guard in such unpredictable circumstances also mean a lot!)
Over the years, I have carried many different styles of fixed blades. The bigger ones, like my Buck 119, always seemed too bulky for the finer tasks while the smaller ones, such as my original Schrade Sharpfinger, were too small and lacked the "heft" for hard work. I never really found that happy middle ground until I recently came across a fixed blade from Bear & Son Cutlery called the Bear Tac III.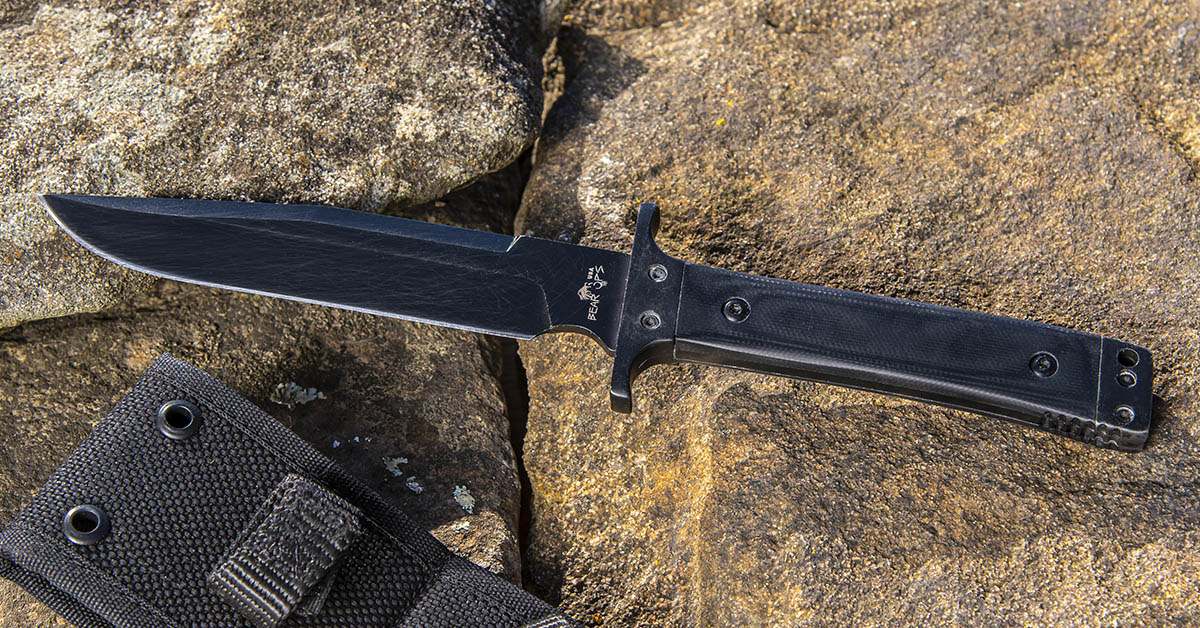 As knives go, the outward appearance of the Bear Tac III is quite unassuming. In fact, this is about as simplistic a design as it gets. No "Look at me!" design features that deliver more form than function and no exaggerated blade profile that could limit practical cutting applications.
My "first grip" impression of the Bear Tac III was its smooth, slim feel in hand and its exceptional balance. The fulcrum point is roughly beneath the forwardmost grip screw, making it almost center-balanced, with weight distributed about equally between the blade and handle — a real plus for blade control.
The handle is comprised of two-piece black G10. It has a smooth finish with contoured edges that transition seamlessly with the tang. This is a highly comfortable yet VERY SLIM handle profile — slimmer than what you will find on most fixed-blades of this size. There are certainly two sides to this coin.
I have medium-sized hands, and this handle does not fill my palm. When holding the knife, I have more of a "finger grip." That is perfect when you need more precise control because it is easier to roll the knife to adjust the blade angle. On the flip side, the slim handle is not the optimal design for aggressive cutting, stabbing, or slashing movements because the grip is straight with no swell to help keep it centered in the palm. As a fighting knife, this is not a first-choice pick.
The Bear Tac III has a two 5/8-inch jimping sections on the back of the handle — one behind the guard and one in front of the butt. I find the rear jimping to be mostly cosmetic but the forward jimping definitely adds welcome traction for the thumb. The guard is appropriately sized to keep fingers safe and is of a two-piece design secured together with Torx-head screws on both sides.
As for the blade, it is made of D2 tool steel — tough stuff that has exceptional wear resistance and good edge retention. While not quite stainless steel, it also has good rust resistance when maintained. Because of the metal's tough nature, many find D2 tool steel blades a bit challenging to sharpen. My Bear Tac III definitely sees my sharpening steel more as an adversary than a friend, so I rely on an extra-hard Arkansas stone and oil, followed by steel and leather, to keep the edge happy. Fortunately, once sharpened, it tends to stay that way longer than lesser blades.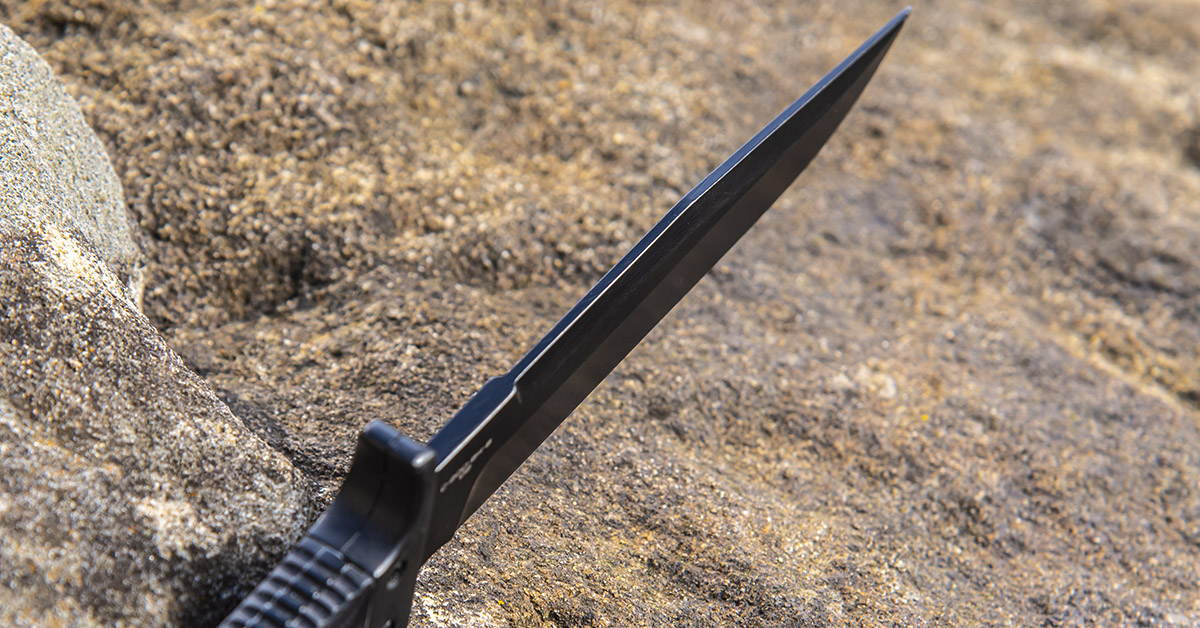 The blade is treated with a black DLC (diamond-like coating) finish, which is quite hard to further minimize surface wear, and the coating's inherent lubricity allows the blade to pass through most mediums more easily to reduce cutting and slicing effort. As measured on my dial caliper, the blade is 0.156 inches thick, or just a hair under 4mm.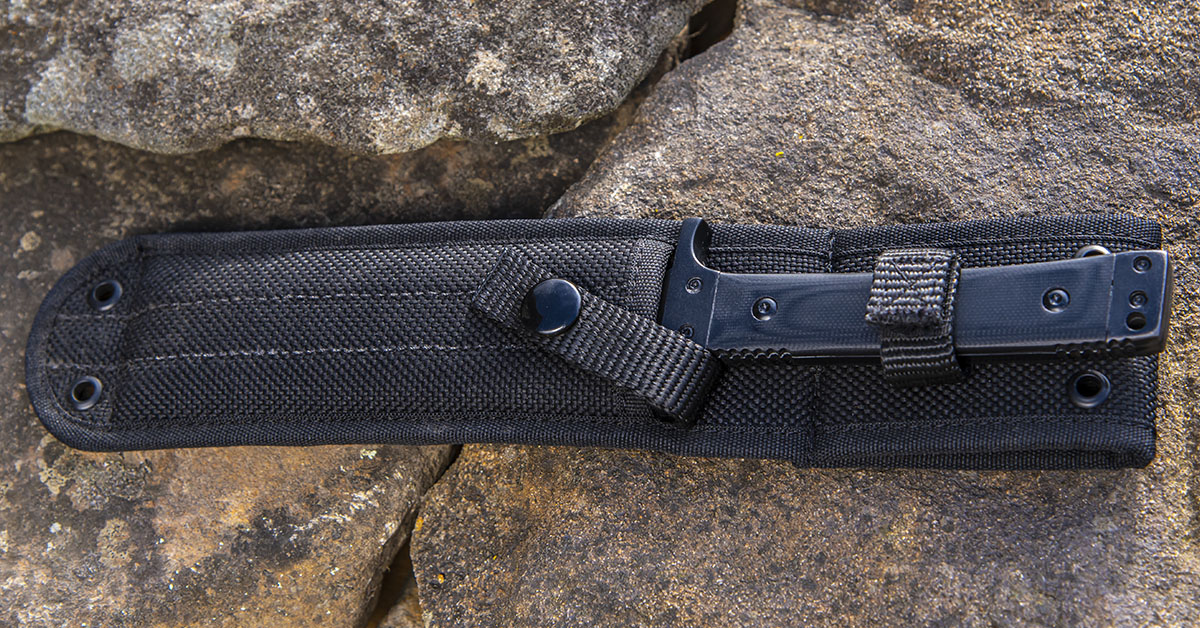 The Bear Tac III comes with a black ballistic nylon sheath that includes a Kydex insert to keep it safe. If there is a weak link in this package, it is the sheath. The sheath feels and appears more akin to a universal, "it fits so let's run with it" add-on rather than one designed for this knife. Yes, it works, and it is MOLLE-compatible so you can attach it to your kit, but I would much rather see a custom Kydex piece or high-grade leather. As it comes, it is too "floppy" for my taste. It is a minor peeve that certainly takes nothing away from the knife itself. To each his or her own.
Overall, the Bear Tac III from Bear & Son Cutlery is a win for me. The blade is tough, the relatively straight back and clip point/drop point hybrid profile make for a diversified cutting and slicing tool that will see you through most any task. And the light, balanced feel…wonderful in the hand. Thus, we can certainly recommend the Bear Tac III for anyone who is looking for an all-around fixed blade knife that will stand up to hard use but not give you a hard time when it's time to go to work.
Bear Ops Bear Tac III Specifications
Model: C-900-B4-B
Blade Material: D2 tool steel
Blade Length: 4 7/8 in.
Blade Finish: DLC (diamond-like coating)
Overall Length: 10 in.
Handle Material: black G10
Weight: 7.8 oz.
Sheath: ballistic nylon w/Kydex insert
Manufacture Origin: USA
MSRP: $133.99