There is a reason why we reach for Timney Triggers for our upgrade projects. Here's a peek behind the curtain of the industry's foremost aftermarket trigger manufacturer.
by Rob Reaser; industrial photography by Yamil Sued
To new or "in progress" shooters, a firearm's trigger may not seem like a big deal. Pull it to the rear and the gun goes BANG. Once those shooters elevate their marksmanship skills and begin to study the many nuances that lead down the path to improved shooting results — be it for target shooting, hunting, or even defense — trigger performance becomes quite a big deal.
Much has been written on what makes the ideal trigger, and as such things that involve human interaction go, much of it is both subjective and situational — subjective because no one has the same biomechanics as another; situational because what makes for an ideal precision target trigger does not make for a desirable defensive firearm trigger.
As we said…nuances.
Yet regardless of the shooter or the application, a fundamental truth about triggers covers the expanse — short, crisp sear breaks, smooth engagement, and a pull weight suited for the application can make a huge difference in the shooter's accuracy potential. That is because these trigger attributes minimize shot disturbance as the trigger is pulled rearward prior to the sear break (when the trigger mechanism disengages from the hammer or firing pin mechanism, allowing the latter to strike the primer).
To get a trigger to perform at this desired level of precision takes a lot of work either by exceptionally talented gunsmiths or by trigger designers and engineers who 1) employ the latest manufacturing technologies and highest-quality materials to build precision triggers and who 2) have the legacy experience to craft triggers for specific firearm platforms and their diverse end uses.
This perfectly describes Timney Triggers.
Located in Phoenix, AZ, Timney has been making precision triggers for a long time — as in 77 years long. That kind of longevity doesn't stand unless you are doing things the right way.
The company started in 1946 when Allen Timney developed replacement single-stage triggers for post-War military rifles that shooting and hunting enthusiasts were "sporterizing" for recreational use. It is a focus that is still relevant today, as you can see in the "Sporterizing" the Ubiquitous Mauser 98 article we ran last year.
While Timney has been around for over three-quarters of a century, the company — purchased by Paul and Rosemary Vehr in 1981 and now owned by son John Vehr — is not stuck in legacy product manufacturing. On the contrary, the company's portfolio of trigger applications continues to expand with new trigger models and new firearm platforms without abandoning the legacy platforms that built the company.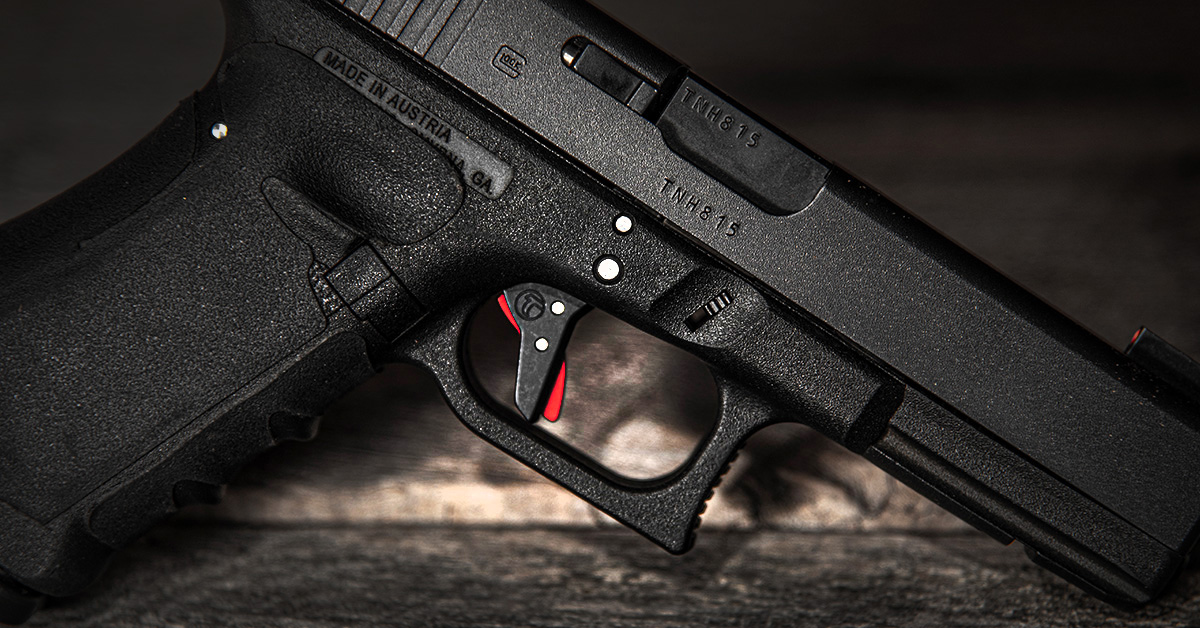 Some examples of the more recently introduced trigger models include the HK MP5 two-stage trigger, the break-out Alpha Competition Series triggers for GLOCK (see Timney Does GLOCK!) and S&W M&P, a drop-in for the CZ Scorpion line, and many more.
Along with that product growth, Timney Triggers manages to stay at the forefront of technological innovations and advanced manufacturing methods and materials to continually work to make good products even better. Along the way, intelligent manufacturing efficiencies allowed by staying on the cusp of new technology means that Timney's triggers maintain enthusiast-level pricing, meaning you don't have to bust the bank account to improve your firearm's accuracy potential.
As mentioned, Timney triggers cover the gamut of firearm applications. The company's precision target models get a lot of fanfare in the competition world, but they are equally suited for and just as easy to install in your bench-shooting or hunting firearms. The Ruger 10/22, for example, is a terrific little rimfire that shoots like a champ but is sorely lacking in the trigger department as it comes from the factory. As we explained in Build a 10/22-Style Rifle YOUR Way, replacing a stock Ruger trigger for a Timney is about as easy and worthwhile an upgrade for that platform as you will find.
Although rifle and pistol triggers comprise the bulk of the Timney Triggers lineup, the company does dabble in the shotgun space with a couple of options. One is their Impact series drop-in trigger for AR-style shotguns. The other, of course, is the Trigger Fix kit for the always popular Remington 870. You can check out that install process in an article we did a couple years ago titled Upgrading the Remington 870 Trigger.
While all of our Remington 700 bolt rifles are eventually up-fitted with Timney triggers (check out Remington 700 Triggers 201: Making the Performance Upgrade), we also favor them in our specialty AR builds, such as we did with our recent Coyote sniper project in Build to the Mission.
The AR is one platform that really illustrates how a well-designed trigger can have a major impact on accuracy — especially for those who have never shot an AR with a quality trigger. The MILSPEC trigger most frequently found in off-the-shelf ARs is usually quite brutish, with a long pull and a crunky sear engagement that often amplifies shooter-induced shot disturbance. If this is what you're used to in an AR, you'll be rather shocked at what a premium one- or two-stage trigger will do for you. And a drop-in trigger assembly like the several models offered by Timney is a simple installation that anyone can do in just minutes.
But just as important as performance, quality, and price is where a product is made. All Timney triggers are designed and manufactured in the U.S. by American workers. In fact, Timney employs over 65 workers, from machinists and assembly personnel to design engineers and the support staff needed to move everything from the factory floor to the shipping dock and on to your mailbox. And it is all done at their manufacturing facility on the Phoenix north side.
We were recently invited for a behind-the-scenes look at the Timney operation and saw many of the machining, assembly, testing, and quality control steps that go into each trigger that rolls out the door. "Impressive" is an understatement.
Here's a quick snapshot of what we saw…
A wire EDM (Electrical Discharge Machining) machine cuts a stack of steel. It may not look like it now, but the end product will be trigger shoes (the part you put your finger on).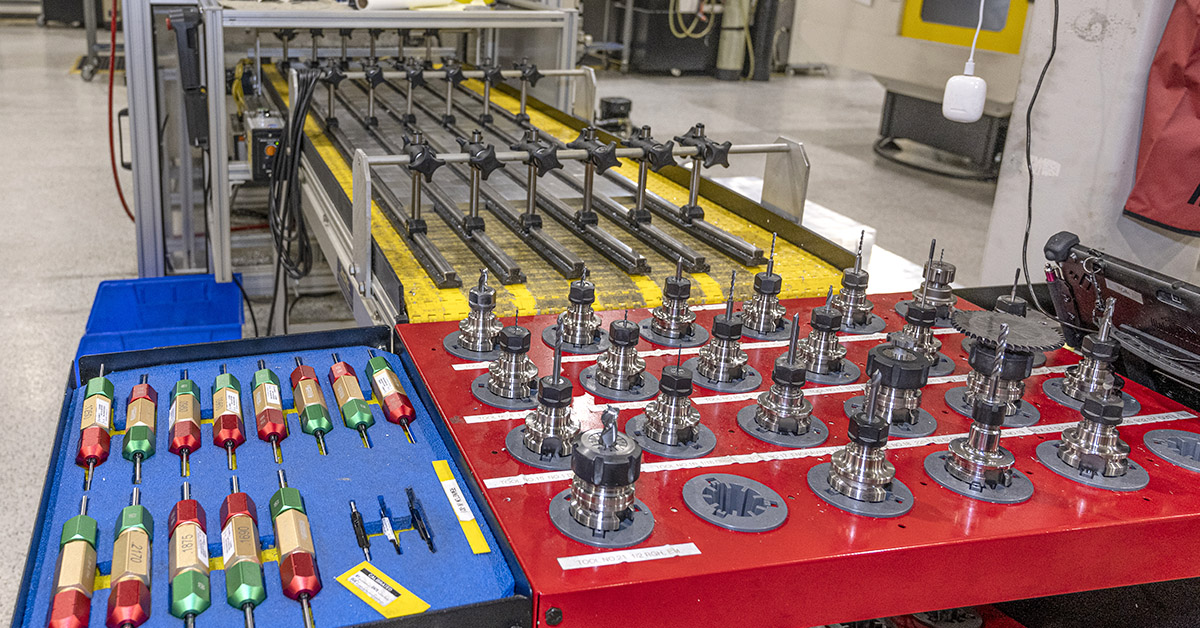 With so many trigger variants in their portfolio, Timney's tooling needs are considerable. Here, assorted tools and gauges for specific jobs are lined up in front of a robotic CNC machine conveyor.
Billet materials, custom-sized for job, stand ready for conveyance onto robotic CNC machines.
A robotic arm picks up a billet from the conveyor to load the CNC machine.
An AR trigger housing eventually emerges from the billet.
These parts, fresh off the CNC machines, are Remington 700 trigger housings.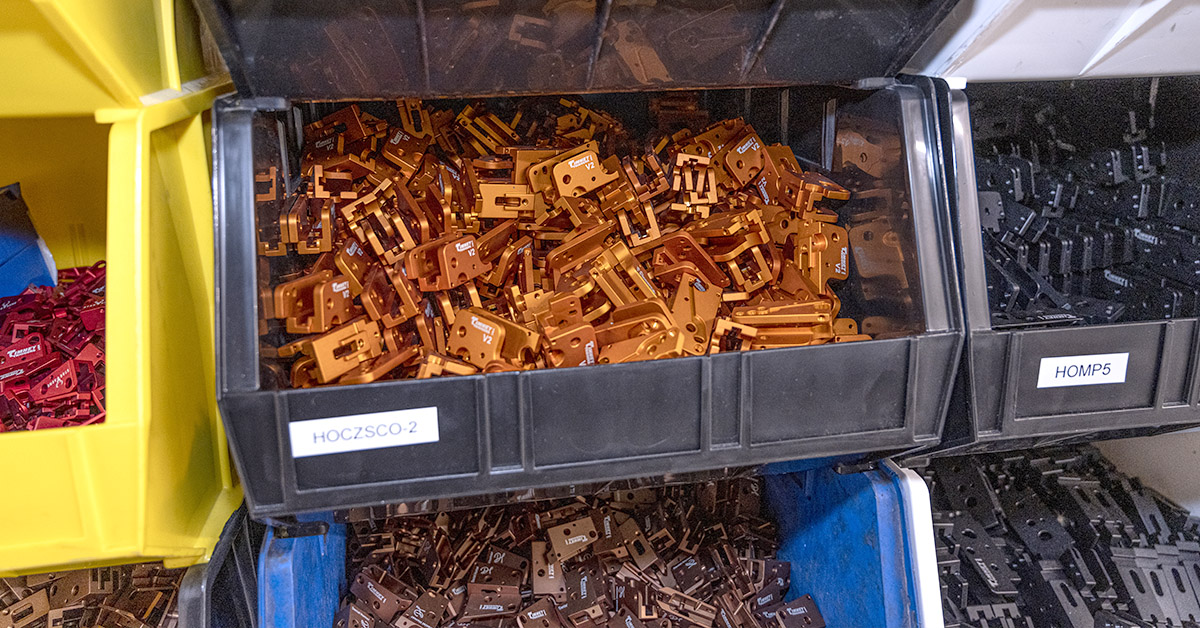 Here are CZ Scorpion trigger housings, anodized and ready for assembly.
All Timney triggers, like these AR two-stage triggers, are hand-assembled.
Assembled triggers awaiting hand-testing.
Timney Triggers is dedicated to ensuring their customers a lifetime of hassle-free shooting enjoyment and predictable performance. That is evident in the last step of the manufacturing process, when each trigger is tested and calibrated for its specific firearm platform before it is delivered to the customer. If a trigger doesn't "feel like a Timney," it doesn't go out the door.
These are Daniel Horner Signature Two-Stage Adjustable AR triggers, tested and ready for packaging.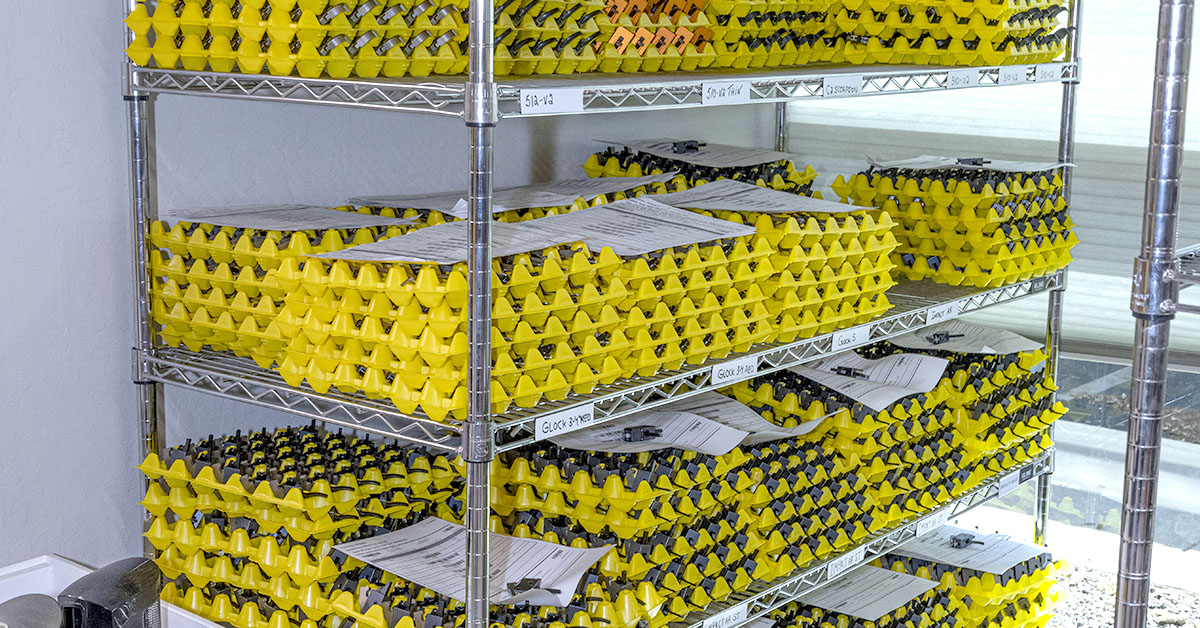 The volume of triggers that move from raw billet to the final hand-assembled and tested product in a day is astounding.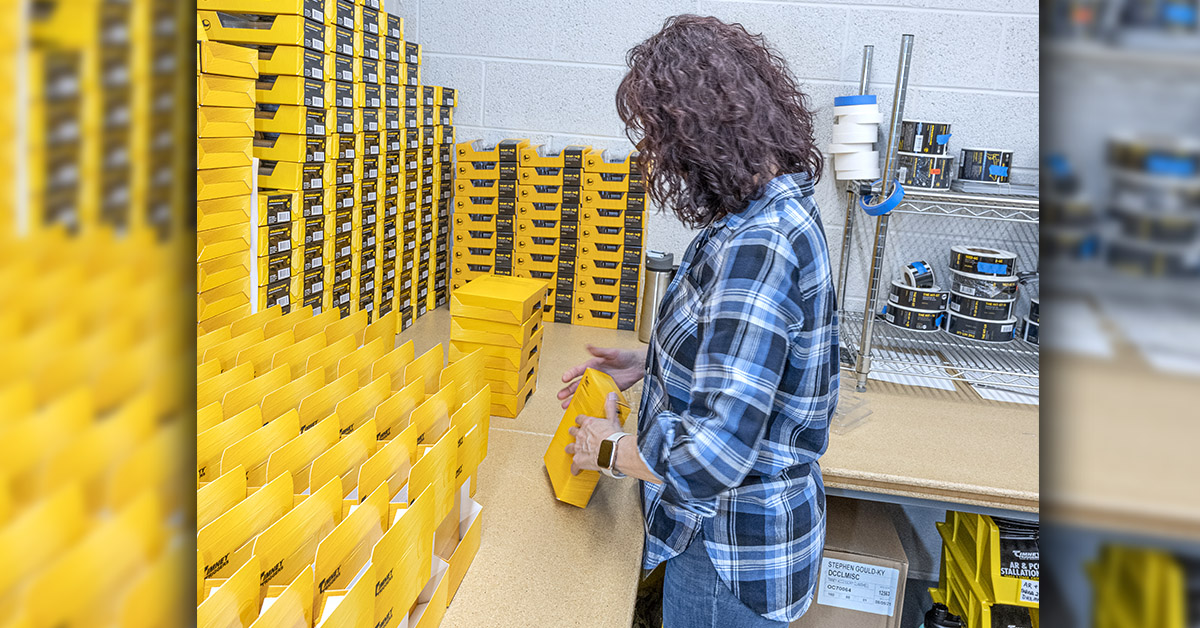 Finally, the triggers are packaged to fulfill direct-to-consumer orders or to enter retail sales channels.
Timney Triggers is housed in a vibrant 25,000-square-foot facility full of state-of-the-art machines that run around the clock. Although Timney has been in business for over 75 years, it remains a company based on the best people in the industry, building the finest triggers in the world, for the greatest and most loyal customers in the business.
While we were at the factory, we learned of a few new products Timney Triggers will be rolling out soon. These will include an expansion of their GLOCK offerings (which we are especially excited about because we really like the Alpha Competition series) and some huge news on the Remington 700 front.
Stay tuned because you won't want to miss it!