Colt's latest snake is a natural hunter   
by Dr. Martin D. Topper
Detective Harry Callahan may have used the big .44 for fighting urban crime in the movies, but in real life, Elmer Keith and the folks at Remington intended the .44 Magnum cartridge to be used for hunting big game. Colt's redesigned .44 caliber Anaconda has been in production for only a short while, and there have been few, if any, articles about how it performs on a hunt. Here in Florida, feral hogs do a great deal of damage to crops and wildlife habitat, so it seemed natural to take a new stainless-steel Anaconda on a hog adventure to see how well Colt's biggest snake hunts.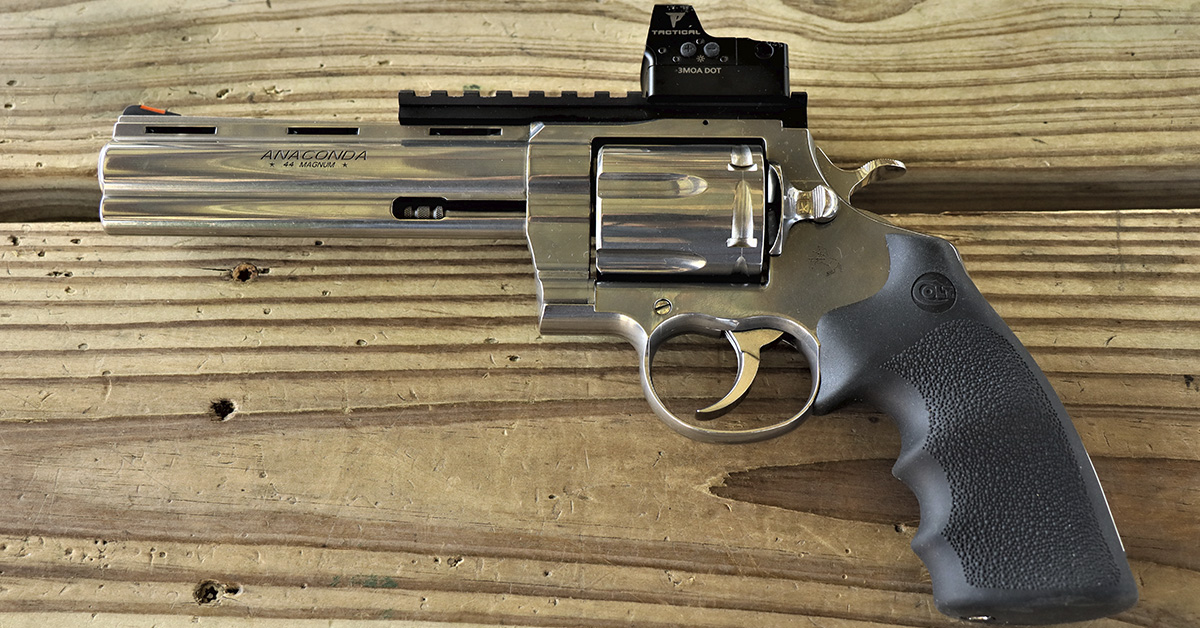 Getting Ready  
A key to a successful hunt is how well a hunter plans and prepares prior to the hunt. Every gun, old or new, should be thoroughly checked out. A proper check includes a workbench examination as well as a live-fire test on a shooting range.
At the work bench, the new Anaconda clearly showed that it was well-made. Cocking the action was butter smooth, the timing was spot on, and the cylinder locked up like the proverbial bank vault door. In addition, there were no sharp edges or poorly finished surfaces, and its semi-polished stainless-steel construction produced a lot less glare than expected. The Anaconda's five-pound single-action pull did have a slight rough spot that caused me to occasionally pull low as the sear broke when testing with an unloaded gun. But the gunsmiths at the Florida Gun Exchange easily solved the problem by applying a little elbow grease to the single-action sear.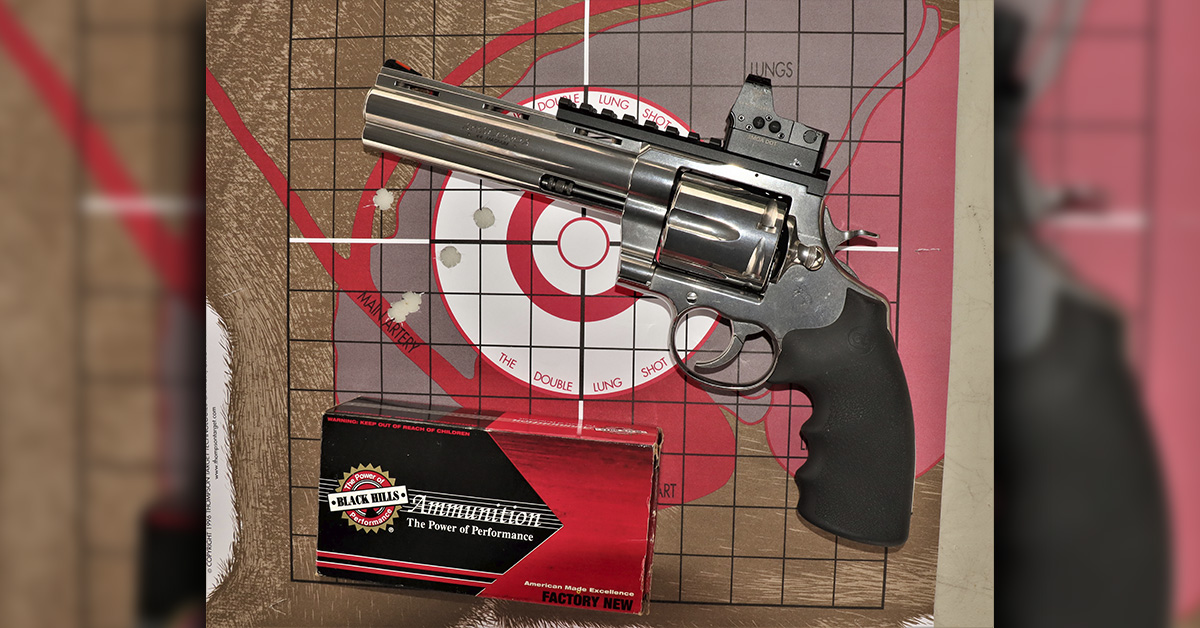 In live-fire testing, the Anaconda functioned flawlessly, digesting a variety of loads. Like every other gun, there were some loads that the Anaconda liked and some it did not care for. It was particularly fond of Hornady's 240-gr. XTP JHP and Black Hills' 160-gr. Honey Badger, which chronographed at 1738 fps and produced 1073 ft. lbs. of energy from the Anaconda's six-inch barrel. FTM bullets are solid copper and have radial flutes which transfer energy to the wound channel by forcing tissue fluids laterally as the bullet passes through the target. The FTM bullet is designed to penetrate straight and deep, create a large temporary cavity, and leave a big, permanent wound channel as well. All these results are from gelatin tests. Since I couldn't find any info documenting the Honey Badger's terminal performance in the field, my plan was to take the Anaconda and the .44 Magnum Honey Badger 160 gr. FTM load on a hunt.
In the last few years, equipping handguns with optics has become more popular than ever. Brownells offers a Weaver-style top rail for the Anaconda. This made it possible for me to test both a red dot and a 4X long eye relief scope. To make a long story short, my much used and now discontinued Nikon P-Tactical Spur 3MOA red dot sight was chosen mostly because the distance from the blind to the feeder would be less than 50 yards, and because the red dot's illuminated reticle is an excellent performer at dawn and dusk. In addition, the ocular bell of the scope tube protruded over the rear of the Anaconda's frame and that didn't leave much room to manually cock the hammer for a second shot, provided one was needed. Given the above, the Anaconda and dot optic were sighted-in at the Flagler Gun Club's 50 yard rifle range using a couple of bags, including a large bag from Champion. All shots were in the vitals on a Thompson big game target. The best group was 2.56 inches, which is more than acceptable considering the P-Tactical Spur's 3 MOA dot subtends 1.5 inches at that distance. All the equipment worked well, and it was time to head out to West Shore Outfitters' to see what would happen when the rubber hit the road.
Snakes Rule!
It didn't take long to find out. After entering the blind at about 6:45 AM, I used the thermal imager on my Leupold LTO-Quest HD to scan the area around the feeder.
There was a large red heat signature in the brush on the right behind the feeder. It changed its shape and position over a couple of hours. Then at 8:15 AM, the feeder went off and the heat signature began slowly moving toward the feeder. About ten minutes later, a small sounder of four 1- to 2-year-old hogs silently stepped out of the brush. The largest one was a boar of just under 100 lbs.
Prior to the hunt, the guide asked me to shoot for the neck to prevent a wounded animal from running into the thick brush. The Anaconda and Honey Badger ammo honored his request with the first shot. The hog went down immediately and never got up.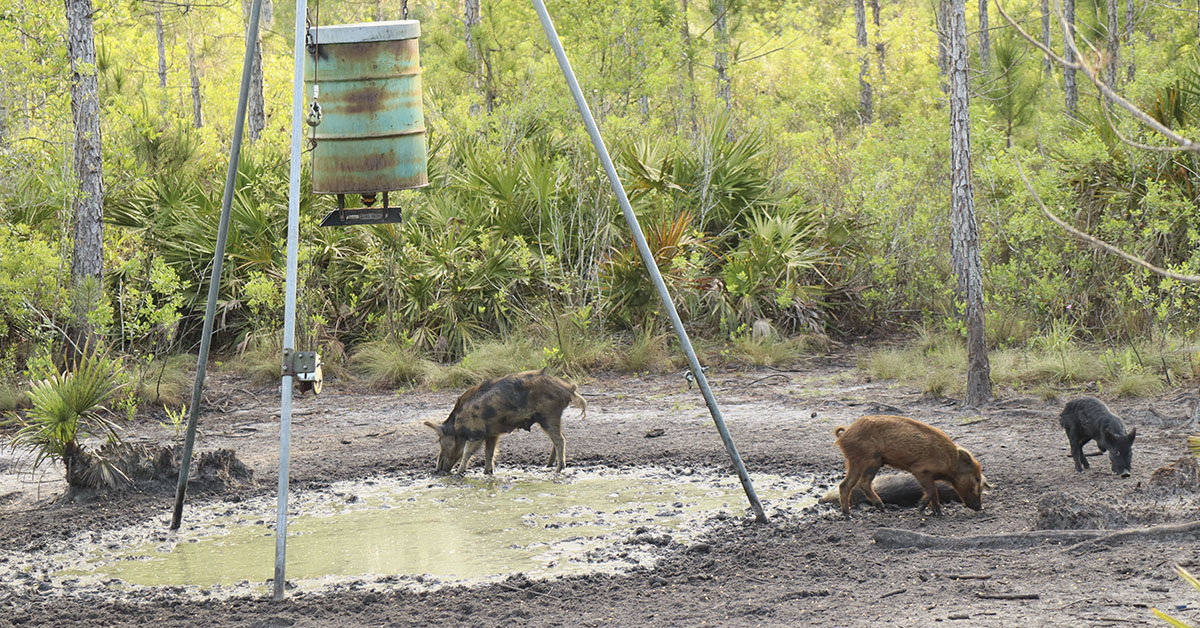 Hogs are very tough. I've seen hogs well-hit with high-powered rifles run a good distance. So, just to be safe, two more solid hits made sure the guide would not have to find and retrieve a hog in thick brush frequented by poisonous snakes and other predators.
In the end, every piece of gear performed exactly as they had on the range. The Nikon red dot and Anaconda put the shots where they were aimed. The Honey Badger ammo produced effective wound tracks that were similar to Black Hills' tests in gelatin. And the Leupold LTO-Quest provided excellent information on where the game was. All in all, it was a very good hunt.
Colt Anaconda .44 Magnum Revolver
Primary Mission:
Revolver for hunting big-game
What I Like:
Rugged construction
Accepts optics
Smooth action
Attenuation of Recoil
What I Would Change:
Lighten SA trigger pull to 4 lbs.
Compare to:
S&W M29
Ruger Super Redhawk
Specifications
Action: double-action revolver
Caliber: .44 Magnum/.44 S&W Special/.44 Russian
Capacity: 6 rounds
Barrel Length: 6-in. with LH 1-in-20 twist
Length: 12 in.
Finish: semi-polished stainless steel
Weight: 3 lbs. 5 oz.
Latest posts by Martin Topper
(see all)