Personal protection begs consistency and practicality in your everyday carry gear. Here's a dig-down-to-the-lint look at what should be on you whenever you leave the house.
by Rob Reaser
We devote a lot of server space to bring you the latest product reviews, how-to information, and practical personal defense topics here at Shoot On. What we have yet to do is to look at the bare-bones essentials that conscientious, everyday carry practitioners should always have on them. Sure, we've discussed bug-out bags and get-home bags and basic gear you should always have in your vehicles or day packs, but what about the elemental stuff that should always be on you?
I go through a routine before I leave the house, where I tuck in my shirt, holster up, and make sure my pockets are occupied by the things I think should always be close at hand. Many of you are probably no different and you have your own set of must-haves that go with you everywhere…the office, the grocery store, church. It makes no difference where you're heading (unless it is a private property "gun-free zone" or an unconstitutional firearm-prohibited government property), this is the stuff that sticks to you like glue to better prepare you for the worst-case scenarios.
Just for fun, I threw all my EDC must-haves on the table and realized that there are a lot of new gun owners and CCW permit holders who likely have never really considered what they should be carrying with them or why. So, I thought it might be a good thought-provoker for the new folks among our ranks to run through "what's in my pocket," so to speak, and discuss why I made my choices. That's not to say this is the best compilation of EDC gear for everyone, but it is for me.
And since all of us are on a continual learning curve, the Shoot On team collectively thought it would be interesting and fun to see what some of our dedicated readers carry with them daily. A sort of show-n-tell, if you will.
If you would like to participate and have a chance of winning a free Shoot On mug (we'll randomly pick a handful of lucky entries for this unofficial event), just visit the Shoot On Facebook page and upload your photo and gear description in the comment section of the post or tag us on your Instagram post of the same.
A Go-Everywhere Personal Protection Package
When I toss all my take-everywhere gear into one pile, I'm looking at six individual items. Even though the gun, holster, and ammunition carry as a single group, the individual items are chosen for specific reasons and those reasons change depending on my daily excursion and dress.
Item #1: Firearm Legal Protection membership card
This is a recent addition to my EDC group, I'm somewhat embarrassed to say, because I should have engaged in a legal protection program a long, long time ago.
The harsh fact is that should you ever need to use a firearm to defend yourself or an innocent victim, YOU are going to face legal jeopardy. You will be detained, you will be questioned, and depending on the chain of events, the evidence gathered by on-scene officials, and the whims of law enforcement officers and judicial officials, you may be arrested and even incarcerated. Whatever the case, you will need legal representation in your corner and you'll need it FAST.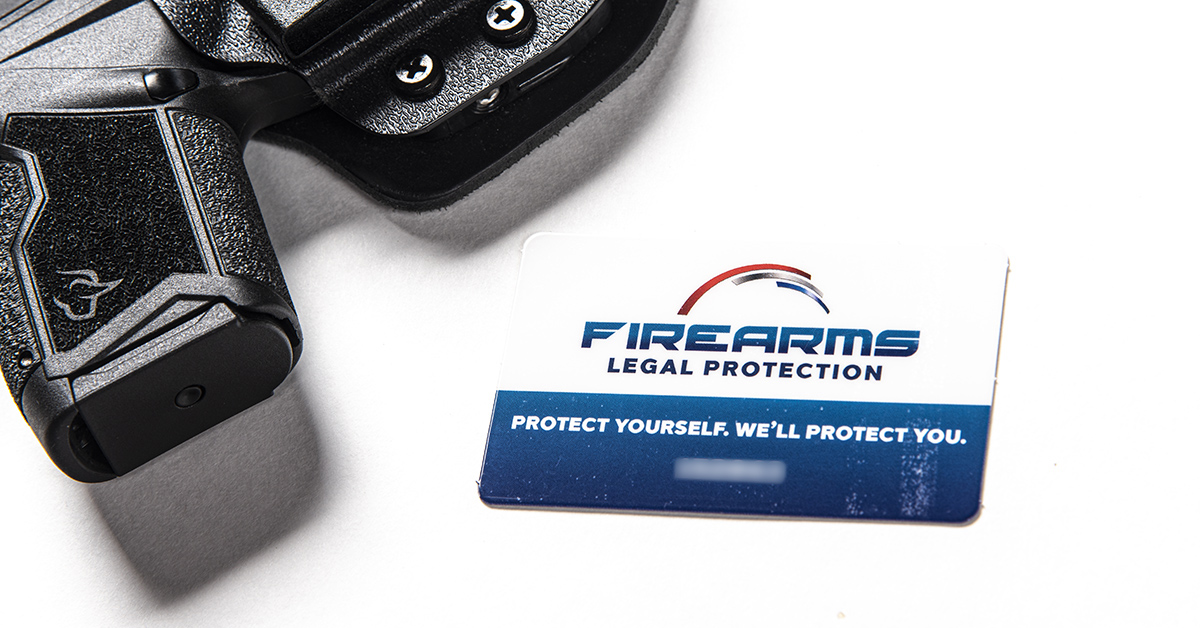 That's where Firearm Legal Protection comes in.
We recently published an article discussing the many benefits of a Firearm Legal Protection membership, which we encourage you to head over and read. In a nutshell, an FLP membership provides you with the legal protection you'll need following a defensive firearm incident. In fact, an FLP membership affords you the opportunity to have counsel on your side even before first responders arrive at the scene. The cost is low (beginning at $16.95 per month for an Individual Basic plan) yet the benefits are expansive.
Since we brought you that article, FLP has increased their plan coverage to include 29 states. To learn more, visit FirearmsLegal.com.
Item #2: Taurus GX4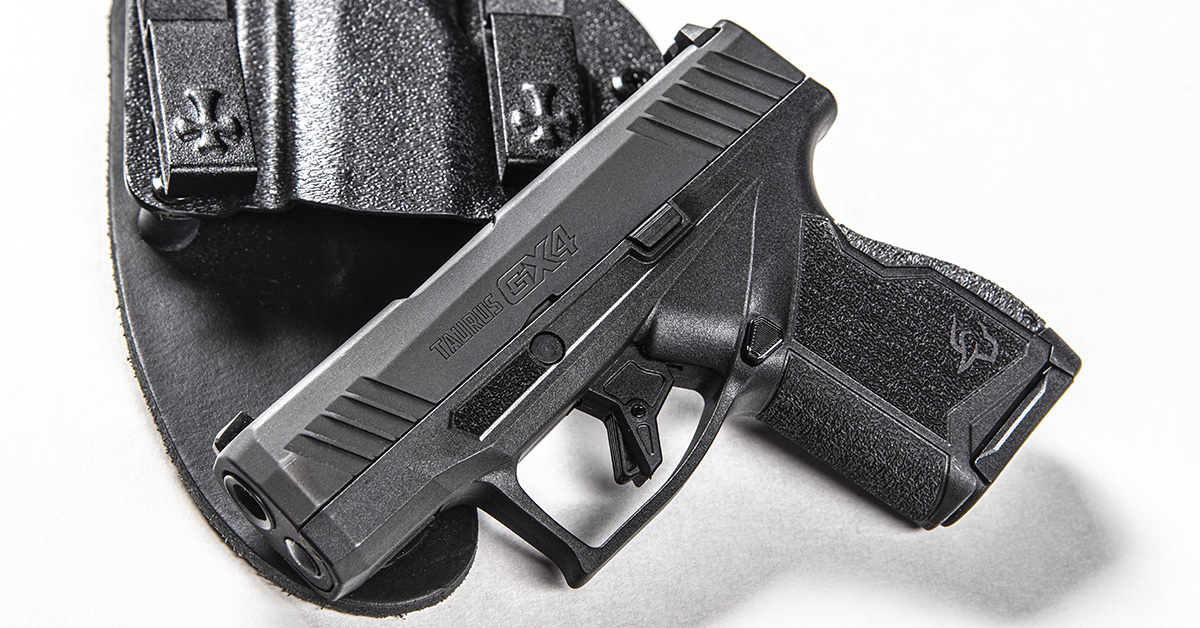 For nearly all carry needs, a micro-compact 9mm is my preferred pistol, and the Taurus GX4 sits at the top of that list for a few specific reasons. First and foremost, this gun has proven to be wickedly accurate for such a diminutive platform. Part of that is due to the quality engineering of the slide/barrel assembly and the refined trigger system. The other reason is that the ergonomics are ideally suited to my hand. The grip is sticky, the receiver profile delivers quick sight alignment, and the gun quite simply "feels" to me more like a full-size handgun than a micro. The fact that I can carry 11 rounds in the magazine is, of course, another bonus.
I do, though, shift from the Taurus GX4 to Springfield's Hellcat or GLOCK's G48, depending on the clothes I'm wearing and the holster required for those clothes. If I can get away with wearing a bigger gun inside the waistband, then the G48 is the gun of the day. For outside waistband carry with an untucked shirt, I'll usually opt for the Hellcat.
Item #3: Crossbreed Holster
While the type of holster I'll wear on any given day is largely dictated by my clothing requirements, in all cases, the holster will be from the Crossbreed or N8 Tactical family. These are my EDC go-to holsters because they have proven to be comfortable, stable, and offer excellent retention and draw performance.
For deep, IWB concealment, the Crossbreed Micro Reckoning works great. The thick leather backer eliminates uncomfortable pressure points while the IWB clips allow you to wear your shirt tucked in. Tension is easily adjusted to provide optimal retention and draw effort, and an optional concealment claw can be added to further minimize printing.
I like the DropSlide OWB holster for "untucked carry" purposes. This holster places the gun low on the strong side so there's no rib-poking when seated, such as in a vehicle.
When it's possible to carry a larger gun IWB, the new Xecutive from N8 Tactical is my huckleberry. Minimalist to the extreme, this holster offers impressive support and retention while providing deep carry invisibility for mid-size pistols like the G48. Check out our review here.
Item #4: Fiocchi Defense Dynamics JHP
Rarely is it fair or accurate to say that one type of ammunition is better than another. Some ammunition is, though, better than others due to the quality of components and the consistency in manufacturing. But when you are talking about top-tier ammo manufacturers, it usually comes down to two basic parameters when choosing a defensive round.
First, the bullet design must meet the application, and it's tough to beat the proven performance of a high-quality jacketed hollow point for a defensive handgun. Second, the ammo must shoot accurately (consistently) with your specific gun. The best ammo in the world (if there is such a thing) may shoot bullet holes from one pistol and pattern like a shotgun out of the next. It all depends on what the gun likes, just as it is with a rifle.
That said, for most of my EDC guns, I've had predictably good results with Fiocchi's Defense Dynamics 9mm in 124-grain JHP. At 1,100 fps, it has the accuracy and the wallop potential you look for in a personal defense cartridge.
Item #5: Rapid Tourniquet
A tourniquet…seriously?
Yep.
Shoot On contributor and former defense professional Paul Markel turned me onto this concept, and he discussed it at length in this recent article. Check it out to learn why a Rapid Tourniquet should be with you (and on you) wherever you go.
Ever since my eyes were opened to the importance of having a quality, easy-to-use tourniquet nearby, I'm never without one. I carry a Rapid Tourniquet in my back pocket wherever I go and I keep one in the center console of every vehicle I drive so that it is within easy reach. So should you…
Item #5: Bear Ops Folding Pocket Knife
Everyone should carry a knife on them, in my opinion. While the likelihood of using it for defense is practically nil, especially if you carry a gun, their emergency uses are real and their practical, everyday applications are legion.
My primary EDC knife is the Bear Ops Auto Bold Action XI by Bear & Son Cutlery. This is an automatic knife (check your state and local laws regarding the legality of autos) with a tough Sandvik stainless steel blade and durable G10 handles. It opens easily, cuts like a dream when the edge is maintained, and has a safety lock and a sturdy, heavy-duty pocket clip that keeps the knife securely hitched to my pants pocket. The only downside is that it can be a bit bulky, depending on the type of pants I'm wearing.
When I need a super-slim folder, I'll carry the Bear & Son Stainless Frame Lock – 112 model. It's light, thin, and comfortably carries just about anywhere.
And there you have "what's in my pocket." Now, what about you? Head over to our Facebook page or tag us in an Instagram post and show us what you carry for everyday protection. You may win a free Shoot On mug!