Current events prove that gun owners face serious legal jeopardy anytime they exercise the right to preserve their life. Here's how to defend yourself in the aftermath…
by Rob Reaser
[EDITOR'S NOTE: Shortly after we published this article, the jury in the Kyle Rittenhouse trial returned a unanimous verdict of "not guilty" on all counts of the indictment. We would like to thank the jury members for their careful consideration of the facts in this trial, their respect for the law, and for their service. ]
As I write this, the prosecution in the case against Kyle Rittenhouse has concluded its arguments and the evidence has been handed to the jury for a verdict. How the jury will decide is, of course, anyone's guess, but fair and objective observers of the trial and of the highly documented events that occurred on the night of August 25, 2020, in Kenosha, Wisconsin, beg the question from most personal defense practitioners… "How did this case ever come to trial in the first place?"
In most self-defense events that wind up in a criminal court proceeding, evidence is rarely as well documented with video as is this case. That it has proceeded to trial is alarming to many of us. Most self-defense defendants must rely on practiced defense attorneys and competent investigators to shield them from and to overcome zealous state prosecutors.
This is a frightening reality that far too few personal defense practitioners and 2A adherents fully appreciate. Defending your life or that of another that results in a fatal or even injurious outcome for the aggressor places you in grave legal jeopardy. Even more disturbing, as we have witnessed over the last couple of years, the political climate in many areas of the country—particularly metropolitan areas—is that defenders seem more likely to be criminally prosecuted than the actual perpetrators of violence.
The adage, "Better to be judged by twelve than carried by six," still holds weight, but the assuredness of others viewing personal defense the same way we do is no longer a given—especially in the agenda-driven political and social climate we find ourselves in today, where truth and objectivity seem to be more aspirational virtues than judicial cornerstones and "reality" is dependent upon who can spin the best yarn.
Fortunately, the 2A community and everyday carry proponents have affordable access to legal protection and advocacy.
A few months ago, Shoot On contributor Steve Statham wrote an article on a legal service provided by Firearms Legal Protection based in Texas. I found the article enlightening and troubling at the same time—troubling because, in all my years of holding a CCW permit and carrying a personal defense firearm in reciprocity-friendly states around the country, I had never closely considered the legal ramifications of being involved in a shooting event.
Shame on me.
Stack the Odds (and Law) in Your Favor
Oh, I fully understood that the spotlight (interrogation light?) would shine brightly on me should I ever be involved in a defensive shooting event, and I knew that invoking my right to counsel was step one in dealing with authorities in such an event. I did not, however, consider the cost and all the minutiae of possible legal defense.
It wasn't until an upcoming road trip out West that I began to weigh the consequences of my running "legally naked" despite being a licensed CCW permit holder. The events of the last 20 months have certainly focused all our awareness on the increased possibility of a defensive encounter, and it has shaped the way we move about. For example, I am not the only one among the Shoot On staff who routinely accepts longer travel routes and inconvenient overnight locations simply to avoid large cities or travel through sketchy urban areas.
Vehicles break down and tires go flat, you know?
So, prior to my cross-country trip, I took a deep dive into Firearms Legal Protection's services from a consumer perspective with the intent of becoming a member.
As we reported earlier, FLP offers three membership levels so you can choose the level of protection that best meets your needs and budget. All plans can be paid monthly to minimize the household budget impact, or annually with a one-and-done yearly purchase. I found the cost to be surprisingly affordable. The company's most popular plan, Individual Premium, is only $27.95 per month. When you think about this costing about the same as a fast-food dinner, that's nothing for the benefits you receive. Even the Family Premium membership is affordable at $44.95 a month.
What does the cost net you? This charts detail the services and costs by plan:
If you have engaged an attorney recently, you already understand that the cost of retainer and of hourly fees hover at mind-numbing levels for most of us median wage earners. You're probably looking at $300-$400 per hour for an experienced attorney from a successful firm, plus charges for every conceivable expense that the attorney incurs on your behalf. Compound that with the costs of discovery, expert witnesses, et cetera that comprise a criminal defense effort and the impact on your personal finances can be devastating…even if you win the case. For the uncapped attorney fees alone, the FLP option was enough for me to say, "Sign me up!"
Speaking of signing up for a membership plan, it was way easier than I thought it would be. There were no long or personally intrusive forms to fill out. I simply went to the sign-up page, provided basic contact info, selected the membership plan I wanted, and submitted payment. Done.
Another plus was that my plan took effect immediately (which I needed for my road trip). FLP instantly sent an email notifying me that my plan was activated along with a temporary password to access my online member account. A week or so later, I received the official member welcome kit via snail mail. This kit included a rundown of my selected member benefits, contact and protocol instructions in the event of a self-defense incident, and wallet and key chain cards with FLP contact info and procedures to follow should I need their service.
Yet another feature FLP offers to members who join through a facility, such as a class or seminar where a price lock guarantee is offered, is a locking in of the original member pricing level for as long as that membership stays active. In other words, should prices invariably increase through added or expanded member benefits or inflation adjustment, your monthly or annual membership cost is locked in so long as you stay with that plan.
New FLP Member Benefits
That is a good thing for members with the Price Lock guarantee in affect because beginning in December 2021, Firearms Legal Protection is offering expanded benefits for Premium Level members and a new benefit for all membership plans.
The newest member benefit is applicable to the Individual Basic, Individual Premium, and Family Premium plans. With this benefit, FLP will work to expunge any criminal records on covered incidents that do not result in a conviction up to $5000.
"Even if you are not convicted of a crime, an arrest can show up on an individual's record," said Pliny Gale, FLP Director of Marketing. "FLP continues to increase benefits in every way possible to help individuals recover from such a devastating incident. We want to help keep the slate clean—especially if you are not convicted of a crime."
In addition to working to expunge applicable criminal records, FLP offers Premium members three expanded benefits:
doubling of coverage limits for expert witness and investigator fees (no longer combined under a single maximum limit)
increase to $5000 the limit for incident scene clean-up
payment for confiscated firearms if not returned within 6 months from conclusion of the case
Take It with You
No doubt you've done this as many times as I have. You're heading on a cross-country road trip and need to know the legalities of carrying concealed or open in the states through which you will be travelling. So, you hop online and try to find the most up-to-date info on states that have reciprocity with the state for which you have a CCW permit. Maybe you want to take a deeper dive into a particular state's carry laws.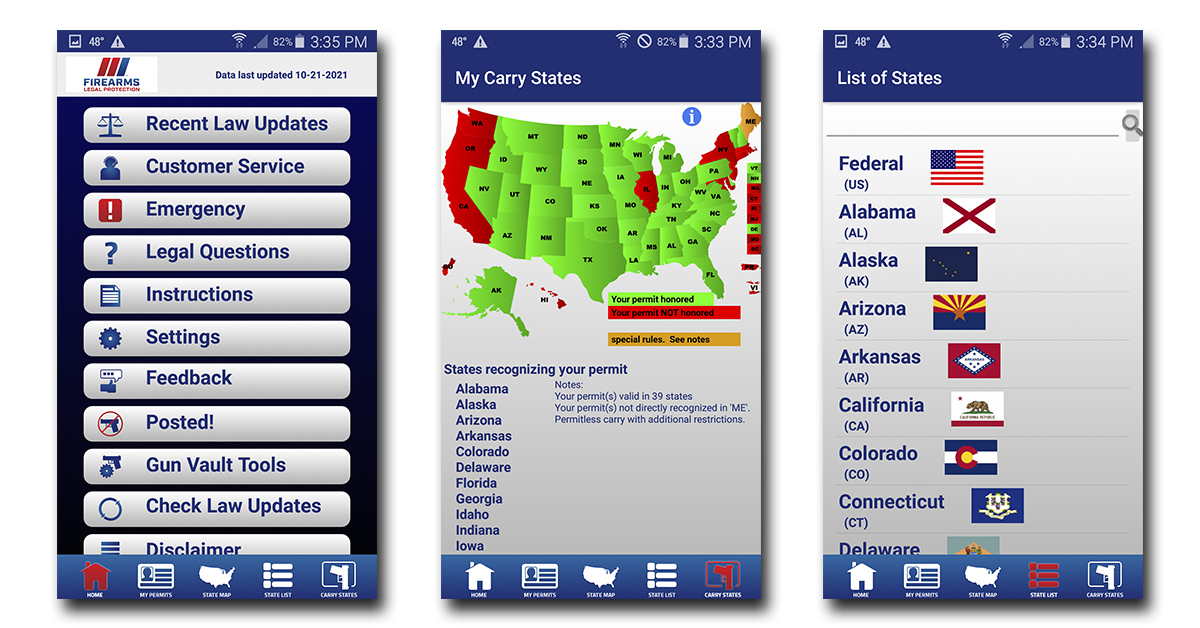 Well, FLP membership makes access to this and much more information easy and fingertip-ready with their MyFLP app. There is a whole pile of current legal updates, reciprocity info, and much more available through the app, along with FLP emergency contact information and procedures so you'll always know what you can do and where you can do it.
A Smart Investment
Those who are antagonistic to our 2A rights and who have a disparaging view of private citizens taking proactive steps to defend themselves, their families, and others against violent acts seem to believe that those of us who prudently exercise those rights are "looking for a fight." As you know, the extreme opposite is true. None of us ever want to engage our firearms with anything other than a target and we understand fully that avoidance of conflict is always the goal. Nevertheless, deadly violence may be visited upon us any time, anywhere, so we prepare for that possibility. But that preparation should extend beyond the conflict and include how to deal with the potential aftermath.
For that eventuality, a legal defense plan such as those offered by Firearms Legal Protection—a plan that is ready to be activated even before emergency responders arrive at the scene—is certainly worth more than the cost of a monthly fast-food meal.