RRA's latest AR-10 sharpshooter, the Operator DMR series is built for those who want to send big bullets downrange quickly and accurately
by Jeromy Knepp
From 2001 to 2021, our military spent 20 years in the Middle East. During those 20 years, we learned a lot about effective firepower and fire superiority; however, the enemy also learned about our fire superiority. They learned the limitations of our M4s and M16A2s. They knew that moving back out of effective range gave them some safety. This created the need for accurate fire for street-to-window accuracy, and shots over 300 meters.
Designated Marksman
The infantry found out very quickly that accurate rifles were becoming a necessity. Thank goodness for bean counters who thought it would be a great plan to keep old, accurate firearms boxed up from bygone eras. The M14s were called to duty once again. Walnut stocked, blued steeled beauties were scoped and put to work. Thus came the Designated Marksman. These are infantryman trained in scouting and precision fire similar to snipers. Not to be confused with a sniper, they are trained for highly effective suppressive fire as well as taking out high-value targets.
The RRA Operator DMR

Rock River Arms is always looking for something new to provide the public and law enforcement. Early this year, RRA announced a new series of AR-10 and AR-15 platform rifles with accuracy and fire superiority in mind.
Chambered in .308/7.62×51 and sporting a 20-inch chrome-lined barrel with a 1:10 twist, the Operator DMR OP1005BT (tested) and Operator DMR Enhanced OP1007BT share similar parts. Both are equipped with RRA's Ultra Match 2-Stage trigger, low profile gas block, 17-inch free-float M-Lok handguard, BCM SOPMOD buttstock, Magpul Pro Series MBUS flip up sights, and LAR-BT3 billet upper and lower receivers. Also part of the package is built-in QD mount, five-slot rail assemblies, and a Hogue beavertail grip. The Enhanced DMR comes with the Silencer Co Chimera 300 Suppressor.
As another option, if you are doing CQB work, the Operator DMR OP1010BT and Operator DMR Enhanced OP1012BT come available with 16-inch chrome-lined barrels. Be aware that if you go with the Enhanced versions, OP1007BT or OP1012BT will require all the paperwork necessary to appease everyone's favorite three-letter agency. Be prepared to wait for your prized rifle.
Accessorizing the DMR
To stabilize this rifle, I reached out to ACCU-TAC, and it proved to be a great move. ACCU-TAC provides some of the industry's highest quality bipods with several different options to fit your shooting needs. The best part is printed right on top of the box. "Quality Guarantee and Made in the U.S.A." Need I say more?
Yes…yes, I do! I was very excited to get this bipod unboxed and mounted. I received the FC-4 G2. This is their F-Class style bipod. It has a very wide stance, providing ultimate stability. Made with 6061 aluminum alloy, it is strong and light of weight. Max height is 8.25 inches with a maximum stance of 16.5 inches fully extended.
The legs provide five height adjustments. Four positions for the legs allow a shooter to adjust to uneven terrain. Also built in is a cant lever and panning knob. Rubber feet offer good purchase on grass, stone, concrete, and wood tables. The cushion provided by the feet keep hard surface bounce to a minimum. It can be purchased for use with a picatinny rail or ARCA rail. There are many other accessories available to tailor the bipod to your needs.
I also added the RRA Marksman 6-position stock. This provided great stability for riding in my rear bags during the bench session. The recoil pad on this stock option also helped with felt recoil compared to the stock that comes with the DMR Operator.
Optics
Also new for this year is the Burris Veracity PH rifle scope. The integrated technology allows the user to tap the BurrisConnect app to upload your ammunition ballistic data directly into the scope for its onboard ballistic calculator.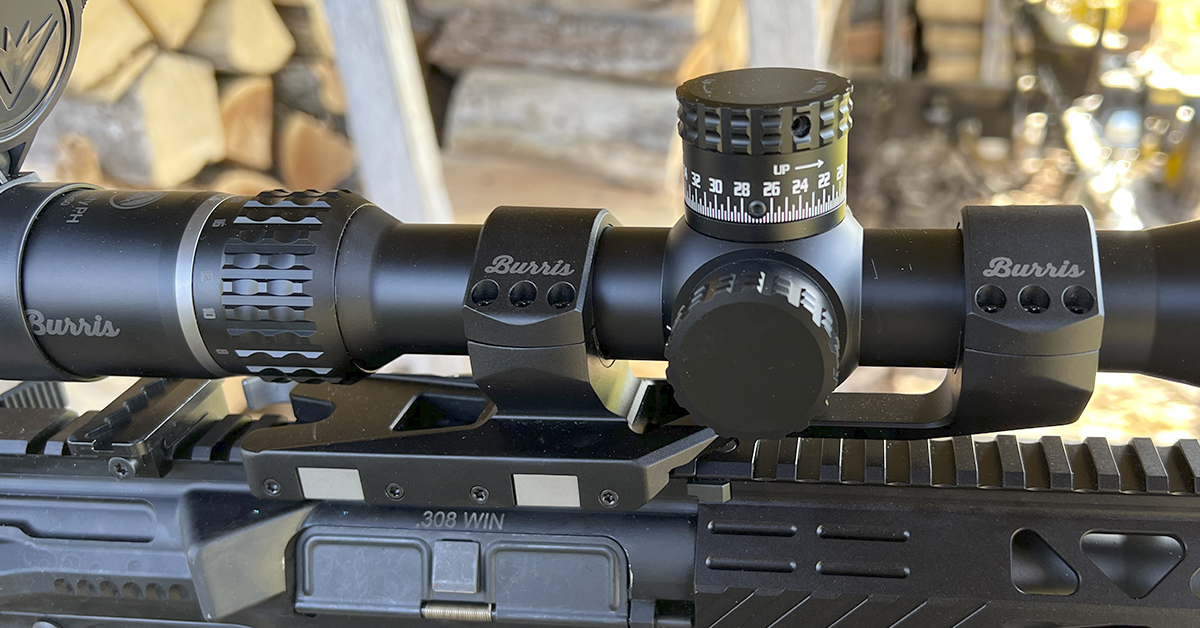 Looking through the scope, you will see a heads-up display (HUD), providing you feedback without lifting your head to look at the elevation turret. Using Burris' new Signature LRF 2000 rangefinder makes ranging easy. Once you determine your distance, dial up the scope and watch the numbers climb in the HUD to your corresponding yardage. The scope pulls its environmental data from the onboard weather station in the app. It also accounts for angle as you get on target.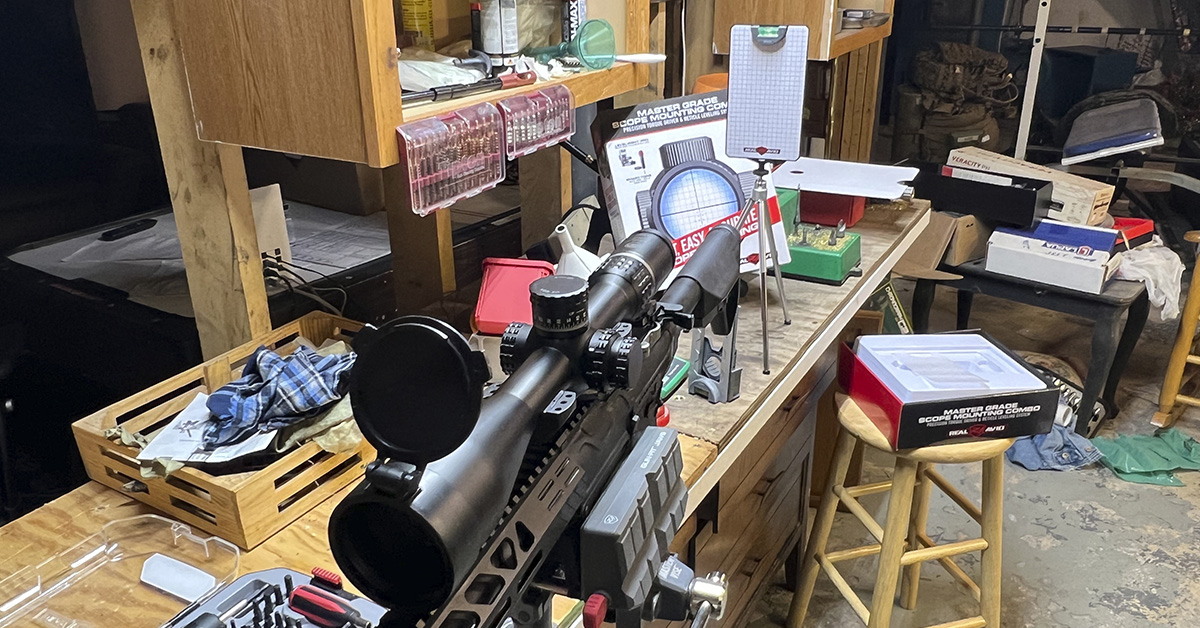 To mount the scope, I used the Burris AR-Signature QD P.E.P.R. Mount. Burris Signature technology allows you to build in MOA to the rings. Packaged are bushing in 0 MOA, +/- 10 MOA, and +/- 20 MOA. I built 30 MOA into my mount to allow for drops to 1000 yards. Using the Real Avid Master Gun Vise and Real Avid Master Grade Scope Mounting Combo made quick work of setting up the scope. Did I need that much MOA? Probably not. But if you have it, use it! The Burris QD mount gave enough elevation on the top of the rifle to accommodate the 50mm objective of the Veracity PH.
Range Time
I was excited to give this gun a run on the range. Initially, I was happy with how it shot. The first few groups were shot with Black Hills 175-grn. BTHP ammunition. I was interested to see if these would meet or beat the 1.5 MOA guaranteed touted by RRA.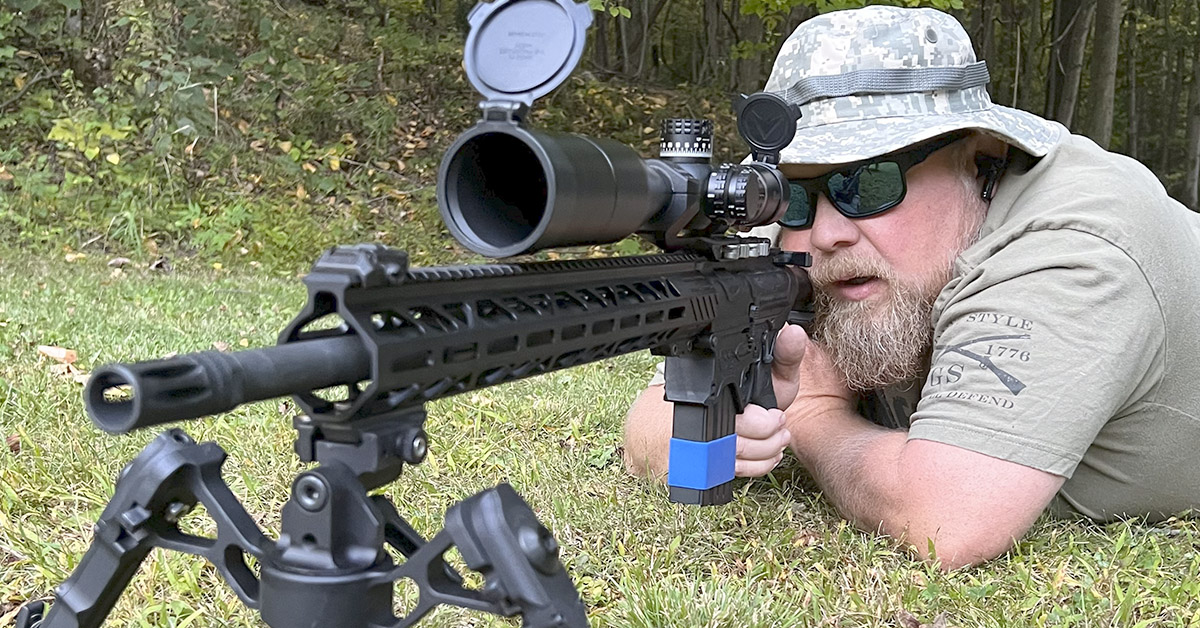 I wanted to try it using one of the suppressors that I had on hand. This is not the same as the Enhanced Operator listed above. The first initial shots worked, but it was tearing up my brass. After a couple magazines and stove pipes, I decided to take off my suppressor and put back on the A2 flash hider that comes with the rifle. Using my suppressor caused the rifle to be over gassed and it ran the bolt too fast for proper function. Once taken off, the rifle performed flawlessly again.
How did it group? "Minute of man," as intended. Using eight different factory options told me that the Operator DMR can handle many different bullets and powder combinations. The best accuracy of the day came from the Black Hills ammunition at 1.059 inches for a single five-shot group. The worst on the day came from the Hornady Precision Hunter 178 ELD-X at 4.713 inches. I did accomplish hitting a groundhog at 273 yards with a different lot of this same ammunition. Minding ammunition lot numbers is crucial to maintain repeatable accuracy with factory ammunition.
Test Results (average of two five-shot groups)
Remington Match 175 BTHP: 1.325 in., 2503 fps
Hornady Black 168 A-Max: 1.390 in., 2520 fps
Hornady Superformance 150CX: 1.451 in., 2787 fps
Federal Gold Medal Match 175 BTHP: 1.548 in., 2485 fps
Black Hills Match 175 BTHP: 1.633 in., 2515 fps
Hornady Precision Hunter 178 ELD-X: 4.231 in., 2511 fps
Handloads (Hornady brass, Federal 210M primers, set to book recommended OAL):
Ramshot TAC 45.5 gr., Hornady 155 ELD-M (SD 36 fps, ES 92 fps) – 1.418 in., 2865 fps
Winchester StaBall Match 45.0 gr., Hornady 178 BTHP (SD 6.7 fps, ES 17 fps) – 1.465 in., 2607 fps
Final Thoughts
Overall, understanding the point of the Rock River Arms Operator DMR is important. Don't expect bug holes with every load. If you expect functionality and good accuracy from an AR platform rifle, this is a reliable option. I would like to see an adjustable gas block for those who already own suppressors to better tune the rifle. If you plan to frequently shoot from bags and a bench, I suggest you opt for the RRA Marksman 6-position stock and an effective muzzle brake for recoil control.
Latest posts by Jeromy Knepp
(see all)