The world's leader in primer manufacturing and Olympic-grade shotshells, Fiocchi also stands tall in the premium rifle cartridge category. Before you grab the "whatever I can find" ammo this year, you should give Fiocchi's Hyperformance rifle cartridges a go at the bench.
by the Shoot On staff; photography by Therese Shaw
Although the true measure of any cartridge is its accuracy and terminal performance, it is the sum of all the components, along with the preciseness of the loading, that makes a cartridge standout in the field and on the bench. You can have the best custom rifle ever made, but if the cartridges it is fed do not adhere to equally stringent material and manufacturing standards, the best you can say about the rifle is that it shoots inconsistent loads better than a lesser rifle would.
Many factors influence a cartridge, from the quality of brass and primer to the powder selection and charge, bullet type, seating depth, and more. Like a perfectly tuned and measured orchestra, a premium-performing rifle cartridge demands exceptionalism from all its components, blended with a maestro's touch.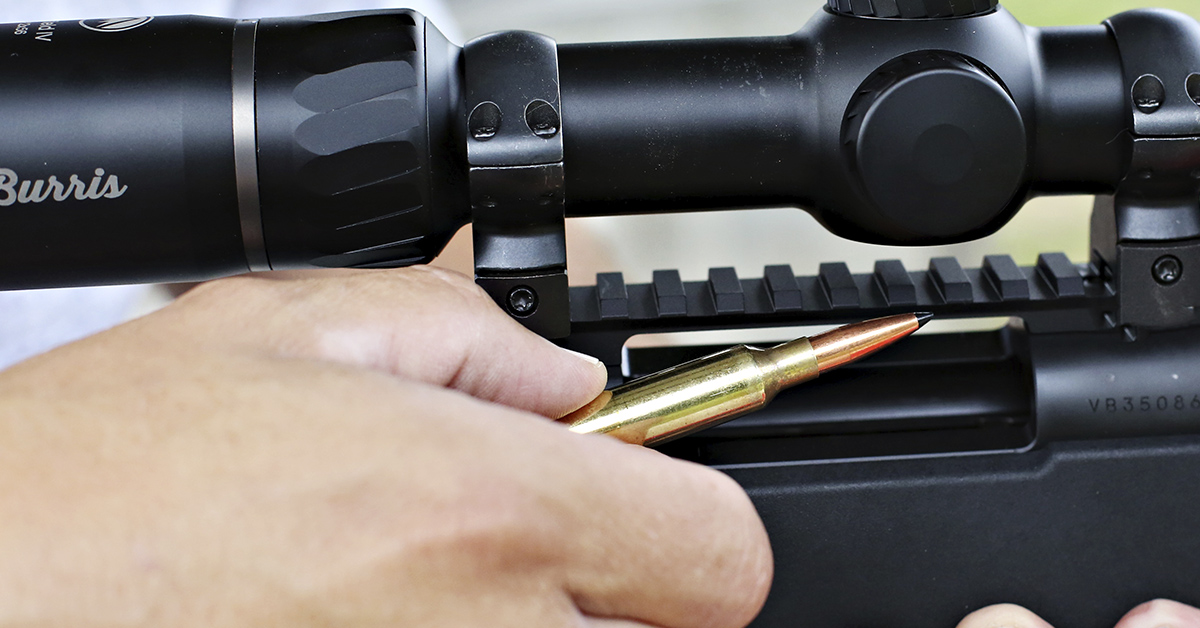 That is the formula for Fiocchi's top-shelf Hyperformance rifle cartridges. We have successfully used these on several mule deer and whitetail hunts, and even a moose hunt, over the last few years, and recruited a number of loads for assorted rifle tests.
The results have been noteworthy.
As we have said many times, you don't know what you've got in terms of firearm or ammunition until you put them together and start pulling the trigger. Ammunition "A" may deliver tight knots with rifle "A", but ammunition "B" may group like a shotgun out of the same rifle. Firearms like the ammo they like, and that's the bottom line. You can, however, often narrow the ammo possibilities by sticking with quality manufacturers.
That is why Fiocchi's Hyperformance line has stood out for us. We've used it in a lot of different rifles and calibers, along with several other brands to ensure a proper evaluation, and the Hyperformance loads have rarely failed to hit the #1 or #2 "most accurate" spot. So, if your ammo choices are limited this year, zeroing in on a quality load like the Hyperformance will stack the accuracy odds in your favor.
Aside from the quality component used, including Fiocchi's own primers, and the exacting loading standards, Fiocchi loads its Hyperformance cartridges with high ballistic coefficient, controlled expansion tipped bullets for a flat trajectory and optimal terminal performance on medium and large game animals. Specifically, the company uses either Hornady's SST or the Swift Scirocco boat tails, with weight variables to best match your rifling twist rate. Available loads include:
.223 Remington, Barnes Varmint Grenade
.243 Winchester, Swift Scirocco and Hornady SST
.260 Remington, Hornady SST
6.5 Creedmoor, Hornady SST and Swift Scirocco
.270 Winchester, Hornady SST and Swift Scirocco
7mm-08 Remington, Hornady SST
7mm Magnum, Hornady SST and Swift Scirocco
.300 Blackout, Hornady SST
.308 Winchester, Hornady SST and Swift Scirocco
.30-06 Springfield, Hornady SST and Swift Scirocco
.300 Winchester Magnum, Hornady SST and Swift Scirocco
To learn more about Fiocchi Hyperformance hunting rifle cartridges, visit Fiocchi USA.

Latest posts by Shoot On Staff
(see all)