Taylor's & Company delivers two new 1875 revolvers chambered for modern 9mm ammo. Now you can get your cowboy on by slinging low-cost lead!
by Jeromy Knepp
The early 19th century produced some of the most unique repeating firearms known, like "pepperbox" revolving barreled pistols and multi-barreled pistols mounted in a horizontal configuration. Names such as Colt, Paterson, Smith & Wesson, Webley, LeMat, and Remington were some of the earliest revolvers known to civilians and the military. Samuel Colt was one of the first to patent and design a cap and ball revolver in 1836.
Remington, in 1856, designed their first cap and ball revolver. During the American Civil War, Remington's 1856 design became the backup revolver to Colt, helping the Union Army stay in the fight after Colt's factory burned in 1864. This solidified Remington's place in the U.S. Army at that time.
Toward the end of the Civil War, self-contained cartridges became the new standard. Smith and Wesson produced the first self-contained cartridge using rimfire technology in .22 cal. Soon, this became standard in firearms of the day. The late 1860s and early 1870s saw a growth in cartridge technology as well as in revolver development.
Not to be outpaced by fellow manufactures, Remington designed and produced the 1875 revolver in both 7.5-inch barrel and 5.5-inch variations. Based on the 1858 Army percussion revolver, the cylinders were bored to accept metallic cartridges. Remington offered the 1875 in blued steel with hardwood grips and nickel plating along with ivory grips. It was carried by the legendary Buffalo Bill and Frank James, who favored the robust design.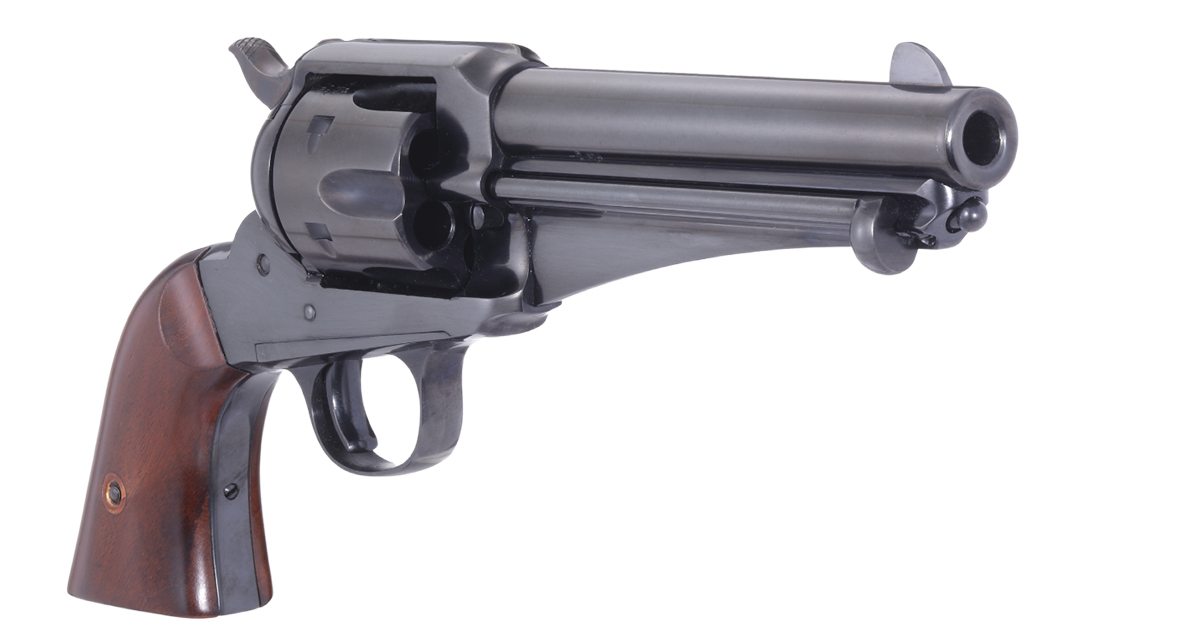 New for this year, Taylor's & Co. is producing a faithful reproduction of the 1875 Remington. Manufactured by Uberti for Taylor's & Co., these revolvers are available with either 5.5-inch and 7.5-inch barrels. The forged steel frames, walnut grips, and distinctive 1875 profile take you back to the days of the Old West, where tough criminals and sometimes tougher lawmen would shoot it out on dusty streets.
Officially named the 1875 Army Outlaw, this is one of many Outlaw models in the Taylor's & Co. lineup. Although I've not shot any of the other Outlaw models, if my review gun is any indication, none in this series should disappoint. Staying true to the 1858 Army frame, this revolver is a thing of beauty.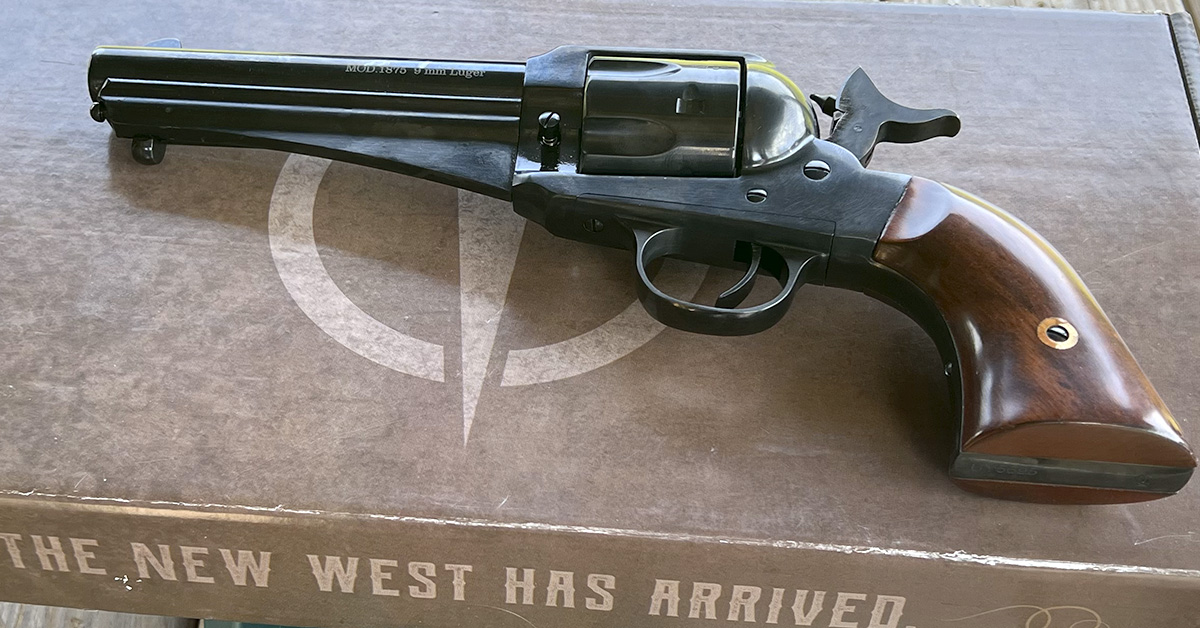 Clean, solid bluing and walnut grips grab your attention immediately upon opening the box. The heft of the revolver makes you appreciate how the men of yesteryear could handle that chunk of metal hanging on their hips all day. The grip and weight of the revolver feel right in the hands. The cool thing with this model is that it is not a .45 Colt or a .44-40 but is chambered for the 9x19mm cartridge.
How Does It Shoot?
"WOW!" This revolver makes me feel like a better pistolier than I really am. Being a 9mm, recoil is nowhere near what is felt with an auto-loading pistol. Not that there is much there to begin with, but it is way more manageable for good, steady shooting. The weight of the revolver just soaks up the recoil.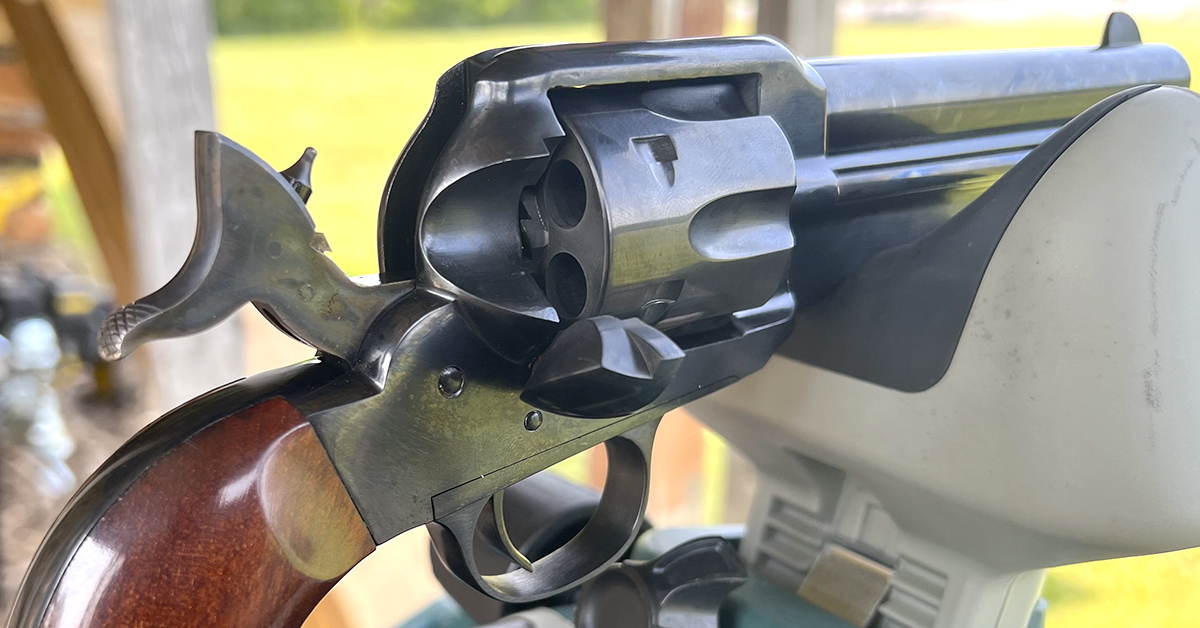 So, I asked myself how do you make a single action Army replica shoot 9mm? Moon clips? I had nothing to go on until I received the new Outlaw. Once I pulled it out of the box and opened the side loading gate, it all made sense. As in a modern pistol, each cylinder is chambered to headspace on the case mouth. Set the hammer to half cock and plop in the cartridge. Turn the cylinder and repeat five more times. It's that simple.
Unloading fired or unfired rounds is just as simple. Set the hammer to half cock, open the side loading gate, and extract the fired casings by pushing the extracting rod mounted under the barrel. Many times during testing, three to four empty cases would just fall out of the cylinder, allowing for quicker reloading.
Ammo Testing
Having access to multiple loadings, I was curious how this revolver would shoot. I had some idea when I pulled it out for the first time. The first two shots on an IPSC target darn near stacked on top of each other using Hornady 115-gr. FTX Critical Defense ammunition. I cleaned the plate rack and shot a Texas star. Five out of six for my first run. Call me impressed!
When I took my time to shoot, the gun proved equally impressive. Using Hornady, Barnaul, Fiocchi, Remington, and a handload with hard cast bullets was fun. Larry Potterfield, on his Midway commercials, said that Col. Townsend Whelen only found accurate rifles interesting. I can say with certainty that Col. Whelen would find the 1875 Remington Outlaw very interesting. This revolver can just plain shoot. Many times, I would cut the same holes during a six-shot string.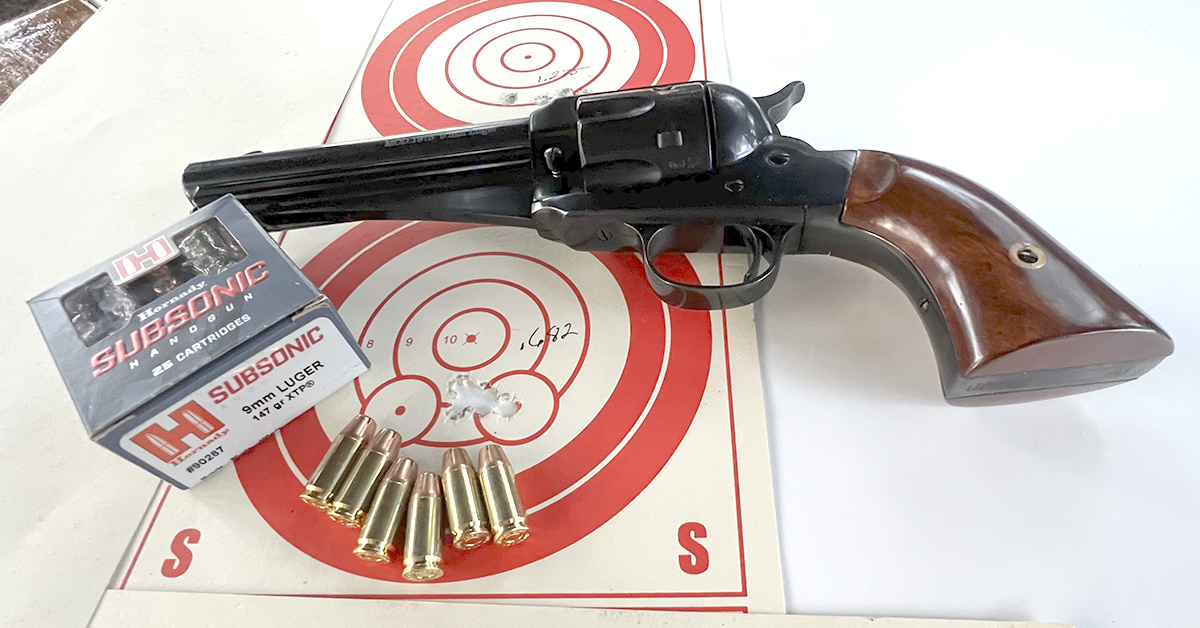 Three of the groups printed under an inch. My 9mm handload is a 147-gr. hard cast using N330 powder and CCI #500 small pistol primers. This load produced a group of .715 with an average of 1.568 groups. I had one group go very horizontal, opening up the average. The second group under an inch came from the Barnaul 151-gr. FMJ subsonic at .845 with an average of 1.374. The best group on the day came from Hornady 147-gr. subsonic, producing a .628. The average was 1.115.
All groups were shot from a Caldwell Matrix rest at seven yards. I shot each target with six-shot groups except for the Hornady subsonic, with five-shot average groups.
Hornady subsonic 147 gr. XTP: avg. 1.115 in.
Fiocchi Training Dynamics 115 gr. FMJ: avg. 1.215 in.
Remington white box 115 gr FMJ: avg. 1.235 in.
Barnaul subsonic 151 gr. FMJ : avg. 1.374 in.
Handload N330 147 gr. hard cast: avg. 1.568 in.
Hornady Critical Duty 135 gr. FlexLock: avg. 1.608 in.
On Target
I really like this slice of Americana . The feel and weight of the gun is just right. Accuracy is above par for something that only needs to look shiny and mimic something from days gone by. The trigger is also great!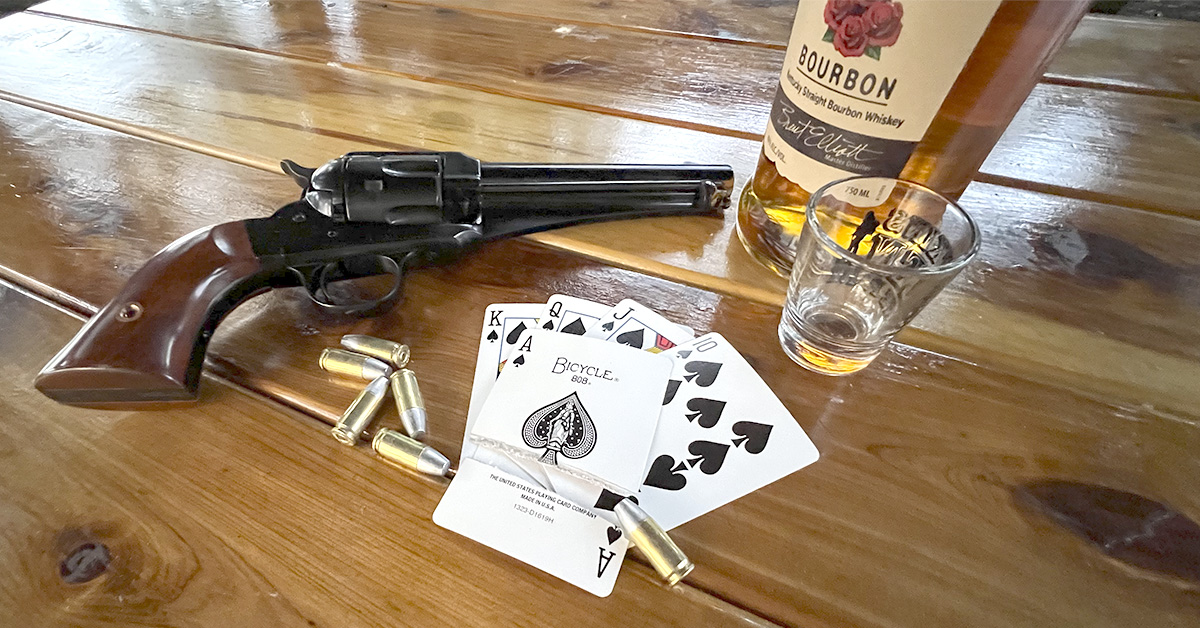 Just for fun I used the Barnaul subsonic and took aim at a 6-inch gong at 200 yards. The tenth shot produced a light "pink!" and a big smile. To add to the challenge, I placed a playing card on edge in a clothes pin and managed to split the card on the third shot. I just needed a cowboy hat and spurs to complete the feeling.
Off the Mark
As I shot the Outlaw, I noticed the chambers starting to feel a bit "sticky." Due, no doubt, to fouling buildup.
Loading is slow — one round at a time.
Final Thoughts
Taylor's & Co. created something special with the 1875 Outlaw. It reminds us of a simpler time in firearms evolution that became the standard for personal protection. If you want to feel like Buffalo Bill or Frank James, here's your huckleberry.
Taylor's & Company 1875 Outlaw 9mm Specifications
Action: single action
Firing Pin: traditional on-hammer
Chamber: 9MM
Capacity: 6 rounds
Barrel Contour: round
Rifling: 6-groove; 1:16 RH
Barrel Length: 5.5 in.
Metal Finish: Blued steel
Front Sight: fixed blade
Rear Sight: notch in frame
Grip: 2-piece, walnut finish
Overall Length: 10.80 in.
Weight: 2.5 lb.
Safety: manual cylinder pin
MSRP: $669.75
Latest posts by Jeromy Knepp
(see all)