A firearms event dedicated to burning gunpowder and four-stroke fuel
by David Kelley
MotoSchützen, a near annual gathering of dedicated motorcyclists and shooting enthusiasts, has concluded. Simply put, MotoSchützen is an event with the specific purpose to build relationships between individuals sharing a passion of two-wheeled excitement and the firearms industry. Many attendees utilize the steel horse for transportation to and from range facilities for exposure to manufacturers' latest products along with scenic recreational rides built around an itinerary that maximizes the touring feel that motorcyclists crave. This year's event was based in the northwestern region of Illinois, with one day spent busting clays and the second putting lead on steel with pistol, carbine, and rifle.
Let's look at some standout products from the manufacturers that participated this year, in order of event.
Day One: Shotgun
On the first full day of the event, the group departed Black Bear Lodge North near Mount Carroll, Illinois, for a one-and-a-half-hour ride to the Bi-State Sportsman's Association of Colona, IL. The Bi-State grounds offered opportunities to shoot trap, five-stand, and sporting clays.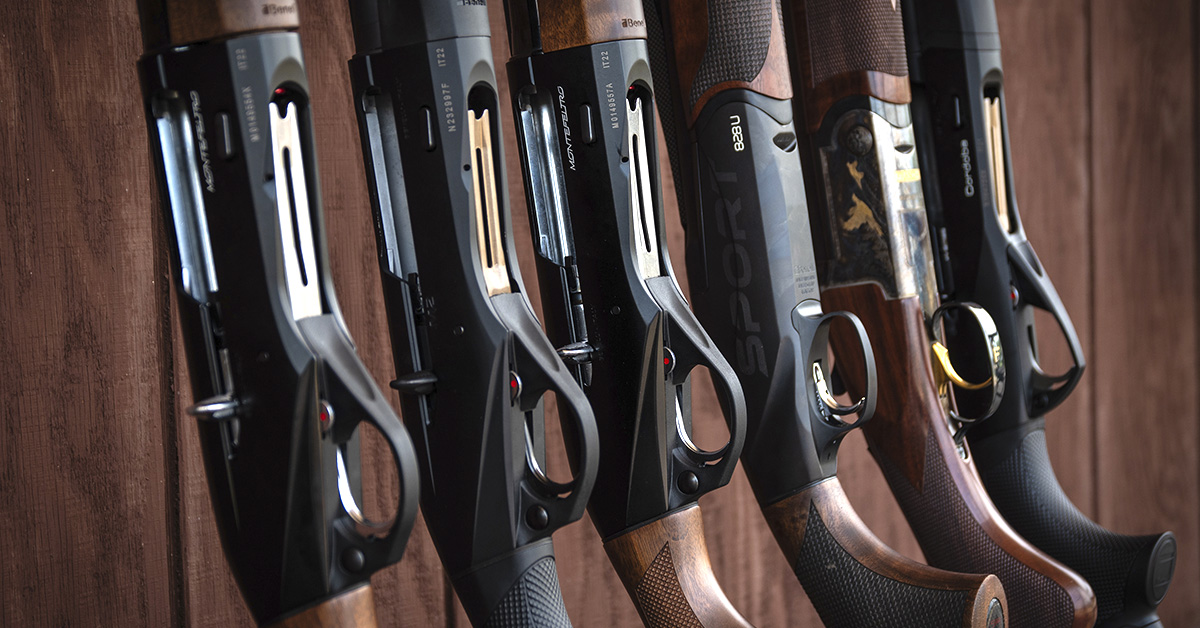 Firearms for the shotgun event were provided by Benelli USA. Benelli, Franchi, and Stoeger offerings were well represented with an array of shotguns that fit an interest for all participants. Attendees were welcomed to select a fitting shotgun, then broke down into manageable sized groups to fire on the three ranges available.
Historically being a 20-ga. fan, I gravitated to the slender Benelli ETHOS Cordoba BE.S.T., as it is a shotgun that I had no prior experience handling. Spending part of my youth and now middle age walking long, overgrown fence rows and pushing thick brush for Pennsylvania bunnies has made me appreciate a light shotgun. The Cordoba meets that bill at a mere 5.9 lbs. in 20-ga. trim. The recoil, due to the light weight, is dampened by a ported barrel and Comfort Tech 3 stock configuration, which you'll find negates some of the snap expected from a sub-6-lb. gun. Once I caught on that the Cordoba patterns high, as many Benelli shotguns do, cracking clays happened more repeatedly on the second round compared to the first.
The remaining balance of Benelli 828 Us, Cordobas, and Montefeltros, a Franchi Affinity 3 Sporting, and an Instinct LX, along with Stoeger M3020s, were well received by the attendees. The Franchi Instinct LX is another svelte 6.6-lb. 20-ga. that aligns with the streamlined feel and quick handling scatterguns that I tend to reach for. I did not shoot the sporting clays course, although I did a drive through on a commandeered golf cart and witnessed some tough but friendly competition that continued well after our catered lunch break on the club grounds.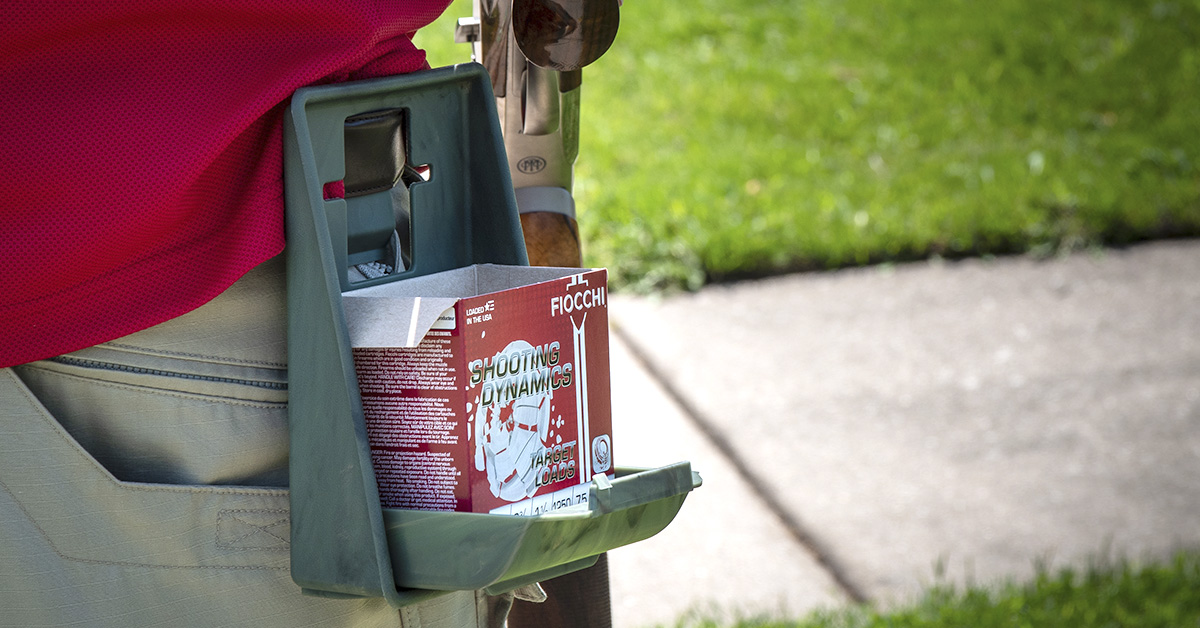 Fiocchi of America provided a plentiful amount of 2 ¾ loads from their Shooting Dynamics line for both 12-, 20-, and 28-ga. shotguns. The ammunition was carried by the MTM Case-Gard Shotshell Box Caddy and belt-mounted 25-round carriers.
Upon "rounds complete" and sharing some bragging rights, a few stops were made to see local sights in the Colona and Geneseo areas and then another scenic route was selected for the return to Black Bear Lodge North to spend an evening sharing the experiences of the day and many stories of past MotoSchützen events.
Day Two: Pistol, Carbine, and Rifle
The second day of the event was conducted at The Site, which is just a few short dirt and gravel miles from Black Bear Lodge North. The Site is a firearms training facility boasting a well-manicured 100- to 600-yard rifle range, several pistol/carbine ranges, a simulation house, and a live-fire shoot house. Following an introduction and safety brief from the facility manager, we loaded back into trucks, motorcycles, and sidecar and headed to the 100- to 300-yard rifle range. Once prepared and cleared to fire, shooters lined up behind the multiple rifles and carbines on the 100-yard range and went to work on freshly painted steel.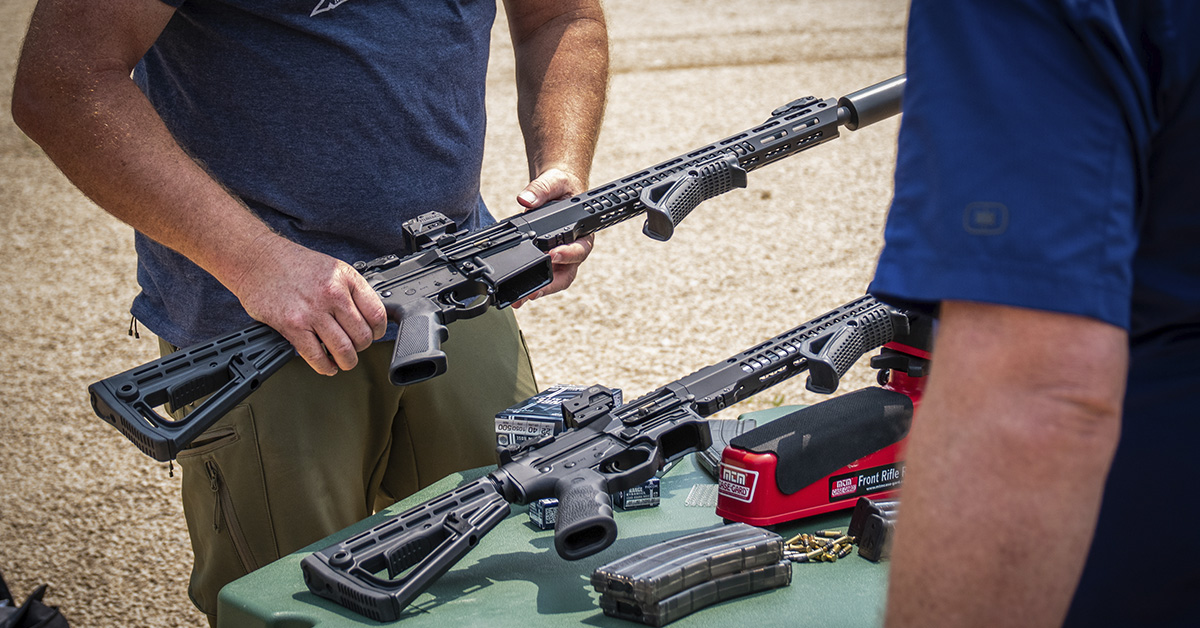 Starting at the left end of the firing line was Rock River Arms of Colona, Illinois. Rock River Arms provided the semi-automatic AR platform Operator DMR in 223/5.56 and Operator DMR in 308/7.62×51, along with their bolt-action, KRG Whiskey-stocked RBG-1 chambered for 308/7.62×51. Both 308/7.62×51 rifles were equipped with Burris Optics — the 3.3-18x50mm XTR III and 5.5-30x56mm XTR Pro, respectively. As published in past Shoot On articles, these Burris optics are fitting for these RRA rifles. As expected and factory guaranteed, the Rock River Arms rifles proved accurate and reliable.
The tripod mounted bolt-action RBG stole the show on the left side of the range, with the Burris XTR Pro being repeatedly used to spot impacts for the group of shooters throughout the morning.
Moving to the center of the firing line, MG Arms, known for ultralight rifles and pistols, arrived with a 6.5 Creedmoor weighing a mere 4 ¾ lbs., plus optic weight. The demo rifle wore a Swarovski optic mounted in Talley rings, adding another pound to the rig. The owner of MG Arms, Kerry O'Day, explained that the stocks are made in house and are significantly lighter than most found on the market. Combining the removal of metal from the action that does not affect integrity, along with bolt fluting and lighter firing pins and bolt shrouds, allows the reduction in weight. MG Arms guarantees accuracy in the Ultra-Light at 1 MOA. This example certainly met that guarantee at 100 and 300 yards with the Fiocchi-provided ammo.
Next in line was a Hi-Point carbine Model 3095 in 30 Super Carry. This is a recently introduced chambering in an effective and budget-friendly carbine. The 16.5-inch barreled carbine was not fired past the 100-yard line, but again saw later use on the pistol/carbine range. The 3095 is factory threaded 1/2×28, uses 10-round magazines, and is 100% made in the USA.
Finishing out the rifle range were two equally unique rifles, though drastically differing from one another. First, the Franchi Momentum All-Terrain Elite — another .308 Winchester. This 18-inch barreled rifle is factory threaded 5/8×24 and furnished with an efficient muzzle brake, detachable AICS pattern magazine, flip-up sights, and a Picatinny optic rail that can be used for conventional eye-relief optics or forward-mounted scout scopes. This rifle is another one guaranteed to provide 1 MOA accuracy. See our recent article on this gem by Shoot On contributor Wayne van Zwoll.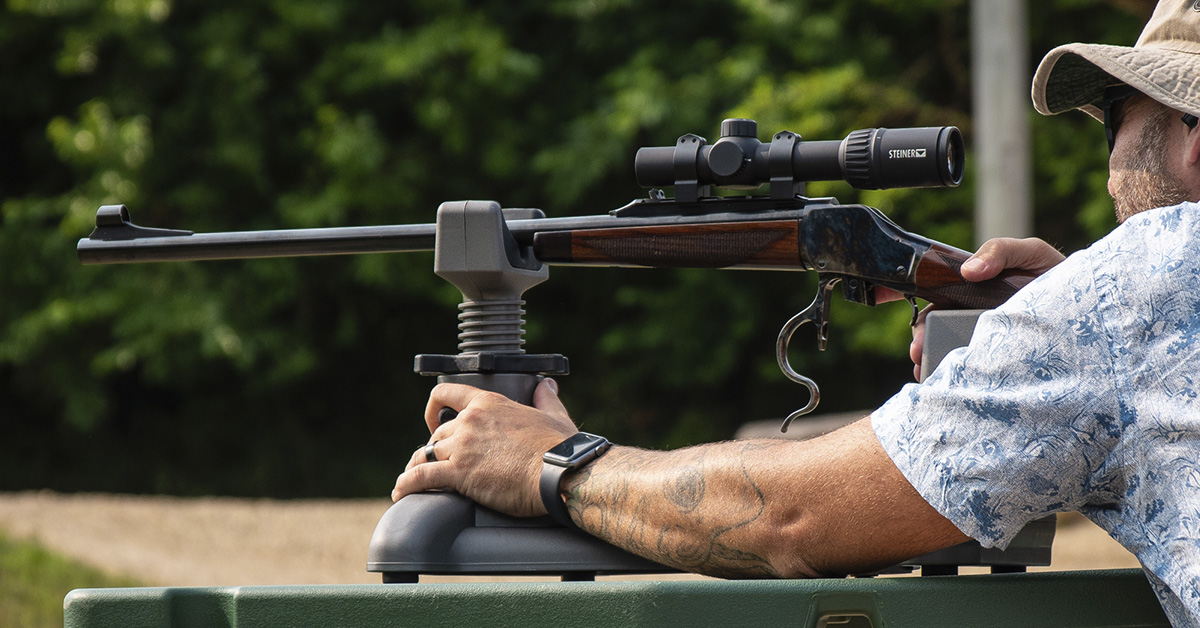 Last, and arguably the most "fun" rifle/optic combination was the Uberti 1885 Courtney Stalking Rifle paired with a Steiner P4Xi 1-4×24. All shooters had an opportunity to fire the .45-70 at 100 yards, and then the ante was upped. To keep things lively and to incorporate friendly competition, participants were challenged to a 300-yard shoot-off. Competitors were given one round if using shooting sticks and two rounds if shooting offhand. To test shooter knowledge in addition to skill, the expected trajectory at 300 yards wasn't clearly stated (or I couldn't hear it through my ear protection when stated). If you hit the plate, you advance to the next round. The winner would receive a T-shirt from the famous Poopy's Bar and Grill, where dinner would be shared during the evening motorcycle route.
More shooters than expected made hits on the IPSC-sized torso target, so the next round involved a five-second time limit from closing of the breech to discharge of the rifle. Unfortunately for the crew and fortunately for the potential T-shirt purchaser, no hits were made under the clock on the second round.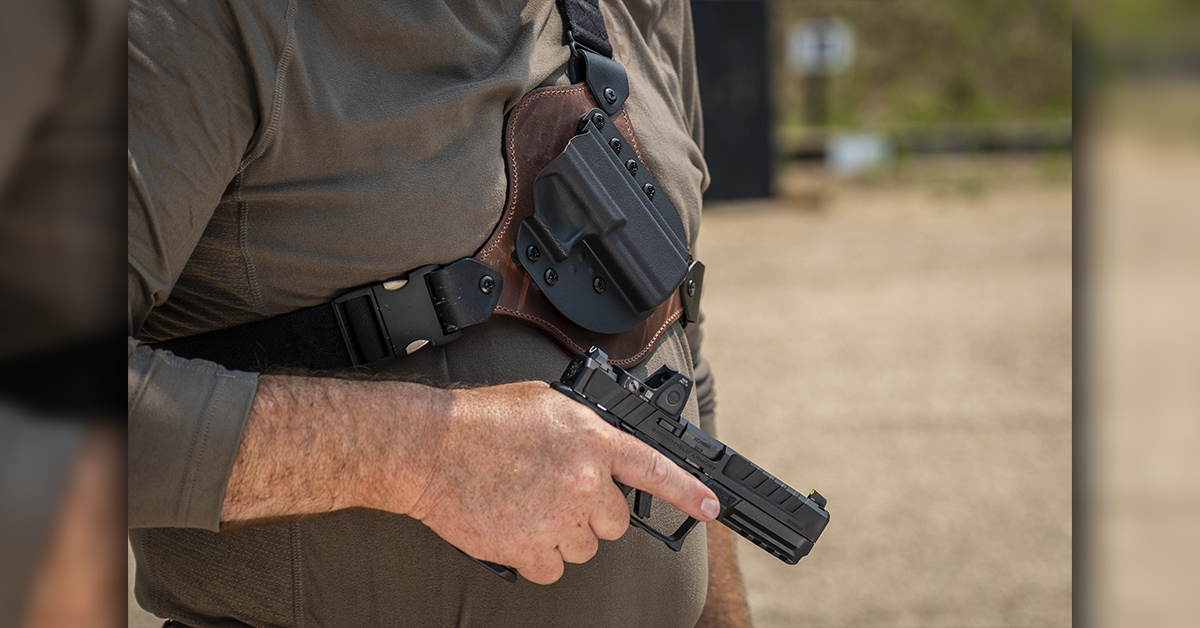 We then moved over to the pistol and carbine ranges for detailed introductions from Crossbreed Holsters, Hi-Point, MG Arms, and Springfield Armory.  The remainder of the morning was spent rotating through the variety of firearms from each company.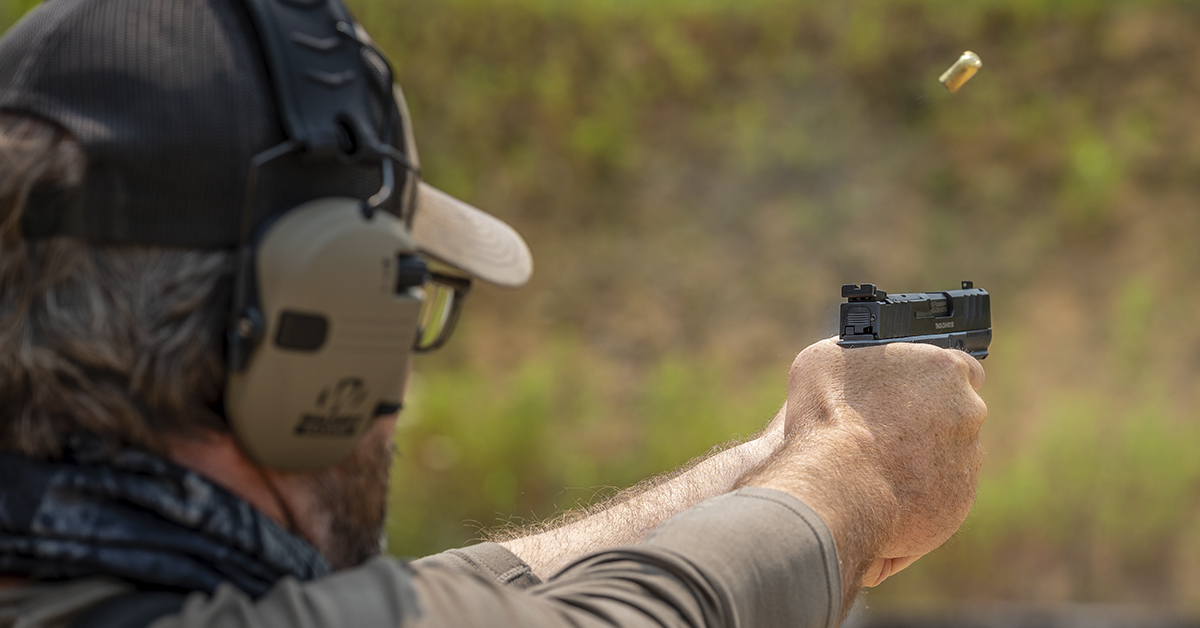 The pistol range saw magazines full of Fiocchi 9mm Range Dynamics expended from Stoeger STR-9MCs and modified Smith and Wessons showcasing the weight reductions performed by MG Arms. Additionally, Springfield's Hellcat Pro, 9mm Operator, and the newest release — the Springfield Echelon — were passed through the shooting line with Crossbreed-provided holsters.
The recent buzz of Springfield's Echelon holds weight. Prior to the event, I had caught some social media buzz on the release date of the Echelon but hadn't thoroughly researched the details. I was expecting a slightly refined XD platform and found the Echelon to be substantially different in an incredibly positive manner. Stay tuned for an upcoming Shoot On review of this standout handgun.
To complete the shooting portion of the event, the Hi-Point in 30 Super Carry and two suppressed Rock River Arms carbines (22LR and 9mm) pinged plates until our lunchtime closing for a return to Black Bear Lodge. After the midday meal, we again saddled up for the final riding tour through the countryside, gathered for a last meal in town, then safely returned to the lodge by dark.
Packing up equipment and bikes the last evening for an early morning return trip home wasn't a highlight of the trip. Expending rounds with a group of like-minded folks with a shared interest in motor-driven machines definitely was. I'll tell you that this event reignited my interest in the two-wheeled lifestyle, and I've started the countdown clock to next year's event!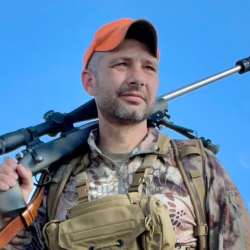 Latest posts by David Kelley
(see all)