"Impervious" is a lofty goal for any firearm, but the Super Black Eagle 3 featuring BE.S.T. may be as close as it gets
by Jarrod Spilger
Last year, Benelli introduced an upgraded version of its flagship Super Black Eagle 3 semi-auto shotgun. Appropriately labeled the SBE 3 BE.S.T., it is quite possibly the best version of the SBE 3 to date, especially for hardcore waterfowlers.
BE.S.T. stands for Benelli Surface Treatment, a proprietary finish developed by Benelli's engineers and scientists after more than a decade of research at the company's Urbino, Italy, headquarters. This specialized protective coating provides both corrosion and abrasion resistance.
The value of this treatment will depend greatly on the type of hunting one does. For waterfowlers who frequent saltwater environments, like coastal sea duck hunters, a corrosion-resistant treatment that's impervious to the elements is certainly desirable.
Benelli is so confident in the BE.S.T. system that it's backing treated parts with a 25-year warranty. Treated parts include the barrel, barrel extension, trigger, trigger pin, bolt, bolt handle, sling stud, safety button, and a pair of extended BE.S.T. choke tubes in IC and modified—the two most common constrictions used for waterfowling. Three flush-fitting, non-treated Crio chokes in cylinder, IM, and full are also included.
The only stock/forearm finish currently available is black synthetic, while barrel length options are either 26 or 28 inches. My test gun came with the latter.
Besides the special rust-resistant treatment, this is functionally the same gun as other SBE 3 models. The SBE 3 BE.S.T. is powered by Benelli's reliable, low-maintenance Inertia Driven operating system and has the same oversized bolt handle and safety button. Other standard features include a hard case for transport, shim kit for adjusting drop and cast, and Comfort-Tech 3 recoil pad and Comb-Tech cheek pad. Extra pads are available to further customize length-of-pull and comb height.
I received my BE.S.T. test gun last spring at the tail-end of snow goose season, so I only had the opportunity to take it on one, unsuccessful hunt. Thankfully, the local shooting range was still open, before COVID-19 shut everything down, so my hunting partner and I shot a few rounds of skeet with this specialized SBE 3 to see how it performed.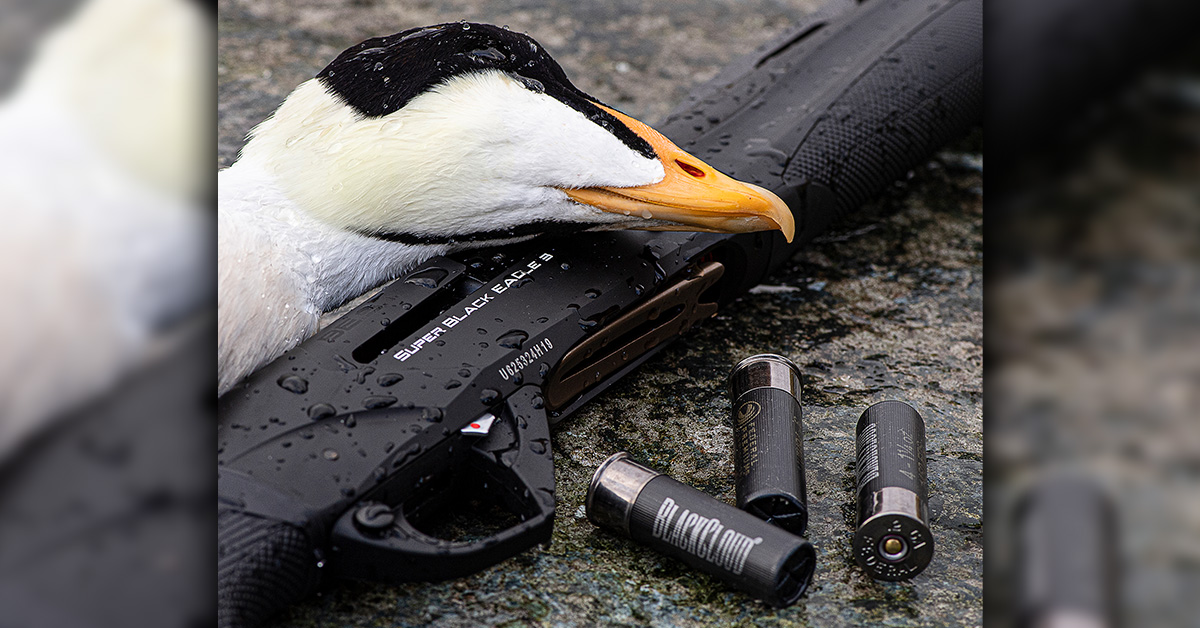 Target loads used were 2 ¾-inch Remington Gun Club 1 1/8-oz. number 7 ½ at 1,200 fps and Winchester Super Dove and Clay 1-oz. number 8 at 1,350 fps. Everything cycled and ejected perfectly, and clays were crushed adequately (when we did our part) using the extended IC choke tube. It should be noted that the recommended minimum load weight for many 3 ½-inch 12-gauge semi-autos is 1 1/8-ounces. I've now tested two versions of the SBE 3, however, and both models reliably handled 1-oz. target loads. That's good news for those hunters who like to use the same shotgun to break clays during the off-season.
Of course, this is first and foremost a waterfowling shotgun, so I also ran a few assorted waterfowl loads through the SBE 3 BE.S.T. These various left-over rounds from seasons past included 3 ½-inch Black Cloud BBBs, 3 ½-inch Hevi-Steel 1s, 2 ¾-inch Winchester Drylock BBs, 3-inch Kent Fasteel 2.0 BBs, and an old 3-inch Activ BBB shell. As expected, everything functioned perfectly. Everything, that is, except for the all-plastic hull of the ancient Activ round which hung-up at ejection, the extractor digging too deeply into the plastic base plate. Since Activ loads haven't been manufactured for over 20 years, I don't foresee this being a problem for most hunters, but if you've got a stash of old Activ steel in the basement (as my dad does), be aware that it may not function reliably in the new SBE 3 (or many other modern semi-autos, for that matter).
Again, the SBE 3 BE.S.T. is functionally the same shotgun as the standard SBE 3 model. It handles the same, shoots the same, performs the same, and the controls are all the same. The only difference is its specialized treatment.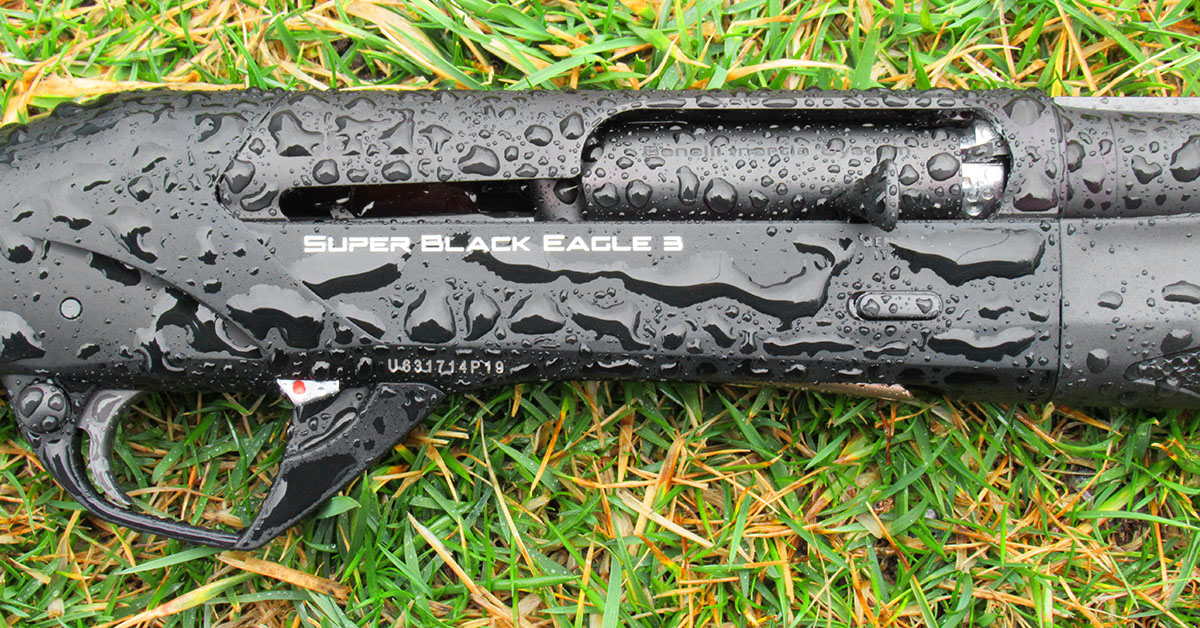 The only way to test that treatment is to subject it to the elements, so I left my test gun out in a drizzle one afternoon and then cased it. A few days later, I left it out all day in an outright downpour. Both times the unloaded shotgun was placed in my fenced-in and secured backyard. After bringing the Benelli in from the rain, I sat it on a table in my basement and let it air dry until the next day when I took it fully apart to examine it.
Although some water drained out of the stock and there was still a bit of moisture on the choke tube threads, not a spot of rust was found anywhere. Obviously, a spring rainstorm is nothing like the abuse a shotgun would suffer over the course of a season in a salt marsh, but most blued shotguns would've shown at least a little rust forming after such neglect.

Out of courtesy, I did completely clean and oil the shotgun before returning it to Benelli, which brings up a good point. While a shotgun may be built to handle a lot of abuse, that's no excuse to unnecessarily abuse or neglect it. Any tool will function better when properly maintained.

Besides the SBE 3, there are also a couple BE.S.T. versions of the Ethos. The Ethos BE.S.T. is available in 3-inch 12-gauge only, while the Ethos Cordoba BE.S.T. is available in 12-, 20-, and 28-gauge. The Ethos BE.S.T. is a general-purpose field and clays gun while the Ethos Cordoba BE.S.T., with its ported barrel and Shell View forearm that shows how many shells are in the magazine tube, is designed for high-volume shooting.
Any of these BE.S.T. scatterguns, including the 3 ½-inch SBE 3 model, could easily serve double-duty on the skeet and sporting fields as durable clays guns that are impervious to nicks, scratches, and rust.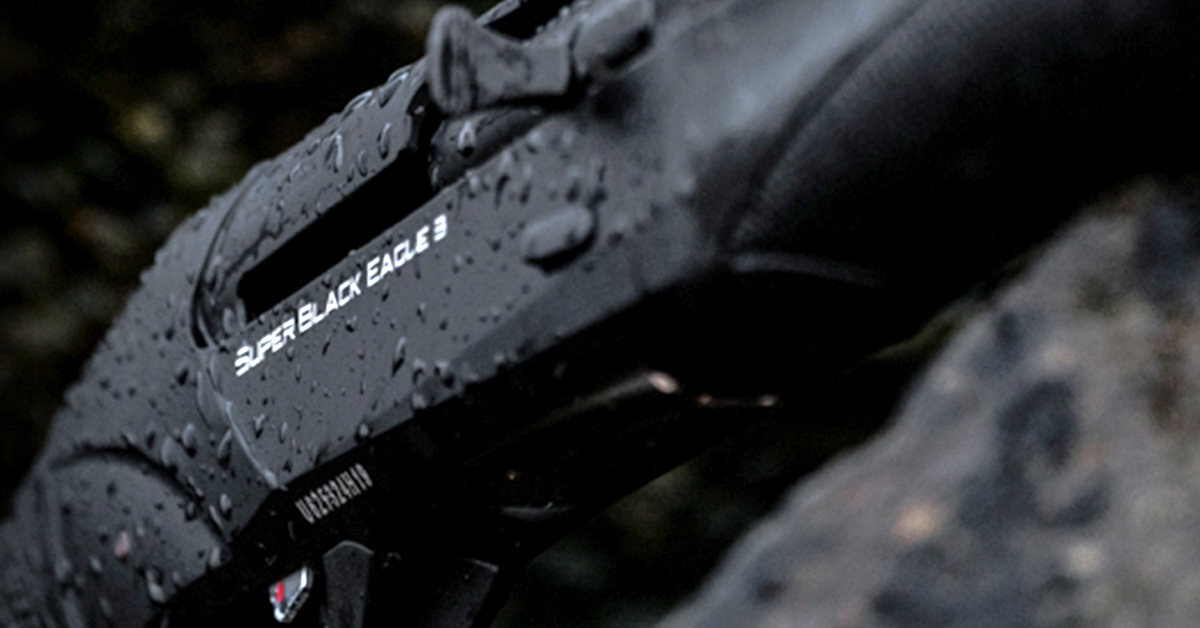 As for the added cost of the Benelli Surface Treatment, from what I witnessed, it's worth it. For sea duck hunters, or anyone who chases waterfowl on the ocean or in salty marshes, it's definitely worth it.
Only time will tell if the SBE 3 BE.S.T. is the best Benelli has to offer, but it's certainly the toughest so far.
Benelli SBE 3 BE.S.T. Specifications
Gauge: 12-gauge with 3 ½-in. chamber
Action Type: Inertia-operated semi-auto
Barrel Length: 26 in. or 28 in. (tested)
Stock Finish: Black Synthetic
Receiver Finish: Black Anodized
Barrel Finish and Other Parts: BE.S.T.
Length-of-Pull: 14 3/8 in.
Drop at Heel:  2 1/8 in.
Drop at Comb: 1 3/8 in.
Overall Length: 47.75 in. (26 in.), 49.6 in. (28 in.)
Weight: 6.9 lbs. (26 in.), 7 lbs. (28 in.)
MSRP: $2,199
Info: benelliusa.com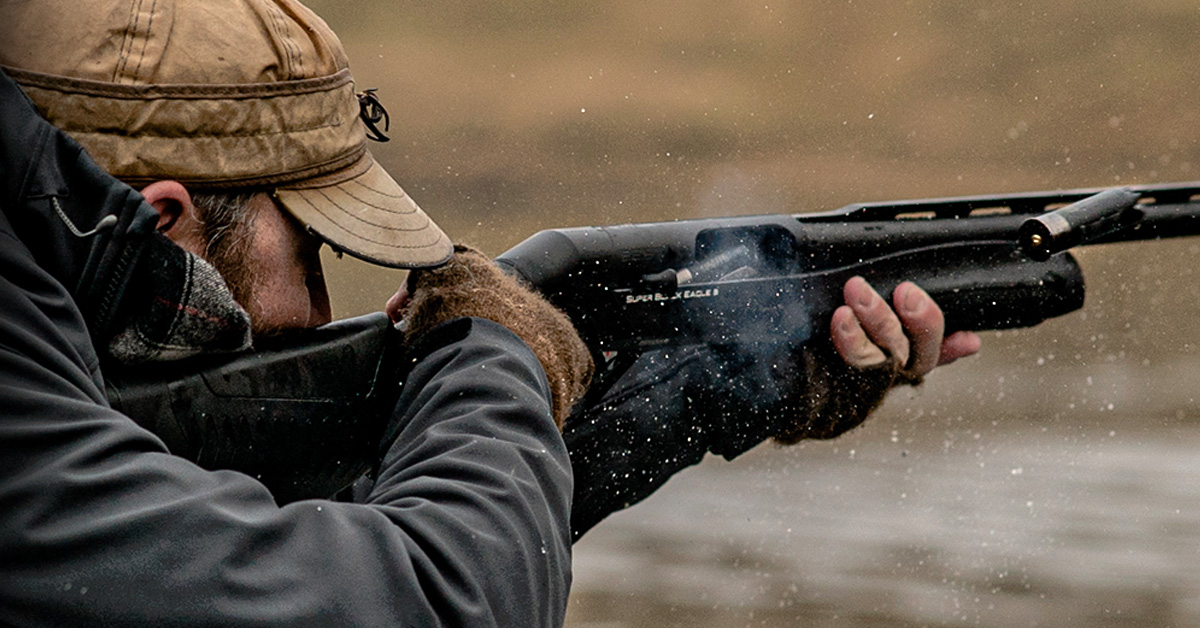 Latest posts by Jarrod Spilger
(see all)