Mossberg's much-hailed 940 platform continues to expand with a fresh model dedicated to making jelly-headed gobblers
by Jarrod Spilger
A couple years ago, Mossberg introduced the 940 JM Pro, the newest series in its semi-auto shotgun line-up. While the 940 wasn't a direct replacement for the 930, it certainly offered some enhancements and refinements over its predecessor, which we'll discuss in a moment.
The 940 JM Pro is a competition-ready shotgun designed specifically to provide 3-gun shooters with a complete package right out of the box. I had the opportunity to test this new autoloader shortly after it came out, and it proved to be soft-shooting and ultra-reliable.
The 940 JM Pro was soon followed by the 940 Pro Waterfowl and 940 Pro Snow Goose. The former features a camo stock and forearm with a Cerakote barrel and receiver while the latter is clad in white camo with an extended magazine tube similar to that of the JM Pro. The line also includes the general purpose 940 Pro Field in basic black.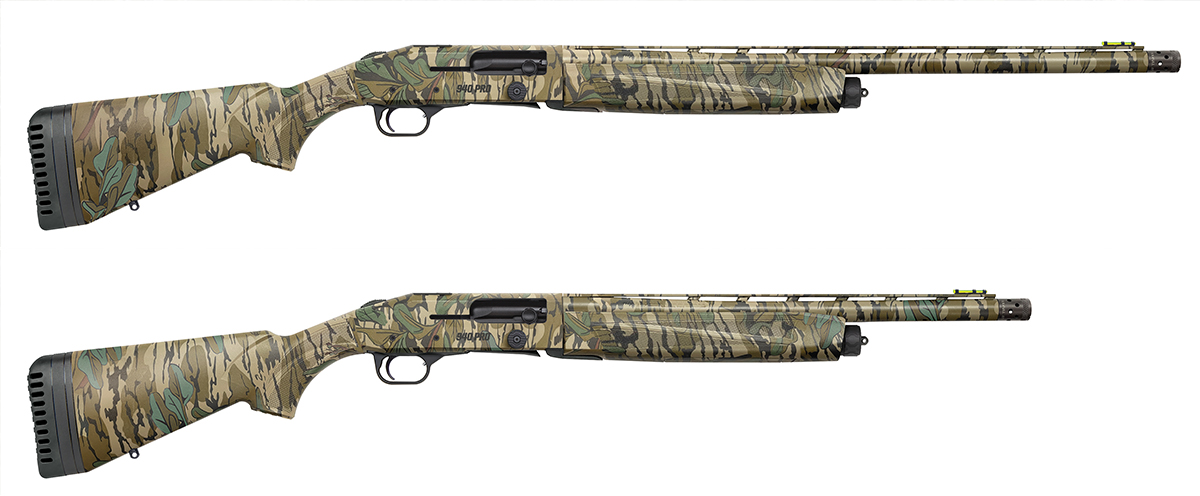 This spring, a new model was introduced specifically for gobbler hunters — the 940 Pro Turkey. Like the other 940s, it is packed with special features.
At the heart of every 940 is a new gas operating system designed to handle the rigors of high-volume shooting. Although Mossberg claims it can go 1,500 rounds between cleanings and still function reliably, more frequent cleanings are always advisable. Turkey hunters probably won't go through that many shells very often, unless they also use the gun to break clays in the off-season, which they certainly could.
What makes a 940 Pro a Pro are its specially treated components. Several of the internal parts, including the gas piston, magazine tube, hammer, and sear, have received a nickel boron coating that improves reliability and makes post-shoot clean-up easier while the return spring plunger is made of hard-anodized aluminum to resist corrosion. These enhancements are like those found previously on Mossberg's 930 and 935 Pro-Series semi-autos. Having spent some time with the 930 Pro Waterfowl hunting sea ducks off the coast of Maine, I can attest to the value of these treated components when hunting in harsh conditions.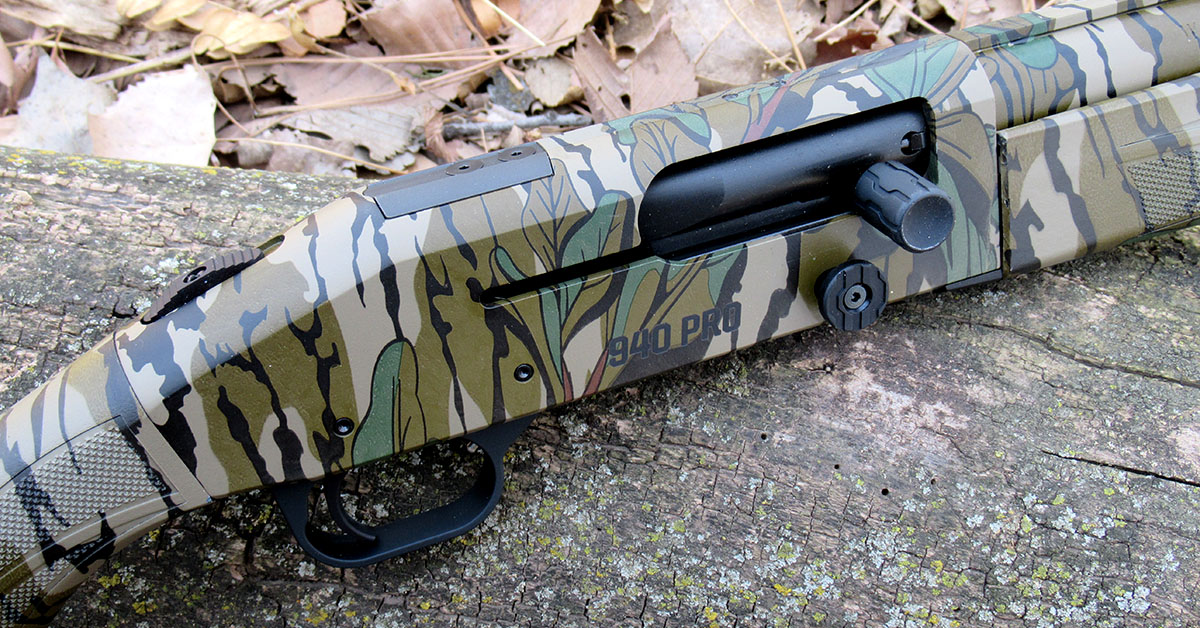 Other improved performance features of any 940 Pro, including the new Turkey model, are an oversized bolt handle and bolt release button for ease of operation, even when wearing gloves. An enlarged and beveled loading port with a redesigned elevator and shell catch provides quicker, pinch-free loading of the magazine tube while an improved barrel closely aligns point of aim with point of impact. A slimmer, more ergonomic forearm along with an adjustable synthetic stock that allows customization of both length of pull (from 13 to 14.25 inches) and drop and cast round out the 940's many enhancements.
The 940 is set up from the factory with two ½-inch spacers installed for a 14-inch LOP, and an additional ¼-inch spacer is included in the accessory pack. Drop and cast spacers are also provided, and the owner's manual provides clear instructions on how to install them. Since the gun fit me well as it came, I left it alone; however, if I were buying the gun, I'd do some fine-tuning with the spacers to get a more precise fit.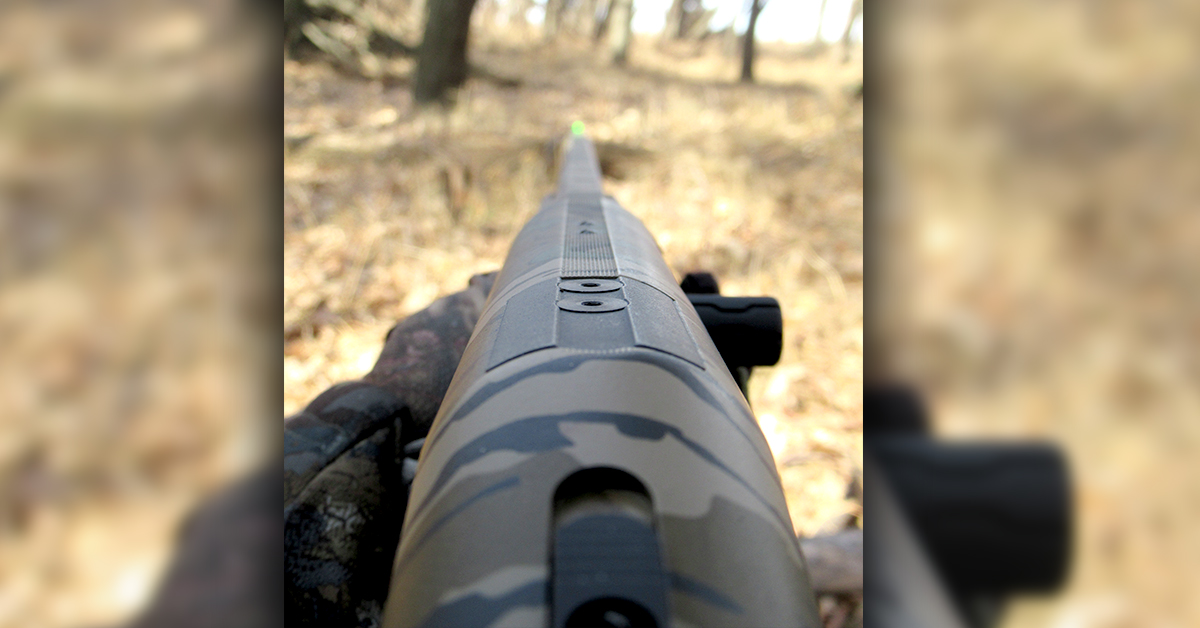 There are two models of the 940 Pro Turkey: one with an 18.5-inch barrel and one with a 24-inch barrel. My test gun came with the latter, which was fine with me since I consider a turkey gun with a barrel in the 23- to 24-inch range to be about perfect. Both versions are fitted with a green HIVIZ fiber optic front CompSight atop the vent rib. To my eyes, a green fiber optic is preferable to red since it contrasts better with a gobbler's red head.
There's also an optic cover plate at the rear of the receiver that can be removed to install other aftermarket sighting systems, such as a red dot or dual rifle-like fiber optic rear sight. Other amenities include sling attachments, a thick recoil pad, and the aforementioned oversized bolt handle and bolt release button. It is a Mossberg, so the safety is conveniently located atop the tang for ambidextrous use.
Both Pro Turkey models are covered in Mossy Oak Greenleaf camo. This old-school pattern was a favorite among turkey hunters in the 1990s and features a smattering of green leaves interspersed over Mossy Oak's original Bottomland pattern. Although vintage, the pattern will keep the shotgun sufficiently hidden from wary gobbler eyes in the budding spring turkey woods.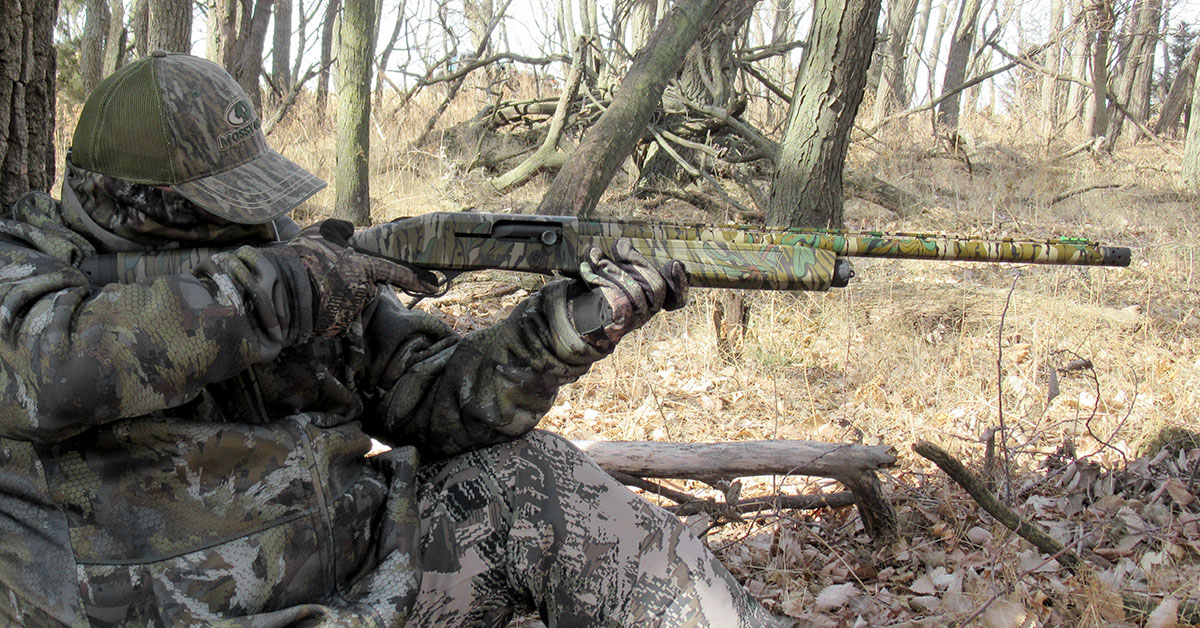 It should be noted that all 940s are 3-inch 12-gauge guns. While a 3 ½-inch chamber would be preferable for added versatility, admittedly, I shoot most of my turkeys with 3-inch loads. I'd bet most turkey hunters do, too. Three-inch shells not only kick less, but they are also much more affordable — and easier to find — than 3 ½-inch loads, especially in today's ammo market. Capacity for the 940 Turkey Pro is five 2 ¾- or 3-inch rounds — four in the magazine and one in the chamber — which is (usually) more than enough available firepower for gobblers.
A single X-Factor XX-Full Turkey Accu-choke tube is provided. The constriction is listed as .670-inch, which is slightly more open than the .665 of many turkey chokes, but tighter than .675, which is a common constriction found on many chokes advertised for use with hard, tungsten shot. I reckoned .670 should be about ideal for many applications, especially with Tungsten Super Shot (TSS). So, I took the shotgun to the range to test it with a variety of 3-inch turkey loads that I already had on hand, since finding ammo in stores is still a bit of a chore.
Test loads included Hevi-Shot Hevi-18 TSS with 2-ounces of #7s, Federal Heavyweight TSS with 1 ¾-ounces of #7s, Federal Mag-Shok with 2-ounces of lead #6s, Federal Grand Slam with 1 ¾-ounces of lead #5s, and Kent Bismuth Turkey with 1 5/8-ounces of #5s. Targets were placed at 40 yards.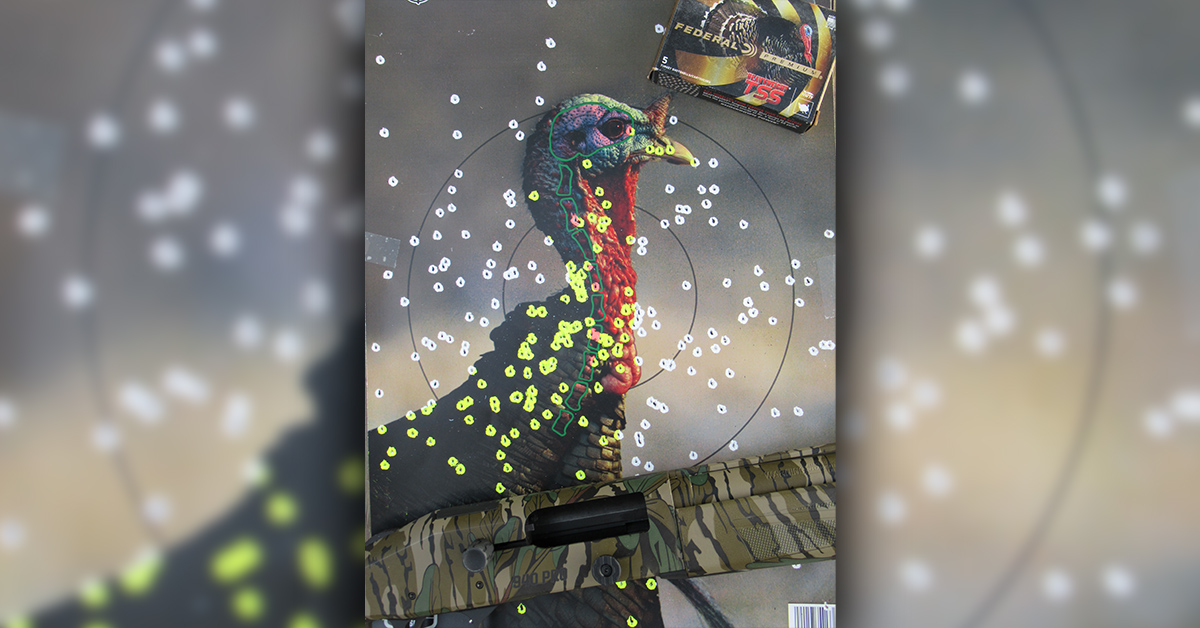 As expected, the TSS loads produced the tightest patterns, and careful aim was required since point of aim and point of impact are so closely aligned with the 940's improved barrel. Simply put, the shotgun shoots where you aim it! An aftermarket red dot or rear-mounted sight of some sort would probably be a good idea. Otherwise, keep your head down tight on the stock when you aim that green fiber optic front sight.
The best pattern was produced by Federal's TSS load, which placed 171 hits in a 10-inch circle, with 81 of those hits being in the head and neck vitals. The Federal Mag-Shok and Kent Bismuth loads produced the most forgiving patterns with more even pellet distribution, which is helpful if the turkey is walking. Make no mistake, though, all the loads tested in the 940 put enough pellets in the target's noggin to ensure turkey is served on Thanksgiving.

Turkey hunters looking for a reliable autoloader with which to chase gobblers would do well to consider the new 940 Turkey Pro. Mossberg is letting me keep my test gun for a couple more months, so I'll definitely be toting it into the turkey woods this April. In the meantime, I plan to also hunt snow geese with the 940 this spring, since I found a Carlson's Long Range waterfowl Accu-choke among my many choke tubes. I'm going to see just how versatile that dead-on 24-inch barrel really is!
Mossberg 940 Pro Turkey Specifications
Gauge: 12-gauge with 3-in. chamber
Action Type: gas-operated semi-auto
Barrel Length: 18.5-in. or 24-in. (tested)
Finish: Mossy Oak Greenleaf
Length of Pull: adjustable (13- to 14 ¼-in.)
Drop and Cast: adjustable
Overall Length: 39.25-in. (18-in.), 44.75-in. (24-in.)
Weight: 7.25 lbs. (18.5-in.), 7.5 lbs. (24-in.)
MSRP: $1,120
Latest posts by Jarrod Spilger
(see all)