Looking to jump into precision, long-distance shooting? Howa offers a package to get you started.
by Jarrod Spilger
Long-distance, or long-range, shooting continues to garner the interest and participation of firearm enthusiasts across the country. Little wonder. It is a discipline that challenges the best of us, merging skill, equipment, ingenuity and craft, and often physical components to that singular moment when our bullet pings steel or punches a hole in paper that is crazy far away.
The first step in getting there is a capable rifle.
The American Flag APC Chassis Rifle is based on Howa's robust M1500 bolt-action platform, which is renowned for its durability and reliability. The M1500 has a push-feed action, much like a Remington 700, but with an upgraded M16-style ejector and extractor positioned to prevent expended brass from hitting the scope. The forged steel bolt has two locking lugs, and the bolt handle is large and easily manipulated.
An easy-to-operate three-position safety is located on the right side of the bolt. The safety is engaged when pushed all the way to the rear, still engaged when in the middle position (but the bolt can be opened), and off when in the forward "fire" position. It's a convenient system, and I found myself frequently utilizing the middle position on the range, since it allowed me to safely load, unload, or swap ammo while the gun was incapable of being fired.
The Flag Rifle is chambered in two popular long-range calibers: .308 Winchester and 6.5 Creedmoor, both of which are available with a 24-inch cold hammer-forged threaded barrel. A short 16.25-inch barrel option is also offered. I requested a .308 model with the standard 24-inch barrel since .308 ammo was, at the time, still available in my area. My test gun came with a factory-installed Midwest Industries muzzle brake that both reduces recoil and improves accuracy—especially in windy conditions.
There also was a Buffalo Ridge bipod in the box that was easily installed by simply attaching it to the front swivel stud. Its legs are adjustable from 6 to 9 inches, and it provided a sturdy rest from which to shoot the rifle during testing.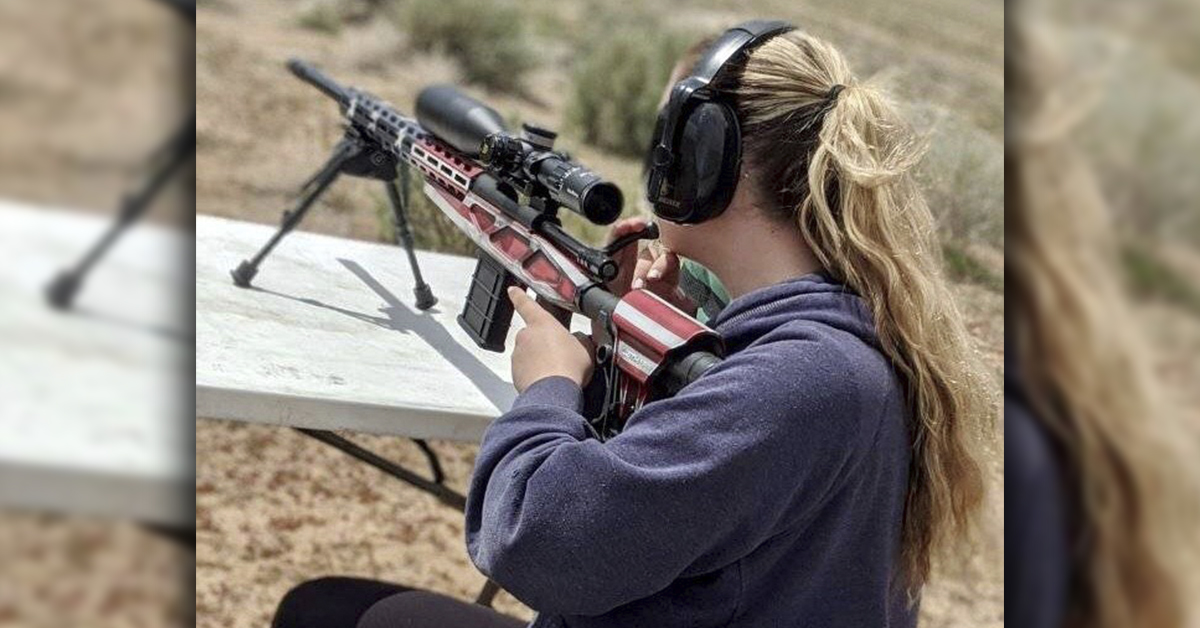 Of course, the rifle's most notable feature is the American Flag finish applied to the adjustable stock and to the APC (Australian Precision Chassis) portions of the rifle. The flag finish is Cerakote, providing not only style but also protection from nicks and scratches.
The Cerakote American Flag graphic is available in two colors: bold red, white, and blue or subdued black and white Grayscale. My test gun came in the former finish, giving the rifle a distinctive, patriotic flair.
The chassis mid-section and forend are aluminum. The slotted 16-inch M-LOK tubular forend encircling the barrel provides numerous attachment points for accessories.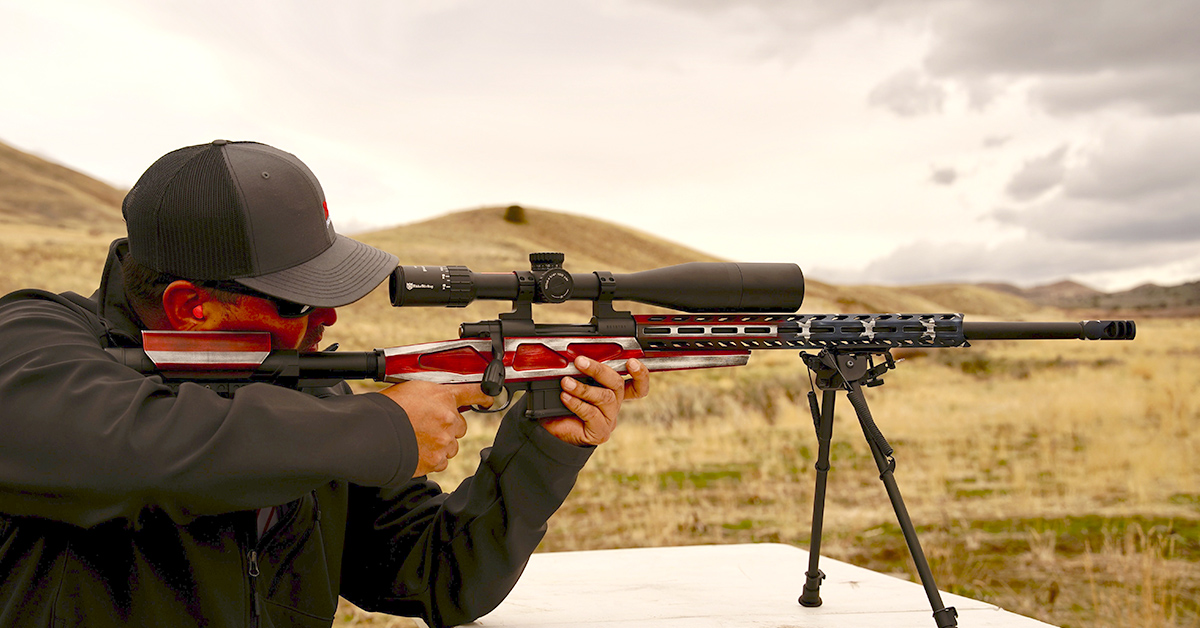 The adjustable polymer Luth-AR MBA-4 stock allows customization of comb height and length of pull (LOP) by simply loosening a screw to raise or lower the comb or by merely pulling down on a button to adjust LOP from 12 to 15 inches. The stock's flat toe offers a flat surface on which to stabilize the rear of the rifle and, combined with the bipod, negates the need for a gun rest.
The Hogue Finger Groove Pistol Grip delivers a comfortable grasp while the detachable 10-round magazine ensures plenty of firepower. A Howa 1500 detachable magazine conversion kit was thankfully already installed on my rifle and replaces the standard box magazine.
A pre-mounted Nikko Stirling Diamond LR 4-16x50mm scope is a major component of the American Flag Chassis Rifle package. Adjustments are made by simply pulling up on the windage and elevation turrets and then clicking the appropriate amount of times to move the point of impact right or left, up or down.
Despite the scope's simplicity, it still took nearly a box of 150-grain Winchester Super-X Power-Point bullets to get it dialed in. Once the high-quality scope was zeroed, though, performance was impressive.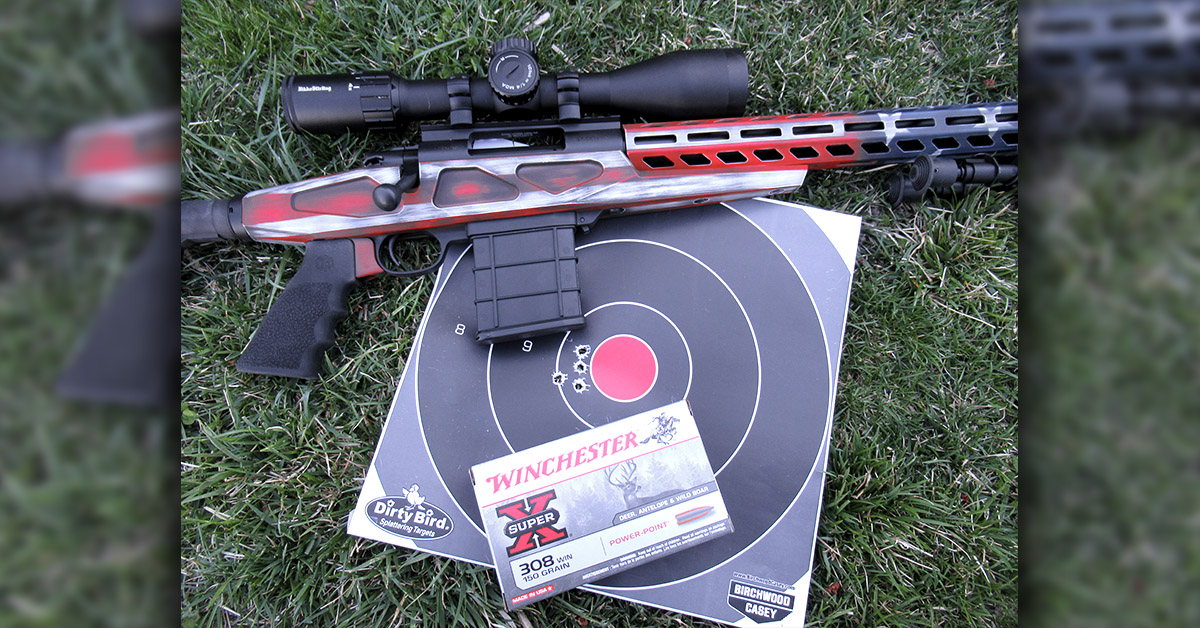 In addition to a lifetime warranty, Howa offers a sub-MOA guarantee. Indeed, the rifle was quite capable of grouping shots within an inch of each other. Despite windy conditions and my mediocre marksmanship, I was still able to place four shots at about a half-inch apart at 100 yards, with the longest space between any two shots being exactly one inch.
Unfortunately, just as I was really beginning to enjoy the Flag Rifle's precision accuracy, I ran out of ammo.
Aiding that accuracy is the Howa Actuator Controlled Trigger (HACT)—a two-stage trigger that has about one pound of initial take-up and then breaks cleanly at around three pounds. It's crisp and consistently breaks at the same place each time, eliminating any surprises, which means you can focus solely on the target, not the trigger. This proprietary trigger completes Howa's value-packed Flag Rifle package.
If you've wanted to get into precision long-range shooting but didn't know how to go about properly setting up a rifle, Howa has done all the leg work for you with the beautifully patriotic American Flag Chassis Rifle.
Howa M1500 American Flag APC Chassis Rifle Specifications
Caliber: .308 Win. (tested), 6.5 Creedmoor
Action: Bolt
Stock Finish: Cerakote American Flag graphic
Barrel Finish: Matte black
Barrel Length: 24-inches
Rate of Twist: 1:10 (.308); 1:8 (6.5)
Magazine: 10-round detachable
Weight: 12-pounds (approx.)
Scope: Nikko Stirling Diamond LR 30mm 4-16×50
Other Amenities: muzzle brake, bipod
MSRP: $1,549
Latest posts by Jarrod Spilger
(see all)