Sig's Custom Works puts an intriguing spin on its new,  highly capable micro-compact 9mm
by Rob Reaser
"Your Sig is here," my cousin said with a half-laugh over the phone. "I think they sent you the wrong gun," he added hastily.
"What do you mean?" I asked.
"It looks like it's used…very used. Maybe a customer service mix-up."
I knew that Sig Sauer's new variant of its popular P365 micro-compact 9mm was on its way for a test and eval, but I admit I had not paid much attention to the details before having it shipped to my FFL cousin for the transfer.
"That doesn't make any sense," I told him while I hopped online, phone cradled on my shoulder, and called up the P365XL Spectre 9mm.
"Aaaah…it's supposed to look that way," I said as I examined the beauty shot on the product page. "It has a distressed finish on the slide. Cool!"
Cool, indeed. While we're all used to the pop-up trends of off-the-shelf faded jeans and worn ball caps, the rugged look of stonewashed blade steel or grundged-out AR furniture, a distressed factory pistol slide finish was a new one on me. And from the looks of the Sig factory photos, I couldn't wait to see the Spectre first-hand.
"I'll be right over to pick it up," I told James and out the door I went, my all-too-leisurely German Shepherd scrambling to get out of my way.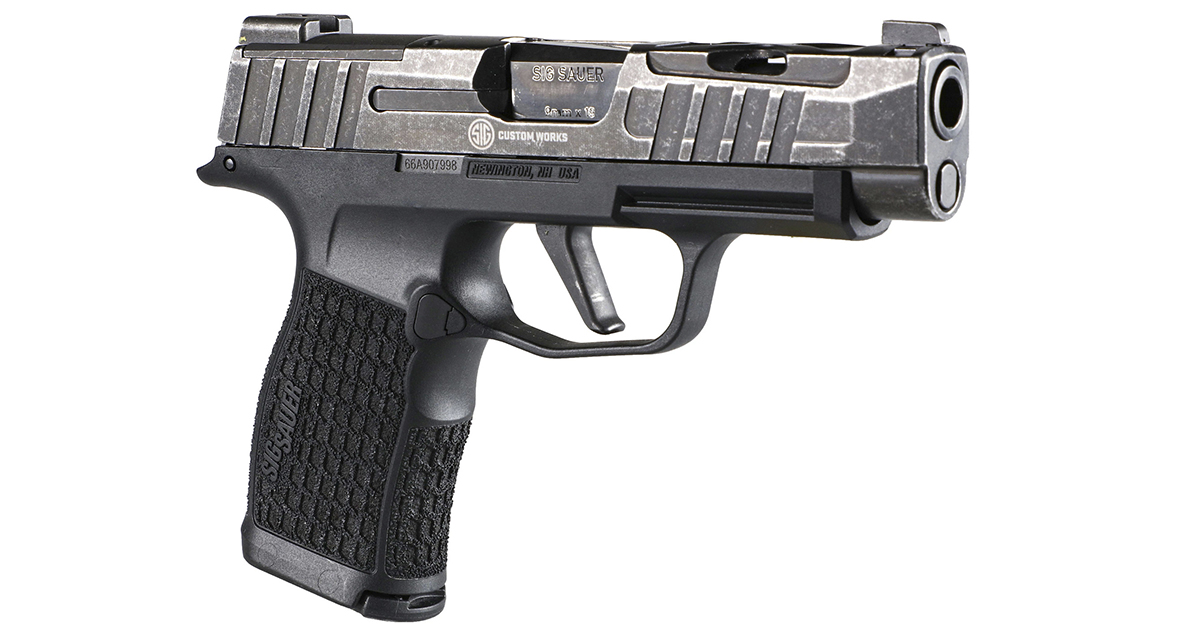 The cool factor ramped up a few more notches once I pulled the Spectre out of the box. Yes, that slide certainly looked battle tested but in a most endearing way. We all probably have a few guns that have survived the years and exhibit a patina that we wouldn't change for anything. Same thing with the Spectre. There's visual comfort that comes with "saddle worn" firearms, and the Spectre's distressed slide finish certainly delivers the charm. Sig explains that the stainless-steel slide is media-tumbled after receiving the finish coat to give it that broken-in look. This means that each slide has its own unique character and no two are the same.
I like!
That is the kind of treatment you might anticipate from a custom shop, which, by the way, is exactly where the Spectre originates—Sig's internal Custom Works operation.
Being a Custom Works production, you would expect the Spectre to sport more than a special finish on the slide, and you'd be correct. The P365XL Spectre boasts several deviations from the base-level P365s as well as its fellow X-series models.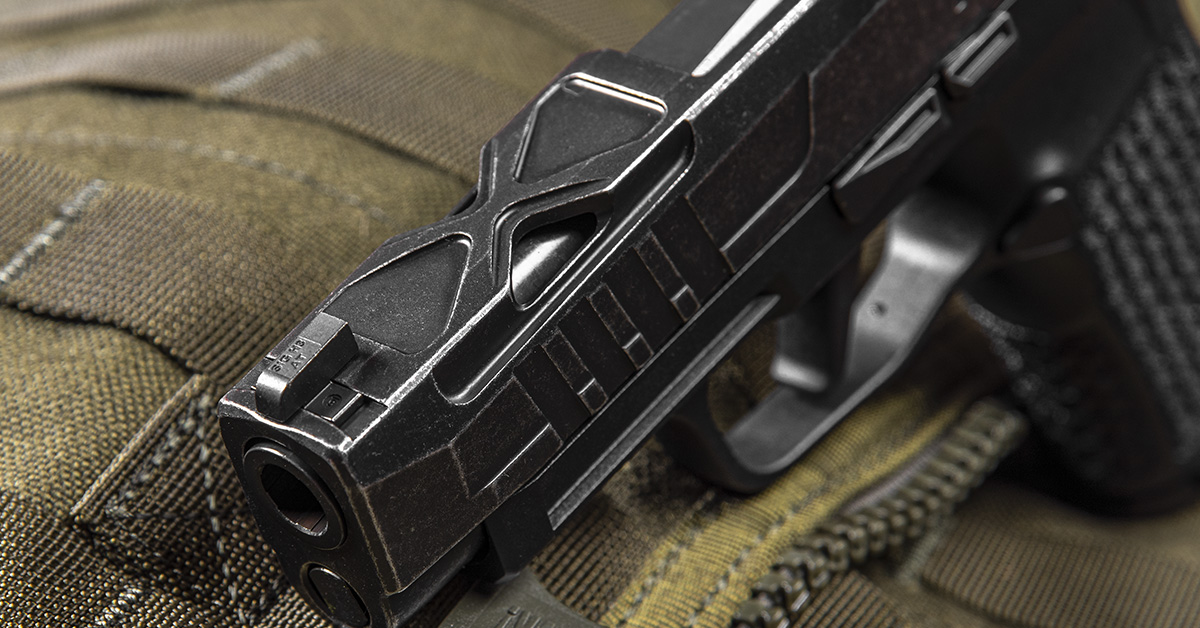 Aside from the distressed finish, the most notable distinction is the slide profile. Carved proudly from the stainless-steel slide is an "X" motif behind the front sight. Sig calls this a lightening cut. I doubt the removed mass significantly reduces slide weight, but it's a nice touch that looks great and imbues an extra dose of attitude in a gun that already sports a strong personality. Otherwise, the Spectre slide follows the established P365 pattern with its beveled front and top edges for smooth holstering and prominent front and rear serrations to enhance slide manipulation. Being an X-series model, the Spectre also includes an optic cut with a removable slide cover plate, allowing the user to install the company's Electro-Optics ROMEO-series sights as well as Delta Point Pro and RMR reflex optics.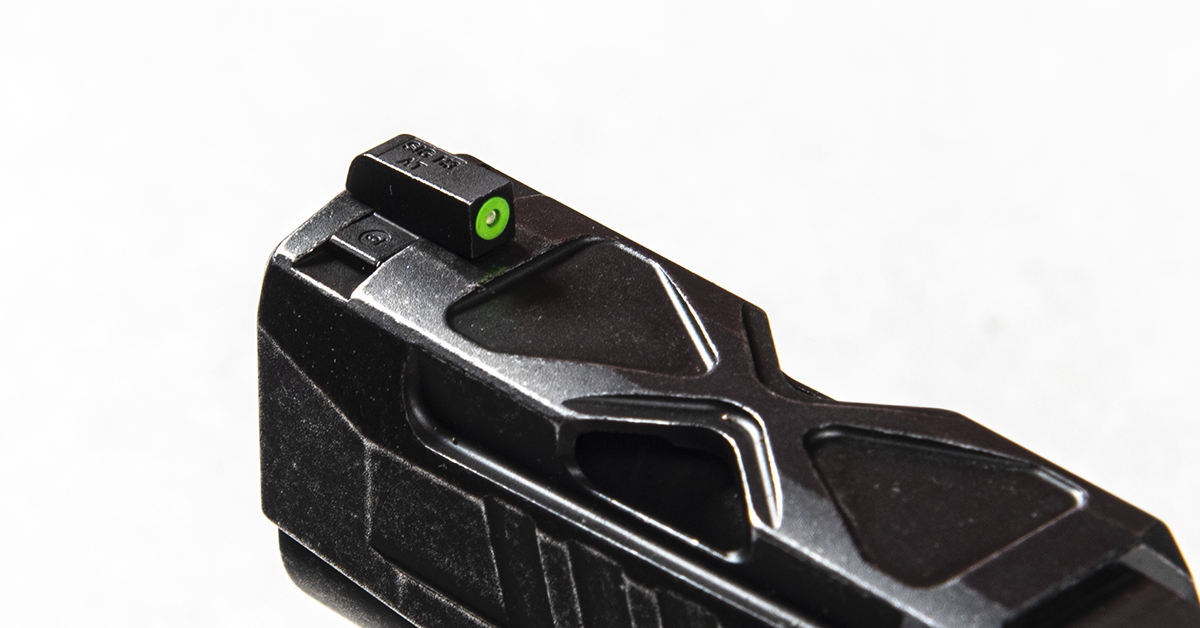 Topping the Spectre slide are Sig's XRAY3 day/night open sights. This is a three-dot tritium sight system that provides sight visibility across the light levels. The front sight incorporates a fluorescent polymer sight ring around the tritium vial to further enhance front sight clarity in that murky, in-between light.
The XRAY3 rear sight housing is a robust steel unit with a square notch and tritium vials secured via chemical-resistant epoxy. The sight's sturdy composition and flat forward edge allows for one-handed slide manipulation when placed against a solid surface.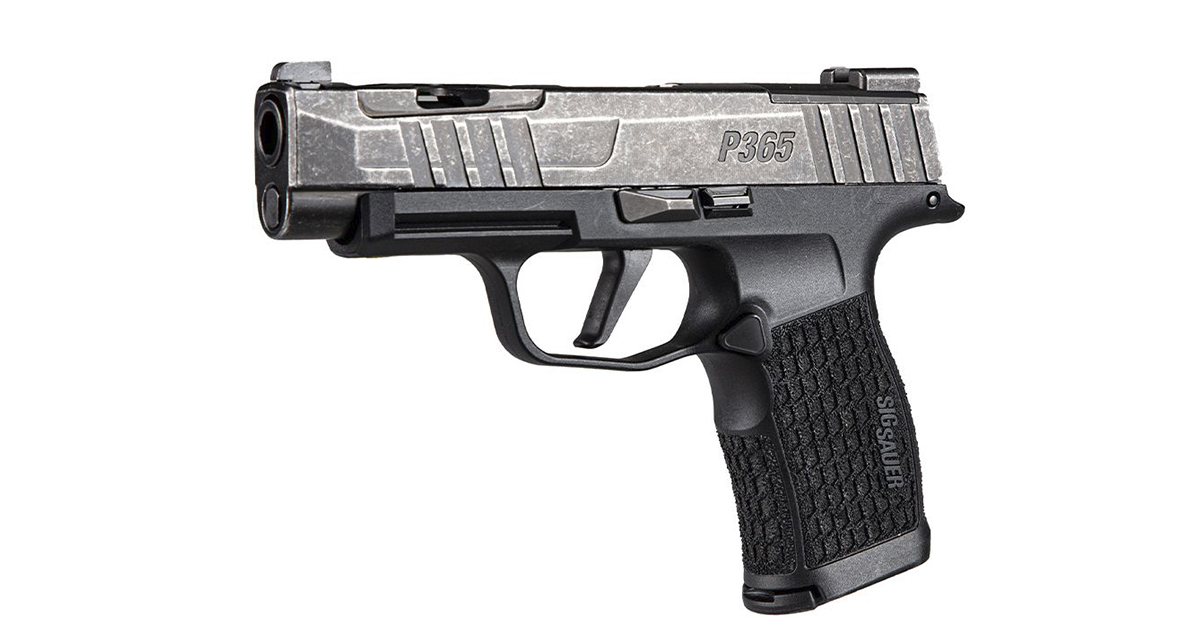 The Spectre's polymer receiver provides a lot of "grip acreage" for a micro-compact-class pistol and follows the established profile of all Sig's X-series P365 models, meaning it incorporates an extended beavertail that goes a long way toward promoting grip stability. This, coupled with an honest three-finger grip with the flush 12-round magazine floor plate, makes this pistol feel more like a compact handgun than a "micro."
Overall, the receiver is sleek, lending itself to good concealment while delivering the ergonomic feel of a larger pistol.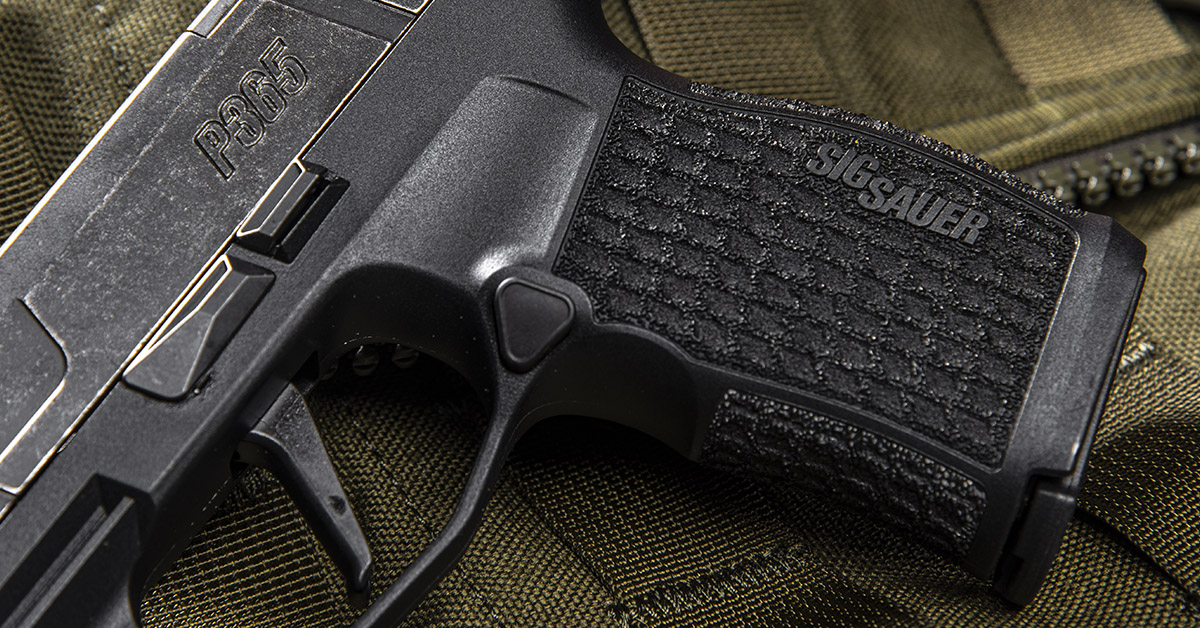 Another feature making its debut on the Spectre is Sig's new LXG Grip Module. This is, essentially, a fresh texturing design across the front, side panels, and backstrap of the grip. The LXG Grip Module derives from laser engraving, so the stippling is precise and well-defined to maximize stiction across the panels. Another element to this grip design that makes a big difference in weapon retention and control are the high void areas. Much like an aggressive mud tire, these checker-box voids, or recesses, in the grip panels allow your hand to flow into the pattern to further enhance traction and operational control. I tested the P365XL Spectre on a sweltering, humid day with sweat pouring off me and experienced zero slippage with this well-executed grip design.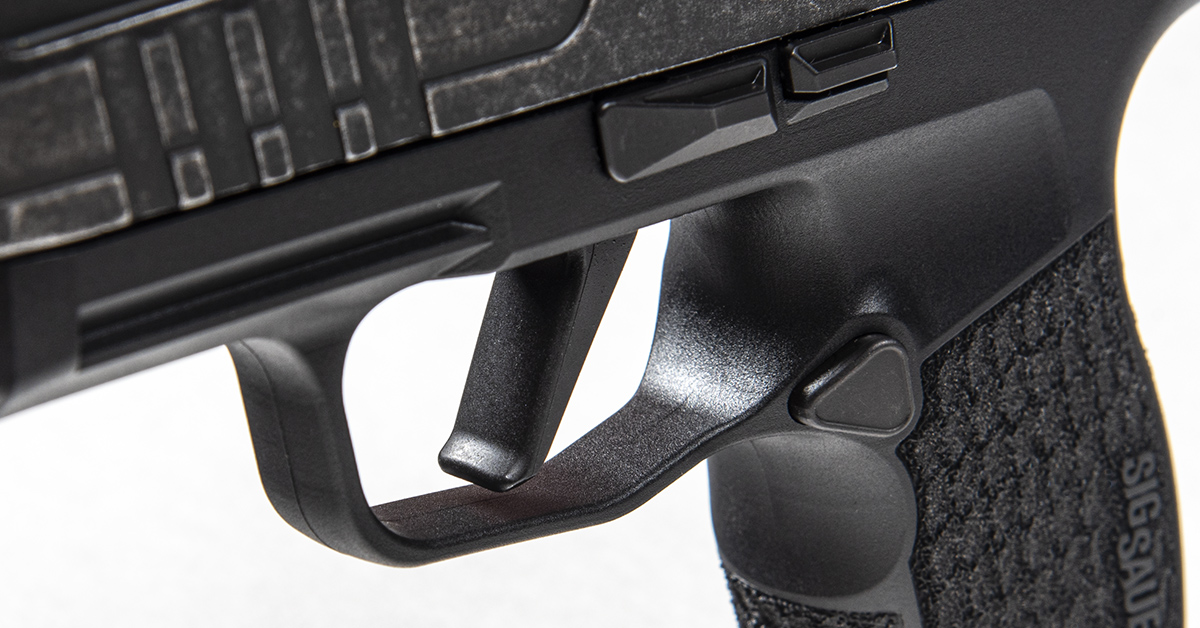 Another welcome nod to ergonomics is found in the trigger and trigger guard. The Spectre, as with all X-series P365s, features the flat XSERIES trigger. The flat trigger shoe with its forward kick places the trigger finger further forward than vertically oriented flat triggers or conventional curved triggers. This arrangement offers comfortable finger placement and enhances leverage on the trigger. When you pull the trigger back, the take-up stops just shy of the vertical position, then it's just a short pull until the trigger breaks at about 90 degrees.
What I like about this system is that it significantly helps in maintaining a straight trigger pull—something many shooters have a problem with when shooting pistols with a long trigger travel.
Complimenting the XSERIES trigger is a pronounced undercut in the trigger guard. The rearward slope of the trigger guard reduces finger-to-guard contact, which can be uncomfortable and is a common problem with micro-compact pistols—especially for those shooters with beefy fingers.
The P365XL Spectre breaks down easily in similar fashion to most striker-fired pistols. Lock the slide back, rotate the takedown lever , unlock the slide and pull it off the receiver.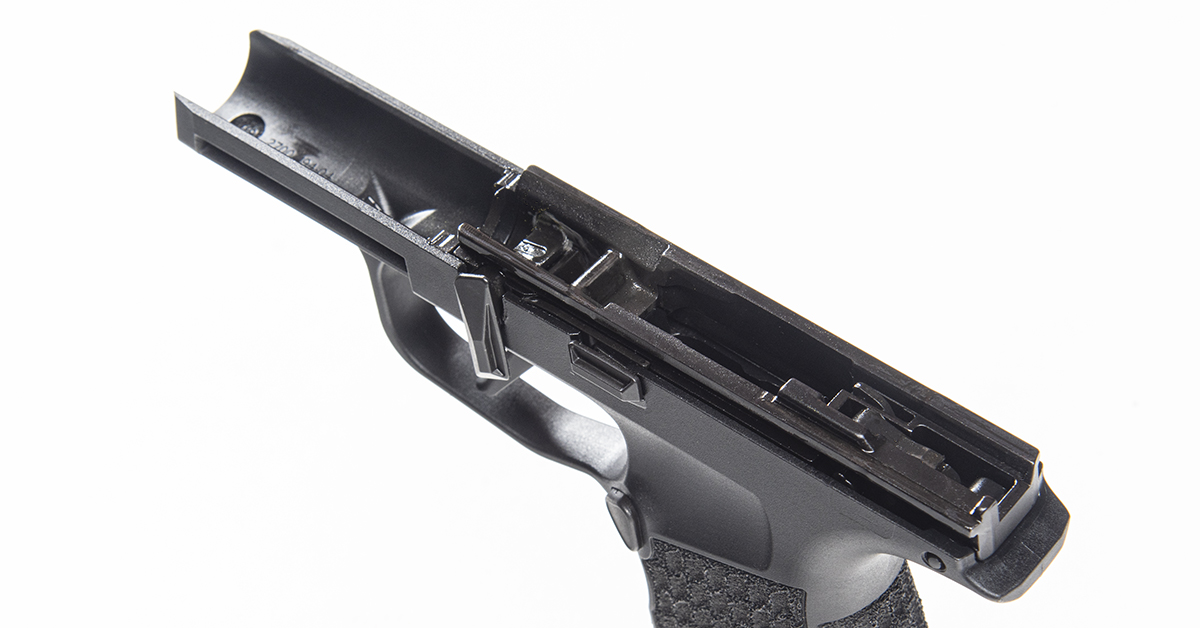 To enhance the sturdiness of the micro-compact design, the slide rides on a stout stainless-steel frame with full-length rails incorporated into the receiver. This provides a solid platform that minimizes flex and twist for consistent performance.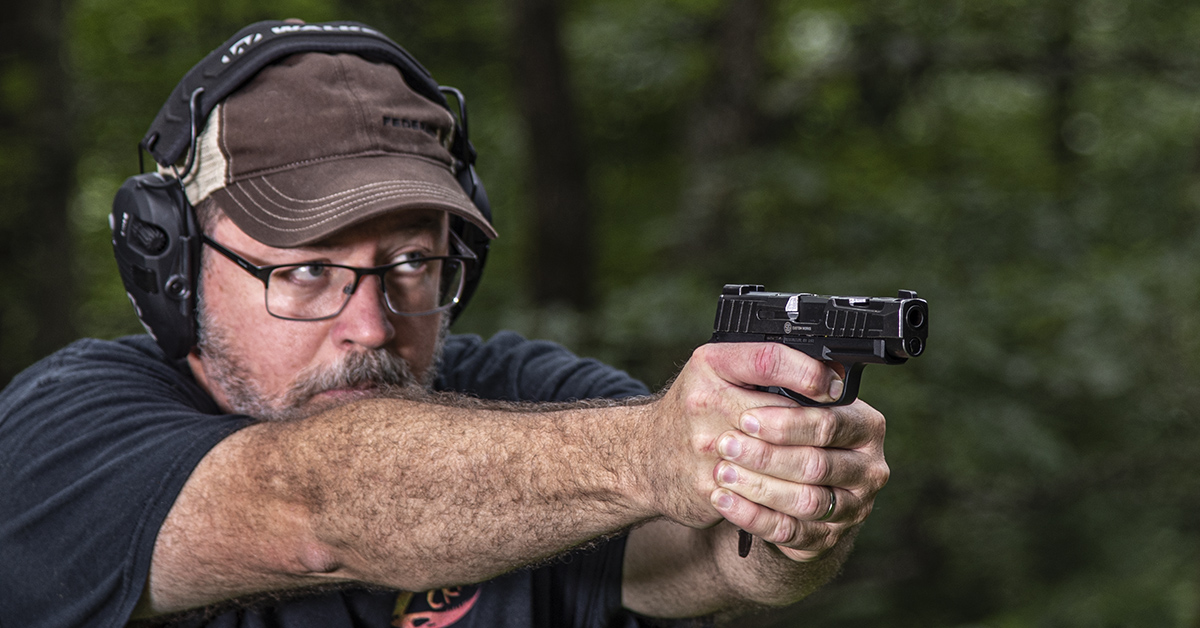 Speaking of performance, overall, I give the P365XL Spectre two thumbs-up. Visually, the distressed slide finish is just plain cool. From a handling perspective, the LXG grip is going to be a homerun for Sig. That texturing, coupled with the three-finger grip (for most hand sizes), extended beaver tail, and XSERIES flat trigger configuration, makes this pistol nearly as easy to manage as a full-size handgun—something that few micro-compact pistols can claim. The slide is easy enough to manipulate, although I would prefer the serrations to be a tad deeper and have sharper edging as it slipped in my sweaty hands several times. I would say that the trigger break could be crisper, but that may clear up after putting more rounds through the barrel.
For testing, I tried Fiocchi, Barnaul, and two Black Hills cartridges—124-gr. Subsonic Honey Badger and 124-gr. JHP. The Honey Badger won the day, posting a 1.403-inch group at 30 feet.
For a deep-carry defensive handgun sporting 12 rounds on-board, we'll take that performance any day.
Enter Here for a chance to win the Spectre for yourself!
Sig Sauer P365XL Spectre Specifications
Caliber: 9mm Luger
Mags Included: (2) 12rd Steel Mag
Sights: X-RAY3 Day/Night Sights
Size: Micro-Compact
Overall Length: 6.6 in [168mm]
Overall Width: 1.1 in [28mm]
Height: 4.8 in [122 mm]
Barrel Length: 3.7 in [94mm]
Weight: 20.7 oz [588g]
Sight Radius: 5.6 in [142mm]
Accessory Rail: M1913
Trigger Action: Striker
Trigger Type: XSeries Straight
Grip Module: XSeries P365
Grip Type: LXG Laser Engraved
Grip Color: Black
Barrel Material: Carbon Steel
Frame Finish: Hard Coat Anodized
Frame Material: Stainless Steel
Slide Finish: Distressed
Slide Material: Stainless Steel
Holstering Up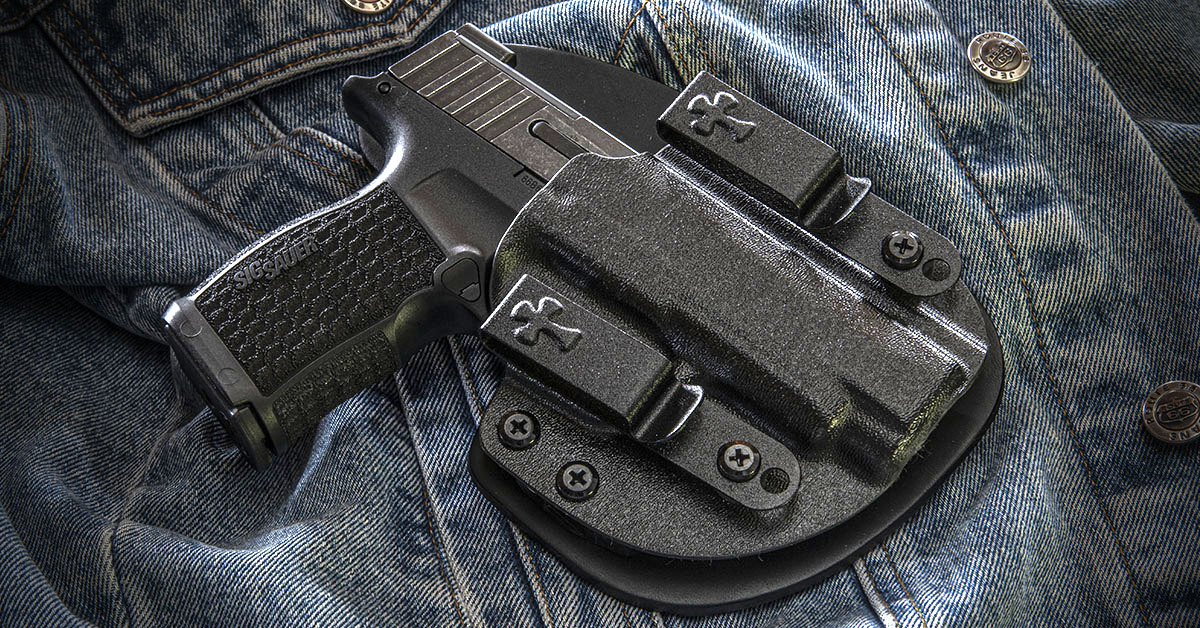 The Sig P365XL Spectre is ideally proportioned for minimal printing beneath street clothes, but as with any pistol, fully maximizing that concealable potential demands a holster that's up to the task. The holster I've been using for IWB over the last couple years is The Reckoning by Crossbreed Holsters. Crossbreed has The Reckoning and other models already available for the new Spectre.
I like The Reckoning because it hits the most important mark for me in an IWB holster—that being comfort. If a holster is not comfortable to wear all day or when I'm buckled up behind the wheel, it won't be long for my belt. What makes this holster comfortable for me is the rugged leather backer, minimalist Kydex pocket, and adjustable belt clip system.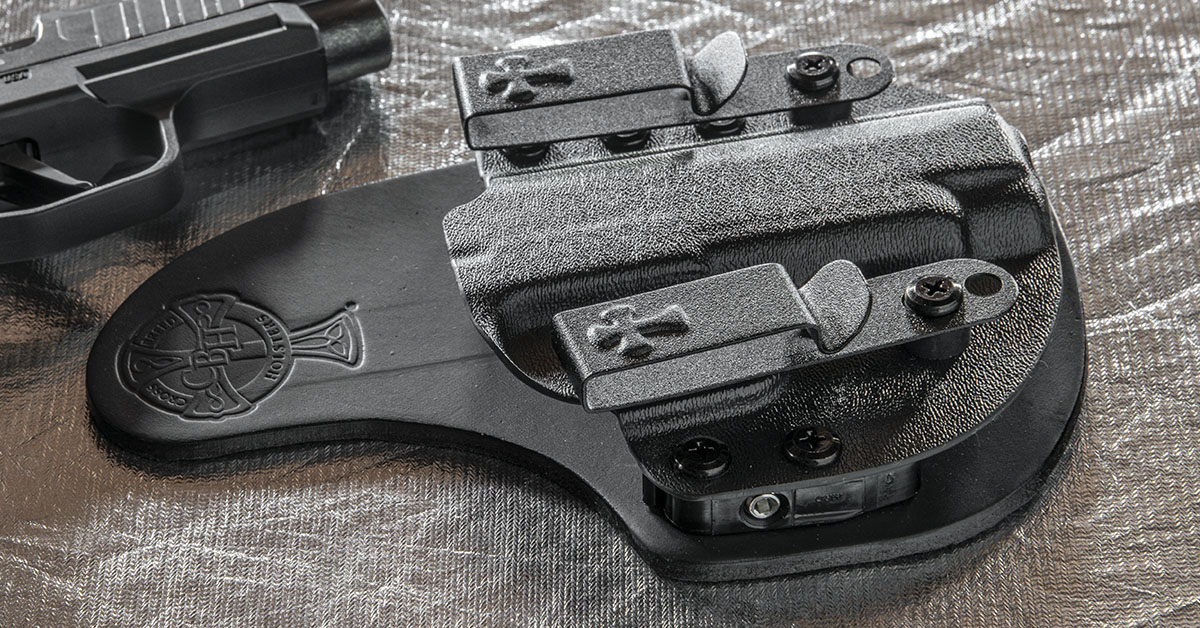 The leather backer is broad along the lower half to provide ample support for the pocket yet tapers toward the top. It provides enough leather to back the slide and prevent it from digging into your soft parts while leaving the pistol's grip open for easy grasping and a confident draw.
The holster's spring steel clips come powder coated and can be positioned for high or low carry inside the waistband, depending on which is most convenient for you. The clips are designed so you can also tuck your shirt in. OWB belt clips can be purchased should you want to swap between IWB and OWB carry.
Speaking of carry, The Reckoning is good for strong side, appendix, or cross-draw positioning.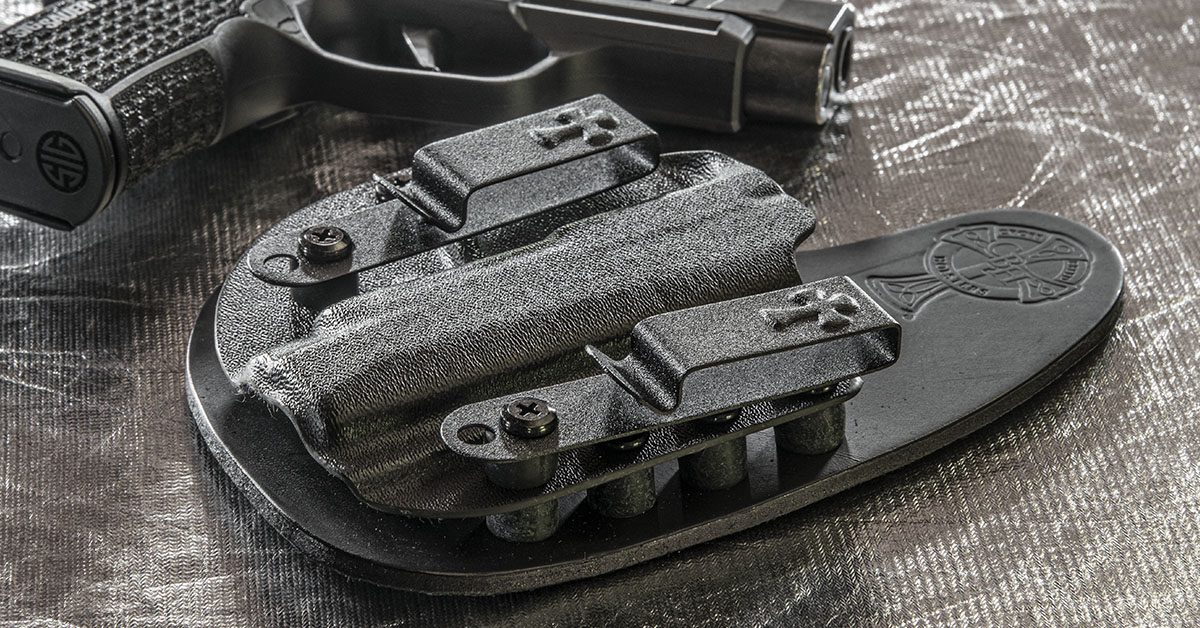 Aside from ride height adjustability, The Reckoning can also be custom adjusted for retention. Rubber-cushioned pillars can be tightened or loosened to achieve the desired compression between the pocket and backer. Additionally, there is a module positioned beneath the trigger guard area to fine-tune the retention for that optimal balance between security and ease of draw.
Another welcome benefit of this and other Crossbreed holsters is the company's "Two week try it free" guarantee. Try it for two weeks and if it doesn't work for you, send it back for a refund of the purchase price. Add to that the Crossbreed Lifetime Warranty and it's hard to go wrong with this holster selection.
For more info, visit CrossbreedHolsters.com.