Today's micro-compact 9mms deliver all the performance and features serious shooters demand in an EDC-friendly handgun. Here are our top picks for 2022.
by Avery Skipalis
Firearm manufacturers are steadily keeping innovation at the forefront when meeting the increased demand for concealed carry handguns. Most recently, firearm manufacturers have answered the call for improvements in the micro-compact pistol category — pistols for use as personal defense firearms that are easier to conceal along with improved ergonomics, higher magazine capacities, enhanced reliability, and greater accuracy — all while maintaining the small footprint of a micro-compact pistol.
Micro-compact pistols of the past often suffered lower cartridge capacities. Although small, they were also often hard to control. Today's diminutive 9mms, though, prove that small doesn't necessarily translate to "compromised performance and handling."
Here, we will review, in no particular order, six of the latest (and most popular) micro-compact handguns on the market. In some things, size doesn't matter; regarding personal defense, size definitely matters, and smaller equals better concealability.
Springfield Armory Hellcat
First up on the list is the Springfield Armory Hellcat. This fierce micro feline packs an 11+1 magazine capacity with a flush-fit magazine and 13+1 with the included extended magazine. Optional 15-round magazines are also available.
I like the Hellcat because it includes standard features that you normally have to pay extra for with other pistols, like tritium sights. The tritium vial in the front sight is surrounded by a high visibility luminescent ring that helps your eyes quickly pick up the front sight. A Tactical Rack U-Dot rear sight, paired with the front sight, provides you a shelf for one-handed slide manipulation. While most people don't want to think about being injured and only having one working hand in a defensive situation, it's a possibility that Springfield Armory addressed in this sight system.
Speaking of slide manipulation, the Hellcat includes front, rear, and top slide serrations to ensure positive traction in all conditions. Thanks to Springfield's adaptive grip texture, the traction doesn't stop on the slide; it's also on the grip. This texture provides just enough bite to maintain a solid grip on the firearm without being overly aggressive, which can excessively wear your clothing or rub your midsection raw while carrying. This feature-rich pistol has an MSRP of $587. It's also available in an optics-ready version, which Springfield calls the OSP (Optical Sight Pistol), for $620 MSRP.
[See our review of the Hellcat here.]
Taurus GX4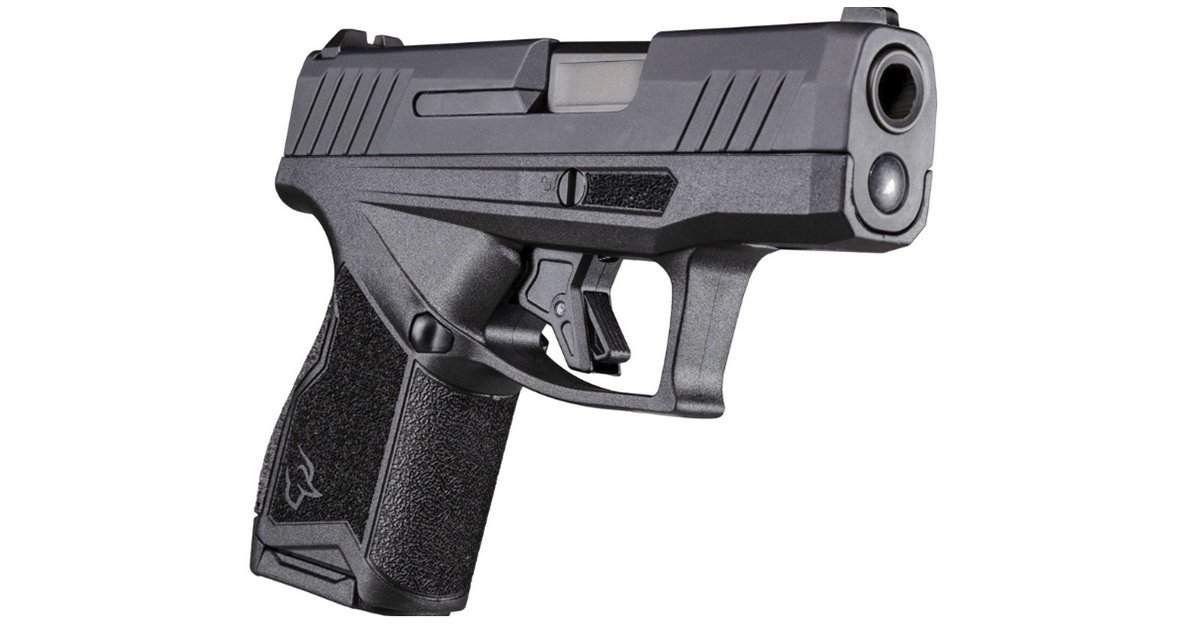 Next on the list is a micro-budget blaster from Taurus. The Taurus GX4 offers superb concealability at a price point that won't make you take out a second mortgage on the house. Its $392.42 MSRP makes it an excellent option for individuals on a tight budget, like college students. The GX4 has a magazine capacity of 11+1 and includes two magazines.
Personally, I never really cared for the triggers in Taurus' polymer pistols, but the GX4's flat-faced trigger is much improved. We welcome the improved trigger with open arms, especially in a micro-compact. Even though this is a budget offering, it still has features like a reversible magazine release to accommodate left-handed shooters. The sharp lines and design immediately catch your eye. The angled front and rear slide serrations complement the sharp lines outlining the grip texture. The bottom of the grip has relief cuts to aid in stripping stubborn stuck magazines, should the need arise.
Taurus took the practical approach regarding the sights, but it's on par with the price point. Included is a white dot front sight with a serrated blacked-out rear sight. The serrations are a nice touch to help prevent glare. Recently, Taurus added the GX4 T.O.R.O. (Taurus Optic Ready Option) to their lineup with an MSRP of $468.18.
[Check out our reviews of the GX4 and GX4 T.O.R.O.]
GLOCK 43X
The fan-favorite polymer pistol hailing from Austria is the next offering in the micro-compact division. The GLOCK 43X is precisely what you would expect from the polymer pistol inventor. Backed by over four decades of polymer pistol experience, the 43X echoes GLOCK's mantra of "GLOCK Perfection."
The first word that comes to mind when I hear GLOCK is "reliability." This comes from their extensive reputation in the military and law enforcement realm. This pistol falls short in the magazine capacity department with 10+1; however, this can be overcome with the plentiful aftermarket support for GLOCK pistols. Shield Arms introduced their S15 magazine, offering 15+1 capacity in a flush fit option. This was a game-changer for the 43X and helped boost sales.
The biggest complaint I most often hear about the 43X is the plastic sights, yet GLOCK offers a few different options for sights on their website. This is another area where the aftermarket options shine, but some find it challenging to shell out additional money when comparable pistols offer the most robust sights from the factory.
The 43X comes equipped with the GLOCK mounting rail for you to mount accessories such as a flashlight, and front and rear slide serrations like most other pistols mentioned; however, these are not as aesthetically pleasing with straight vertical lines. The 43X's MSRP is $499. GLOCK also offers an optics-ready version called the 43X MOS (Modular Optic System), which retails for $549.
Sig Sauer P365
Sig Sauer's everyday carry contribution is the P365. Not sure if Sig thought about the everyday carry reference in the naming convention, but I would have no gripes carrying this pistol 365 days of the year. It comes standard with a 10+1 capacity while offering optional 12- and 15-round magazines.
The P365 comes ready to rock with their XRAY3 day/night sights as an added perk. The bright color of the front sight pops even in bright sunlight. It has front and rear slide serrations to assist with operation. I would be remiss if I didn't acknowledge that some users experienced issues with the P365 during the initial rollout, such as premature broken firing pins. These issues were addressed by Sig and rectified but prompted some consumer beta testing jokes in gun circles.
The grip texture is a perfect balance of adhesion without being overbearing. The undercut allows you to grip the gun a little higher, offering better control, which is vital in a small-framed pistol. The P365 comes with an MSRP of $599. Sig has also jumped on the optic ready bandwagon by introducing the P365X with a Romeo Zero optic. MSRP is $829.99.
[Here's our review of the P365 XL Spectre.]
Smith & Wesson CSX
Keeping the old-school vibes strolling confidently is Smith & Wesson with the recently introduced CSX. The CSX is built on an aluminum alloy frame but comes with interchangeable polymer back straps, allowing you to customize the grip fit. Standard is a 12+1 capacity with an extended magazine and a 10-round flush-fitting magazine.
I can't forget to mention that this pistol features Smith & Wesson's "EZ tab" for easier slide manipulation. Adding to its simplistic use is an interchangeable magazine release for all the left-handed shooters. Its fully ambidextrous steel slide is equipped with a manual thumb safety, metal three-dot sights, glare-reducing serrations on the top of the slide, and flared rear slide serrations. Additional features include a flat-faced trigger safety, two magazine release buttons for left or right-handed shooters, and an optimal 18-degree grip angle for your natural point of aim.
Don't judge a book by its cover because looks probably won't have you drooling over the CSX. The simplicity of the CSX is the main focus. S&W keeps it simple while delivering key features; it's a no-brainer why many women are flocking to it. The CSX strolls in with an MSRP of $609. Smith & Wesson does not currently offer an optic-ready version of the CSX.
Mossberg MC2sc
America's oldest family-owned gun company showed up to the handgun party late, but they've introduced three micro compacts in three years to make up for being tardy to the party with 100 years of "if it ain't broke, don't fix it."
The MC2sc's capacity is 14+1 with the extended magazine and 11+1 with the flush-fit magazine. They also showed up with all the right features, such as a reversible magazine release, a flat-profile trigger housing an integral blade safety, a white three-dot sighting system, and angled serrations on the front and rear of the slide to ease slide manipulation. The MC2sc also features Mossberg's signature aggressive grip texturing and palm swell, helping you secure a confident yet firm grip and making this micro-compact handgun comfortable to conceal carry and to deploy in various environments.
Mossberg packages them separately if you're looking for additional upgrades on the MC2sc. One option is the MC2sc cross-bolt safety, which adds a manual cross-bolt safety placed behind the trigger at an MSRP of $556. But, if you're into night sights, the MC2sc TRUGLO Tritium Pro sights package offers tritium sights on your handgun at an MSRP of $662. Yes, Mossberg showed up offering the MC2sc optics-ready as a standard option with sights that co-witness at an MSRP of $556.
[Check out our review of the Mossberg MC2sc.]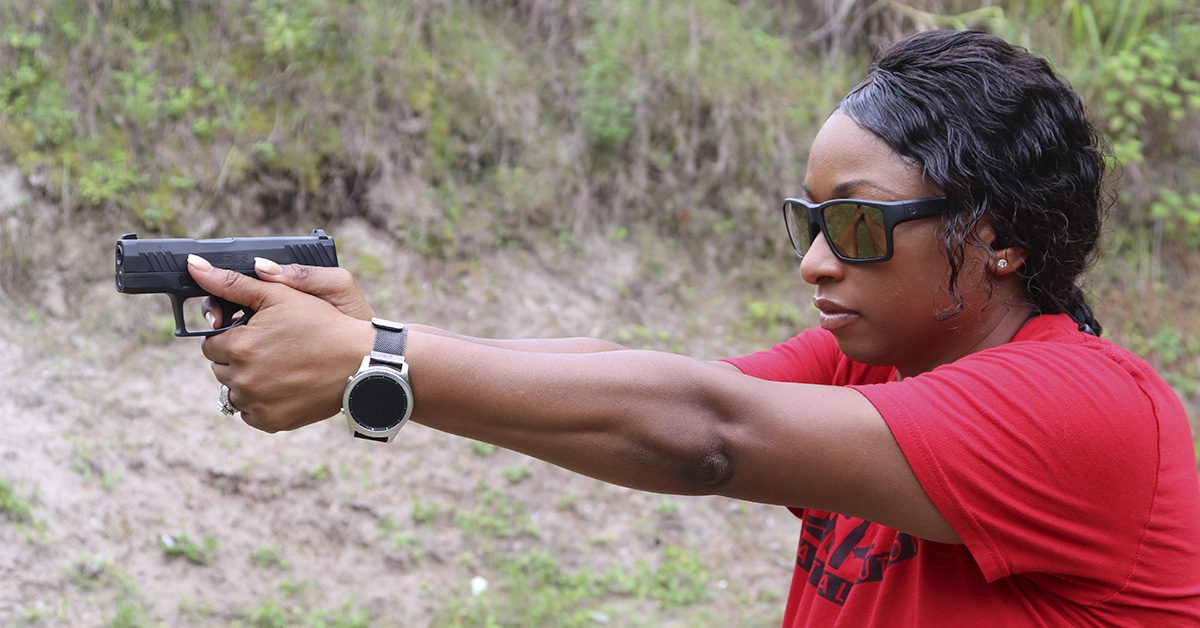 Gun manufacturers are stacking more features into these micro-compact handguns per the demand and these pistols are ready to slide into your everyday carry rotation without breaking the bank or causing financial distress. With competitive prices starting at $392, the commitment is easy for most budgets. This lineup comes feature-rich with many of the bells and whistles you've always wanted right out of the box. Improved ergonomics and sizes make concealing on any body type less stressful, proving good things can come in small packages. Factory options such as tritium sights and magazine capacities ranging from 10+1 to 14+1 should ease your analysis paralysis when selecting your next firearm for personal defense.
Latest posts by Avery Skipalis
(see all)