Mossberg steps into the micro-compact handgun segment with an optic-ready powerhouse
by Karen Hunter
Mossberg recently celebrated their 100th anniversary with the release of their first sub-compact 9mm handgun, the MC1sc. Although this was Mossberg's first semi-automatic handgun, it was not their first handgun ever produced. One-hundred years of innovative firsts span Mossberg's history between the MC1sc and the first gun they ever made—the Brownie .22. Mossberg's Brownie .22 was a four-shot .22 long rifle pistol. After the Brownie, Mossberg spent over a century building their family name and business to become one of the most trusted manufacturers in the firearm industry today.
The release of the MC1sc marked an historic point for Mossberg, proving they possessed the drive and ingenuity to deliver quality firearms beyond long guns. Keeping their successful handgun momentum going, the company released the MC2c, a double stack compact handgun. Both the MC1sc and the MC2c were designed for concealed carry with the end user's needs at the forefront. Now, with the trending need and desire for an optic-ready sub-compact handgun, Mossberg has once again stepped up to the challenge and expanded their MC2 line with the all-new MC2sc 9mm.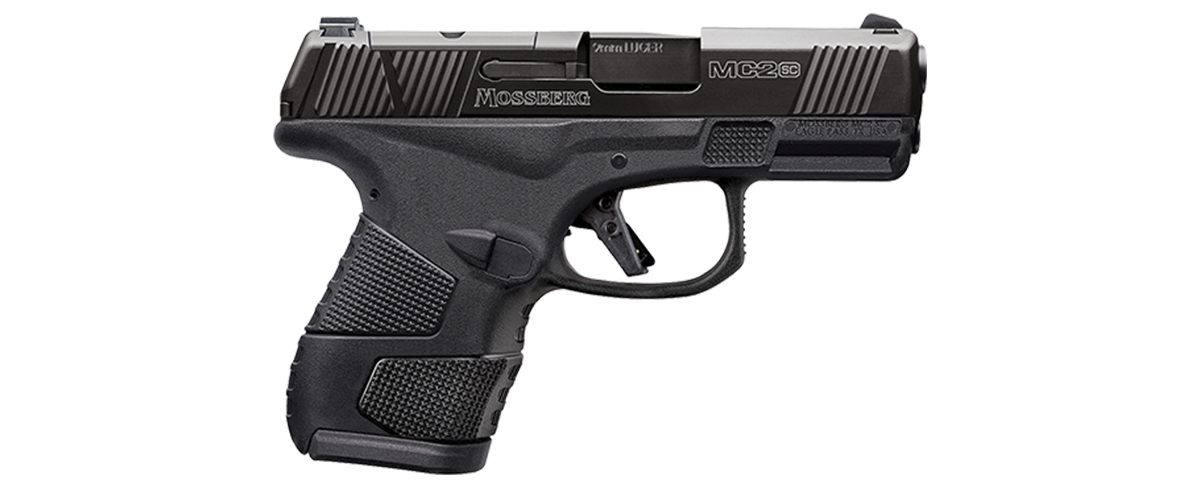 The MC2sc is an optic-ready, micro-compact, high-capacity handgun engineered with concealed carry in mind. Being a micro-compact, it presents a gun that is comfortable to carry and easy to conceal. The MC2sc is snag-free with an overall length of 6.25 inches and a width of just 1.10 inches, making it ideal for a variety of concealed carrying methods.
Although small, cartridge capacity is not sacrificed. The MC2sc offers a higher round capacity than many of the micro-compact guns on the market today. That's good news for those who want to carry a smaller gun but refuse to be limited to a lower round capacity. Utilizing the included magazines—one in the gun and carrying a spare—the shooter has a total of 27 rounds.
One of the standout features of the MC2sc is, of course, the optic-ready slide that facilitates the co-witness mounting of micro-dot optics. It is important to note that the MC2sc is optic-ready, not optic-included. Optic-ready means that the slide features a removable plate that allows direct mounting of aftermarket optics with a Shield RSMC footprint. With the use of the included hex wrench, the plate can be removed and a compatible optic installed within minutes.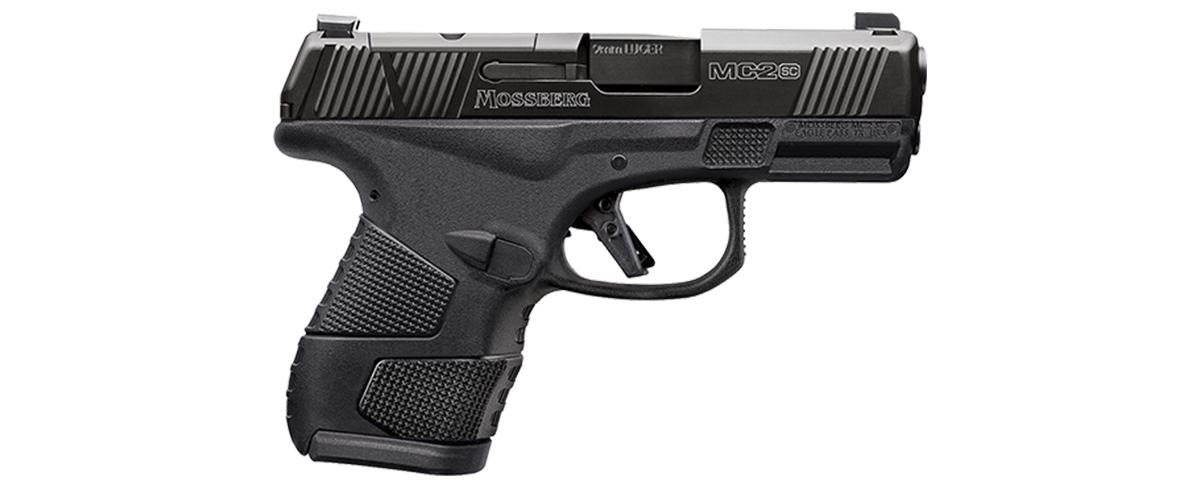 This gun comes standard with low-profile, snag-free white three dot sights, but TRUGLO Tritium Pro night sights are an available option. There are shooters who still prefer iron sights to optics, so by incorporating the integrated plate, the MC2sc can still be an option for those who choose to utilize iron sights only.
There are several features of the MC2sc that I found to be impressive—one of which is the flat-profile trigger with an integrated blade safety. I found it to have a crisp, clean break with a pleasingly short reset. The trigger has a 5.5-lb. pull and offers reduced overtravel. The trigger system enabled me to maintain consistent groups and allowed for faster, more accurate follow-up shots while I performed drills from 3 to 7 yards, incorporating both stationary shooting and drills with movement. The MC2sc exhibited minimal recoil and my groups were solid and consistent. I shot approximately 500 rounds of various brands of ammunition and the MC2sc handled each without any issues.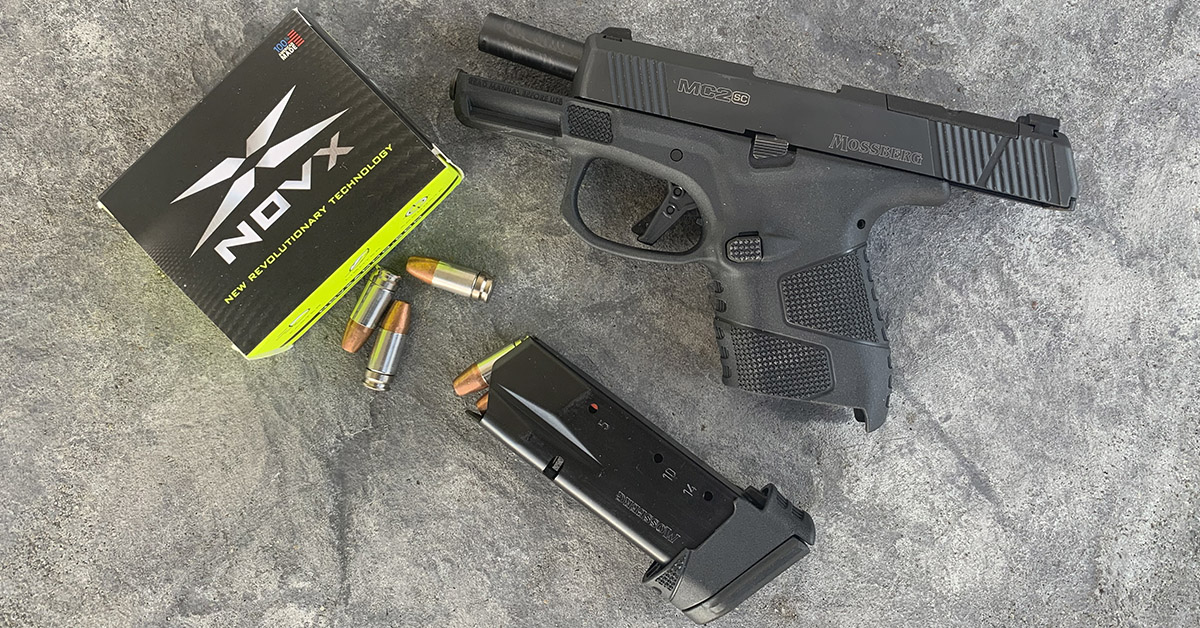 One brand of ammunition that I would like to specifically mention is NovX Pentagon. The bullet is a monolithic copper hollow point design that is specifically engineered for controlled expansion on impact. NovX states that this ammunition delivers optimal hydrostatic shock and maximizes penetration. This defense cartridge is light in weight, easy to shoot, and offers reduced muzzle flip. Beyond excellent performance, this ammunition is environmentally safe courtesy of the lead-free bullet.
The MC2sc already offers reduced recoil, so pairing it with the NovX Pentagon ammunition further minimized recoil and provided an enjoyable shooting experience.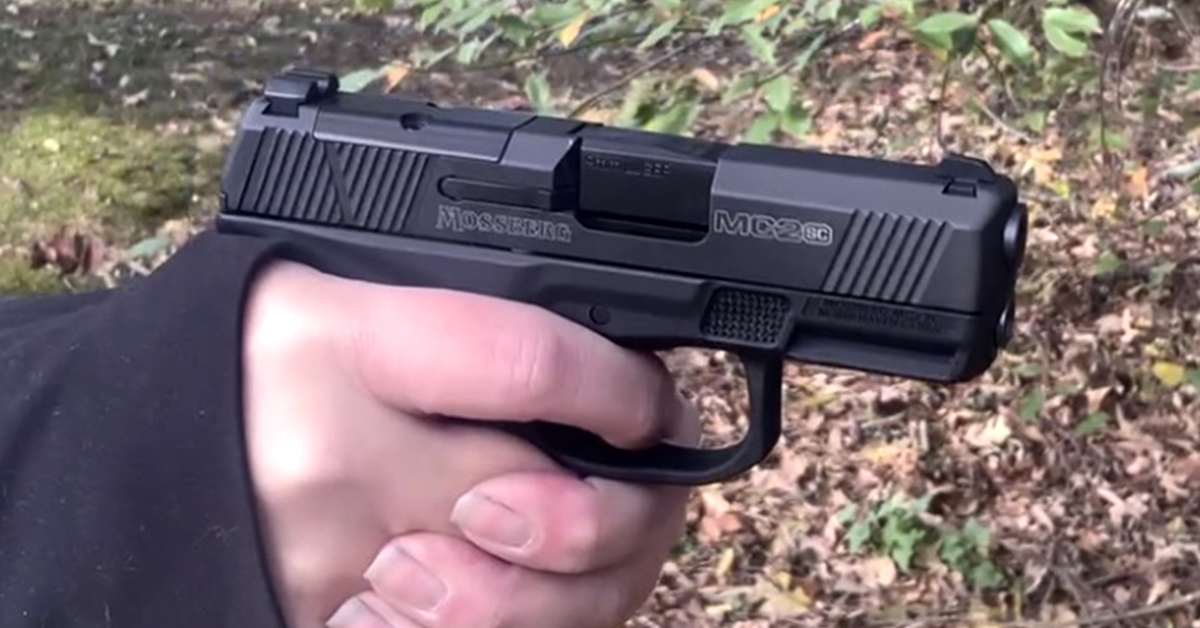 This pistol is rich with features that go beyond those already mentioned. The slide is comprised of 416 stainless steel and includes angled serrations that enable positive slide manipulation in varying conditions. The grip is ergonomic, comfortable, and angled at 18 degrees, just like a 1911. The added palm swell and incorporation of Mossberg's signature aggressive grip texturing offers a positive, comfortable grip. Operational controls are easy to manipulate, and the reversible magazine release is a bonus for left-handed shooters.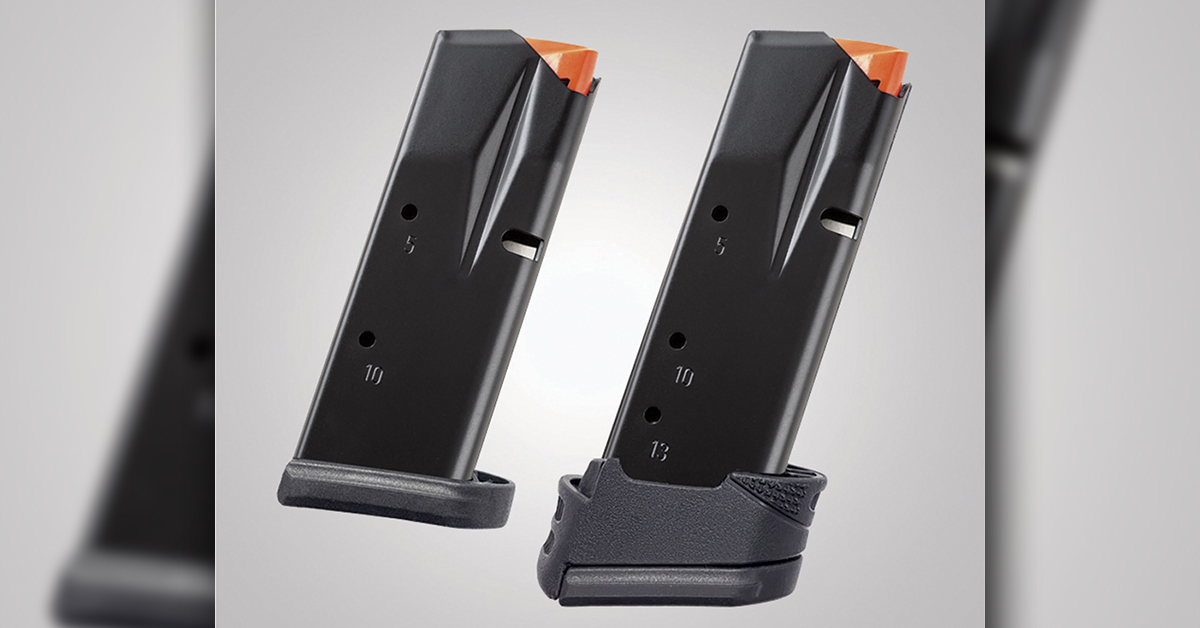 The gun's flush 11-round and extended 14-round double-stack magazines are constructed of coated steel, which offer low friction and superior wear-resistance. The magazines also feature easy-to-remove floorplates for cleaning along with high-visibility followers.
Mossberg has also included their STS (Safe Takedown System), which allows the operator to safely disassemble the handgun for routine cleaning and maintenance without having to pull the trigger to do so. Not having to pull the trigger is a big deal and a huge innovation from Mossberg in terms of safe gun handling.
The MC2sc is an optimal choice for everyday carry. It's easy to conceal, comfortable to carry, has an impressive round capacity, is optic-ready, and delivers the quality and reliability that comes with the Mossberg name.
Finally, the MC2sc hits the market at a great price point with an MSRP of $556.
If you are looking for a versatile, comfortable, and reliable EDC handgun, the Mossberg MC2sc is worth your consideration. To learn more about the Mossberg MC2sc and other pistols in the MC2 lineup, please visit Mossberg.com.
Mossberg MC2sc Specifications
Frame: micro-compact, polymer
Caliber: 9mm
Capacity: 11+1 (flush) / 14+1 (extended); 10+1 (X2)
Barrel Length:4 in.
Twist Rate: 1:16 RH
Barrel Composition: 416 stainless steel, DLC finish
Slide Composition: 416 stainless steel, DLC finish
Sights: white 3-dot, TRUGLO Tritium Pro available
Safety: trigger blade, trigger blade + cross-bolt available
Overall Length:25 in.
Weight:5 oz. unloaded, 25 oz. loaded
MSRP: $556; $662 (w/TRUGLO Tritium Pro sights)
Latest posts by Karen Hunter
(see all)