An optic- and suppressor-ready rimfire pistol with enough magazine capacity to make the others jealous
by Avery Skipalis
I'll be the first to admit I was a little skeptical of another rimfire pistol in what some may perceive to be an already flooded market. I put my preconceived notions aside and approached the Sig Sauer P322 with an open mind. This skepticism was driven by other manufacturers getting my hopes up about a do-it-all .22LR pistol, only to have my dreams crushed when they fell short in the performance or features departments.
Spoiler alert here…this pistol impressed me in both departments.
Before deep-diving into the specs and features, I want to talk about what I envision as the ideal use for this pistol. Putting this upfront may help save you some reading time if your need is way beyond this scope.
I visualize this firearm's ideal consumer as someone looking for a cost-effective trainer or plinking pistol. The manufacturer's advertised price for the P322 comes in around $399. The low cost of .22LR ammunition, minimal recoil, and feature-rich package makes it a perfect handgun to get your reps and sets in.
Feature Set
The features arena is where I think this pistol really stole the show. It seems that Sig thought about everything when designing this firearm, as you'll see. Additionally, it comes standard with characteristics that other manufacturers consider add-ons. By doing this, Sig saves the consumer from purchasing additional add-ons, which consumers can pass on to their Amazon addictions. Okay, maybe that's how I'll pass on my savings.
Frame/Grip
Sig chose to use an internal stainless-steel frame covered with a polymer grip. The grip design and angle are reminiscent of a P365XL, but it isn't a carbon copy. Thanks to a trigger guard undercut and balanced grip texture in the right spots, it feels good in your hands and provides omnidirectional traction. Furthermore, the grip has a generous integrated beveled magazine well, making fast reloads a breeze. The frame also has an integrated M1913 rail to mount your chosen accessories. It will accommodate full-size duty weapon lights like the Streamlight TLR-1 HL and Surefire X300U, which can be beneficial for nighttime training or nocturnal varmint control.
Controls
Let's be honest here. It's 2022, so if you're making a pistol without ambidextrous controls, you're way behind the times. The good news is that Sig is, in fact, in this century and made the P322 fully ambidextrous. This includes the slide stop, manual external safety, and reversible magazine catch. Personally, I could do without the manual safety. But I understand why it comes included as a good portion of individuals using this pistol may be new to firearms or prefer a manual safety. If you share my sentiment, you can ignore the manual safety and operate the pistol like it doesn't even exist.
Action/Trigger
Looks can be deceiving since this pistol resembles a striker-fired pistol; however, it's actually a single-action-only, internal hammer-fired firearm. The trigger shoe is unique because its face can be interchanged between flat or curved; both come included with the pistol. Swapping these is simple, intuitive, and can be done in a matter of seconds. I prefer the flat face shoe that comes installed from the factory. The trigger is acceptable even for a spoiled trigger diva like me. It breaks at 90 degrees and measured right under three pounds on my Wheeler trigger pull gauge.
Magazines
Magazines are often the Achilles heel of rimfire pistols. They are frequently poorly designed and difficult to load. Sig took the extra time to engineer a proper magazine that feeds well and is easy to load. They included two magazines with a remarkable 20-round capacity. The magazine follower has exposed tabs to assist with loading. I didn't experience any issues or hand fatigue while manually loading, but they include a nice magazine loader to assist if necessary. If 20-round magazines aren't enough capacity for you, Sig has 25-round magazines available as well. I did not receive 25-round magazines to test; therefore, I cannot speak about their reliability.
Slide/Sights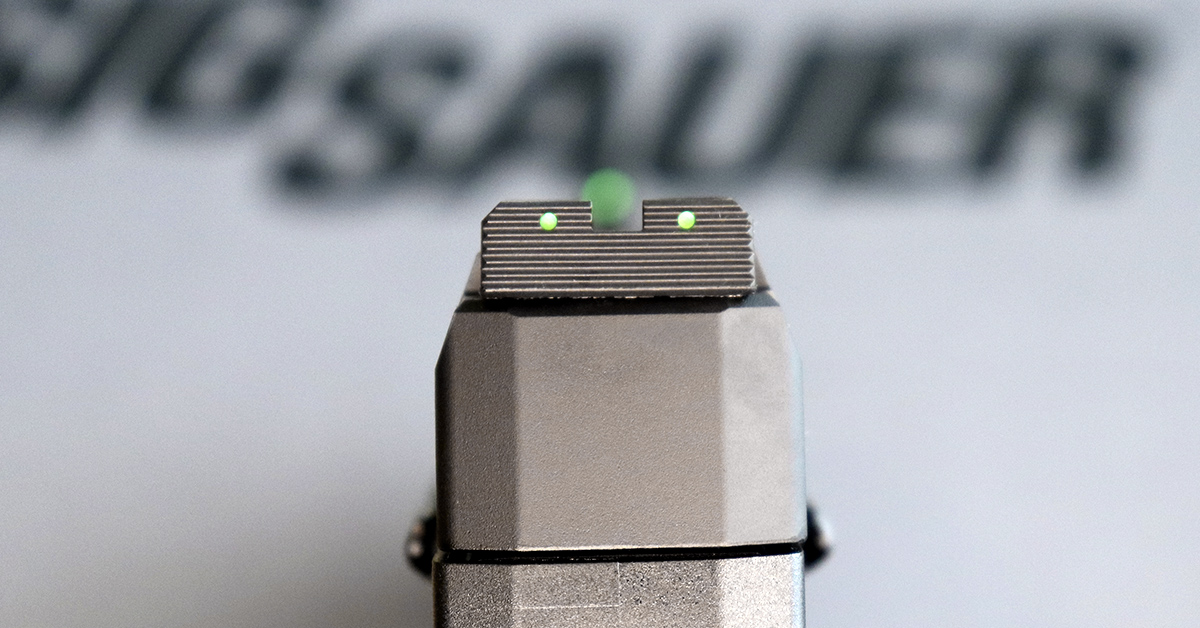 The slide is manufactured from aluminum, which helps keep weight down while maintaining durability. It has sufficient front and rear cocking serrations to aid with slide manipulation. Sig went the extra mile with the factory sights. They feature green fiber optic inserts for fast acquisition and face serrations to limit glare. The rear sight is adjustable for both windage and elevation, allowing you to fine-tune your P322.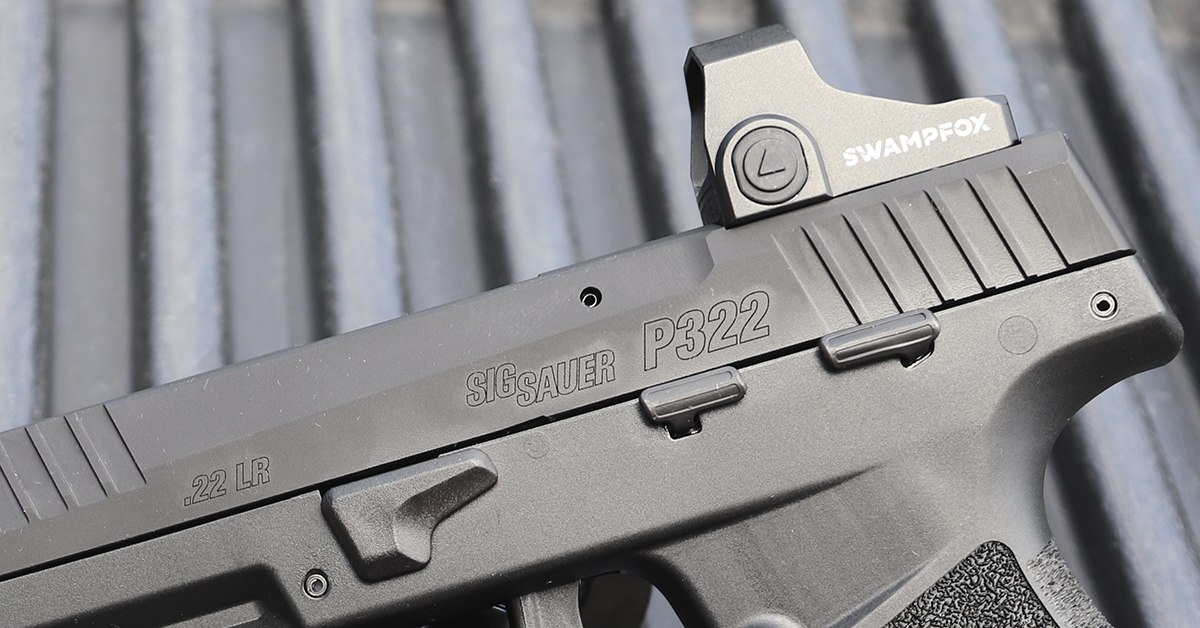 Pistol-mounted red dot sights have become increasingly popular and justifiably so. The P322's slide is optic-ready to accommodate your favorite micro red dot. I installed a Swampfox Sentinel on mine, which mounted perfectly to the slide. Historically, .22LR pistols have had issues with adding additional reciprocating mass to the slide due to the low energy of the round. Sig cracked the code on this, and it runs flawlessly with or without an optic mounted. If I had to guess, I would say it's due to the lightweight aluminum slide.
Barrel
The P322 features a 4-inch carbon steel fixed barrel. Sig includes a 1/2×28 threaded barrel adapter to facilitate mounting your favorite rimfire suppressor. I tested mine with a SilencerCo Switchback 22. Mounting was straightforward and worry-free. It was refreshing and budget-friendly not having to purchase an aftermarket barrel to enable quiet time. This was a huge plus in my book.
Disassembly
Breaking the P322 down, it's intuitive, simplistic, and doesn't require an engineering degree. Ensure the firearm is clear and lock the slide to the rear. Next, rotate the takedown lever and pull back and then up on the rear of the slide. Now you can guide the slide forward and off. Assembly is the reverse.
Holster Compatibility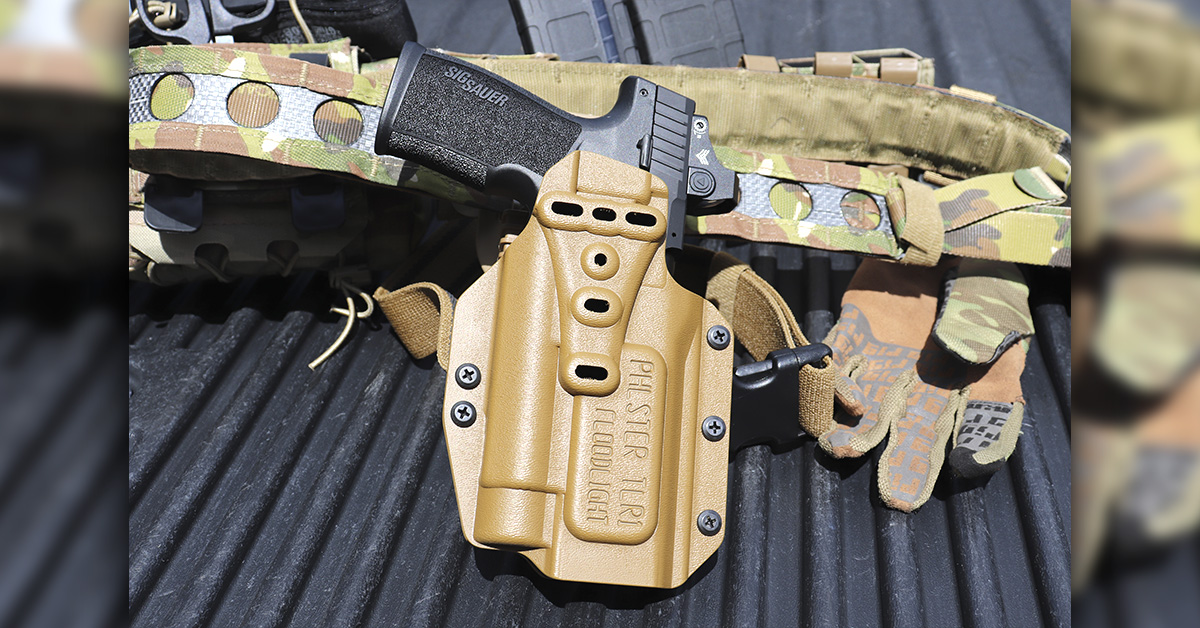 I checked the compatibility of the P322 with the various holsters I had on hand. It was incompatible with P320 and P365 holsters; however, it fits the universal holster I own that indexes off a weapon-mounted light. The Phlster Floodlight and Blackhawk Omnivore both housed the pistol with ease.
Reliability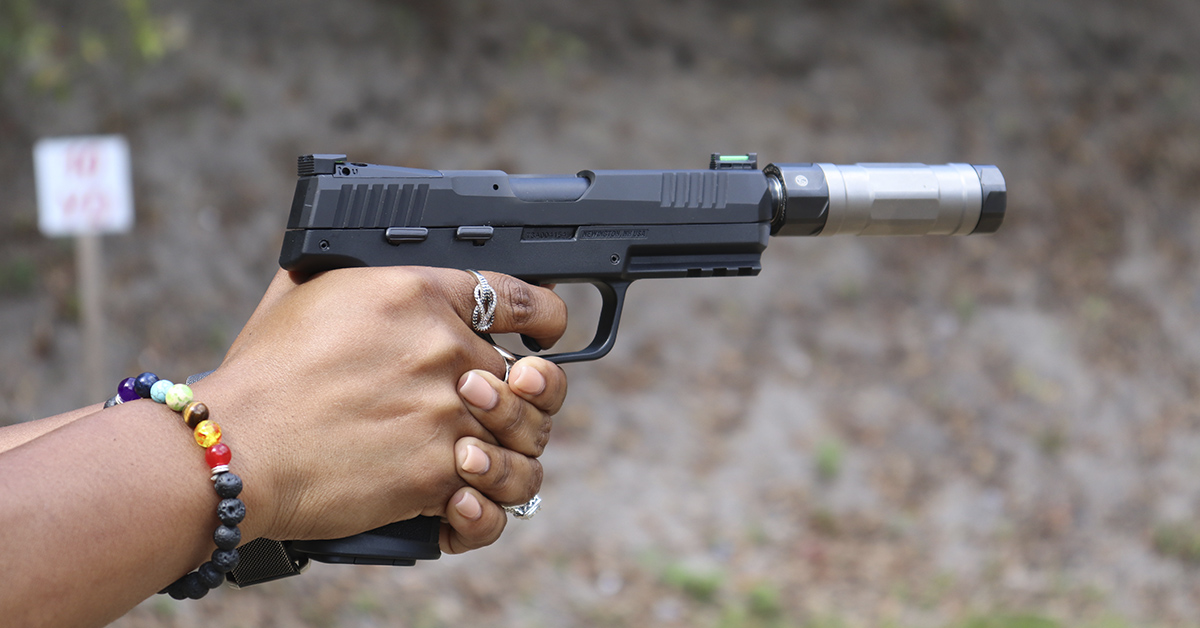 I tested the Sig P322 with five ammo types spanning over 500 rounds. Initially, I experienced repeated failure to feed issues with hollow-point ammunition. Round nose ammo, though, cycled without any hiccups. Additionally, the trigger would sporadically fail to reset. I ensured it wasn't magazine-induced or user error when it came to loading.
I contacted Sig, and they were very accommodating in getting out a new pistol and intaking the current pistol for evaluation. Sig determined it to be "a non-conforming issue with the frame." The replacement P322 ran well with everything except subsonic ammunition, which did not have enough velocity to cycle the pistol. I only had one brand of subsonic ammunition on hand so I could not confirm this would be true with all subsonic ammunition.
Closing Thoughts
In my opinion, Sig knocked it out of the park with this rimfire pistol. The user-friendly controls, easy-to-load 20-round magazines, optic- and suppressor-ready, ambidextrous controls, and reliability all equate to complete joy for both new and experienced shooters alike. Not to kill the fun, but I would be remiss if I didn't provide at least one improvement area for Sig.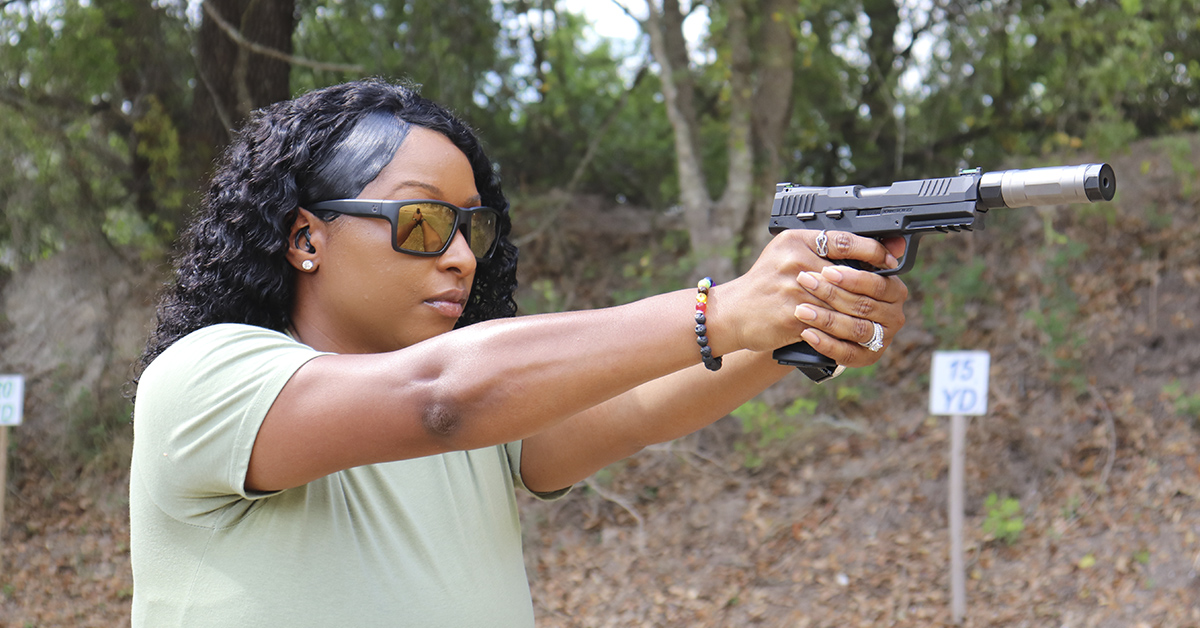 It may seem nitpicky because it is, but I wish the fire control unit were modular like the P320. This would make a great pistol and propel it to phenomenal, in my opinion. It would only add flexibly to the platform. I speculate this would probably add additional cost, which doesn't pair well with rimfire pistols, hence why Sig left it out.
I foresee this pistol getting a lot of future range time, especially with the current ammunition prices. If your previous .22LR pistol experiences have been lackluster, I strongly recommend you check out the P322 for yourself.
Latest posts by Avery Skipalis
(see all)