This easy firearm DIY project lets you put your own spin on an American classic
by Buster Madison
I had some buddies over couple months ago, and as we waited for the rack of ribs to finish smoking on the Green Egg, the conversation took to John Wayne, cowboy guns, and how cool it would be to have a couple for display in an office or study. We spoke about the classics like Colt, Remington, and Smith & Wesson and the impact they made in households across the country through those old spaghetti westerns that we grew up watching with our grandfathers.
Later that night, our fun conversation led me to a search for single-action revolvers at a price under $200. I found a variety of models available from Heritage Manufacturing, a "made in the USA" revolver company, and the pricing sealed the deal for me.
As I scrolled through their website, I uncovered .22LR models that also accepted .22 magnum cylinders. They offer 4-, 6-, and even 16-inch revolvers, giving me the option to choose which would work best for my display case. I also found Heritage's online store. This website offers hundreds of parts you can buy directly from the manufacturer to customize these unique revolvers. I think I spent more time shopping on the store and trying to decide what I wanted than the actual installing and tinkering with the revolvers once they arrived. There really are that many options.
Heritage Manufacturing has many revolvers to choose from and the variations seem endless. There are core models like their 6-shot Rough Rider, which can be purchased with a 4-inch, 6-inch or 9-inch barrel configuration. Need adjustable sights? There is an option for that, too. Want a case-hardened finish? Yep, they offer it. I was amazed at how unique these single shot revolvers look and it was difficult to make a final decision on purchasing. My shopping list seemed to grow a little longer the more I explored.
Maybe you need a couple extra rounds in the cylinder? Heritage makes a 9-shot .22LR revolver and a .22LR/.22WMR combo option as well. To top the Old West flair, the company also introduced a Barkeep model—a short-barrel .22LR that really caught my eye.
So, I finished up my wish list and found two new Heritage revolvers for under $400. Add in a shopping cart full of accessory items and parts from Heritage's online store and I was ready to start building some awesome cowboy guns, with a little extra money left over for thrift store gems to add to the display.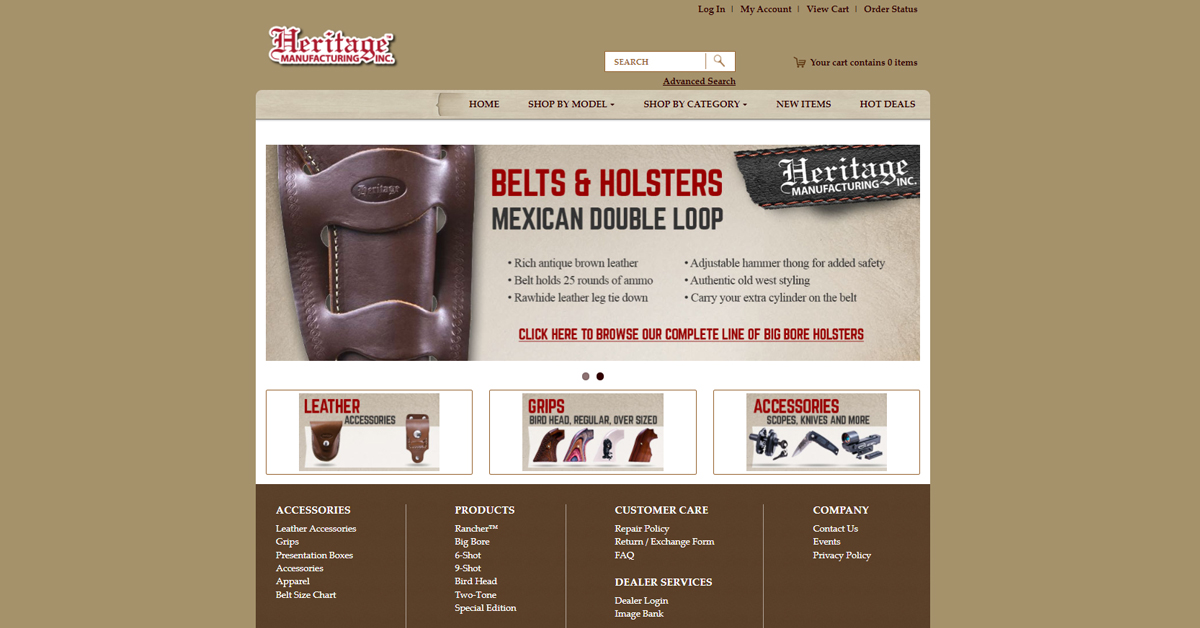 I picked up a couple cylinders, a hammer, a trigger, a few different grips, a bird head conversation kit, and some holsters and belts for extra bling in my display. The cost was affordable, and no special tools or experience were required to do the work. All I needed was a ¼-inch flathead screwdriver.
As you can tell from the photos, the Rough Rider overhaul was straight forward. I used a Real Avid screwdriver kit with a ¼-inch flathead to remove the grip screws, five frame screws, and  the spring/plunger and loading gate.
Next, I unscrewed the trigger screw and hammer screw, which releases them from the frame.
I installed my new parts in reverse order, starting with the hammer, sliding it in and applying slight pressure forward to hold it in place as I positioned the trigger.
I discovered that pulling slightly down on the trigger spring/cylinder spring helps to align the trigger screw. With a little fiddling and good light, I was able to screw the trigger screw properly in place.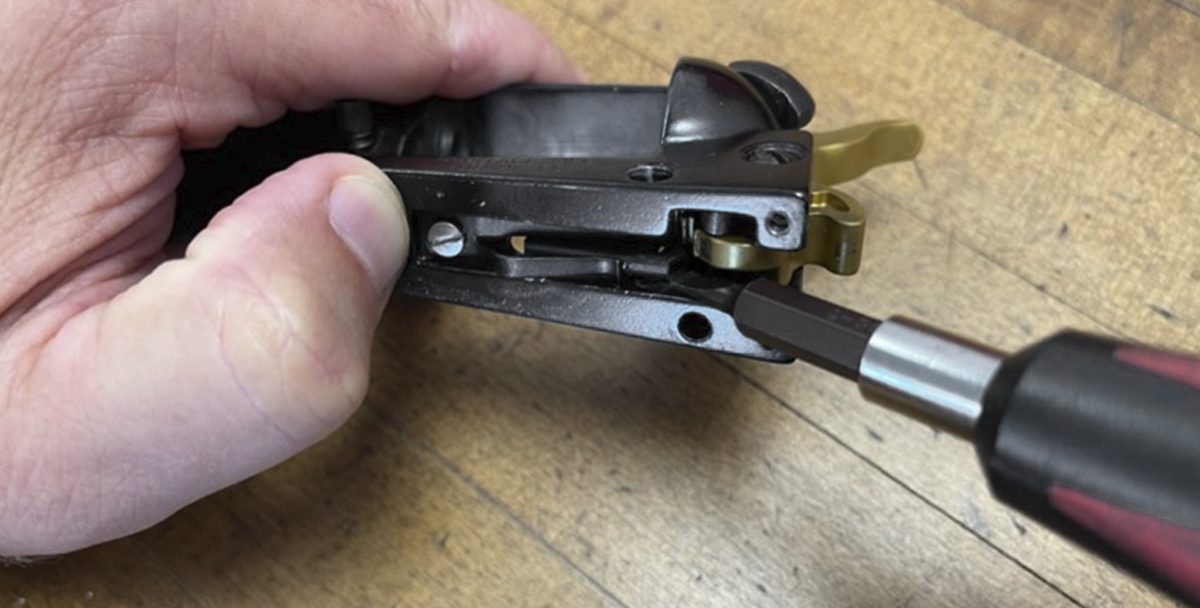 Next, I reinstalled the backstrap assembly and the new grips. After that, insert the new cylinder and base pin.
The makeover certainly added some sass to this single-shot revolver.
For the Heritage Barkeep, I wanted to convert it to a bird head grip. This process was even easier than the Rough Rider conversion.
Simply remove the backstrap assembly screws, swap in the bird head backstrap, and install the new bird head grips.
This quick swap really changed the look of the revolver, and I think the bird head grip is perfectly suited for such a short barrel configuration.
I like projects that are simple, and working on these Heritage revolvers was probably among the easiest firearm DIY projects I've tackled. I swapped some screws, replaced some grips, changed a hammer and trigger, popped out some cylinders, and next thing I know, I have a couple customized firearms ready for the range or for display.
While many firearm projects fall in the domain of professional gunsmiths, Heritage allows enthusiasts like me an opportunity to dabble in the world of gun customization with a small investment, a variety of choices, and basic mechanical skills. If you're interested in giving tabletop gun customizing a try, Heritage Manufacturing revolvers are the perfect first step.
Latest posts by Buster Madison
(see all)