Heritage Manufacturing has just released its new Cowboy Tactical single-action revolver, bringing a ranch hand staple into the 21st Century
by Bob Campbell
When I first saw the media blip for the new Heritage Manufacturing Cowboy Tactical, I wondered what application, if any, this revolver could possibly have in my life and lifestyle. As it turned out, this is the best addition to my modest battery of .22 caliber revolvers I have made in some time.
I have owned a good number of Heritage single-action revolvers. I have worked closely with shops for the past few decades in evaluation and sometimes repairing handguns. I have never—and never means not once—seen a Heritage revolver out of time or in need of repair. That is quite a record. Heritage took a proven type of handgun, the single-action revolver, and simplified it as much as possible. You can get by with material in rimfire revolvers that would not hold up in .357 Magnum revolvers, as an example. Modern CNC machinery holds tight tolerances and makes for good economy. The Heritage is a favorite Christmas present around my area, and it is a good quality revolver for handgun training, small game hunting, and informal target practice.
Let's look at the newest Heritage revolver.
The Heritage Cowboy Tactical is a variant of the original Heritage Rough Rider. The Cowboy Tactical I have fired and tested extensively is a 6.5-inch barrel version. The steel barrel is standard Heritage quality. The front sight is a high-profile fiber optic. The rear sight is a rail type designed to accommodate a red dot sight; however, unlike most rails, this one also integrates a rear sight. It's a broad, easy-to-use rear sight and the combination is superior to the groove in the top strap commonly found on Heritage revolvers.
Despite these improvements, the MSRP of the Heritage Cowboy Tactical is only $212. The upgrades include a threaded barrel and well-designed synthetic grips. The Heritage revolver is usually supplied with a nice trigger action. This revolver outdid the norm. Trigger compression breaks at a clean and crisp 3.25 pounds. Practical accuracy is excellent, due in part due to this trigger action.
The handling of a single-action revolver has not changed in over one hundred years. To fire the revolver, the hammer is pulled to the rear until the trigger clicks in place. Press the trigger and the hammer drops, firing the revolver. To load this revolver, place the hammer on the half cock notch. Simply pull the hammer back until it clicks once and you have it on half cock.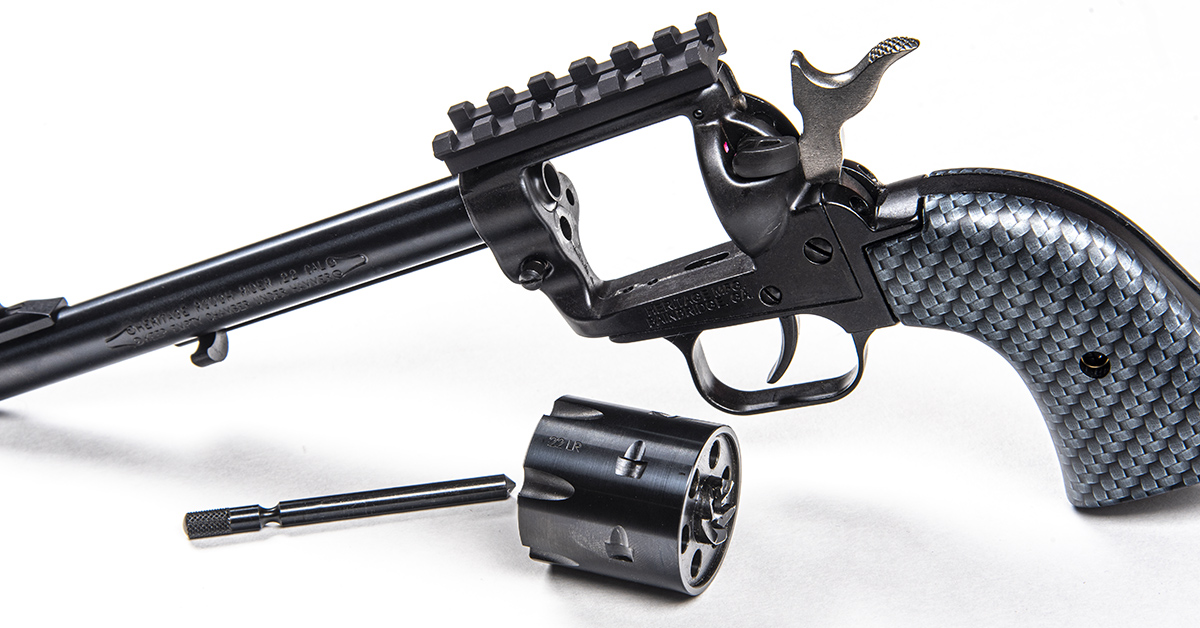 A word to the wise gun handler. Do not hold the revolver on half cock and pull the trigger just a bit to release the hammer and press the trigger to lower the hammer. Pull the hammer all the way back to full cock, grasp the hammer, and press the trigger to lower the hammer. Using the proper procedure prevents scarring the cylinder and reduces wear on the hand. With the revolver at half cock, open the loading gate and load the cartridges one at a time. Load, turn the cylinder to the next chamber, and continue until the revolver is loaded.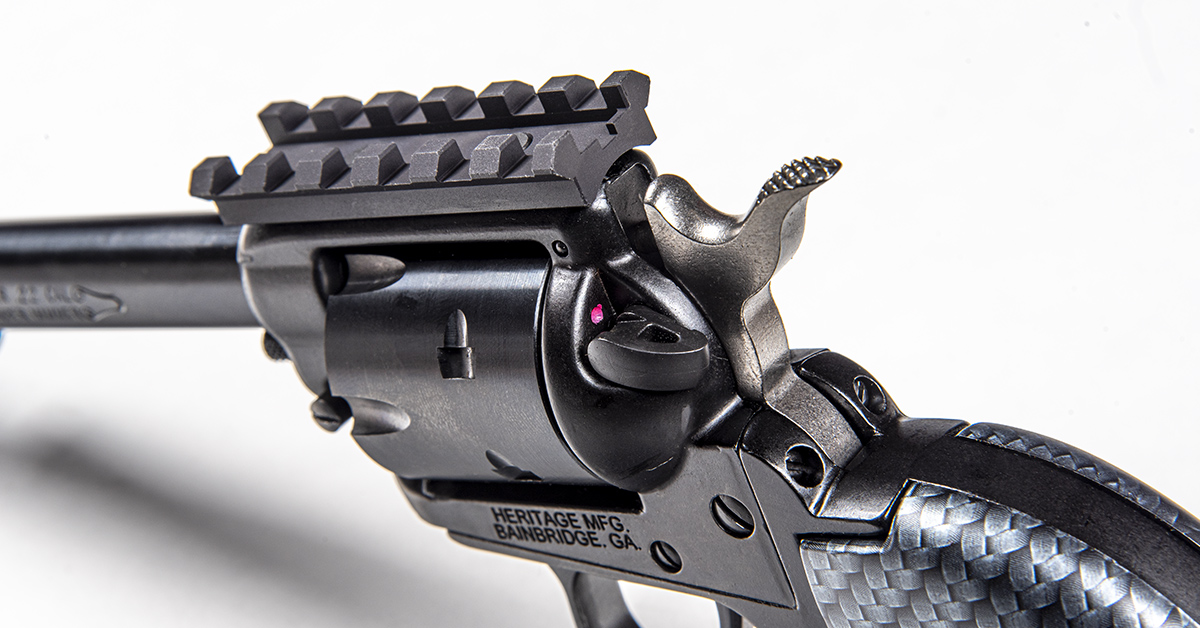 The Heritage revolver is among a very few revolvers that incorporates a safety into the action. This safety prevents the revolver from firing if dropped. The action may still be operated but the revolver will not fire. Another option is to ignore the safety and load "five beans under the wheel." To load five cartridges, load one cartridge, skip one, load four, and then cock and lower the hammer. You will have the hammer resting on an empty chamber.
Testing the Heritage was done with both .22 LR and .22 Magnum cylinders. It is a tribute to Heritage Manufacturing that they can manufacture an aftermarket cylinder that will fit any of their revolvers. Some fitting is often required when applying non-original revolver cylinders. The Heritage cylinder, though, drops right in.
Firing the Heritage Cowboy Tactical is a joy. I burned up a good bit of ammunition simply shooting at dirt clods and range debris. I like to know how the revolver shoots at close range to terminate a rodent or dangerous reptile, and at 20 yards or so, which is a long shot for taking edible game. As expected, I found the Heritage Cowboy Tactical to be an accurate revolver. Firing at small targets at different ranges in the open is often more enlightening than firing at paper. A 30-ounce .22 revolver with a generous handle just doesn't have any recoil or muzzle flip to speak of.
I also fired a good quantity of .22 Magnum ammunition. The Magnum offers an option for larger game and pests. While I prefer something bigger for personal defense, any miscreant would be well advised to stay out of the path of a hot, fast .22 Magnum. That being said, quite a few Americans on a tight budget have a Heritage revolver as their home defense gun. I won't bash their choice. An easy-to-handle and accurate firearm is a good beginner's revolver and has saved the bacon more than once—and taken the bacon as well.
I also fitted a TRUGLO red dot sight to the Heritage Cowboy Tactical. This was a great deal of fun. The revolver comes on target quickly. Hit probability is excellent. Bring the revolver to eye level with both eyes open and you get a hit. Keeping the property clear of pests is no big chore with this revolver.
Evaluating firearms is a serious business but I must admit this review was fun from start to finish. You don't need an excuse to own this type of firearm. Whether you are well-heeled or on a budget, the Heritage is a firearm to be appreciated.
While the red dot sight was a lot of fun, there is much practical application. There just aren't many choices in inexpensive handguns for mounting a red dot and learning to use it well. Developing marksmanship skills means training, and this is a fine trainer.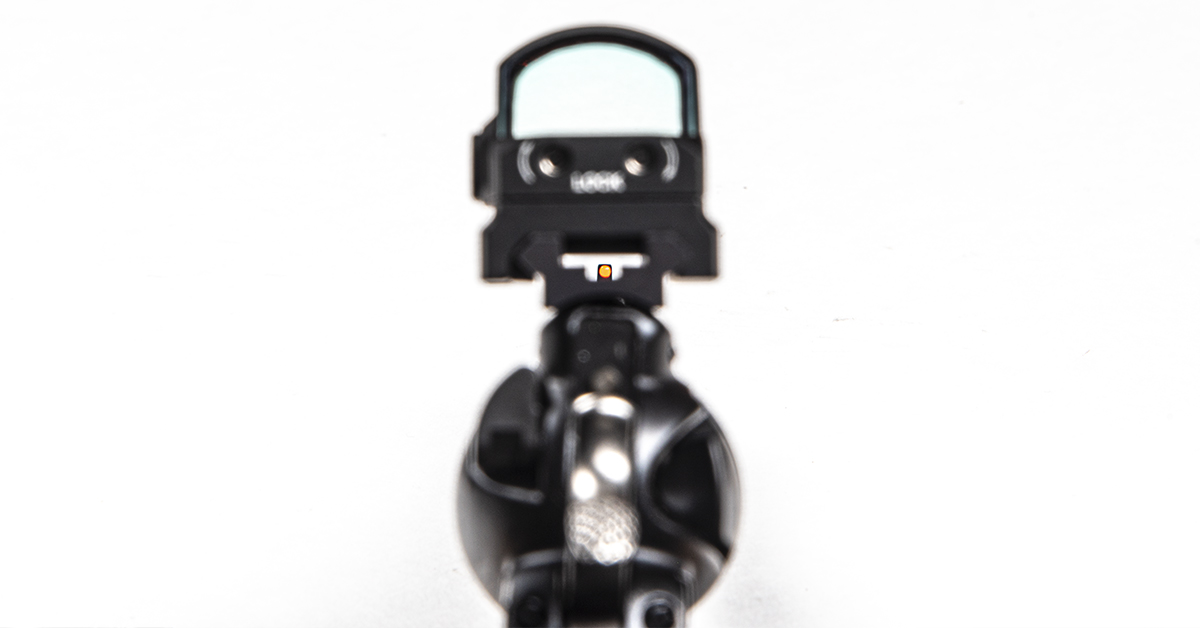 As for absolute accuracy, I broke out the MTM K-Zone shooting rest for this test. This is a neat, well-designed shooting rest that allows you to eliminate most human error and test a handgun's accuracy potential. The Heritage was tested with the fixed sights in place. I cannot brag on the results. This is a 6 ½ inch barrel .22 rimfire with a crisp trigger so something would be wrong if I did not shoot it well. Just the same, a 2.0-inch group at a long 25 yards was average with a wide variety of ammunition. Even what I consider burner grade loads stayed inside of 2.5 inches. Fiocchi's high velocity .22 is a never-fail, superbly accurate load. I turned in a 1.9-inch 25-yard group. This is probably up to my capabilities with fixed sights.
I like the Heritage Cowboy Tactical. After using Heritage revolvers for many years, I know their capabilities well, but I was a bit surprised how much I liked this revolver. It may be the "fun revolver of the year."