Springfield Armory takes the XD-M Elite up a notch with two new offerings in a 10mm chamber
by Serena Juchnowski
"That's a lot of gun!"
Such was my initial thought upon opening the large square box and taking my first look at Springfield Armory's new striker-fired, optics-ready 10mm XD-M Elite. When I first heard of the 10mm, I severely underestimated the difference in power compared to a 9mm. I figured that 9mm and 10mm are only one number off and a millimeter is a small measurement. Granted, that's only the bullet diameter, but how far off can it be? A 9mm bullet measures 0.355 inches in diameter while the 10mm fires a .40-caliber bullet measuring 0.401 inches. A 10mm case, though, has nearly double the capacity of a 9mm. More powder plus a larger projectile means more recoil and a round with more stopping power.
In short, it's a LOT different.
The 10mm grew out of a desire in the 1980s for a large semi-automatic pistol with greater performance than the .357 Magnum — something between a 9mm and 45 ACP. Though the history is much longer, the 10mm had a short life as an issued caliber to the FBI before someone determined it was too big and had too much power for agents to shoot well. Rather than train the agents to better handle the gun, they lightened the loads, leading to significant unused case capacity. A shortened case, lighter load, and the same bullet became the .40 S&W.
Recently, the 10mm has seen a resurgence in popularity. Whatever the reason, the 10mm's attributes make it an excellent self-defense round, though I'd personally rather carry a lighter gun concealed and leave this one in a side holster for open carry duty in rural parts.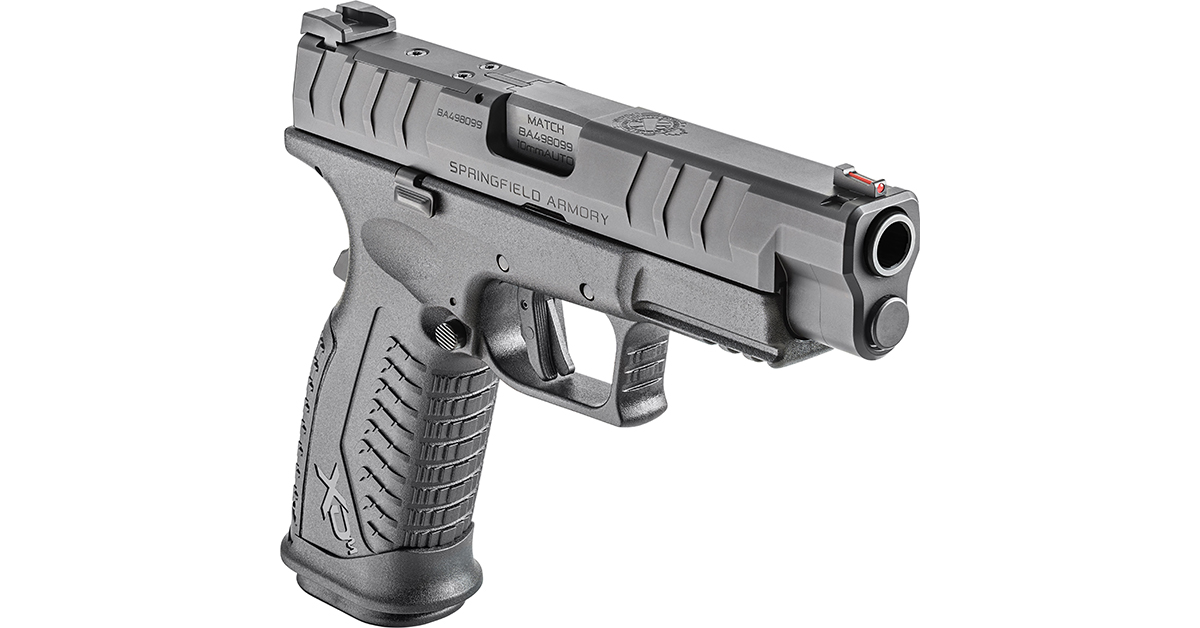 Springfield's XD-M Elite 4.5″ OSP 10mm is currently the only full-size XD to be chambered in this caliber. Also offered in 10mm is the XD-M Elite compact with a 3.8-inch barrel. A larger, heavier gun makes recoil more manageable, and let's face it: with so many different caliber options for concealed carry in urban environments, the 10mm better fits open carry for wilderness situations.
A 4.5″ 10mm just makes sense. This new offering is all black, including the barrel, which makes for clean aesthetics. The frame is polymer while the 1:16 barrel and slide are forged steel with a Melonite finish.
The pistol is optics-ready and comes in two configurations: with and without a HEX Dragonfly reflex red dot installed. The red dot weight (around one ounce) is negligible, so both options weigh in at about two pounds. Pre-installed are a red fiber optic front sight and tactical Rack U-Dot rear sight. These are similar to the sights on the Springfield Hellcat. I rather like U-Dot sights but was unable to use them with the pre-installed red dot on the test sample I received. I would have preferred the sights co-witnessed.
If you are already familiar with the XD, there aren't many surprises with the new 10mm. I personally love the feel of XDs. They are easy to grab and hold with grip patterns that deliver exceptional traction even in wet conditions. Front and rear slide serrations make working the slide easy, and there's a lot of room to grip. There is no manual safety, but several integrated safety mechanisms are presented: a grip safety, trigger safety, and a loaded chamber indicator. The rear of the slide also has a silver striker indicator to show whether the pistol is cocked.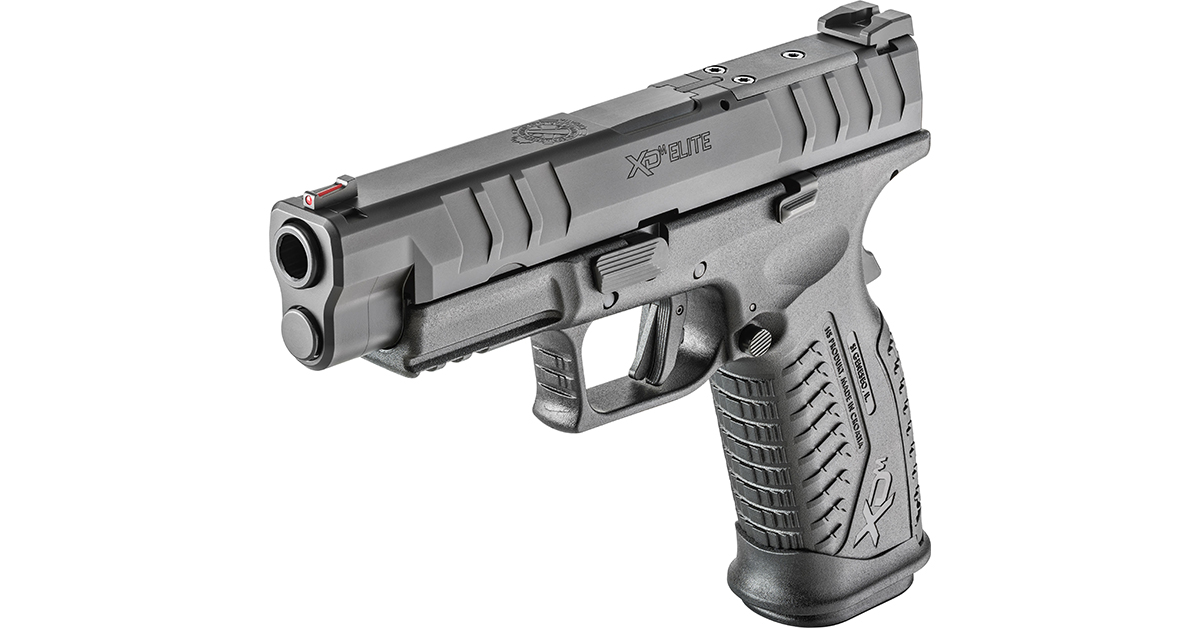 To accommodate both left- and right-handed shooters, the slide lock and mag release are ambidextrous. There are also small thumb index grooves on either side. The takedown lever is on the left side, as expected. The gun field strips like any standard XD. Ensure the gun is empty and lock the slide to the rear. Rotate the lever so it is vertical and pull back on the slide. It will come up and off. The recoil spring is captured so it is easy to remove, and you don't have to worry about losing the spring.
Moving to the HEX Dragonfly, windage and elevation are adjustable, of course, with an easy-to-push brightness adjustment switch on the left side. The Dragonfly has all the basics I expect from a red dot. (Personally, I'm not a big fan of auto-adjusting dots so manual adjustment is a huge plus for me.) Pushing the button cycles through eight brightness options. If you missed the one you like, you will have to cycle back through.
The red dot measures 3.5 MOA and is powered by a single CR2032 battery that Springfield says will last approximately 100,000 hours. The HEX Dragonfly has a 16-hour auto shut-off feature if you forget to power it down, and the unit is IPX7 waterproof. By itself, the sight has an MSRP of $249 and the XD-M Elite OSP is available with one pre-installed. For those who may want to mount a different optic, a range of mounting plates are available.
A picatinny rail on the underside of the XD frame allows for mounting of a flashlight or other accessory.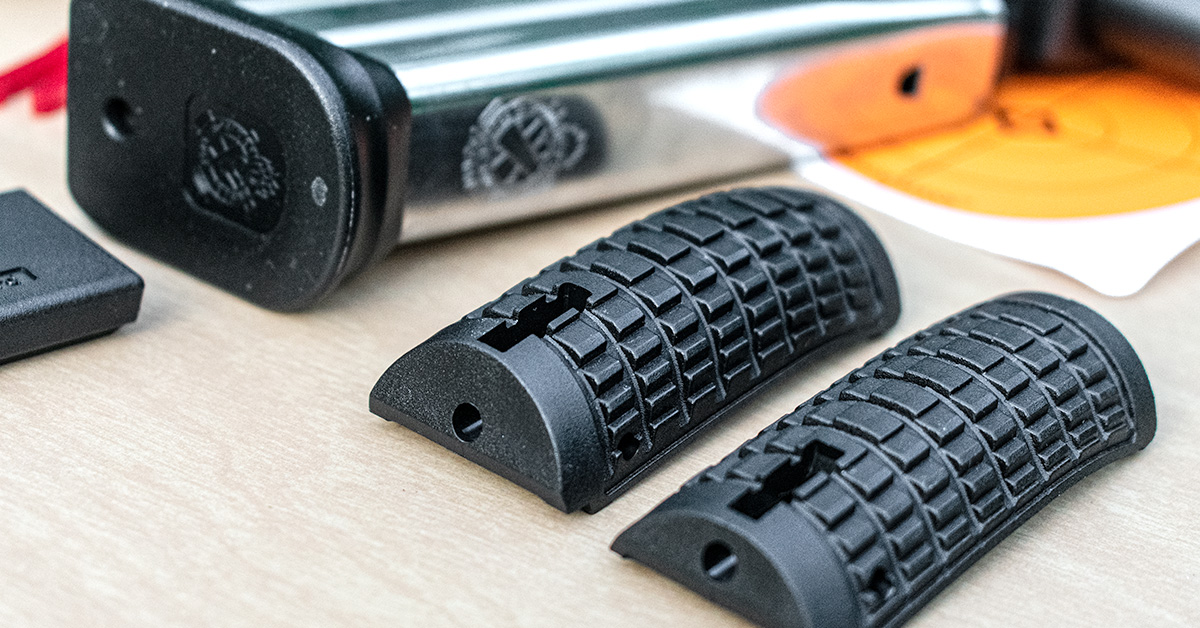 After ensuring the pistol was empty and adjusting the brightness of the installed HEX Dragonfly, I dry-fired the pistol several times. Like other XD-M Elite models, this 10mm 4.5″ OSP has Springfield's Match Enhanced Trigger Assembly (META). The flat-faced trigger has a safety and integrated overtravel stop. When you pull the trigger to the rear, the overtravel stop meets the rear of the trigger guard. The trigger has some creep once you hit the wall, but it is predictable, and I actually appreciated it. After several dry-fires, I knew how much force it took to break the trigger.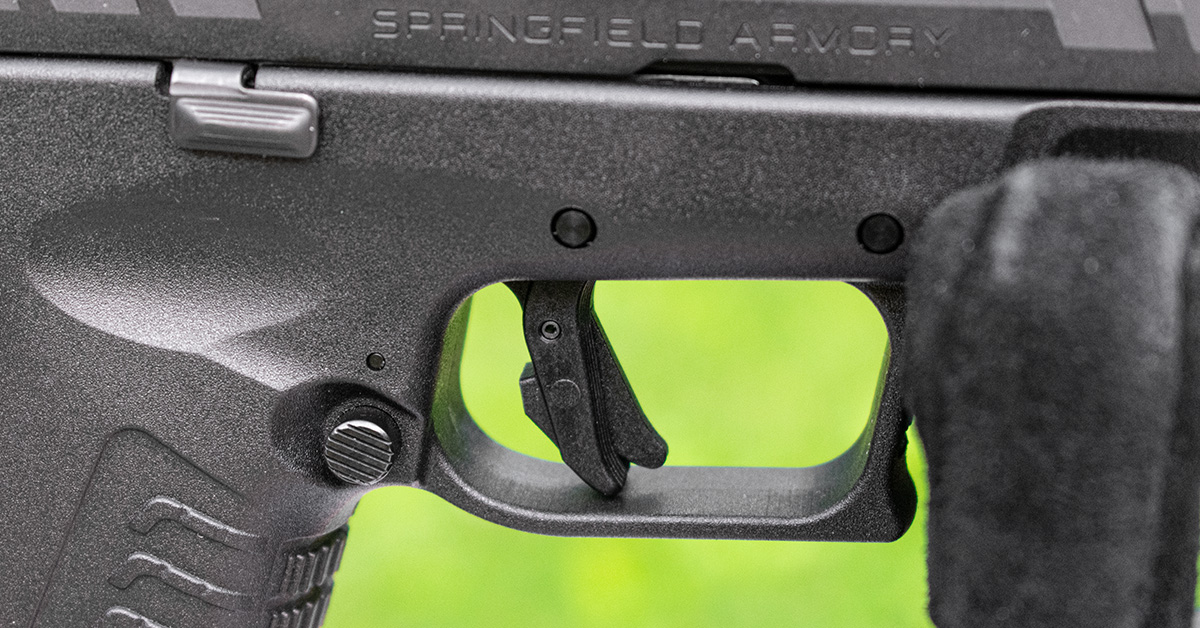 Springfield didn't release a trigger weight specification, but this is definitely not a hair trigger. You will know if you are pulling the trigger and must make a conscious decision to shoot, which is important in a defense pistol. With a little work to simultaneously engage the grip and trigger safeties, I used a Wheeler trigger pull scale to check the pull weight. The results averaged between six and eight pounds.
As previously stated, this is a big gun. It comes with two alternate backstraps to help you find the best fit. It also comes with two 16-round magazines for a 16+1 capacity. What really impressed me was how easy it was to fill up both magazines. Loading was smooth and I could do so without any aids. Even the 16th round slid in without the challenge the last few rounds of a 9mm magazine usually create. The magazine release worked effortlessly, and the mags dropped when I pushed the button. The flared mag well made reloads fast and easy.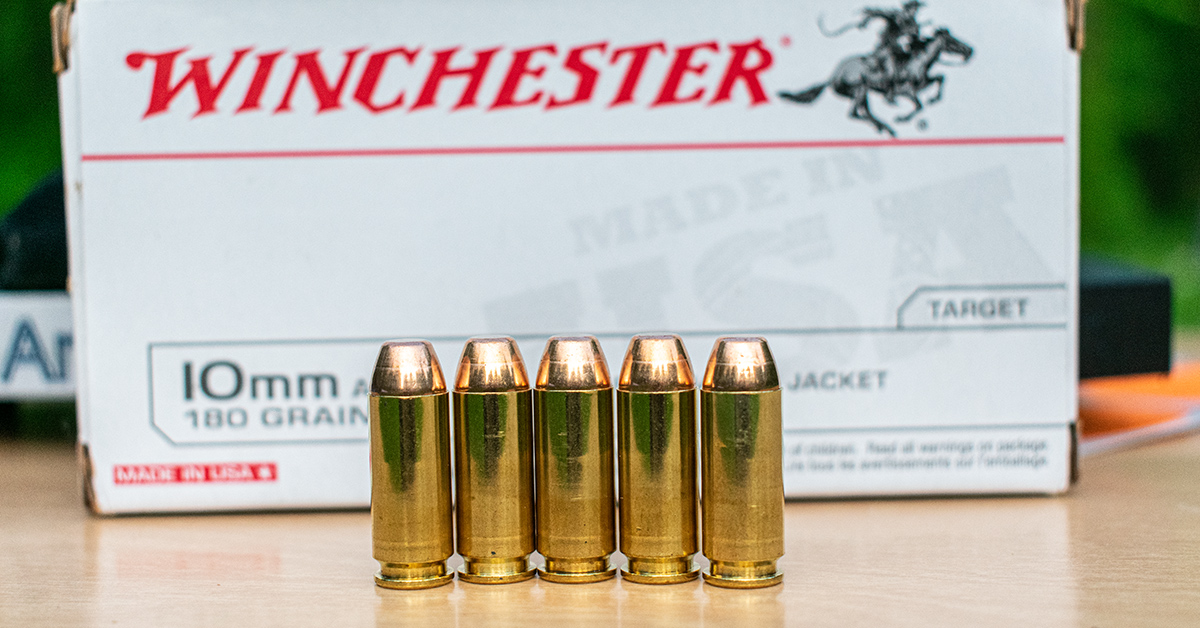 Finding 10mm ammunition now is difficult and, if you find it, expensive. For this reason, I was only able to put about 60 rounds through the gun of three different types: Winchester 180-grain full metal jacket target rounds, PPU 180-grain jacketed hollow points, and some 180-grain XTP reloads from a trusted source. I shot fifteen rounds through the gun free-handed at 10 yards or so to get a feel and to evaluate recoil. The gun handled nicely and with the Winchester and PPU loads, it wasn't as much of a monster as I had expected. The reloads were a different story, with flames coming out the end of the barrel — noticeable from some distance away. This naturally came with significantly more recoil. All rounds functioned with no jams or failures to feed.
To test for accuracy, I fired five-shot groups with the Winchester and PPU from 25 yards using a Ransom Multi-Cal Steady Rest. To my surprise and astonishment, four of my first five Winchester rounds landed within an inch of the center of the target. My very first shot pushed the total group size to approximately two inches — a flyer out the left. This was clearly my fault. One- to 1.5-inch groups at 25 yards from a rest with the Winchester 180-grain target ammunition were consistent. The groups at 25 yards with PPU were much larger and non-impressive. Freehand groups at 15 yards were tighter but not nearly as impressive as groups with the Winchester. Considering the stellar Winchester performance, I am comfortable in saying this is an accurate gun when paired with the right ammunition.
Overall, I was impressed and confident the 10mm 4.5″ XD-M Elite will serve well in any defense scenario. (I must add, though, that it was quite ineffective against the swarms of mosquitos also curious about its performance on test day.) The XD-M Elite 4.5" OSP 10mm without the red dot has an MSRP of $653. The version with the pre-installed HEX Dragonfly red dot runs $837.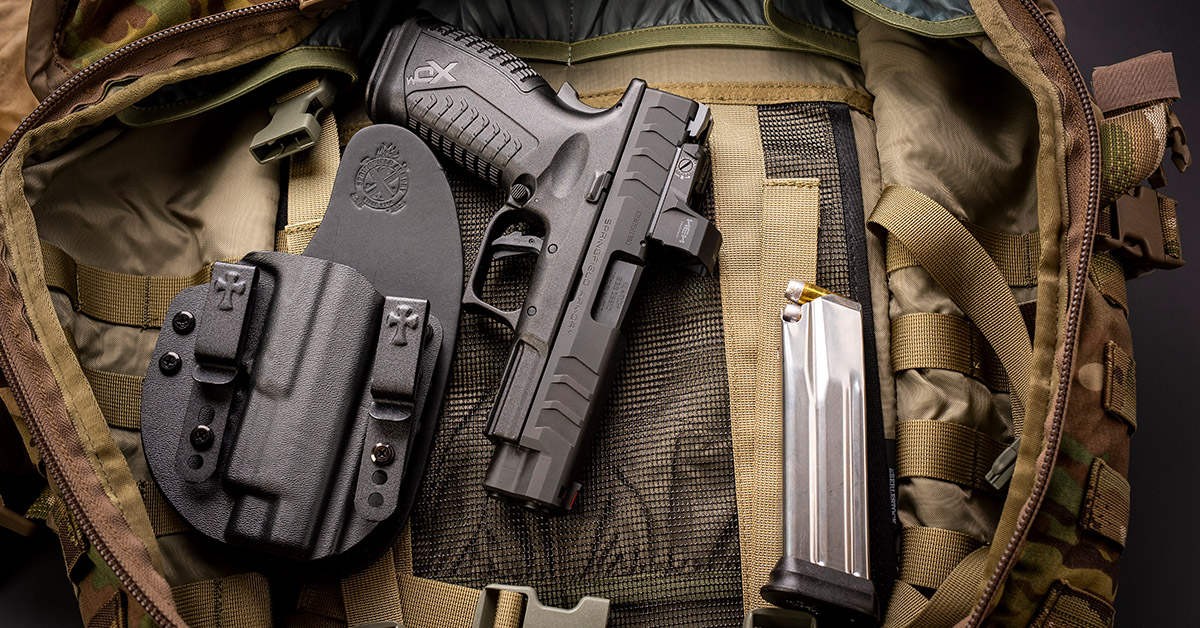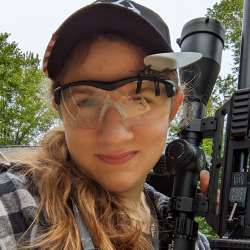 Latest posts by Serena Juchnowski
(see all)