Browning's rimfire version of the famed 1911 delivered mixed results in our field trials
by Serena Juchnowski
The idea of a .22 LR 1911 has always appealed to me. Whether it's the history, design, or some combination, I love 1911s. While die-hards will say that no gun is a 1911 unless it is chambered in .45 ACP, the 1911-style now has intense variety, including micro-carry guns in .380 ACP and 9mm, full-size 9mm models, 2011 pistols, and the 1811 Brouwer Grip Module for the Sig Sauer P320.
Whatever your desired version of the classic, ammunition is expensive and rimfires have long been effective training tools. They are also just plain fun.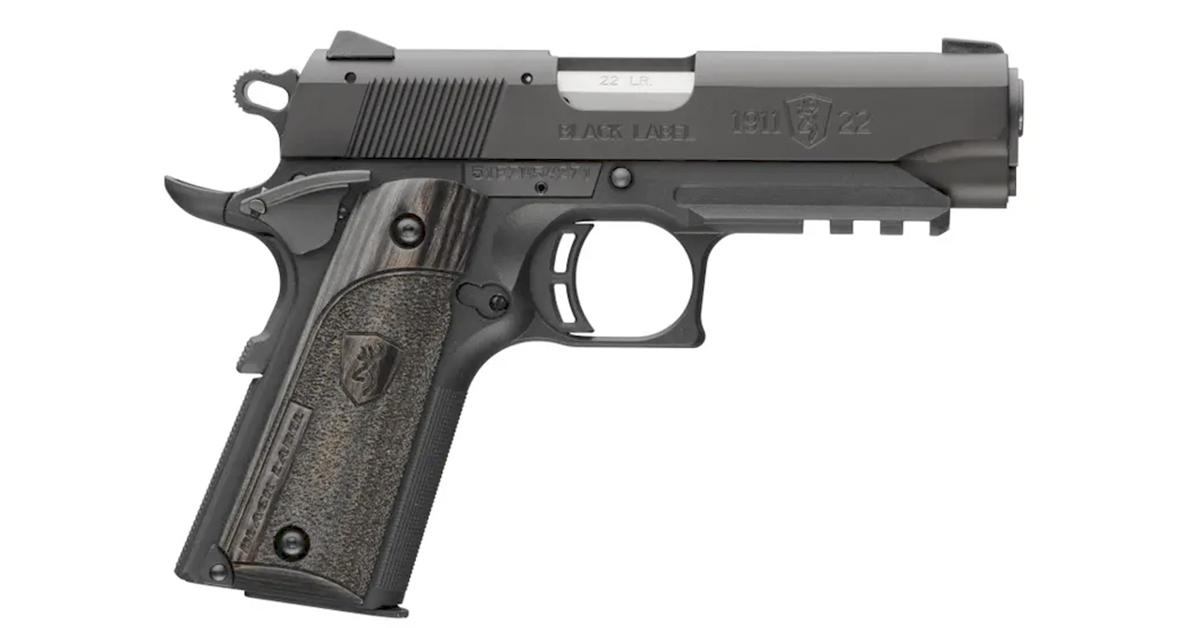 My initial interest in the Browning 1911-22 Black Label Compact came from my love of rimfire target pistols. I have my own collection of Browning Buckmarks. While they range in style and features, they all have one thing in common: impressive accuracy. While Browning's 1911-22 is not a Buckmark, I wanted to see how it compared.
Browning offers several 1911-22 options. I opted to test the Black Label Compact for the sole reason it matches the size of my Kimber Micro carry gun and thus fits the same holsters. Browning says this gun is built to 85-percent scale of the original model 1911 and, unlike many rimfire 1911s, it isn't a conversion kit but an intentional rimfire. (Like most rimfires, Browning cautions against dry firing.)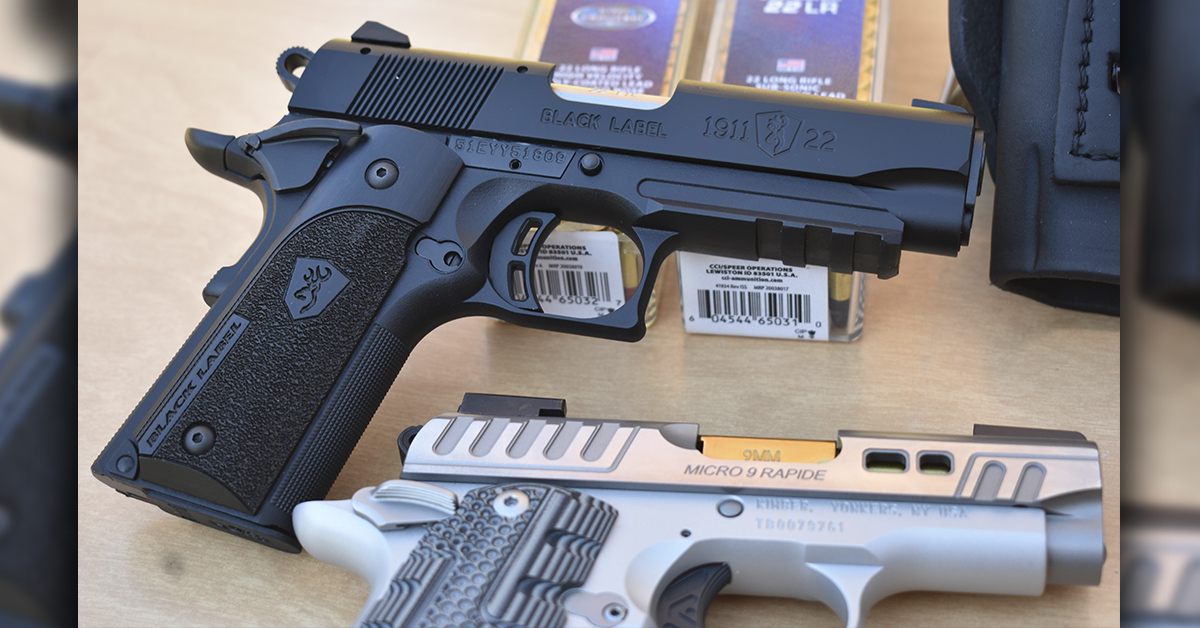 As cliché and girly as it sounds, this gun is cute. It doesn't have the commanding presence of a traditional 1911 — partly because of its size and weight (13 oz.) — but also because of its matte rather than characteristic glossy finish.
It fits well in my small hands and my junior rifle shooters enjoyed helping me test it. There are no forward slide serrations, which I would have appreciated, and the grip stippling and checkered front strap is a bit weak for my preferences. Granted, rimfires are not known for recoil.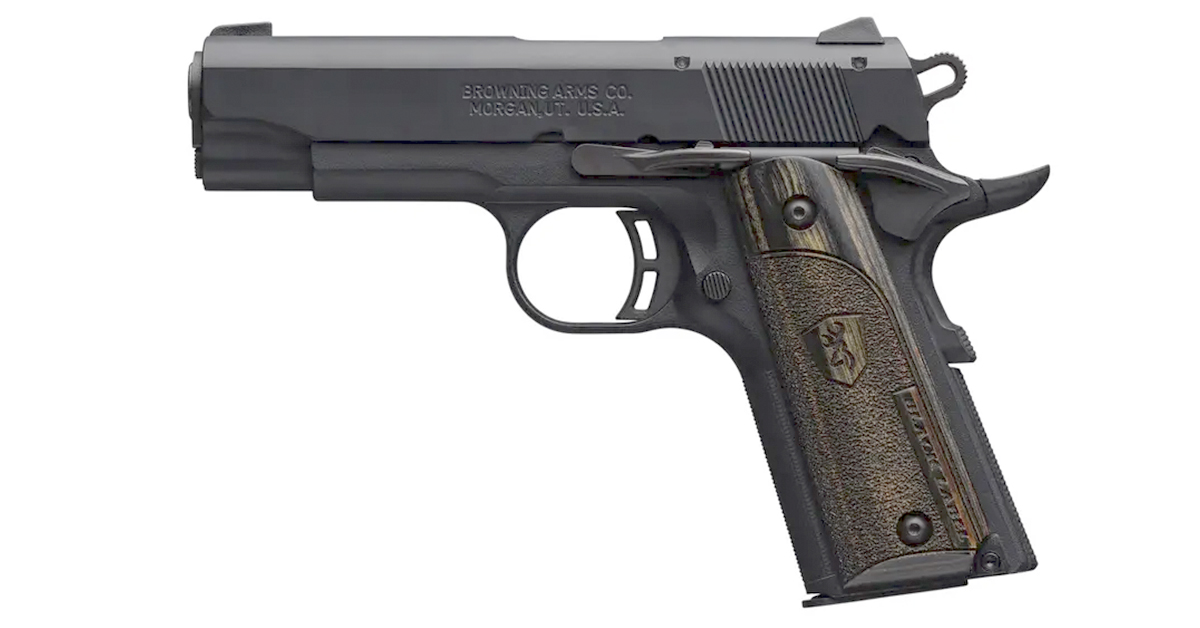 The traditional 1911 safety is easy to manipulate but a bit springy. It also has a grip safety and magazine safety. This pistol comes in a nice case with a handle and space for extra magazines, although it only comes with one 10-round magazine. The mag release is easy to push and the magazine falls smoothly and quickly.
This rimfire is not set up for optics but does have an integrated Picatinny rail should you choose to add accessories like a light or laser. It does not have easily adjustable sights. Out of the box, my test gun shot low and right. The rear sight can be drifted, but it is a process of trial and error. The front sight blade is fixed. I didn't like these sights, especially the fact that the rear had a recessed curve rather than just a straight flat blade.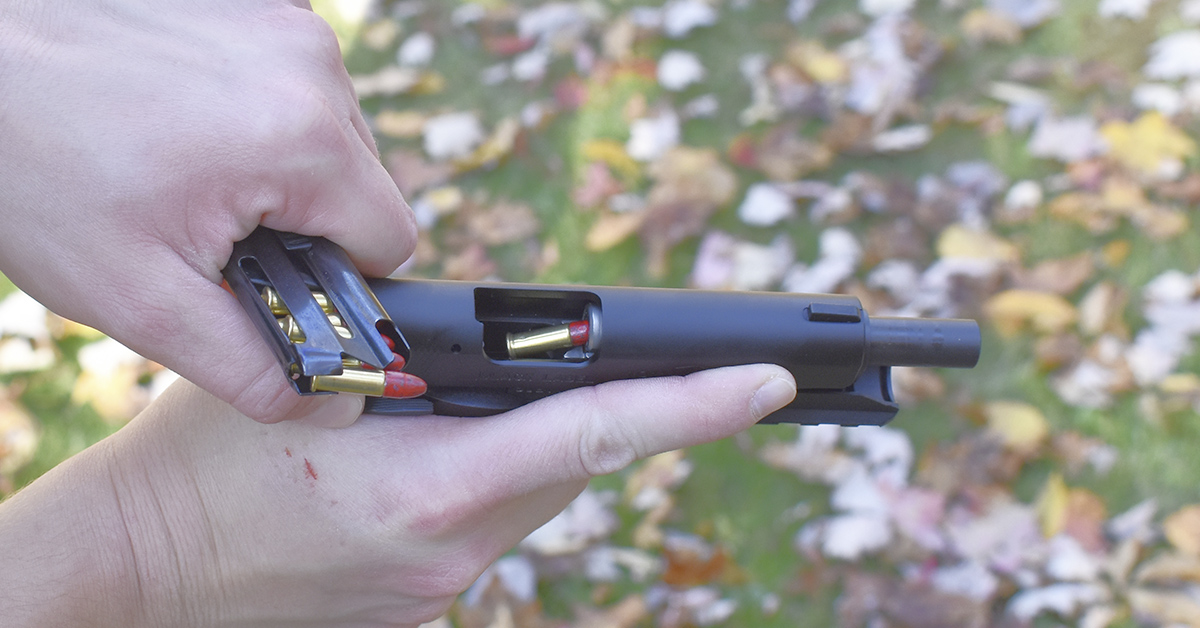 I fired approximately 275 rounds in total through this gun with several different ammunition types. My first tests were largely disappointing. The gun had regular feeding and jamming issues. I also noticed that using the slide lock instead of pulling the slide back caused the slide to practically crawl forward at seemingly random times. Other times, using the slide lock to close the slide resulted in just as much force as pulling it back. It also seemed to always work better after running a few mags through it. To my surprise, this was the case with every range session, as if the gun needed to "warm" up, not just during initial out-of-the-box firing.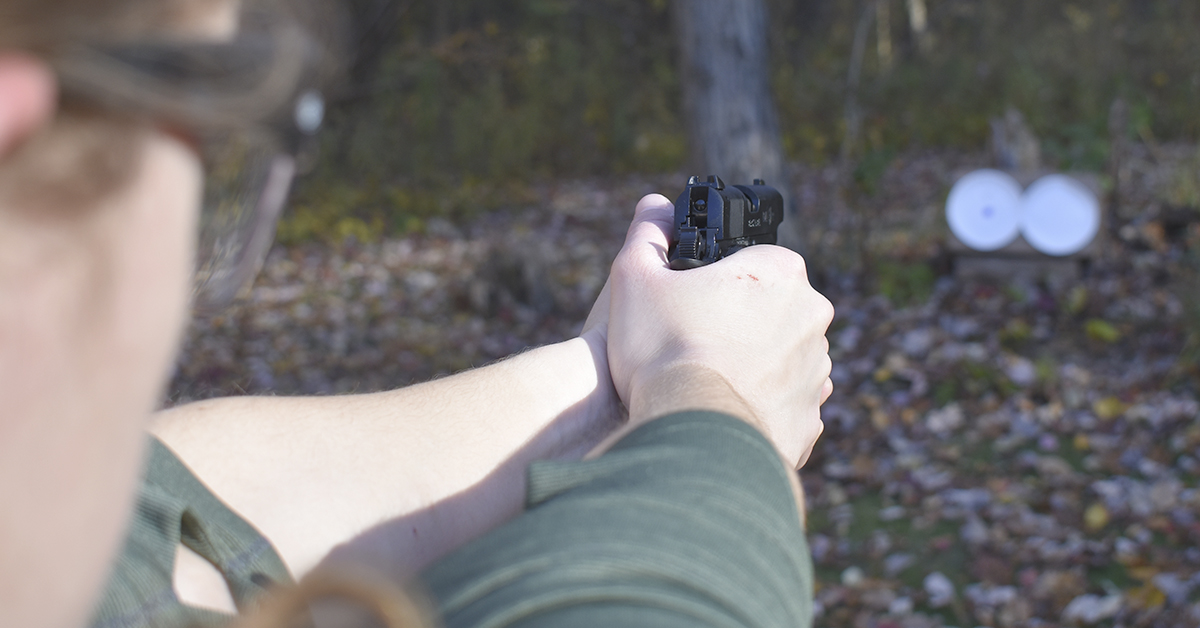 Browning sent me a replacement magazine, which resolved the jamming issue. The slide, though, continued to occasionally crawl forward and didn't lock open 100-percent of the time after the last round was ejected. This gun is accurate, but not precise. I was disappointed at the gun's consistency and group sizes.
I fired ten-shot groups from 15 yards using a Ransom Rest Multi-Cal Steady Rest and three different types of ammunition: CCI Clean-22 Subsonic, CCI Clean-22 High Velocity, and SK Pistol Match. Overall, the pistol shot and functioned the best with CCI Clean-22 Subsonic ammunition. Measured center to center, my best ten-shot group with CCI Clean-22 Subsonic measured 1.425 inches in width and 1.757 inches in height. The best group with CCI Clean-22 High Velocity measured 1.507 inches in width and 2.503 inches in height. My best results with SK Match yielded a group measuring 2.058 inches in width and 2.8975inches in height.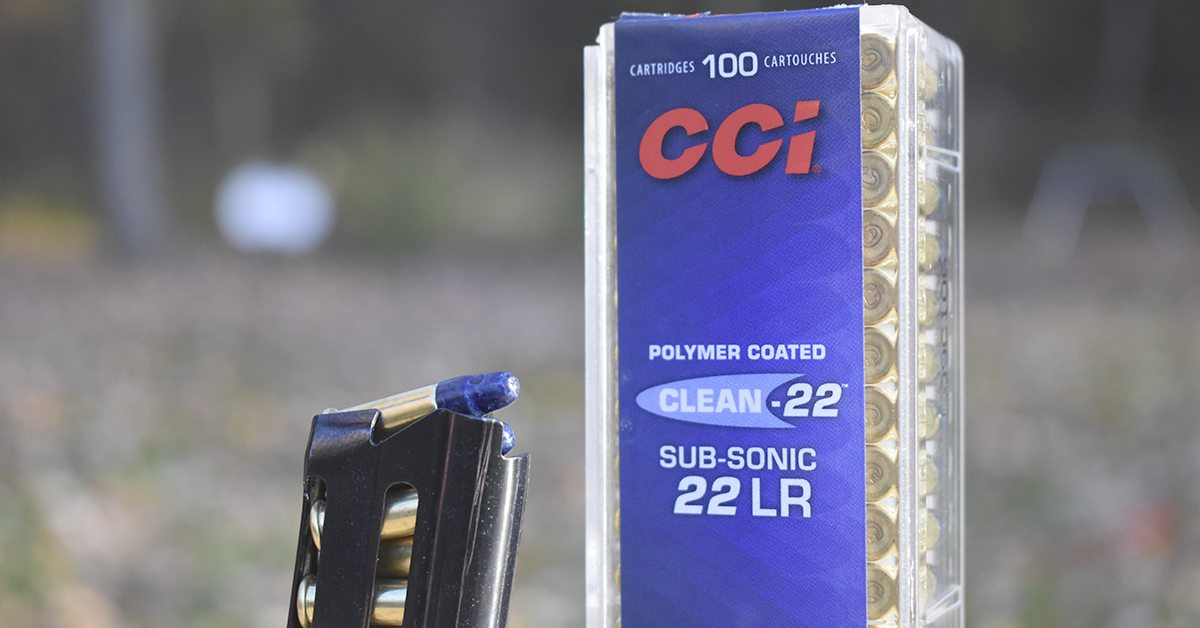 Determined to continue to test reliability with the new magazine, I fired a combination of ammunition through the gun from 50 feet, including the CCI Clean-22 Subsonic, CCI Clean-22 High Velocity, and SK Pistol Match. I eventually had a ragged hole at 4 o'clock on the target, but with many other rounds spread out from 12 o' clock to 6 o'clock on the target. As I had previously observed, the gun shot large groups. When I fired on the same target repeatedly, they were bound to overlap.
Overall, I was disappointed in the precision of this gun. It is not a match .22 by any means (thereby dashing dreams of rimfire bullseye pistol shooting with it), but a plinking gun. In my opinion, there are more precise and affordable .22 LR pistols available, but they are not 1911s.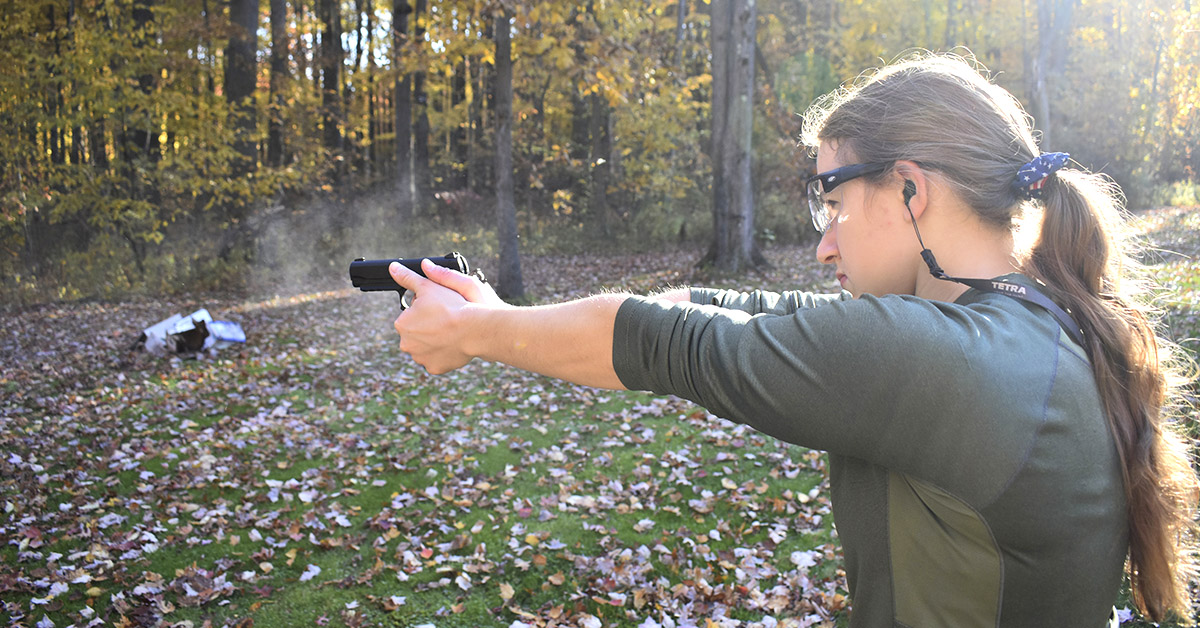 Yet this gun, despite its flaws, has its place. If you are looking for a rimfire 1911 to plink with or to train young or new shooters on the operation of a 1911, this is a good candidate. It was a big hit with the junior shooters from my local rifle team but if you're pinning your hopes on a match-grade rimfire pistol or something precise to practice marksmanship with, look elsewhere.
Browning 1911-22 Black Label Compact Specifications
Caliber: .22 LR
Barrel: steel with matte finish
Barrel Length: 3 5/8 in.
Overall Length: 6 7/8 in.
Weight: 13 oz.
Magazine Capacity: 10 rounds
Sight Radius: 4 3/4 in.
Receiver: black composite with matte finish
MSRP: $779.99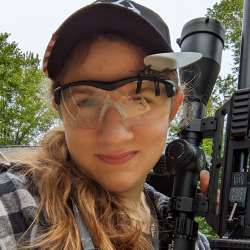 Latest posts by Serena Juchnowski
(see all)