S&W's newest sub-compact is a welcome improvement on the original
by Frank Melloni
We have a lot of fun sayings in the shooting industry. Phrases such as, "Fast is fine but accuracy is final" have shaped concealed carry training for decades. Yes, only hits count, but what if a threat needs more than one shot to be neutralized? What if there are multiple threats? What if, during a life-or-death encounter, you discover that you suck at shooting?
These are all real-life scenarios and from them come one of the most important sayings of all: "Capacity is king." Nothing is less effective than the round sitting in your ammo cabinet and the CCW permit holder is starting to catch onto that. For this reason, manufacturers have been looking for ways to get their smallest pistols to hold more rounds than ever before and, for 2021, Smith & Wesson has introduced the M&P Shield Plus—a sub-compact pistol that does just that.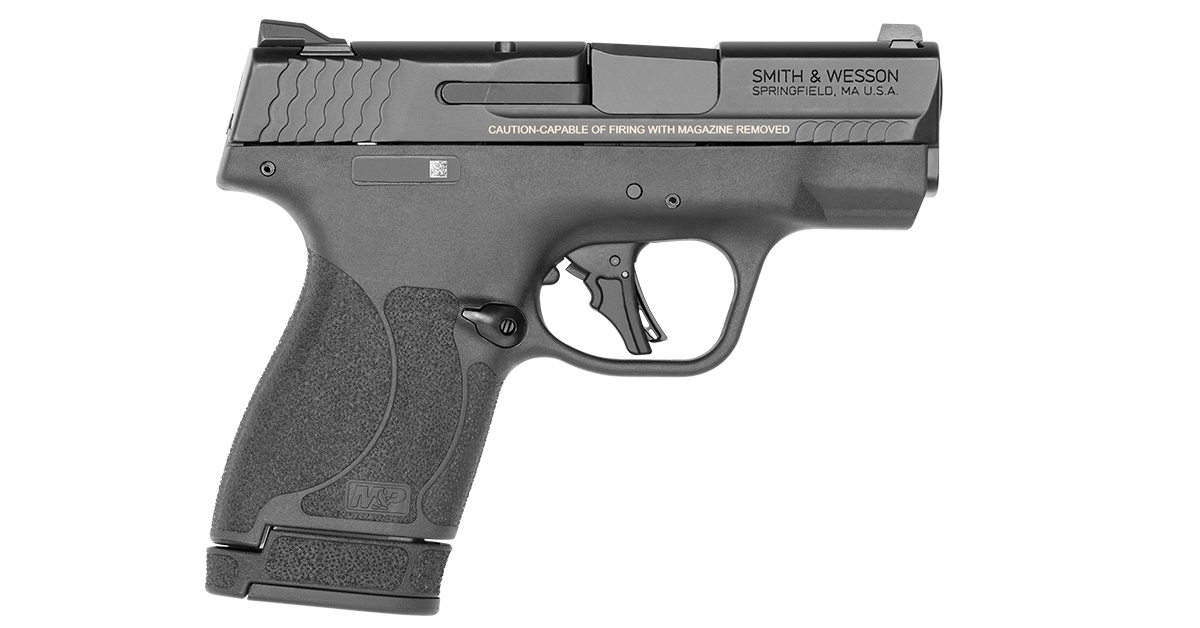 The idea (and name) behind the Shield Plus is to fix the major complaints of the last Shield without having to design an entirely new gun from the ground up. This keeps the learning curve short for those who have already developed muscle memory to the previous Shield and want to retain that. To that end, the Shield Plus will even fit into original Shield holsters, making this a bit of a bargain when you factor in all the variables.
So, what's new? For starters, a huge capacity boost. The Plus brings the Shield's round count from 9 rounds to 14 (these numbers include the one in the chamber) without adding a ton of width—less than an eighth of an inch, to be exact. S&W achieves this through a cleverly designed double-stack magazine and magazine well with the help of a minimalist sleeve. For those looking for deeper concealment or to satisfy their elected tyrants, a flush-fit 10-rounder is also included.
The other thing that folks used to complain about on the last Shield was the spongy, hinged trigger system. Most shooters would upgrade to an Apex or similar trigger the second they got the gun, which was better but not perfect. Although there is nothing wrong with an aftermarket trigger, upgrades like this are bound to come up in court should you ever have to use your weapon. If there was a second shot fired, some antagonist attorney might try to twist the story to sound like you used a "non-standard" trigger to turn your pistol into a fully semi-automatic ghost gun or some such nonsense. So, to cut down on hate mail and save you the trouble, Smith & Wesson completely redesigned the trigger on the Plus.
The new trigger features a blade-style safety that needs proper finger placement to deactivate, making a snag-related negligent discharge far less likely. The trigger also features a flat bow, which is really catching on in the industry (finally!). Before hitting the range, I measured its breaking point at five pounds, ten ounces. That's about what you want in a defensive gun. Best of all, it was free of grit, creep, and overtravel. Aside from breaking clean, the trigger reset with just one-tenth of an inch of rebound, making it one of the nicest CCW triggers I've ever pressed.
The other features of the S&W Shield Plus are a mix of new and old. The grip pattern is the same as its predecessor except for, perhaps, a touch more aggressiveness and with an additional panel added right in the middle of the grip. The same goes for the cocking serrations, with some more added towards the muzzle end of the slide. The sights, mag release, takedown lever, and slide stop are all the same, and just like the last Shield, you can get it with or without a thumb safety.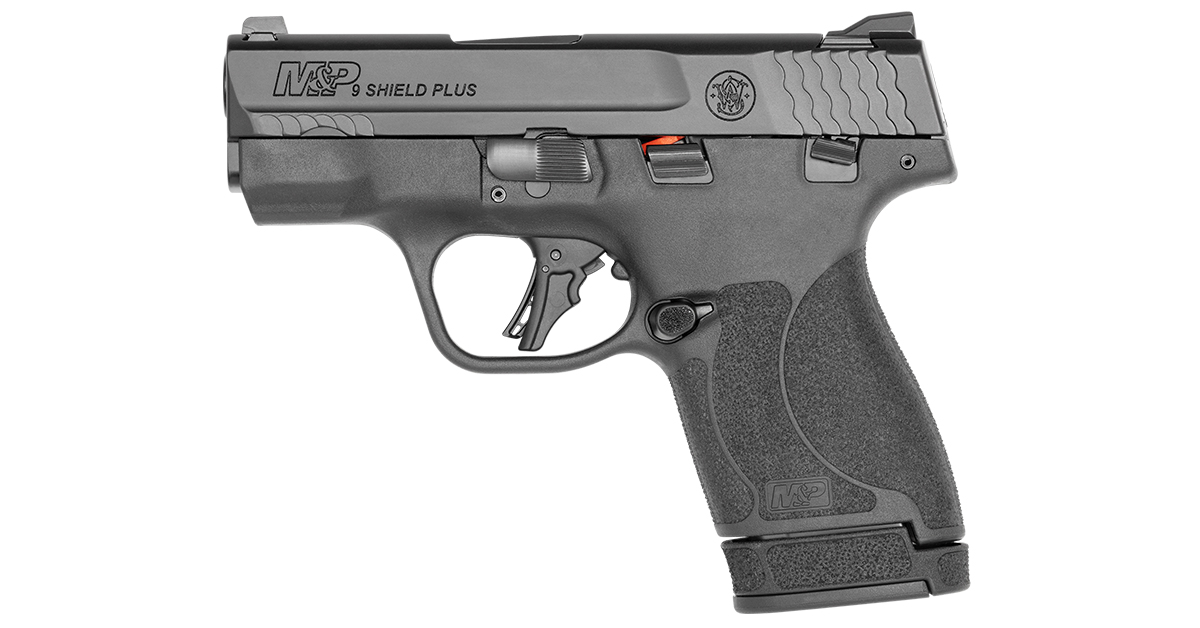 For my range day, I set some paper out at seven yards and started stuffing my mags with Barnaul's new subsonic ammunition. Being that the only time you'll likely have hearing protection on during an altercation is if someone is trying to get you at the range, I figured it might be good to see if the gun ran quiet, low-pressure ammunition.
I also have a side mission in every test article, and that is to prove that there is absolutely nothing wrong with steel-cased ammo.
After popping in the first mag and chambering a round, I was happy to see that I could get my entire hand on the gun even with the flush-fit magazine. For reference, I'm a large glove size, and that should be the case for most of you. I also liked the little bit of extra width. It just filled my hand better.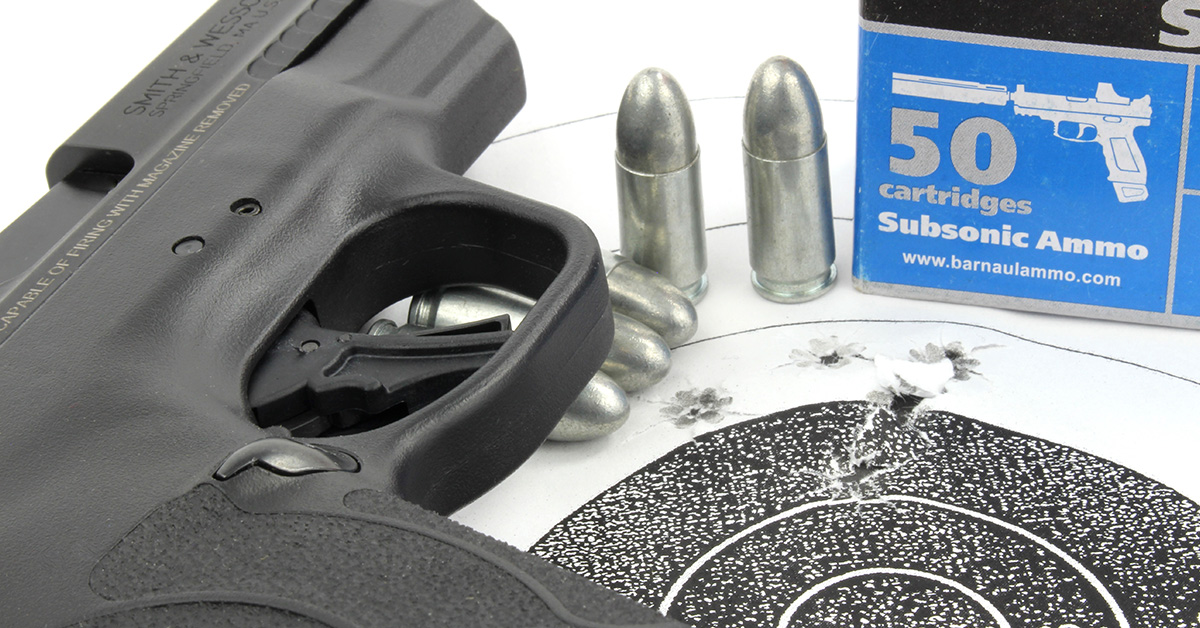 My first round downrange produced exceptionally mild recoil and my groups were extraordinarily tight for a subcompact pistol. My best five-shot group of the day came in at 1.06 inches and I tabulated an average of 1.48 inches from five consecutive groups. During this test and throughout about another hundred rounds "for science," the pistol experienced flawless function, even when it was hot.
I guess that forum post from 1991 about steel-cased ammo needs an update.
My overall impression of the S&W 9 Shield Plus was that it is one darn fine pistol. My current carry gun has a 7-round capacity and half of the reason I don't practice with it as much as I should is that I must keep stopping to reload. The Plus is a crossover in a way because it has the same capacity as many "range" pistols and is equally nice to shoot. Furthermore, if you want to add a red dot, there is an optics-ready version under the Performance Center tab. I like that they delineated this into a separate SKU because it helps keep the base model at a reasonable MSRP of $553, saving you the expense of slide milling that you might not need in the first place. That's good because you'll need that cash for extra ammo!
M&P 9 Shield Plus Specifications
Caliber:  9mm Luger
Capacity: 10+1, 13+1
Safety: Manual Thumb Safety (available)
Length: 6.1"
Front Sight: White Dot
Rear Sight: White 2-Dot
Action: Striker Fire
Grip: Polymer
Barrel Material: Stainless Steel with Armornite® Finish
Slide Material: Stainless Steel with Armornite® Finish
Frame Material: Polymer
Slide Finish: Matte Black
Frame Finish: Matte Black
Barrel Length: 3.1" (7.9 cm)
Weight: 20.2 oz.