Smith & Wesson adds the 350 Legend to its big boy X-frame line of wheel guns. Hunters and plinkers rejoice.
by Frank Melloni
When Winchester introduced the 350 Legend cartridge, it didn't hit me quite the way it did most others. Sure, I reviewed it and even appreciated it as a mild hunting load, but my relationship with it stopped there. There wasn't anything wrong with the round; it was a true "it's not you, it's me" situation.
Winchester made the 350 Legend to be a saving grace for those who are restricted to straight-walled cartridges whilst hunting, which is why it flies off the shelves in states like Ohio and Indiana. Here in New York and most of Pennsylvania, we are free to hunt with whatever we wish, including handguns. In the dense woods that are native to these areas, handgun hunting is the way to go. With most shots being inside of 50 yards, there is no reason to bring a rifle into this.
In 2023, Smith & Wesson took the 350 Legend and made it into something that it was never intended to be, and I loved it! The Model 350 revolver takes a "since you have to" rifle cartridge and turns it into a pipe-hitting magnum revolver round. In doing so, it now appeals to every hunter and wheelgun enthusiast in the world, and I was one of the first lucky few to wrap my hands around one.
The Model 350 marks the third chambering of S&W's gargantuan X-Series, with the others being the .460 S&W and the .500 S&W. So, by comparison, this is one soft-recoiling handgun. Tipping the scale at nearly four and a half pounds, the solid stainless-steel construction soaks up most of the kick while the built-in compensator takes care of the little that is left. This is great because, with seven rounds on deck, you're going to want to shoot this monster again and again. A cushy rubber grip makes this possible for the hand to do so, and its finger grooves ensure that even medium-sized paws will be able to hang onto this handgun.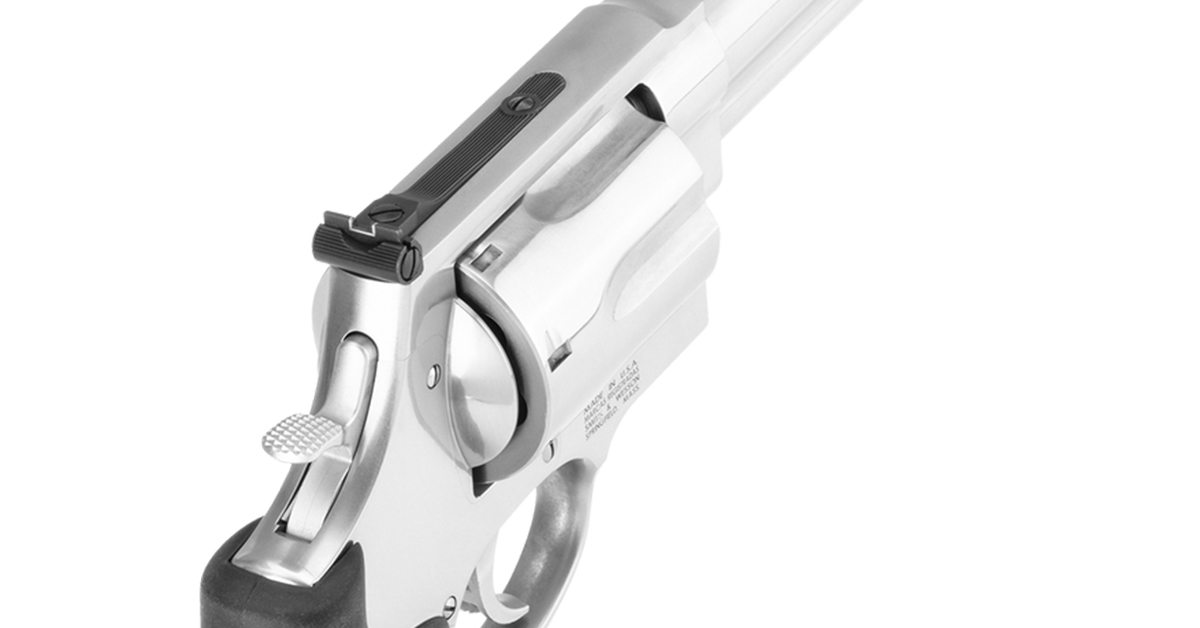 Due to demand (expected), it took me a good bit of time to get a sample in-house, but when it arrived, I immediately ripped it from its case to look it over. Forgetting that the 350 Legend is a rimless cartridge, I was surprised at first to see the included moon clips. Some consider this a deal breaker, but not me, particularly since it can be fired without one in place. No, with revolvers being inherently slow to load and reload, I like ones that offer the option of filling a dozen of these affordable devices up at home and then just banging away at the range. Additionally, if I'm undergoing this task in a tight blind or tree stand, anything that eliminates fumbling is always welcomed. Aside from that, everything was undoubtedly Smith & Wesson, from its high-polish finish to its unmistakable attention to clean machining. After a few dry fires, I found myself rounding up ammunition and heading up the hill to make a little noise.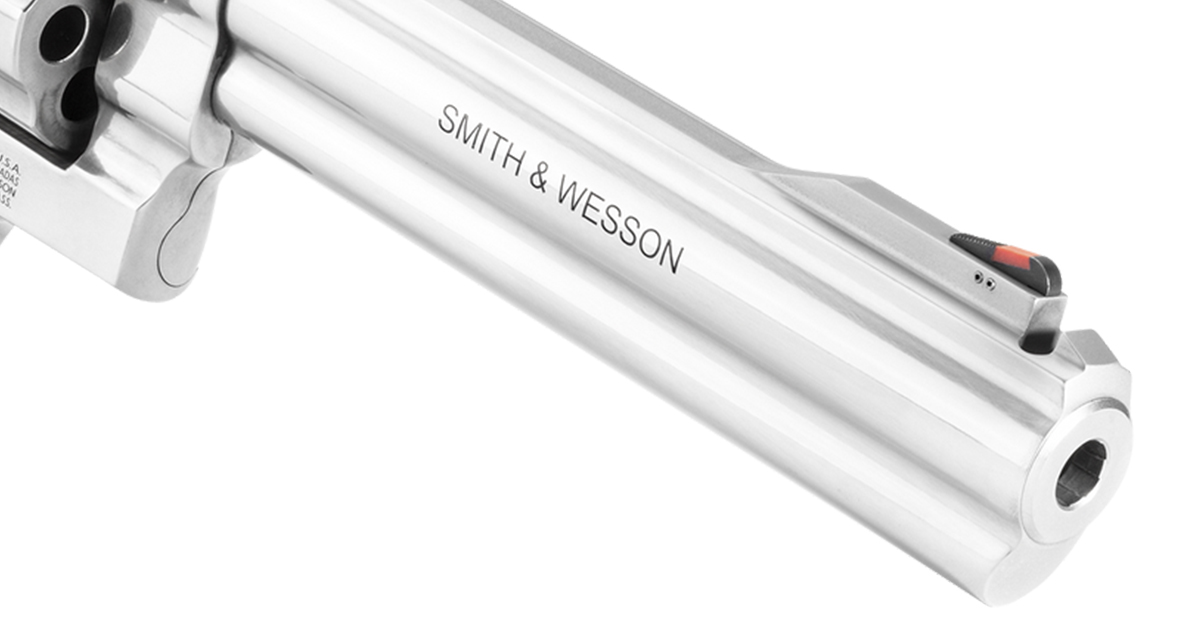 I started my range day by getting to know the trigger, which broke at a crisp 3-pounds, 15 ounces when cocked into single-action. Double-action was a bit tougher, breaking at an estimated 13 pounds, but that is to be expected with any production double/single. Satisfied with the overall feel, I loaded up some of Winchester's Deer Season XP and went to work.
At an average velocity of 1643 feet per second, the 899 foot-pounds of energy was nothing to sneeze at. Neither were my 25-yard groups, which all measured less than 1.5 inches across. Hornady's FTX load performed just as well in the accuracy department and pushed its 165-grain bullet to within 2% of the previous round's speed, offering even greater knock-down power. I finished my group testing with Federal's 180-grain Power Shok ammunition, which produced a noticeable bump in recoil, but that was because they were generating 1037 ft-lbs of juice, which few deer hunters are going to find questionable.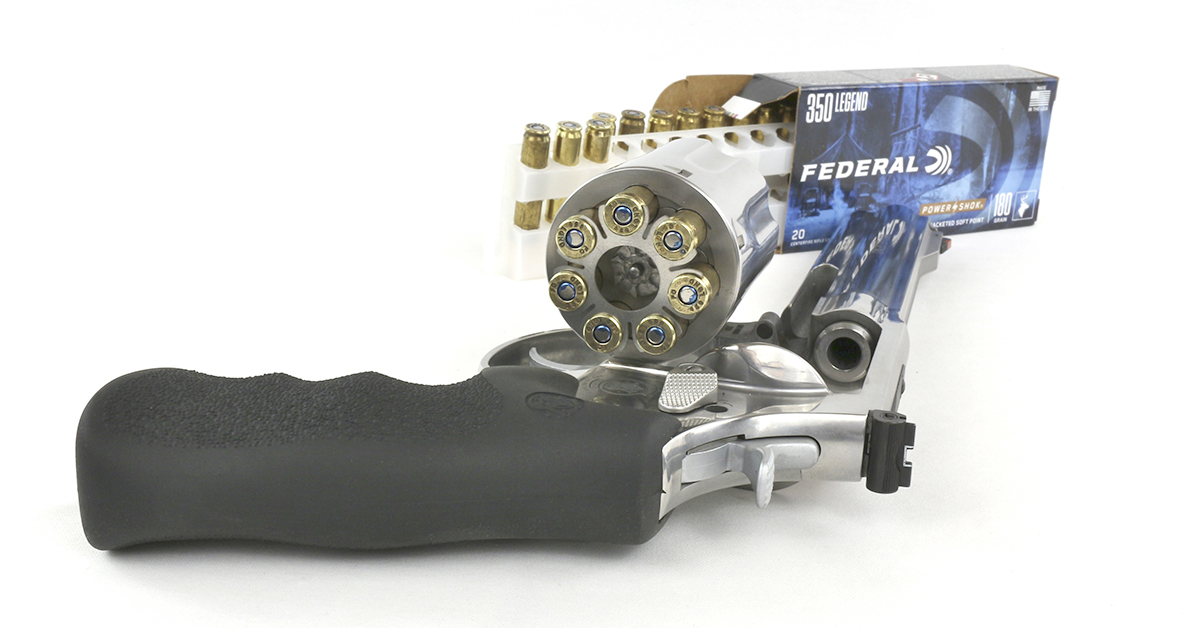 With the "paperwork" completed, I cleaned up my zero and took the new wheelgun to steel town. Using the remainder of my ammunition, I spent some time engaging silhouettes as fast as possible and even tried cleaning the Texas Star in double-action. It took a few attempts, but the recovery was rapid enough to do it at least once that day. Off the bench, the muzzle flip and recoil were even softer, making this one fun revolver to plink with, especially considering that it fits into the "ultra magnum" sub-class. The overall function was excellent, as it was impeccably timed, and I had no trouble slipping the cylinder out or ejecting the seven hilariously long cases in between barrages.
Smith & Wesson's Model 350 revolver takes the 350 Legend out of the restricted-state arena and places it into the hands of anybody looking for a big wheelgun that is cheap to feed and easy to handle. Although the cartridge didn't seem to need any help catching on when it first came out, having one of these on the shelves next to the rifles would have pushed sales in states that were understandably less interested in straight-walled fodder. Either way, I'm glad it's here now, and I'm doing everything I can to keep my sample through deer season.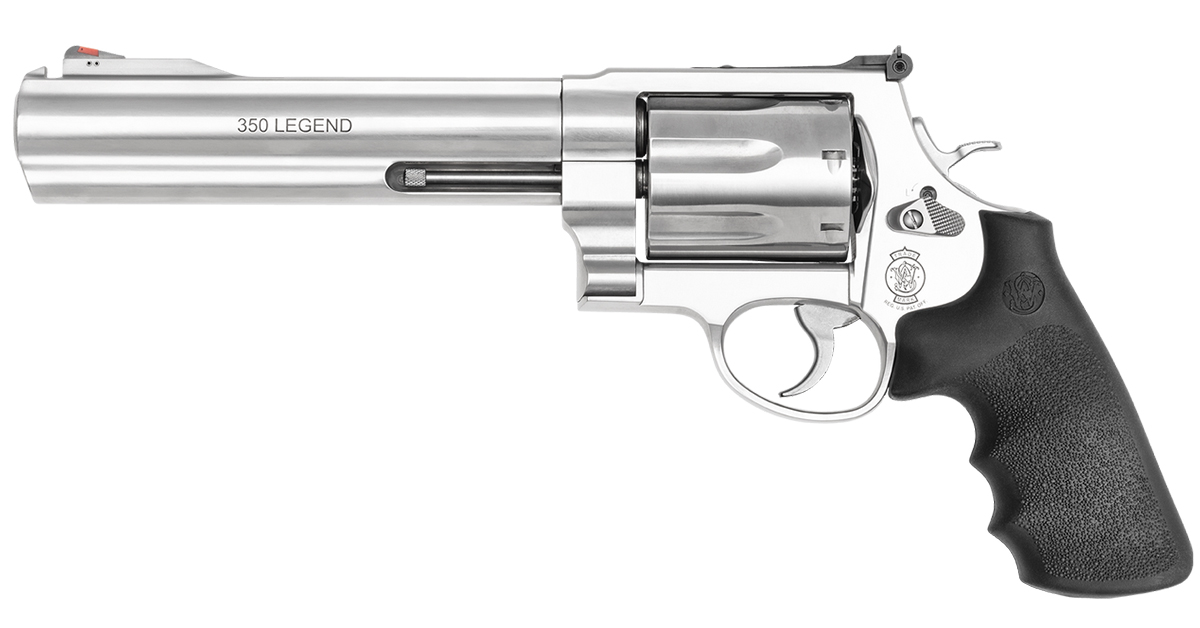 Smith & Wesson 350 Legend Revolver Specifications
Caliber: 350 Legend
Capacity: 7
Action: SA/DA
Frame/Barrel: stainless steel
Barrel Length: 7.5 in.
Sights: red ramp front, fully adjustable rear
Grip: rubber
Width: 1.92 in.
Height: 6.37 in.
Weight: 71.5 oz.
MSRP: $1599.99