This break-action centerfire rifle turns serious hunters back to the basics of hunting skills, one-shot determination, and plain ol' shooting fun
by Rob Reaser
Things happen in the woods. Things that don't always work out the way we planned or hoped. Witness the tales of poor hits on game animals, the long and sometimes unproductive tracking jobs.
I am one of the fortunate few in that during my over four decades of hunting with a bow and a gun, I have had only two unrecoverable hits. That is not bragging, because I'm certainly not a top-level archer nor an expert-class marksman. And my hunting skills fall well short of my distant Shawnee/Cherokee ancestry.
I credit my nearly perfect shot-to-kill ratio on the fact that I started out as a bowhunter first and foremost, and when I did pick up the gun in earnest, I tended toward the muzzleloader — old-school sidelocks, thank you very much. At heart, I'm a traditionalist and I relish the challenge that minimalist weapons provide. With both bows and traditional muzzleloaders, two ingredients are key to success (aside from being able to confidently hit your mark): close range and discriminating shots. The mold was set early on for me. I learned to only take shots that were a slam dunk, and I would only shoot when I had a perfect broadside or slightly quartering away angle on large game (which also saves shoulder meat).
That has meant I also passed up many, many, many shots with a 90-percent probability of a clean, quick kill. But that 10-percent chance of something going awry staid my hands.
All of that to say, it's little wonder that I have a fondness for single-action firearms for hunting (personal defense weapons are another matter entirely!). Where some may hesitate at using a single-shot rifle for hunting big game, I say, "Let's go!" because I already know that the one-shot opportunity will be successful. If it might not, I won't take the shot. Simple.
In that light, I don't see hunting with a single-shot rifle as any kind of handicap. It is fun, it is challenging, and it ensures that the hunter is dialed-in mechanically and mentally.
For those of you who are interested in the "one-shot challenge," I point you to the Outfitter G3 series of centerfire rifles by Traditions Performance Firearms.

We'll start by pointing out the obvious — there is nothing fancy about the Outfitter G3. In fact, those who are familiar with Tradition's various muzzleloader lines will note only marginal "first glance" differences between the G3 and, say, the company's intriguing NitroFire series rifles. The shorter barrel and absence of a ramrod are the key giveaways. Other than that, the receiver has a familiar look. Ditto for the furniture, trigger/hammer configuration, and takedown design.
In short, if you know your way around a Traditions muzzleloader, you already have the G3 rifle well in hand.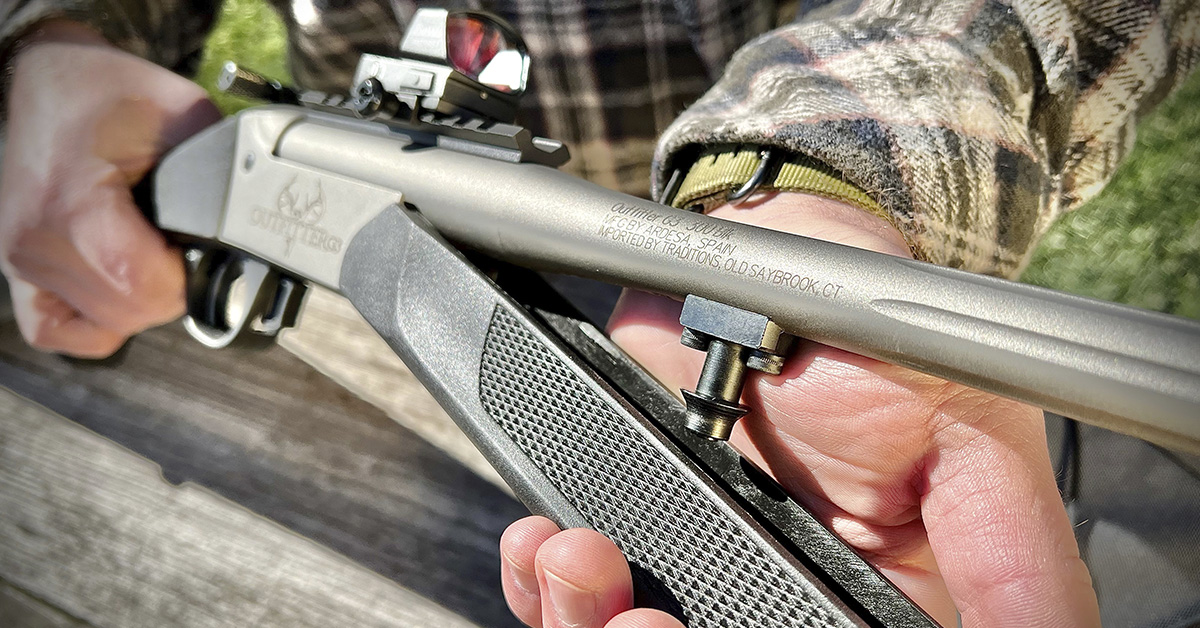 The forend of the G3 easily (but only with deliberate intent) separates from the barrel. Some G3 models, like this one chambered for .300 AAC Blackout, utilize a new QD forend that allows removal with the push of a button.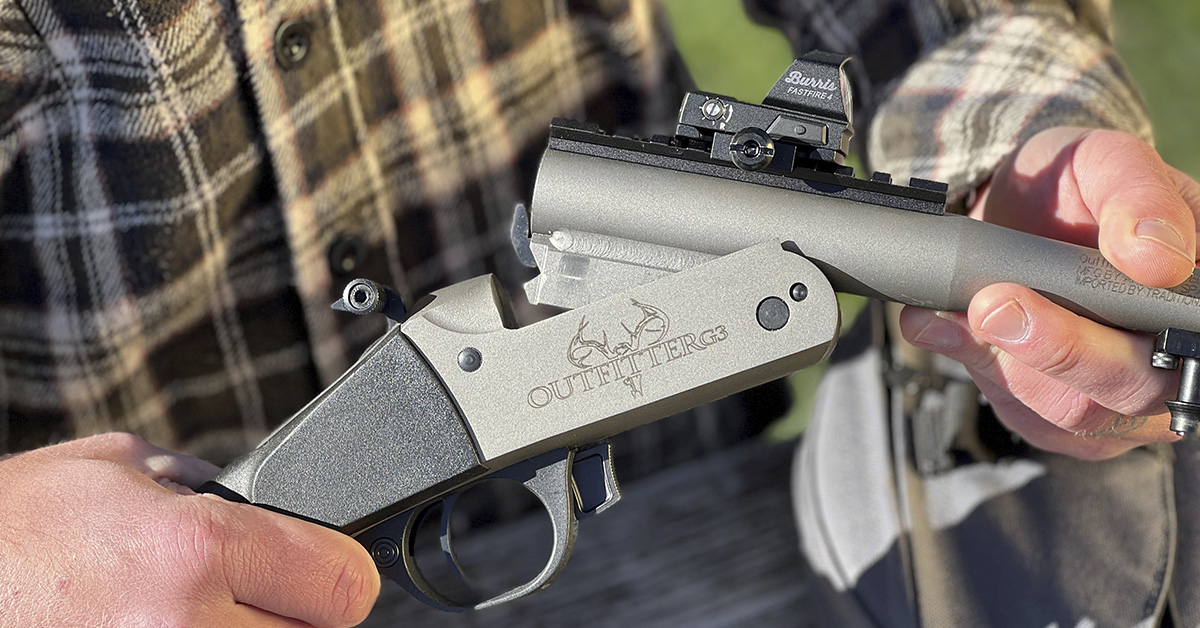 With the forend removed, the action can be opened by pulling back on the release lever, rotating the barrel forward, and then sliding it back and off the receiver.
Operation of the G3 is as simple as it gets. The firing system centers around Traditions' Elite XT trigger — the same trigger found across most of the company's muzzleloader lines. I've used Elite XT and the rebound hammer combination in both the G3 and the NitroFire rifles with positive, no-fail results.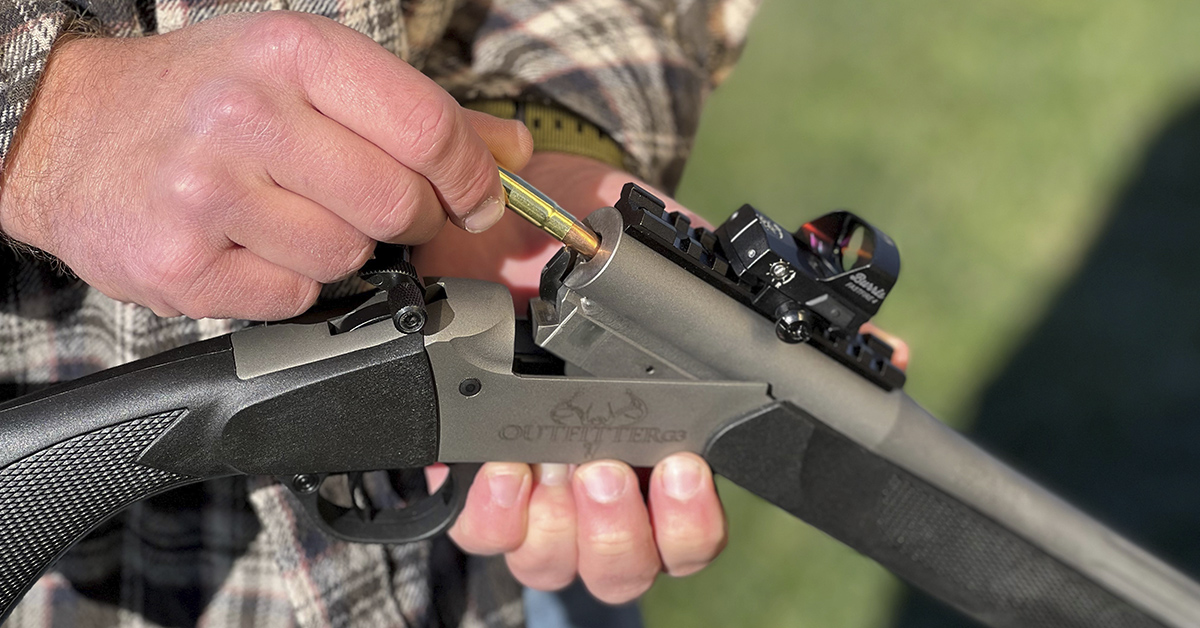 As with the Traditions NitroFire, Pursuit XT, and Buckstalker XT muzzleloaders, the G3 rifles feature a crossbolt safety. Simple and effective. The trigger and crossbolt design allows the action to be opened with the safety engaged, so chamber checks and cartridge removal are easy and safe. Knurled thumb extensions screw into the sides of the hammer and are necessary to cock the hammer when the rifle is fitted with a conventional scope. Left- and right-side thumb extensions combined with the break action make this rifle fully ambidextrous.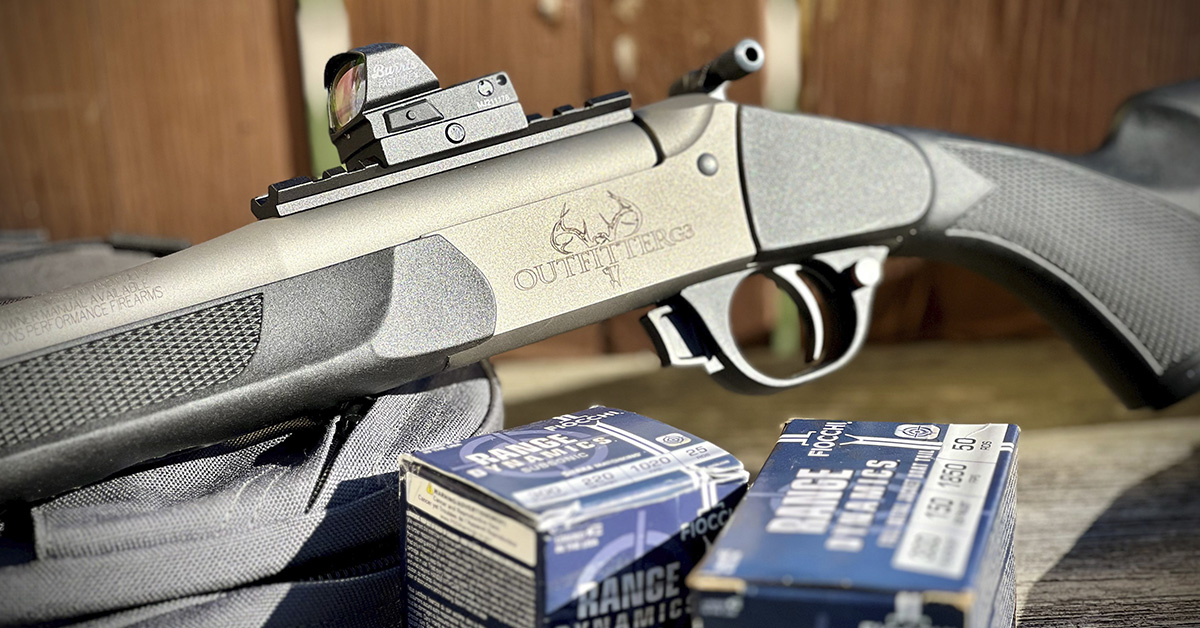 G3 models sold without a scope come drilled and tapped for quick optic mounting. For kicks, we installed a Picatinny rail and Burris FastFire 4. It proved to be a fine setup given the .300 AAC Blackout chambering and ballistic performance for hunting applications inside 100-150 yards.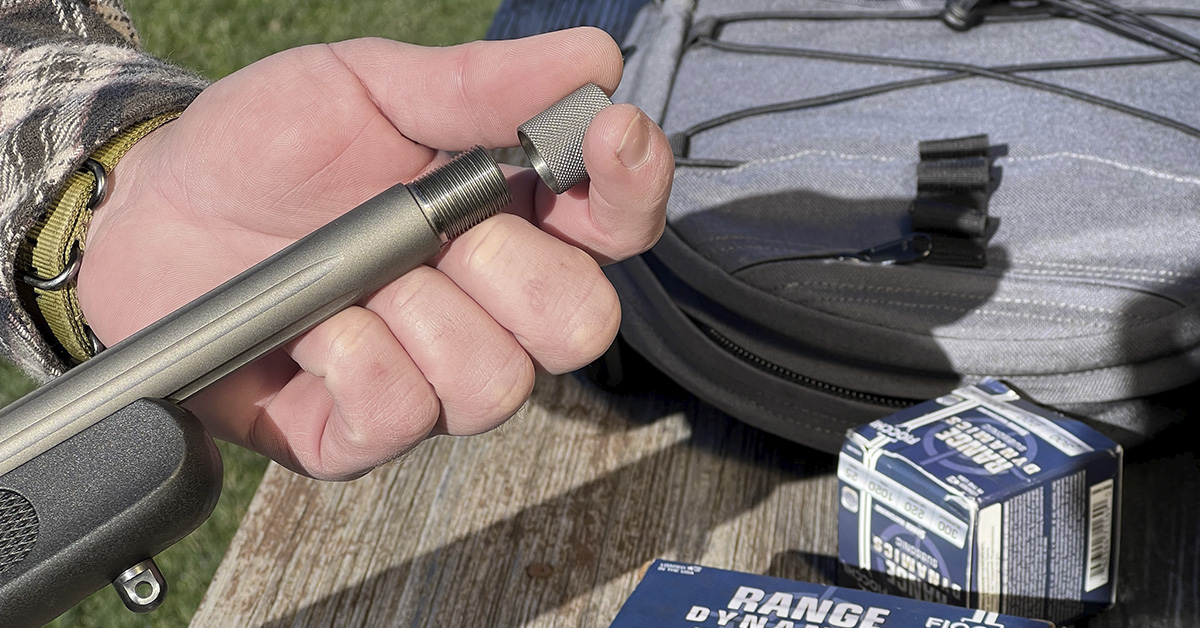 The Outfitter G3 in .300 AAC Blackout receives a Lothar Walther chromoly fluted barrel that, in our experience, is quite accurate for hunting. A 1:7 twist was wisely chosen for this chambering. It provides the necessary stabilization when shooting heavier bullets — particularly subsonic loads — yet is fine if you want to run lighter-weight bullets in the supersonic realm.
Since subsonic loads are popular for firearms chambered in .300 BLK, the Outfitter G3 has a threaded barrel ready to accept a suppressor or muzzle brake. Additional barrel features include a Cerakote finish and 11-degree muzzle crown.
Conclusion
While the Outfitter G3 is first a hunting rifle — one that carries light, shoulders smartly, is accurate, and is simple to use — the slower-paced performance makes it equally enjoyable on the range or when plinking around the Back Forty. And for those who might hesitate at the one-shot operation, I would ask with a sly grin, "How many shots do you need?"
Primary Mission
Big game hunting, recreational shooting
What We Like
Light weight and streamlined design
Easy takedown for transport and storage
Simple operation
What We Would Change
As a price-value single-shot rifle, no additional refinement or features are needed
Compare To:
Henry Single-Shot
CVA Scout
T/C Encore
Traditions Outfitter G3 .300 AAC BLK Specifications
Chamber: .300 AAC Blackout
Action: hammer-fired, break action
Receiver: steel frame
Barrel: Lothar Walther chromoly fluted
Barrel Length: 16.5 in.
Barrel Finish: CeraKote
Muzzle: 11-degree target crown, threaded
Trigger: Elite XT™ Trigger System
Safety: manual trigger block
Weight: 6.25 lbs.
MSRP: $469.00