The best broadhead is one that fills you with the most confidence. Here's a three-blade you don't want to ignore.
by Jace Bauserman
I do my best to avoid commenting on the social media posts of others. With that noted, I do love reading many of the comments. Earlier in November, someone—a famous outdoor personality, I believe—posted a picture of a blood-soaked broadhead. The caption underneath read: What's your go-to broadhead?
Yikes!
Not only was the list of options long, but the simple question sparked a serious debate. Guys and gals were not only weighing in on their favorite, but many felt the need to bash other brands and let bowhunters know their feelings on why expandable heads trumped fixed-blade designs and vice-versa.
Don't fret; this article isn't designed to try and gain expandable or fixed-blade converts. It's not about getting you to thread a particular brand of head on your arrow. Instead, if followed, the to-come broadhead advice will grow your bowhunting confidence, and in a game of inches, confidence is king.
Accuracy
So, yes, bowhunting is a game of inches for many, and accuracy is paramount, in my opinion. In fact, it should be the number one element of focus when trying to settle on which broadhead should grace your arrows.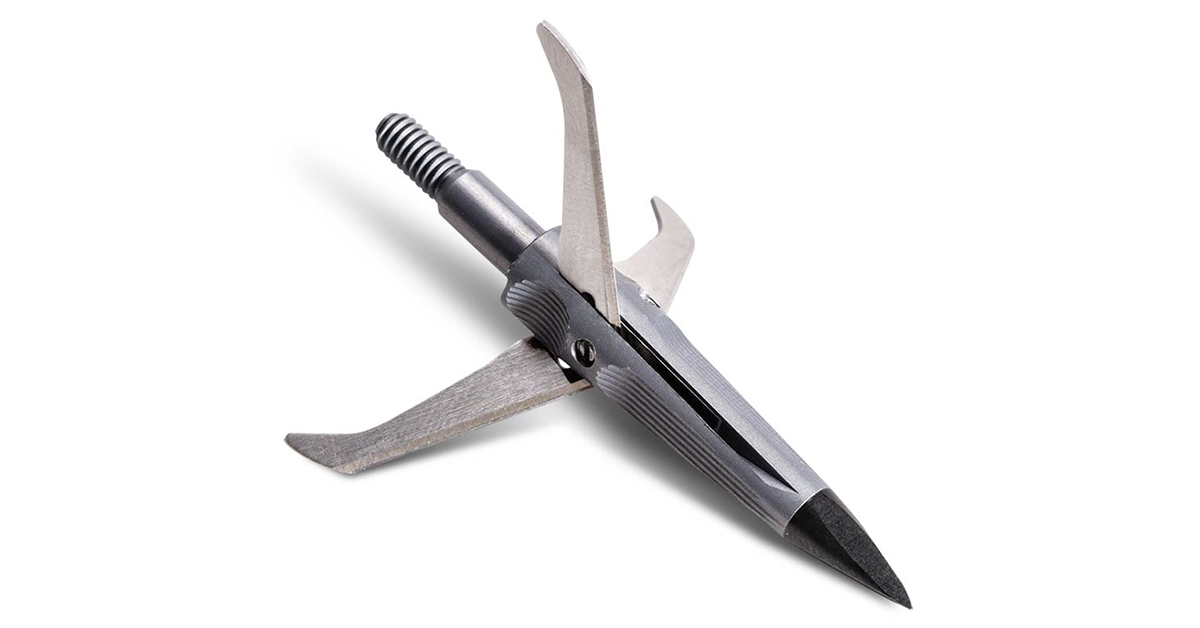 Here's the cold, hard truth: Don't believe what you read on the packaging. Yes, some broadheads (expandable and fixed) are field-point accurate. Most, however, are not. Some will stack with field points out to 30 yards, but at 40 yards, hit a tad low and right. Others will hold with field points out to 50 yards, but at 60, 70, and 80 yards, be considerably off the field-point mark. You must test the broadheads you shoot. Period. You can't shoot one at 20 yards and call it good, either. It would be best if you shot your broadheads at the furthest distance—and every length in between—that you will cut carbon loose at a critter.
When it comes to accuracy, NAP's Spitfire XXX expandable heads don't disappoint. Over the years, I've pounded plenty of hides with them at distances close and far, but perhaps more importantly, I've stacked them in foam with my field points from distances between 20 and 120 yards. That's peace of mind. Here's why, though, these heads are as spot-on as they are.
First, NAP brands them with a weight rating of 100-grains. Using a digital Hornady grain-weight scale, I tested a trio of XXX's that came straight out of the packaging. The results were: head 1-101.2 grains, head 2-101.89 grains, and head 3-102.0 grains. No, not a flat 100, but neither are many field points if you take the time to weigh them.
Next, the ferrule isn't overly long, and though the design of the blades is front-deploy—blades expand as the Trophy Tip point hits hide, and hide pushes the blades into position—the engineering is flawless. Flight is aerodynamic, and the head is extremely quiet as it cuts through the air.
Gotta Cut Deep
For me, not far behind accuracy is how the broadhead performs in terms of penetration and cut. What I love about the XXX is that it's a three-blade. I like a three-blade cut, and it sure doesn't hurt that the blades are shave-with-them sharp. The total cutting diameter is two inches, and over the years, I've shot multiple whitetails, mule deer, pronghorn, one bear, and two elk with the head. Naturally, some immediate energy is lost as the trio of blades folds back over the ferrule, but I've never had an issue with penetration. Last season, I blew through a quartering-away whitetail doe at 52 yards. Both elk I've taken with the head died from lung trauma, and though neither arrow (38-yard shot and 27-yard shot) passed entirely through, both bulls had shattered ribs and expired in less than 100 yards.
With three blades cutting and not just two, the wound channel is more expansive, allowing more blood to flow. If I put a broadhead in the lungs, I expect a red-carpet blood trail, and I get it with the XXX.
I also want to brag a bit on the Trophy Tip. This tip is needle-point sharp, and I appreciate the trio of recessed grooves. These grooves boost accuracy, and in my opinion, help with wind funneling.
Dependable!
For me, the last piece of the broadhead puzzle is dependability. Some bowhunters will tell you they don't care what the broadhead looks like after they use it, but I'm afraid I must disagree. If your broadhead looks like a crumpled tin can after going through an animal or after it smashes into dirt and debris, that tells me it has design flaws. I'm not too fond of defects, especially when it comes to what I put on the end of my Easton arrows.
Sure, I've had a bent blade or two after recovering a passed-through-game XXX, but not once have I had one that looked like it had been through a meat grinder. The design is sound, and I appreciate that the broadhead uses Internal Spring Clips and not O-rings to keep the blades in place. The clips are genius and being that these heads hit with my field points out to 120 yards, I can promise they aren't opening at all during flight.
Practice Head Available
I'm a penny pincher. Broadheads are expensive, and though I recommend practicing with the broadhead you're going to hunt with, I love it when a practice point is available. A three-pack of Spitfire XXX heads will run you $40, and for an extra $10, you can purchase a Spitfire Practice Head. I've shot the practice head and will tell you it performs exactly as the actual XXX heads downrange.
The "what broadhead is best" debate will never be settled…ever. That, however, isn't your concern. Your job is to find an accurate, sharp, and dependable broadhead that will fill your freezer every year. The NAP Spitfire XXX is that broadhead. Don't be afraid to snag a pack or three; thread them into your 8-32 inserts and paint the woods red.