Benelli's all-new LUPO bolt-action rifle and TenPoint's Havoc RS440 represent the apex of premium two-season hunting gear
by Brad Fenson
Benelli is renowned for building quality shotguns that are safe, reliable, and have technology and features that enhance the user experience. Benelli has taken a bold step into the bolt-action rifle market with the introduction of the LUPO.
The LUPO is Benelli's first bolt-action rifle guaranteed to produce sub-MOA accuracy. Like Benelli shotguns, the rifle introduces advanced ergonomics and shooting comfort into a chassis-style hunting rifle that allows for personal fit and customization. The rifle will make a hunter the alpha predator, as Lupo is Italian for the wolf.
Benelli boasts seven exclusive patents on the LUPO that provide a customized fit, handles like an extension of your arms, and delivers the quality and accuracy hardcore hunters demand.
The LUPO features Benelli's precision Crio-System cryogenic treatment and free-floating barrel system attached to a hardened steel barrel extension bedded to a steel block in the alloy receiver. The result is precision sub-MOA accuracy.
Recoil Management
Anyone familiar with Benelli shotguns knows of their superior recoil management. The LUPO suppresses recoil with a similar built-in Progressive Comfort system that is used in Benelli shotguns. Besides a Combtech cheek pad, there is a set of interlacing fingers that flex, absorbing much of the recoil before it reaches the shoulder. With decreased recoil, hunters will experience less muzzle jump and are less likely to flinch.
Curb Appeal
The look and shape of the Benelli LUPO are intriguing but serve a purpose. The design is engineered for control. The adjustable trigger weight provides lots of options and is crisp. Trigger reach spacers come with the firearm and can be used between the receiver and the stock to position the shooter's hand at an optimal distance from the trigger. An ambidextrous top safety is easy to access and control. The Airtouch Grip surfaces allow for a safe and firm hold on the rifle in any conditions.
Fit and Feel
Hunters and shooters looking for a custom-rifle feel will embrace the ability to adjust drop, cast, and trigger reach with included shims. Shooters can achieve a customized fit right out of the box without the need for expensive gunsmithing. Shims allow the stock to be set in one of 36 positions. There are also two raised cheek pad styles and one optional length butt pad.
Magazine and Bolt
The rifle is fitted with a detachable box magazine that is a double-stack configuration. Five cartridges can be loaded with the magazine removed without heavy spring pressure. The cutaway bolt allows the magazine to insert fully into the receiver without sticking out from the bottom of the gun.
The Benelli LUPO certainly will draw the interest of firearm aficionados. New engineering, options, and out-of-the-box accuracy should pique the interest of any hunter and shooter looking for consistent point-of-impact and ergonomic versatility.
Hunting with this breakout rifle is sure to be a quality experience that will lead to greater success. Moreover, hunting with a quality firearm is always a pleasure. Higher success, though, does come at a price and could reduce hunting time in the field. Firearm hunting opportunities, as many seasoned hunters know, are limited in many jurisdictions. To increase time in the field and hunting opportunities, consider taking advantage of the archery seasons with a new crossbow.
Using a crossbow is a natural transition for a rifle hunter. It is relatively easy to achieve accurate results thanks to the similar fit and feel; however, stick to your standards for high quality. Not all crossbows are made equal, just as many hunters and shooters have determined with firearms.
Premium Crossbow
Anyone interested in the Benelli LUPO would also enjoy the fit, feel, accuracy, and dependability of a TenPoint crossbow. The new Havoc RS440 is in TenPoint's premium line of ACUslide-series crossbows. The ACUslide system allows the crossbow to be cocked and de-cocked with a charging handle under a mere seven pounds of pressure. The ACUslide system measures a super-short 26.5 inches long and can be operated silently. The charging handle is stored in the crossbow's buttstock to ensure it is always close at hand. The ACUslide allows the user to stop cranking at any point during the cocking or de-cocking process without having the handle fly out of control or have the string release. This safety feature prevents dry firing and adds an extra level of protection for users.
The ACUslide is more than a cocking mechanism and includes a Trigger Lock-Latch that locks the trigger box in place each time the string is cocked. The device removes tension from the cocking strap, ensuring the trigger box is locked in the same position before each shot. Consistent cocking and pressure translate to shot consistency and a proven 48% tighter down-field arrow group. The ACUslide cocking unit was well thought out and fits inside the TEC-TACTICAL stock body, providing a straightforward and streamlined design.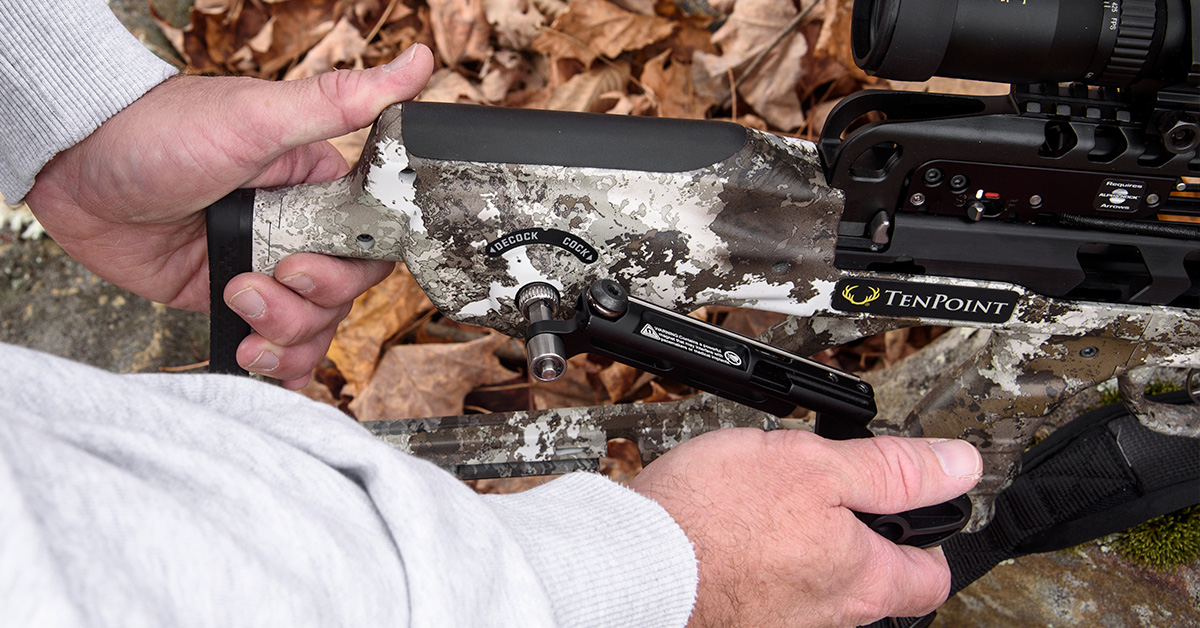 Reduced overall length and weight of the Havoc's stock means the bow can be held in position for a more extended period—a real advantage for a crossbow hunter. TenPoint engineers reduced the weight and length wherever possible without compromising integrity to produce the TEC-TACTICAL stock.
The glass-filled polypropylene stock is strong, durable, and lightweight, making it comfortable to shoot and still provide the strength as a platform for one of the fastest crossbows on the market. When you shoulder the Havoc, it feels balanced and light, making it a true advantage for hunting. The length-of-pull measures 13.5 inches at its shortest position, meaning it is easy to control and operate without movement. The length of pull is easily adjusted with spacers for a custom fit and feel. The grip features an ergonomic design, adding to the trigger's stability and intuitive operation.
Accuracy is maximized with the new trigger that features a two-stage, zero-creep design. The trigger uses a roller sear system that sets a new standard in high-performance crossbow accuracy. As with shooting a rifle, not moving the crossbow while pulling the trigger increases accuracy.
A lower overall weight and improved crossbow balance are but two advantages. Reduced weight and friction are achieved with a short and slender fluted aluminum flight rail referred to as a MICRO-TRAC. The ultimate advantage, though, is a 50% reduction in flight deck surface compared to conventional crossbows. The MICRO-TRAC rail's radiused profile means less surface area for the string to pass over than a flat surface track. The profile reduces energy-robbing friction during arrow launch while increasing string life to over 1,000 shots—an industry high mark.
The Havoc is 26.5 inches in length and 7.5 inches wide axle-to-axle when cocked, sporting a 13.5-inch power stroke. The benefits of a short, compact bow include stability and ease of movement. There is less forward pitch and left/right roll than with longer and wider crossbows. Hunters will enjoy the benefit of holding the crossbow for extended periods while waiting for an animal to provide a shot opportunity. Gone are the days of holding a front-heavy crossbow that leaves your arms shaking and weak after a short hold.
The Havoc delivers a correct and honest launch speed of 440 fps and 172 ft/lbs of energy. The 13.5-inch powerstroke works with a lower draw weight for maximized energy transfer to the arrow while minimizing noise and vibration. The dual string dampeners work to further reduce vibration.
The Havoc shoots the new 16-inch EVO-X CenterPunch arrows. The short arrows with 100-grain broadheads will weigh in at 400 grains, ensuring maximum kinetic energy and penetration.
For Your Chance to Win The Benelli LUPO and TenPoint Havoc RS 440 Click Here
Optic Options
The TenPoint EVO-X Marksman Elite scope offers speed adjustment to 500 fps and features a new reticle design. The Marksman Elite uses alternating crosshair and circle aim points to reference distance quickly and easily without counting hash marks. The system is intuitive and cleans up the optic so shooters can concentrate on the animal.
TenPoint has also partnered with Garmin to package the Havoc RS440 with a Xero X1i crossbow scope. The rangefinding scope is intuitive to set up and provides a single aiming point adjusted for angle and distance. An activation button is mounted on the crossbow. The new optic technology takes the guesswork out of shooting at a target or moving to use a handheld rangefinder.
The TenPoint Havoc RS440 comes complete and ready to hunt, with six EVO-X CenterPunch 16 (16-inch) carbon arrows featuring a straightness of .001 inches, a 6-arrow bow-mounted quiver, and a string stop dampening system. The stock and limbs are dipped in either Veil Alpine camo or Graphite Gray.
Premium Ammunition: Fiocchi Hyperformance Hunt
A quality rifle needs to be fed premium ammunition to show its genuine attributes. Fiocchi Hyperformance Hunt maximizes results short and long-range. The selection of high coefficient, flat-trajectory bullets are critical components engineered for controlled expansion and maximum weight retention across a broad range of velocities. The consistency provides hunters the assurance of terminal performance on any big game animal. Available in most popular calibers. www.fiocchiusa.com.
Premium Broadhead: SEVR Robusto 2.0 Broadhead
A premium broadhead plays the same role in a crossbow that superior ammunition does with a rifle. Quality in all aspects of hunting equipment leads to positive results and optimal overall performance.
Crossbow hunters looking for improved terminal performance will like a robust, heavy broadhead. The beefy SEVR Robusto 2.0 head is 150-grains, increasing head FOC and arrow energy to deliver massive entry and exit wounds. The slap-cut design and stainless construction will take on the biggest game while simultaneously quieting a bow. Blades lock and pivot around bone to maintain the arrow path. A set screw allows the blades to lock down for practice and then can be removed for hunting. MSRP: $13.99 each; sevrbroadheads.com.