With food supply uncertainty looming on the horizon and centerfire rifle ammunition availability remaining sketchy, now is the time to consider hunting with a crossbow
by Brad Fenson
I caught a glimpse of antlers at the crest of the hill, and my heart rate immediately doubled. The buck was headed right for my stand, his antlers tall and heavy. I tried not to look at them, but that never works. Carefully bringing the crossbow to my shoulder, I aimed where I anticipated the big-bodied deer would step into range. The deer came into full view at 36 yards, stopping as if on cue. My arrow flashed off the crossbow rail like a missile. The buck spun and ran less than 20 yards before crashing.
I am a deer hunter. I hunted with a centerfire rifle for many years but knew I wanted more. The extra archery season was always appealing and spending more time in the great outdoors would be easy. Today, you could find me in the field with a favorite rifle, muzzleloader, bow, or crossbow. It is a trait shared by most deer hunters who are obsessed with the outdoors.
With all the equipment and season options a hunter can enjoy, the crossbow stands out as an intelligent and practical choice. Can I ever get enough hunting? The answer is simple. "No." When the season closes every year, I feel depression creep into my soul.
Firearm enthusiasts have suffered in recent years from supply chain disruptions and issues around ammunition shortages. Some calibers remain hard to find, forcing hunters to switch gears. One adaptation may be to purchase a new rifle or a muzzleloader to take advantage of more seasons. The archery seasons, though, offer the most liberal opportunities. And thanks to advances in crossbow technology and more states allowing their use during the regular archery season, crossbows are an easy transition for hunters leaping from the firearm community into something new.
Modern crossbows are intuitive, durable, accurate, dependable, and offer projectile options that will allow you to debate preferences and performance like you did with cartridges and bullets. Companies like Easton have been around for 100 years, celebrating their big anniversary in 2022, and continue to make a wide assortment of arrows in the United States. There is no dependency on other countries and crossbow arrows are available on store shelves when rifle cartridges may not be.
Go Crossbow!
Crossbows, incorporating ever-advancing technologies, have come a long way in the last five years with faster arrow speeds, improved designs, and features that make them more accurate and easier to use for experienced archers and beginners alike. The latter is especially comforting to those who are looking to hunt with a crossbow for the first time. If you are familiar with handling a long gun and have a general concept of arrow flight, trajectory, and the distance limitations of archery equipment, then the modern crossbow will present you a shallow learning curve.
That's a good thing, because it means you can start hunting with only a short time invested in becoming adept at operating the crossbow safely and effectively to take large game animals. Given the projections of possible food shortages on the horizon and continued "ammunition challenges," it only makes sense that pragmatic hunters expand their options and opportunities to harvest healthy wild game.
Companies like TenPoint and Wicked Ridge have been leading the charge in high-performance, feature-rich, and user-friendly crossbows for decades. Based out of Ohio, these brands have brought to market numerous advances in crossbow design and performance that beginners will appreciate.
Many high-performance crossbows, though, come with a high price to match. Fortunately, TenPoint and Wicked Ridge produces crossbow models that find the tenuous balance between performance and price. So, you can find a crossbow that will help fill your freezer with venison without breaking the bank. Even better, the new value bows offer cocking and de-cocking features, are exceptionally fast, crazy accurate, and are easy to master with a bit of trigger time.
TenPoint Turbo S1
The Turbo S1 with the ACUslide system is TenPoint's most affordable high-end crossbow. It is compact, safe, and a joy to shoot. Priced at $1,349.99 (Moss Green) or $1,449.99 (TenPoint Vektra Camo), the Turbo S1 is a short, forward-draw crossbow measuring 31-inches long and delivering speeds of 390 feet per second.
This short crossbow is equipped with the RX-6 Cam System and a two-stage, zero-creep S1 Trigger that delivers a consistently crisp 3.5-pound pull. The cocking and safe de-cocking system comes courtesy of the ACUslide system. It requires only five pounds of cranking effort to operate. Safely de-cock the crossbow by backwinding the ACUslide handle without fear of damage or injury. An Auto-Brake Gear System eliminates the potential of losing control during the de-cocking process.
The Turbo S1 is sold as a package with a RangeMaster Pro Variable Speed Scope, the ACUslide Cocking and De-Cocking System with ACUdraw DC Handle, three Pro Elite 400 carbon arrows (with a .003" straightness), quiver, and a noise dampening integrated string stop system.
The Turbo S1 has an 11-inch power stroke, weights 7.3 pounds with the ACUslide, has a draw weight of 220 pounds, and measures 7.2 inches axle-to-axle.
TenPoint Titan De-Cock
The Titan De-Cock crossbow is the first mid-priced TenPoint crossbow to offer controlled de-cocking. The ultra-narrow, 9-inch-wide Titan De-Cock shoots arrows up to 380 feet per second. This crossbow has a two-stage, zero-creep D1 Trigger design that includes a Dry Fire Prohibitor and offers a 3.5-pound pull. The push of a button moves the trigger to "de-cock" mode, allowing the user to safely de-cock the crossbow with the built-in ACUdraw De-Cock crank cocking device or you can manually de-cock the crossbow if you choose the ACUdraw 50 SLED rope cocking device.

The Titan features VX-5 reverse cams that elongate the power stroke and increase rotation for incredible speed and consistency. The crossbow is built on a cast aluminum riser with 11-inch TPX Limbs, DynaFLIGHT 97 string and cables, and sleek, lightweight aluminum limb pockets. A Fusion S stock and 19.5-inch synthetic barrel are configured with optimal comb height and a two-position adjustable butt plate. The Fusion S stock has strategically placed cut-outs in the fore-grip and butt stock to reduce weight and improve balance.
Once assembled, the Titan measures 32.5-inches long (w/o stirrup), weighs 6.4 pounds, and has a 14-inch power stroke and a draw weight of 190 pounds. Available with two cocking devices — the revolutionary ACUdraw De-Cock or the ACUdraw 50 SLED — the Titan De-Cock is equipped with a 3x Pro-View lighted scope, three Pro Elite 400 carbon arrows, and a quiver. Titan De-Cock has a $1,049.99 MSRP with the ACUdraw 50 SLED and a $1,149.99 MSRP with the ACUdraw De-Cock.
Wicked Ridge Raider 400 De-Cock
If you want a crossbow that screams value, it will be challenging to look beyond the Wicked Ridge forward-draw Raider 400 De-Cock. The bow features the ACUdraw De-Cock system that provides silent cocking and safe de-cocking. The Raider 400 De-Cock is fast, accurate, and is priced at $849.99.
The crossbow weighs 6.5 pounds and incorporates the precision D1 Trigger to minimize shot disturbance. Capable of shooting arrows up to 400 feet per second, the Raider 400 De-Cock crossbow hunting package includes a 3x Multi-Line Scope, the ACUdraw De-Cock, three Match 400 carbon arrows (with .004-inch straightness), and a 3-arrow quiver.
The Raider De-Cock gets its speed from a 15.5-inch power stroke and 185-pound draw weight. It measures 15 inches axle-to-axle.
SEVR Robusto 2.0 Broadhead
Crossbow hunters looking for improved terminal performance will like the tough and heavy SEVR Robusto 2.0. Weighing 150 grains, the increased head FOC improves flight stability and accuracy while the boosted weight ensures deep penetration with massive entry and exit wounds. The slap-cut design and stainless construction will take on the biggest game while making the bow shoot more quietly. The blades lock and pivot around bone to maintain the arrow path. A set screw allows the blades to lock down for target shooting so you can practice with the heads you hunt with. Priced at $15.99 each, these broadheads are sold individually direct from the manufacturer.
SEVR 21-Inch HD Target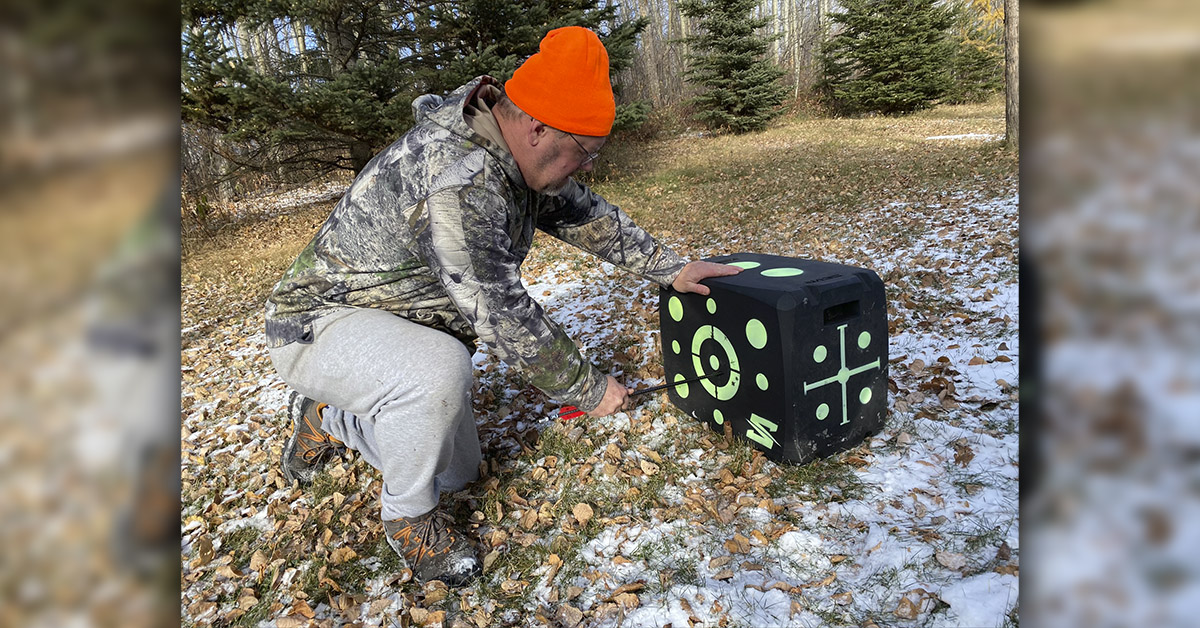 This SEVR 21-inch HD target is a poured-foam cube 21 inches wide, 17 inches high, and 13 inches deep and it can stop arrows shot from the fastest crossbows on the market. The target uses a high-density urethane foam that allows for easy arrow removal. Each target has six shootable sides and comes with tie-down channels so multiple targets can be strapped together to create a larger range-type butt. Every target comes with an arrow puller.