Yes, the lever rifle is alive and kicking, and it is ideal platform to craft truly unique custom builds
by Brad Fenson
With plans for a spring black bear hunt in Alberta, a winter project was started to customize three lever-action rifles. The Rossi RG was the perfect gun to tinker with and make into a work of art—one worthy of a spring black bear adventure. The RG, or Rio Grande, is a lever-action rifle based off the Marlin 1895 platform and the original Marlin 1893. It is an affordable firearm to customize and an ideal winter project.
Rossi made the RG in a .30-30 and followed up with a .45-70, but it is no longer in the lineup. Besides having traditional calibers in a lever action, they are ideal for hunting black bears, or any game, at close range. There were three of us on the hunt, all using tricked out Rossi RG lever guns, and they all proved to be worth their weight in black bear.
The rifles went from having an Old West appearance to that of a modern-day lever gun. Cosmetics were important, and starting at the back end of the gun, we installed Pachmayr recoil pads custom fit to the stock. Pachmayr is well known for decelerator pads and offer practical and easy installation options. The butt and fore stocks were painted and pebbled, giving them the look of a synthetic stock. In fact, the stocks are made of Brazilian hardwood, and were stripped and then dressed with a base coat of gray satin finish. The gray was then over sprayed with marble paint, giving it texture and a unique appearance.
Historically, wood was something to be proud of, and we wanted the fit and feel of the rifle to be perfect. The edges from metal to wood had a slight lip, leaving the metal recessed within the stock. Hand sanding fitted the two together for a smooth transition that you couldn't find without looking.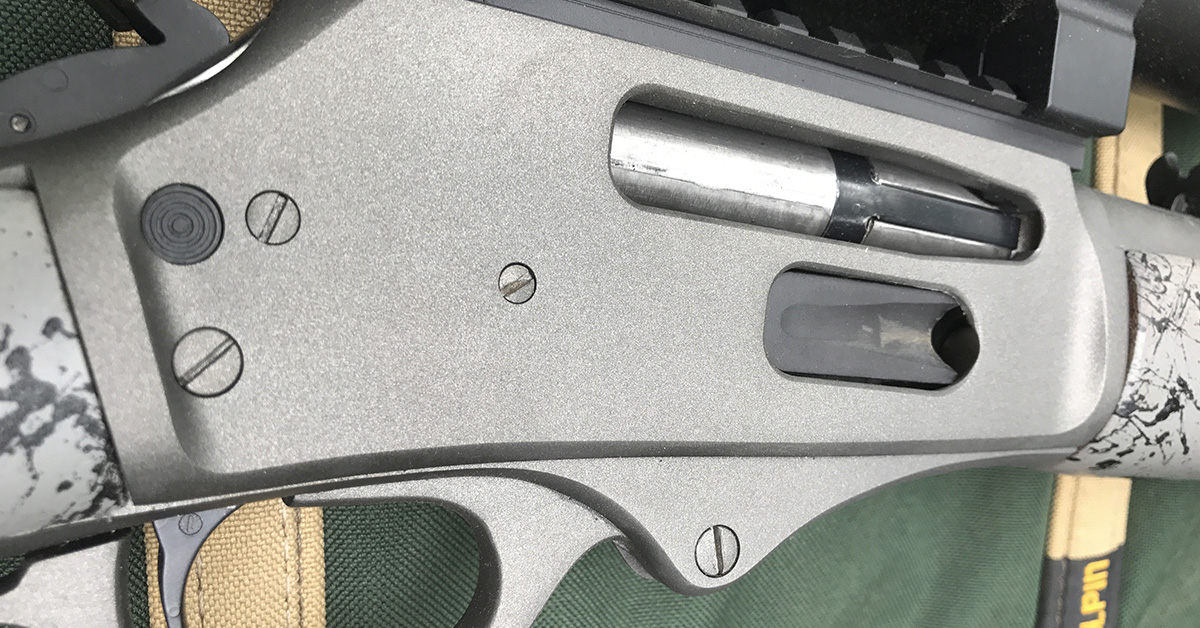 The original working guns for our project sported bluing, but we wanted something impervious to weather that would also change the overall appearance, making it more contemporary. All metal components were given a CeraKote finish to match the marble painted stocks. CeraKote is a thin, ceramic coating that offers superior weatherproofing and can improve performance. The high-performance finish is easy to maintain and adds custom color to a gun project.
There was some mild exterior work done on the metal components, removing any abrupt edges and working them to a comfortable finish with a round, melted feel. The tiny details are what add up on a custom job, and when you can feel the difference, you know you've done it right.
Keeping with a modern firearm theme, a hand-milled Picatinny rail was used rather than traditional scope bases. The rail was custom-cut from bar stock and designed to maximize optic options. Knowing the rifles were going to be used for black bear, we wanted to ensure we had a scope with excellent light transmission. Finding a black target in a budding forest can be challenging enough, but the big bears are notorious for showing up in the dying seconds of legal shooting light.
Using scopes provided an optical advantage but generated a challenge on how to reach the hammer. A little gun savvy and smithing mated the hammer spur with a modified extension to reach around the rear scope objective.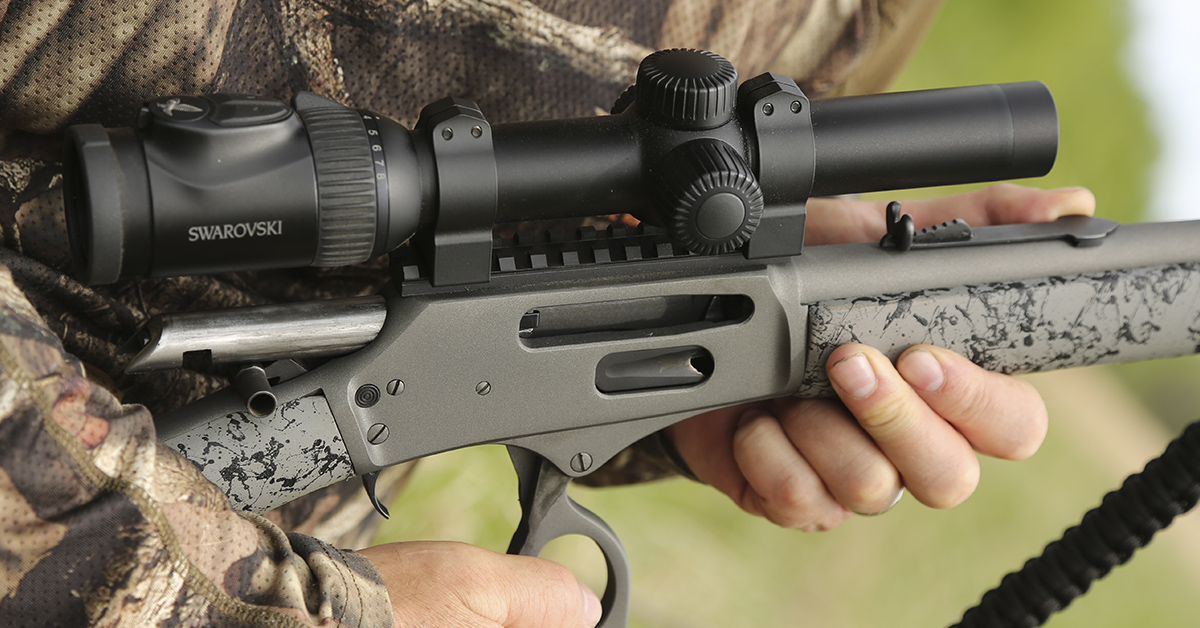 It was important to give the inside of the gun as much attention as the external components, and anything that could be improved with a polish received some love. A good polish gave some of the lever works and bolt a custom tune. Some may think you need to break in a new gun by working the action, but a custom polish is immediate, with a difference you can feel in the process. A luster was added to the feeding ramp, and upgrades were made with a replaced stainless-steel magazine follower and tube spring. A light polish was even completed in the tube to eliminate burring. The rifle has a six-shot capacity, with five cartridges held in the tube, and one in the chamber. The attention to detail made the rifle easy to operate, with smoot- running components. Factory hammer springs were left in for safety and reliability when hunting big bears. Regardless, the trigger pull was crisp and creep-free.
When complete, the guns had personality. They certainly were never meant to be shelf guns but a working man's tool meant to be used. Black bears were the ultimate field test, and backcountry travel on quads and side-by-sides never left a mark. Changing weather and wet conditions were easy to follow with a quick and easy cleaning.
Field Test
Sitting in a tree stand 10 miles from the closest road made me feel like I was on a true wilderness adventure. The boreal forest was alive with the sights and sounds of spring, distracting me from why I was there. I felt a sense of calm and was completely absorbed in my surroundings when a shot of adrenaline burned through my veins.
I had not heard or seen the big black bear approach, and when he nonchalantly sauntered under my stand, it put my heart into overdrive. The heart pounding, adrenaline pumping experience is one of the reasons I love to hunt spring black bears.
When my nerves finally settled, I sat back and enjoyed the show. I've taken several black bears and was holding out for one that was either extremely large or uniquely colored. The adolescent boar entertaining me didn't fit the bill but was a pleasure to watch.
The next evening, I was enjoying a similar show when snapping twigs on the ridge to my right drew my attention. It was a beautiful honey-brown color-phased bear. The hide glistened in the sun and the fur rippled as it ambled closer with each step. I took a deep breath to control my heart rate and slowly raised the rifle to my shoulder. The bruin filled my scope, and when it stopped to survey its surroundings, I leveled the crosshair on its shoulder and squeezed the trigger. The bear collapsed in its tracks, somersaulted forward, and lay still. I worked the lever on my Rossi without losing sight of the bear in the scope, but a follow-up shot wasn't needed.
The highlight of the hunt was the Rossi RG .30-30 rifle that was customized for the spring bear adventure. I don't know if I was more excited about using the rifle or taking the incredibly colored bear. I wasn't the only one excited about the firepower in camp. Everyone wanted to shoot it.
The Right Choice
I've hunted a lot of bears with many different firearms, and the lever-action proved to be lightning fast for reloading if a follow-up shot was needed. All three rifles were tack-drivers at the range and left no doubt that any bear within sight would be in big trouble. The brown-phase black bear I shot didn't know what hit it. My hunting companions each shot bears with a .45-70, which turned out to also be the perfect medicine for bears.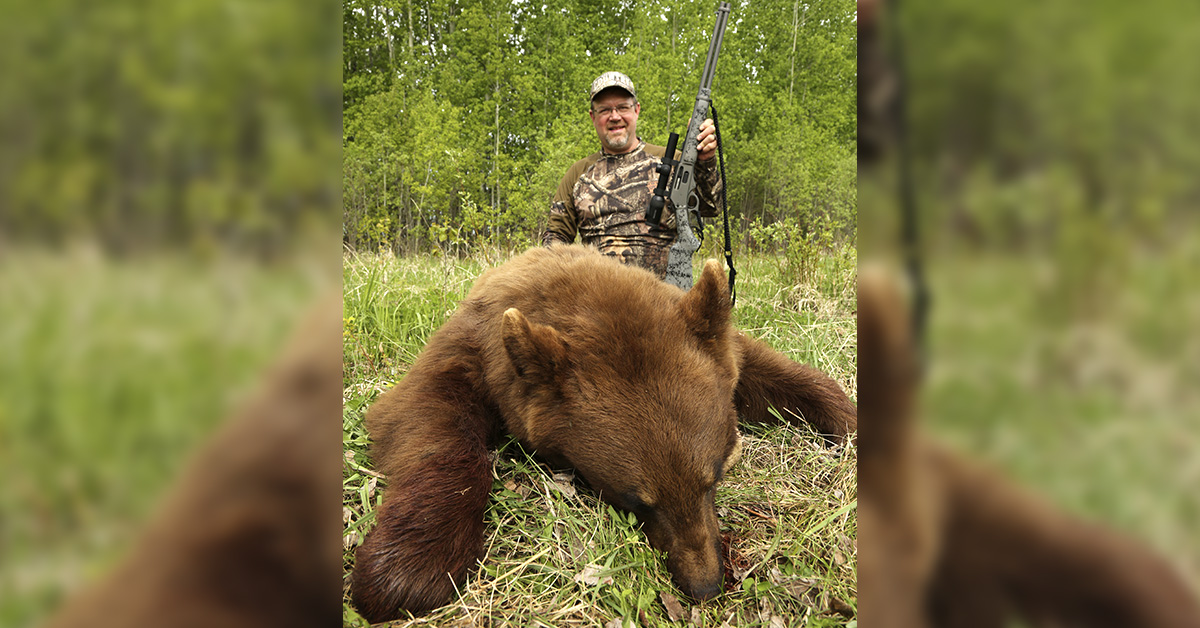 Big bores can be punishing, but the .45-70 burns powder slowly, has more of a push, and is much easier to shoot. Felt recoil is lower with some calibers and the .30-30, and .45-70 are all soft to shoot, which can be attributed to slow burning powder versus fast.
The pictures of the bears taken on our adventure are great reminders to start planning another hunt for the coming spring. The bears are beautiful creatures, but the rifles used to harvest them are eye candy to a firearm aficionado with a passion for tinkering, tweaking, and customizing a working firearm.
Rossi Lever-action Rifles
The Rossi RG is no longer in production, but there are several other models that would be ideal for customizing and spring black bear hunting. A good example is the R92 Gold.
The Rossi R92 Gold rifles have classic western styling with a premium Brazilian hardwood forearm and stock with a traditional crescent butt plate. The black receiver, barrel, and magazine tube are polished. A gold finish on the barrel bands, hammer, trigger, lever, and butt plate make the rifle stand out. MSRP: $891.76
Rossi RG Specifications
Finish: Polished Black
Capacity: 10 Rounds
Action Type: Lever
Caliber: 44 Mag.
Sights: Buckhorn
Safety: Thumb
Weight: 90 oz.
Barrel Length: 20″
Overall Length: 37″
Optical Advantage
Hunting bear with optics in low light under a dark forest canopy with cloudy conditions can make it difficult to decipher black crosshairs against the same color fur. A red dot was looked at as an option but didn't amplify enough light. An illuminated reticle seemed like the best option, so I settled on a Swarovski Z8i 1-8×24 power with that very feature. Some people may think it's crazy to match this caliber of Swarovski optics with a lever gun, but you can't hit what you can't see.
A Burris Fullfield TAC 30 1-4×24 with a Ballistic CQ reticle was the second option on one of the .45-70s. The lower magnifications are ideal for close targets and any follow-up shots, if needed. The last .45-70 was topped with a Leupold VX-R Patrol 1.25-4×20 sporting a FireDot SPR reticle.