If "halo brand" hunting clothes have left you with sticker shock, you need to check out Huntworth. We did, and we're sold!
by Rob Reaser
After months of hunting the Midwest and the Appalachians, often with a good chill settled in my bones, the thought of spending even another weekend of freezing, wet misery in the woods almost had me ready to throw in the towel for the season.
Almost.
Our state's recently-established "Heritage Season"—a mid-January, four-day finale that lets hunters pursue whitetails with sidelock muzzleloaders or traditional archery gear only—was coming up and I had yet to take part in it. That time of year is usually occupied by the Archery Trade Association show (cancelled due to that little bug thing going around), so I was excited to be home this year and have the opportunity for one final fling of hunting deer…if the weather wasn't going to be rotten.
A week out, the always-reliable weather forecast predicted an "OK" weekend. A bit chilly, perhaps, but none of the wet, frozen, sloppy stuff. I called my cousins and said, "Let's have one more camp weekend before everything shuts down until turkey season."
The "I'm there" responses rolled in as expected. Also as expected was a weather forecast revision. Forget the partly sunny stuff… sub-freezing slop was now on the menu.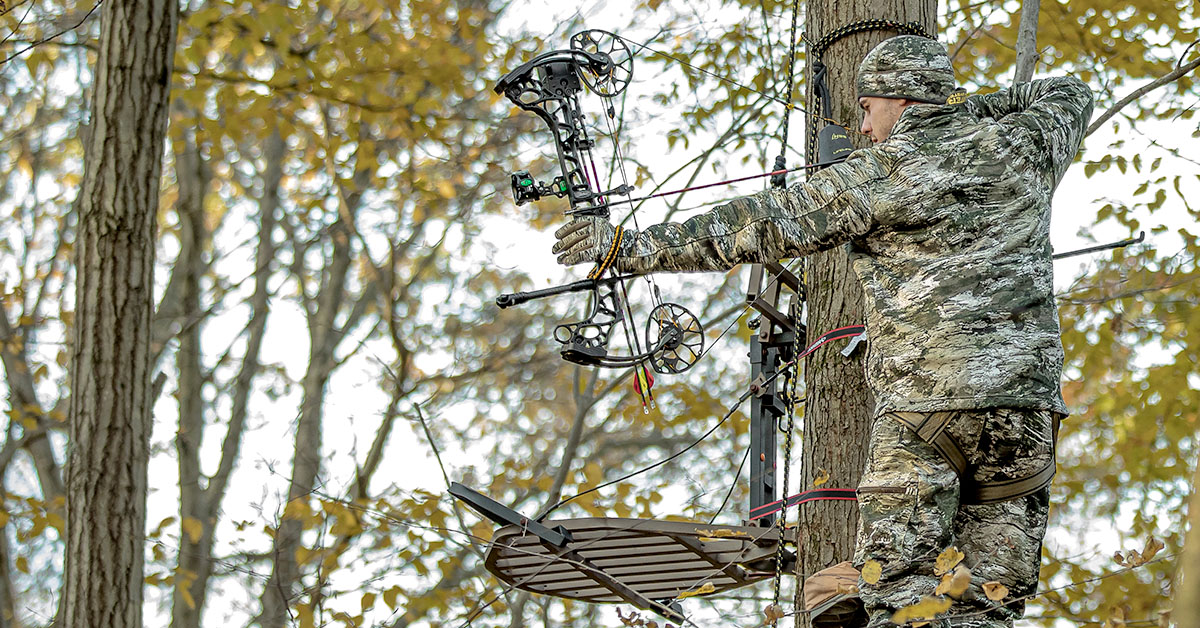 With everyone's momentum in play, there was no turning back. I was also glad for the weather downturn. The set of Huntworth cold weather clothing I ordered had just arrived and the predicted weather that only a muskox or one of my Canadian friends could love would be perfect to give the Huntworth gear a solid test.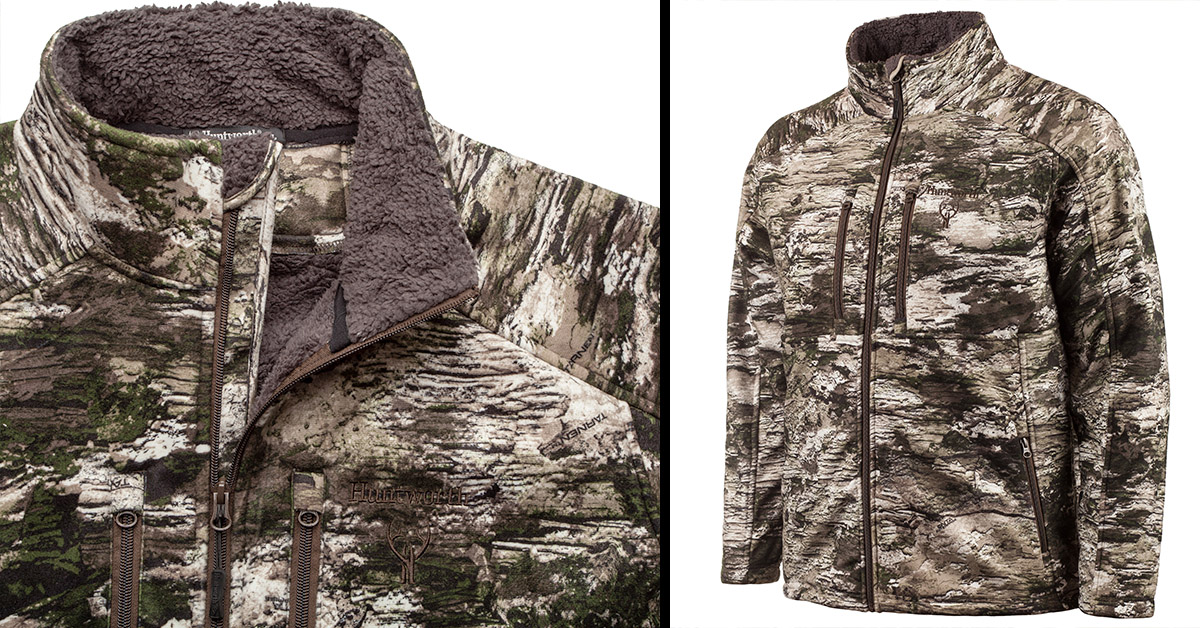 If you have never heard of Huntworth clothing, don't feel left out. This is not one of the illuminated brands that so many of the "influencers" and social media types tend to push. The company also doesn't spend big bucks on advertising, relying mostly on word of mouth and judicious placement through box store distribution.
Something else the company doesn't do is charge a bundle for their products. And that is one of the cornerstones of the Huntworth brand.
Huntworth's angle is in creating what most of us consider to be "performance grade" hunting clothes and providing them at a cost well below that of the platinum-priced brands that capture most of the market's attention today.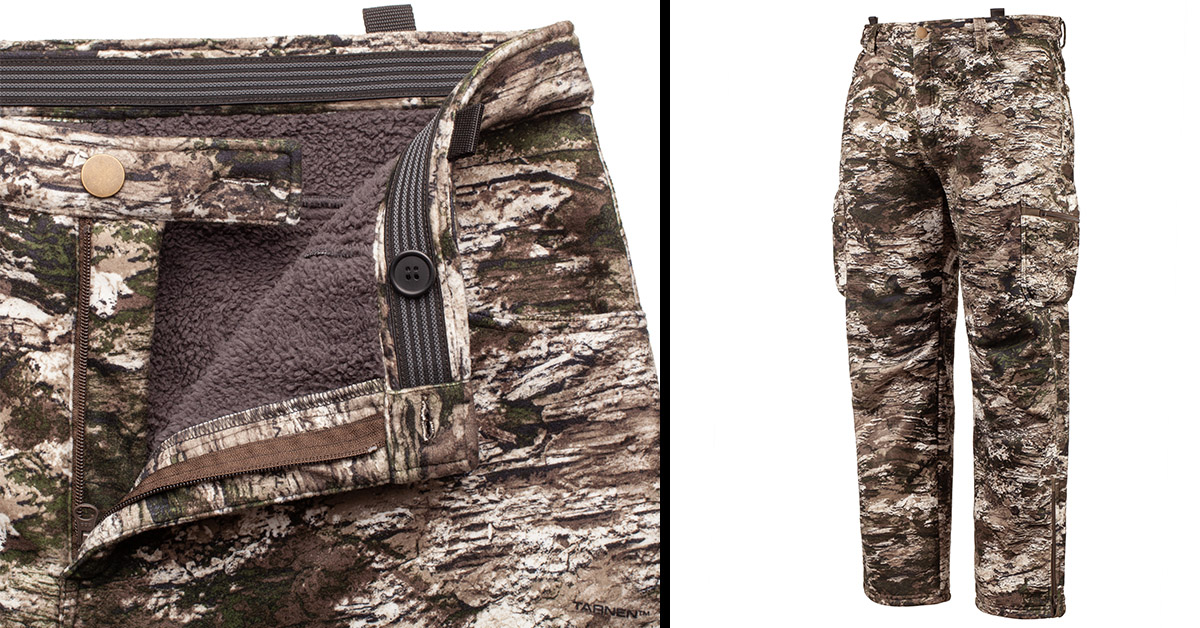 Another important aspect of Huntworth clothing when compared to the premium-priced brands is in the fitment arena.
Try as I might to stay in shape for western hunts, I am not imbued with the genes or the metabolism to comfortably wear the "athletic cut" clothing that all the popular hunting kids wear. I tested a set of those premium duds on a South Dakota hunt last year—the type with the athletic cut—and I wasn't a happy camper. The pants and jacket were sized large, but the waist was a tad snug, and the sleeves were so narrow I struggled to pull them up my arms.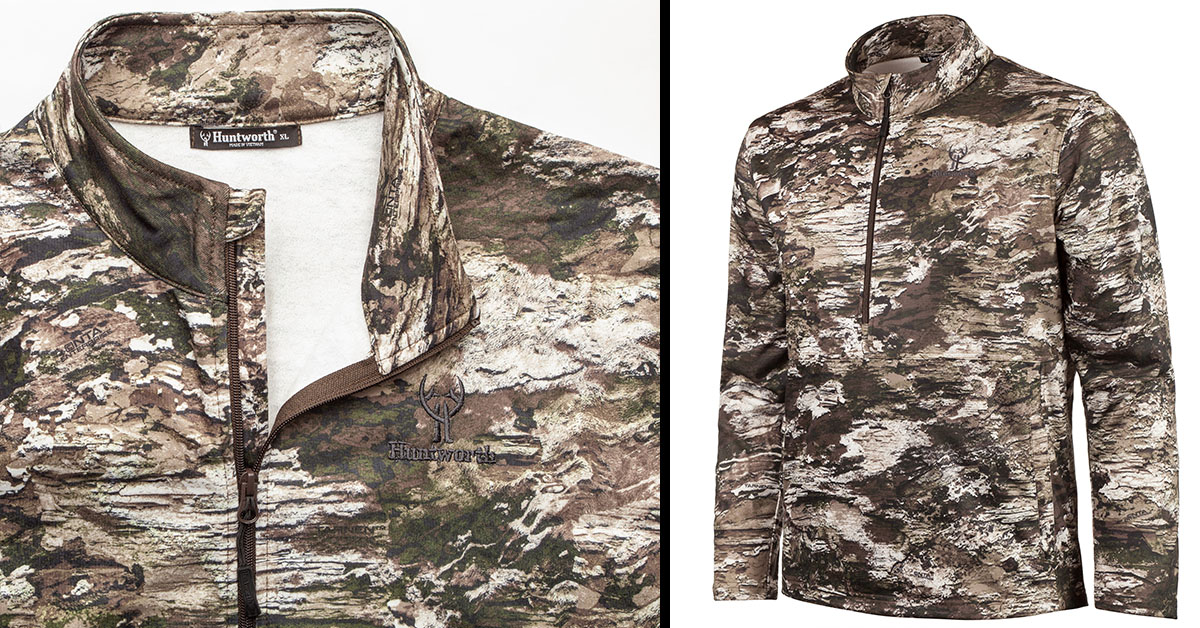 I tend to favor a looser cut with my clothing for better maneuverability and to provide enough room amongst my base and mid layers to trap warm air. Most average-built, real-world guys are the same. We're not sporting chiseled abs and a lean, tapered body profile so, quite often, those athletic cut clothes are simply too tight where they shouldn't be, creating issues with flexibility and insulation. I can deal with some of that when I am still hunting out west. On an eastern whitetail deer stand in 20- or 30-something degree weather, that's a no-go. Tight fitment and minimal air space mean I am going to get cold in a hurry.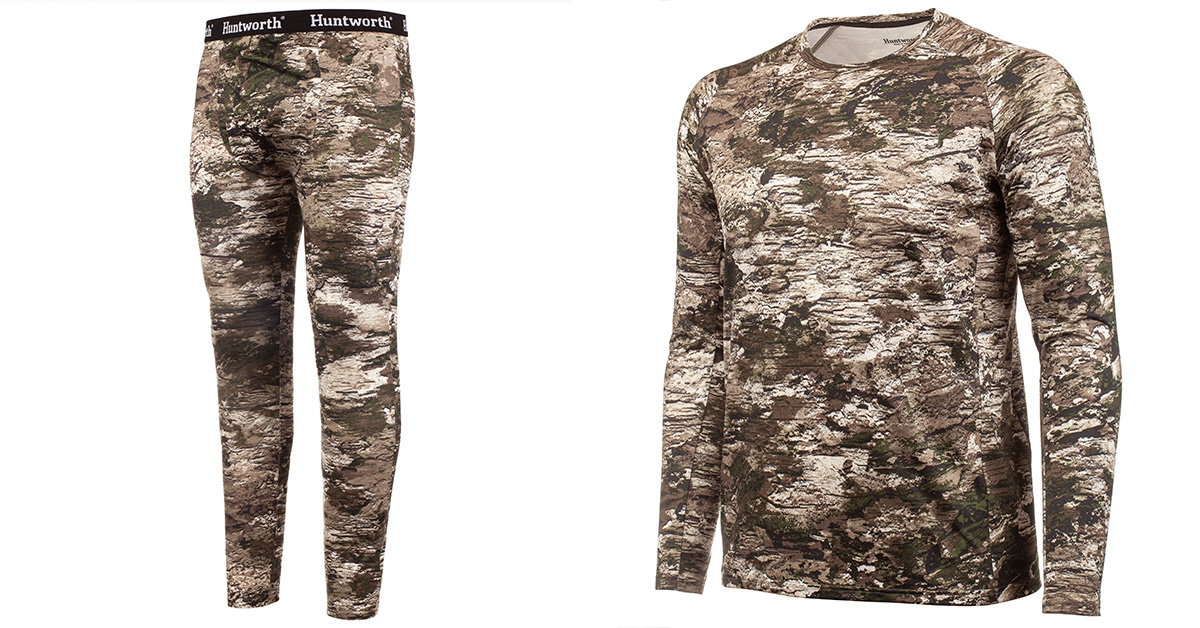 Huntworth clothing, on the other hand, finds that delicate balance between a too-tight athletic cut and an overly loose cut that makes you feel like a toothpick wrapped in a napkin.
Since I needed a set of good cold-weather gear, I decided to give Huntworth's base, mid, and heavy weight layering system a try. For the camo, I was especially intrigued by the company's proprietary Tarnen pattern. Tarnen is designed around a relatively high contrast blend of micro and macro elements with a strong "bark-like" motif. These elements are layered with a selection of light to dark tans and browns accented with subtle splashes of green. The overall color scheme, shading, and randomized elements allow it to blend with multiple environments and seasons.
Most of my camo clothing features patterns from the two primary brands—Realtree and Mossy Oak. I like them fine during spring turkey season and from early bow season into rifle season. Once the snow hits, though, the almost monolithic color schemes make me look like a dark blob when there's snow on. Huntworth's Tarnen, by contrast, blends exceptionally well in snow country, as you can see from the photo above taken on my late-season muzzleloader hunt. The subdued colors mixed with contrasting elements, though, also make this a viable pattern in almost any environment, from early season to late, east to west.
So, Huntworth's fit and concealment get high marks in my book. What about warmth?
Whenever I test clothing "systems," I make it a point not to add to my wardrobe in order to make a proper evaluation. My hope—especially when dealing with really foul weather—is that the soft gear does its job of keeping me warm and comfortable during low activity yet doesn't make me sweat during episodes of high exertion.
Hunt day dawned in the mid-20s, with snow already blanketing the ground and trees. My morning tactic was to still hunt across a long flat and then cut up a steep point and work my way across the ridges above camp. Garb included Huntworth's mid-weight base layer pants and shirt, mid-weight knit jersey 1/2-zip pullover, heavy-weight hunting pants, and heavy-weight soft shell jacket.
The snow and ice balls buffeted along on wind gusts in the double digits for most of the first morning. Both the pants and jacket are rated windproof courtesy of a breathable film bonded between the InVelvet fleece and the Sherpa fleece lining. The windproof film seemed to work well in keeping the sharp cold from seeping in.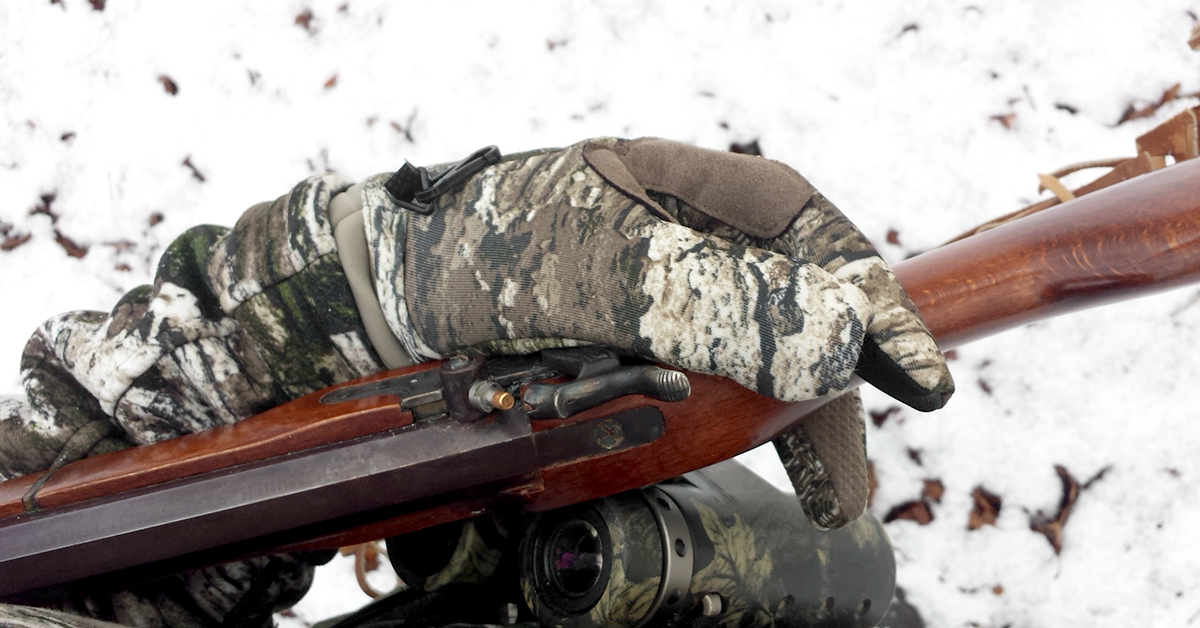 As the temperature rose, accumulating snow began to melt on my jacket and pants. With both garments treated with a DWR (Durable Water Repellant) finish, the moisture beaded on the fabric but didn't soak in.
Later that evening, a snow squall rolled in—one strong enough to key an emergency weather alert on my two-way radio. Again, the Huntworth gear kept me dry and warm.
The one thing I miss having on the jacket is a hood. The jacket collar offers decent protection under normal conditions, but in rain or a side-swiping blizzard, you're going to get some moisture on the back of your neck.
In sum, the Huntworth outfit—from the base to the outer layer—delivered in the worst hunting conditions I typically encounter in the whitetail woods. I stayed warm, stayed dry, and the fitment was spot-on for walking and climbing steep hillsides. Best of all, this full system did not have a price tag north of $600 or $700. The MSRP for all five pieces is $454.99.
Right now, however, Huntworth is running a winter clearance sale on all items, so if you are looking for a clothing upgrade, now is the time to do it while there is still some inventory and the clearance sale is on. With the clearance price, this five-piece outfit can be purchased direct from the manufacturer for $363.95—a hefty savings on what is already cost-conscious pricing. The company is also offering free shipping on orders over $100 (USA only).
To see all Huntworth's clothing options in their assorted proprietary patterns, go to HuntworthGear.com.