Looking for a solid, everyday companion but want to avoid sticker shock? Check out these top-end pocket-riders…
by Dexter Ewing; photos by Marty Stanfield, Marty Stanfield Photography
What do you look for in an everyday carry (EDC) knife? Cost? Blade material?  Handle material? Size? Weight? Attractiveness of the overall design? In this article, we are going look at some of the latest mid-priced EDC knives on the market and what makes them great candidates for daily carry.
First, let's define what exactly is "mid-priced." Granted, this is all relative to what you would consider an expensive knife to be and then work your way down from there, but for this article, we should have this defined before proceeding.
I would consider mid-priced to be in the $100-$200 street price range. The street price is always lower than the MSRP by $30-$50. Like I said, it's all relative and maybe you think that knives in the $100-$200 range are expensive, but when you look at the MSRP of high-end knives, you're going to see prices in the $225-$499+ range. With this information in mind, let's take a look at some knives.
Hogue Knives
Hogue is a sleeper knife company. They are one of the newer big-name manufacturers who have quietly risen to the top of their game with precision knives made in the USA.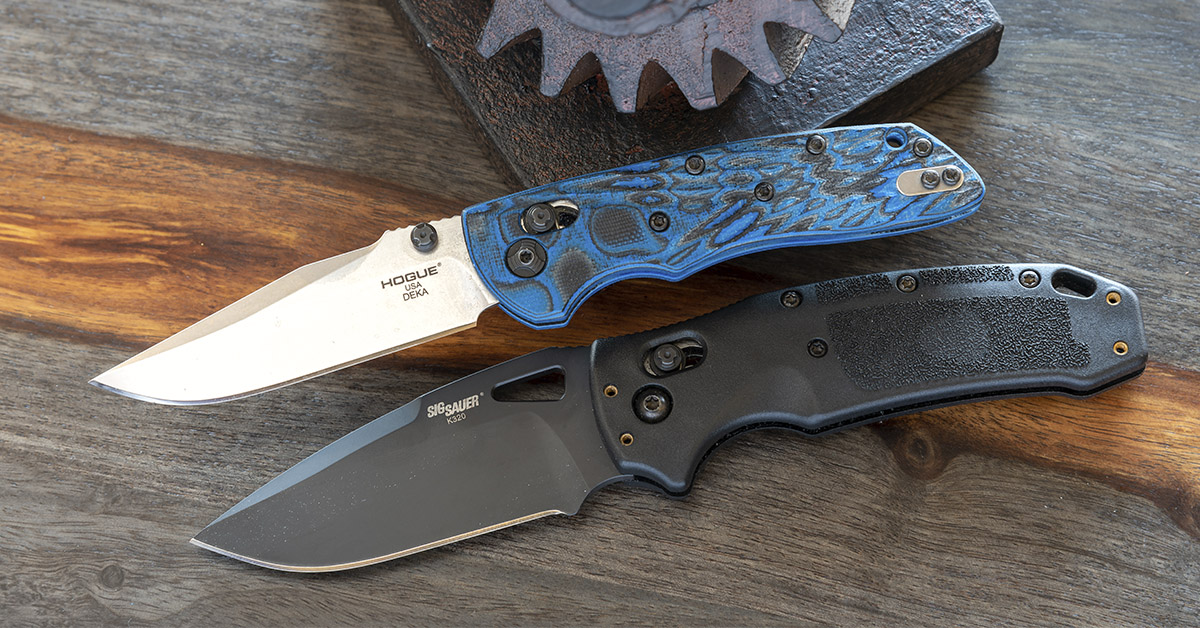 Designed by custom knifemaker Allen Elishewitz, the Hogue Deka comes with a 3.25-inch blade in either a clip point or modified Wharncliffe shape. Premium CPM 20CV high-grade stainless is used for wear resistance. The machined handles are available in solid color G10 or various colors of G-Mascus, Hogue's own proprietary handle material with swirling and variegating patterns mimicking that of Damascus steel. The Deka has Hogue's ABLE Lock (stands for Ambidextrous Bar Lock Enhanced), a simple but effective blade lock that firmly places steel-on-steel for an ultra-secure lockup.
The Deka carries well with its "tip-up" clip and has a light footprint in the pocket. The knife handles all manner of cutting tasks and the handle shape allows for a secure grip. Handle color choices are black G10, blue and black G-Mascus, Dark Earth G-Mascus, and green G-Mascus. MSRP is $160 and street price is about $145.
Hogue is also the official manufacturer of Sig Sauer knives. The K320 is a new, lower cost model in the Sig knife line. Designed as a knife equivalent to the Sig P320 pistol, the K320 sports a premium-grade CPM-S30V stainless steel blade 3.5 inches in length in your choice of stonewash (tumbled) finish or a black Cerakote finish and either tanto or drop point shape.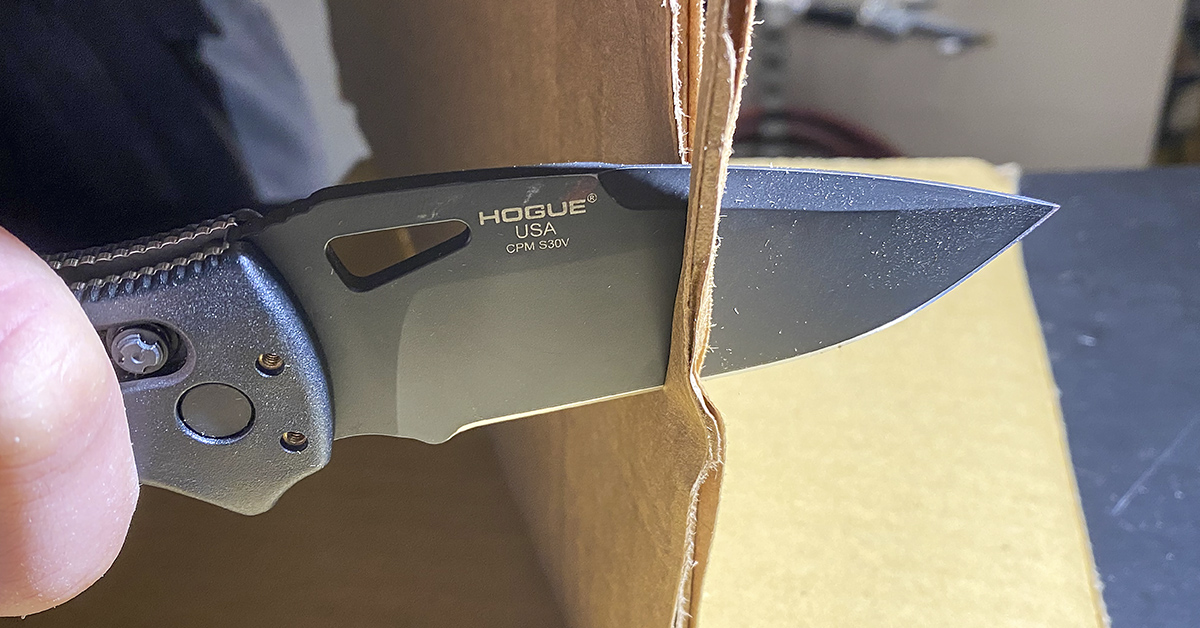 The K320's handle is molded from glass reinforced polymer and has an ergonomic shape that is comfortable to hold. The handle also features the same texturing as found on the grips of the P320. Like the Deka, the K320 has the ABLE Lock for both user safety and operating convenience. The pocket clip can be mounted one of four ways to accommodate any way you want to carry a folder. The clip is unique, sporting raised "louvers" to enhance grip traction while extracting the knife from the pocket. The handle ergonomics offer a secure grip and inspire user confidence. The S30V blade holds an edge well and the drop point is great for general use while the tanto is more tactically oriented. Its distinct angled tip cuts as it penetrates and exhibits remarkable piercing capability. The K320 retails for $139.95 (street price $119) for the tumbled blade finish and $149.95 (street price $128) for the black Cerakote finish.
Benchmade Knife Company
Benchmade is a brand that discerning knife users gravitate to because of the company's excellence in manufacturing and constant innovation in the knife industry. The model 535 Bugout is the company's bestselling folding knife right now.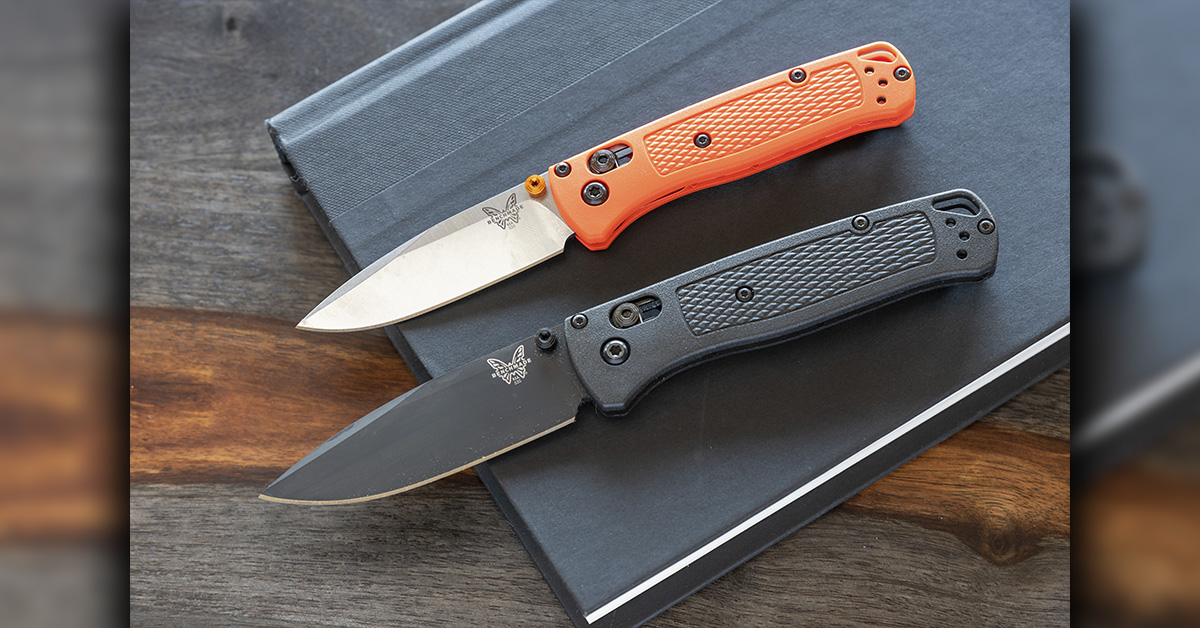 The 3.24-inch-long blade is ground from premium CPM S30V stainless steel and is available in either a satin finish or black DLC coating for low reflectivity. Double thumb studs allow ambidextrous opening, and the Axis Lock ensures the blade stays open until you release it. The Axis Lock is one of the easier operating lock mechanisms. Pull back on the exposed lockbar and the blade can unlock and rotate closed.
The slender handle is molded from CF Elite — a fiberglass reinforced polymer that has exceptionally light weight and is very strong, with better rigidity than other glass reinforced polymers on the market. Aluminum barrel spacers in the handle are a nice touch.
In the pocket, the Bugout just disappears. It is feather light and doesn't print in your pocket. The pocket clip is a fold-over deep carry style. Its ultralight form factor allows it to be carried in a variety of settings, and the S30V blade steel ensures that performance remains top notch even during heavy use. The 535 Bugout MSRP pricing begins at $155.00 (street price around $132.00) and $175.00 (street price around $150) for the black blade version.
Another popular EDC folder that Benchmade has in their line is the model 940 Osborne Axis Lock, designed by the late knifemaker Warren Osborne, who was known for his elaborate art knives. The 940 quickly gained cult status because of its refined, non-tactical look and slender design that carries well.
In 2021, Benchmade released the 945 Mini Osborne Axis Lock, a scaled down version of the 940. Same design but with a 2.9-inch long reverse tanto shape blade, the 945 Mini Osborne is everything that made its bigger brother famous but in an even more compact size. The standard 945 has a dark green anodized T6-6061 aluminum handle and satin finished CPM S30V blade, and the 945BK-1 has a black G-10 handle and black coated blade.
For those who like smaller folders, either version is THE ticket. The knives disappear when you clip them into the pocket, and they are so lightweight you forget you're carrying one. The blade length is small enough not to be threatening in the eye of the public but not too large to get in the way. You'll find the handle is comfortable to hold despite its compact nature. The blade's flat grinds permit the knife to sail through various materials with ease. This knife exudes flair and high utility in one package. MSRP for either is $205.00 and the street price is around $175. This might be a bit much for what some want to spend for a mid-priced knife, but trust me, it is worth the money.
Spyderco
When it comes to discussing EDC knives, it's hard to omit Spyderco. The core of their knife line is EDC in nature. Take a look at their Sage 5 Lightweight, model C123PBK. Anyone familiar with flat ground Spyderco blades, such as the Sage 5, knows that these are absolute cutting machines! The blade steel is CPM S30V for maximum edge retention. The full flat grind allows the blade to slip through tough materials with ease thanks to the thinned-out edge. The handle is FRN (fiberglass reinforced nylon) that sports Spyderco's own bi-directional handle texturing for optimal traction. The blade and handle form a choil when the blade is open, allowing you to effectively choke up on the handle for extra control. For user safety, Spyderco's own Compression Lock blade lock is used. A sturdy and unique wire pocket clip keeps the Sage 5 Lightweight in your pocket and the 2.7-ounce weight keeps bulk at a minimum. MSRP is $175.00 and the street price is around $122.00.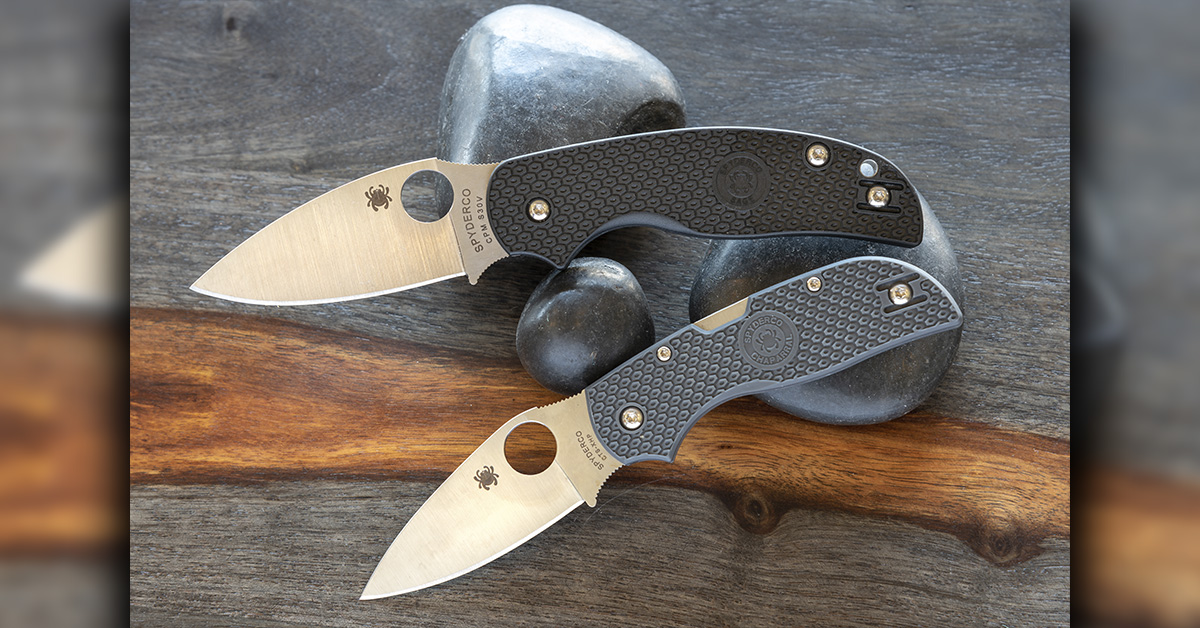 Another excellent Spyderco design is the Chaparral Lightweight C152PGY. Like the Sage 5 Lightweight, the Chaparral shares the same ergonomic characteristics, such as a user-friendly handle shape, choil, and flat ground leaf shaped blade. The blade steel is Carpenter CTS-XHP for enhanced edge retention and toughness. The 2.8-inch blade length makes the Chaparral Lightweight a very pocketable folder. The handle is FRN with the bi-directional handle texturing for optimal hand traction. Like the Sage 5 Lightweight, there is a wire pocket clip as well, adding style and function. The handle is very thin, which means this knife is nothing but a joy to carry. The thin blade and flat grind mean this knife cuts like a laser. This is why Spyderco is widely recognized as being a manufacturer of refined cutting tools. MSRP for the Chaparral Lightweight is $137.00, and street pricing is around $95.
Böker Knives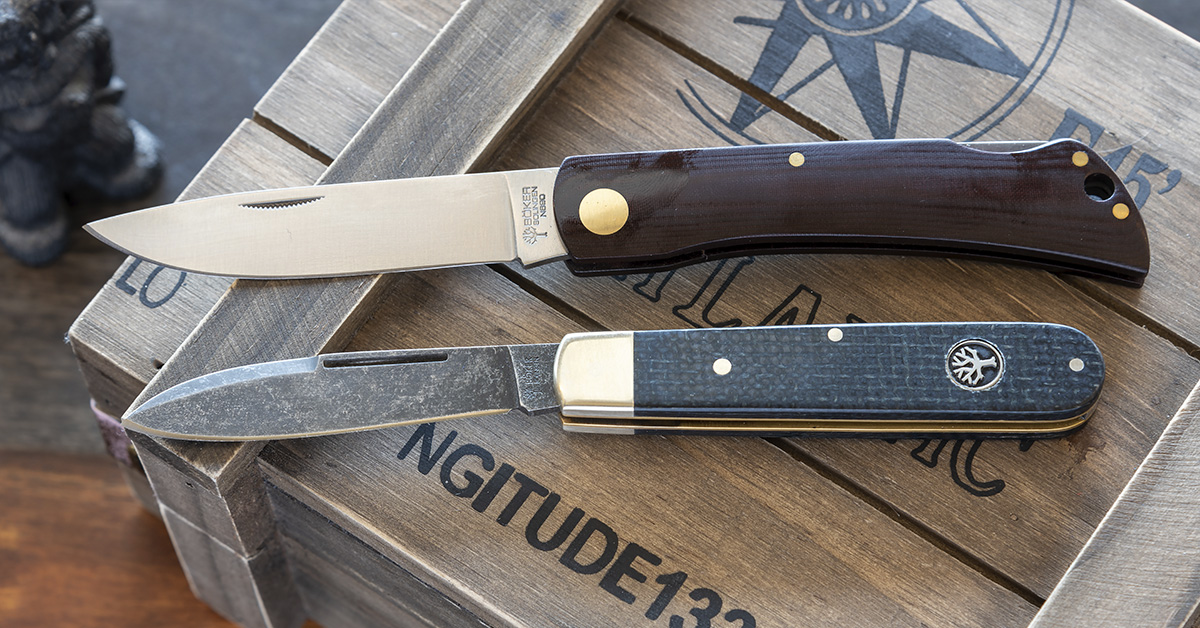 Not all knife folks like to carry their knives clipped to the top of the pocket. Those who favor traditional knives choose to carry them at the bottom of the pocket. Böker is a top name in pocketknives, and they sent us a couple of their most recent models to try out.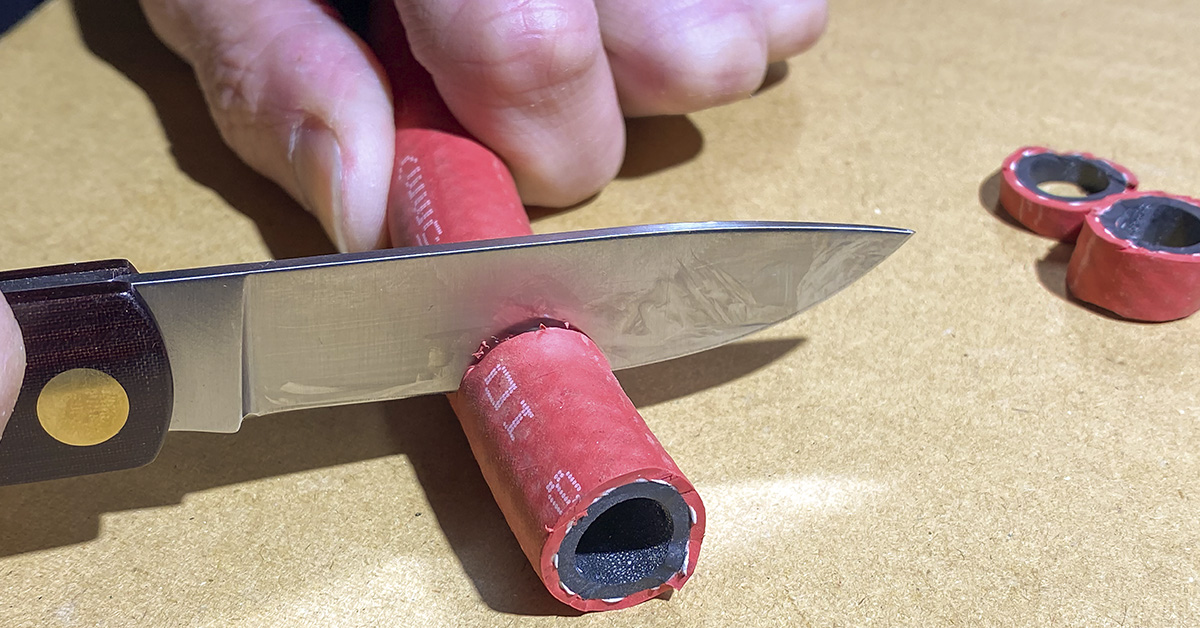 First is the Rangebuster, which is their take on the classic sodbuster pattern that is championed by those who use their knives for work. At first glance, it looks like a regular sodbuster, but it has a few twists. First is the modern materials used in its construction. Micarta handles make for a strong and lightweight knife, and N690 stainless blade steel gives enhanced edge holding, better than carbon steel. Then there is a back lock, where most sodbuster have a slip joint. The back lock provides an extra measure of safety during use. If you like lockback knives, this is the one for you. Super light at 1.5 ounces, the 3-inch-long drop point blade is good at tackling a variety of cutting tasks. Overall, the look is more refined than the regular sodbusters we know. MSRP is $229.00.
Barlow-style knives are also very popular. A cigar shaped handle with a single bolster and a spear point blade typifies this legendary pattern. The Böker Barlow Prime also uses more upscale materials to create the ultimate Barlow. The 2.7-inch-long spear point blade is ground from O1 carbon steel and given a black acid wash finish to help protect the blade from corrosion. The handle is black burlap micarta with a single bolster at the pivot end. This slipjoint showcases why Böker is at the top of their game with manufacturing quality. Everything fits and the action has plenty of walk and talk with its half-stop. This Barlow is a good general-use pocketknife and the size and thickness is just right for pocket carry. MSRP for the Barlow Prime from Böker is $219.00.