With the ongoing (and projected long-term) dearth of centerfire ammunition, eyes are turning to air rifles as a low-cost, high shooting opportunity option for training and hunting
by Larry Case
The battered Diet Coke can jumped into the air, did a flip, and landed a yard farther away.
"Not bad grasshopper," I told the young shooter, "Now, try shooting just the end of the can."
Jesse didn't even hesitate. He grabbed the barrel of the GAMO Swarm Fusion 10X G2 air gun and pulled it down to cock the rifle. The rifleman-in-training briefly aimed and the can once again shot into the air with a satisfying "plink!"
Firearms and marksmanship training have come a long way. These days, there is a world of instruction and classes out there. Training videos abound on You Tube and the Internet, and while we need to be cautious of who we listen to about gun safety and instruction, for the most part, there are some good teachers available. Instruction, both verbal and written, is beneficial, but there is no substitute for time on the range or in the woods, pulling a trigger. Trigger time, and lots of it, is what separates real shooters from the aspirational shooters, and don't forget that becoming a better marksman automatically makes you a better hunter.
How to Become a Davy Crockett or an Alvin York
We are all familiar with Davy Crockett, the iconic backwoodsman from Tennessee who shot his way into American folklore. Crockett was known as an incredible marksman and reportedly started hunting with a flintlock rifle at a young age. We are told Crockett's father was reluctant to turn the boy loose with his rifle as he was afraid of wasting ammunition on "a boy's missed shots." At that point, David promised to "make every shot count." And as the history books will tell, he certainly did.
Likewise, maybe you are familiar with Alvin York, another Tennessee native who learned to shoot and hunt as a means of feeding his family. York was drafted and fought in France during the first World War. In 1918, York was involved in a battle behind enemy lines that resulted in his small force taking out a machine gun nest and capturing over 130 German soldiers, for which he was awarded the Medal of Honor. Much of his prowess on the battlefield was attributed to his skill as a marksman.
The point here is that these two iconic Americans started at an early age with a rifle. They became very proficient with a firearm by shooting a lot. Their skill with a rifle helped feed their families when there wasn't any grocery store around.
So, this begs the question of how are you going to achieve this high level of shooting proficiency in today's world of limited places to shoot and the current problem of low ammo supplies? I say that one way is the GAMO Swarm Fusion 10X Gen2.
Lots of Shooting Time, Low Cost, and Big Fun
Crockett and York spent a lot of time prowling the woods with a rifle, and much of it was out of necessity to put meat on the table. While we may not be in that boat just yet, we can spend time on the range and prowling around our own woods, learning to be a better marksman. The GAMO Swarm Fusion 10X Gen2 air rifle provides an accurate weapon of adult proportions with a surprisingly good trigger, a clear scope, and plenty of power to take a wide variety of small game and varmints, if we desire.
The relative quiet of the GAMO air rifle allows you to shoot in settings close to residential areas, where using conventional firearms may not be possible. Also, in these times of marginal ammunition supplies, shooting pellets is a matter of pennies compared to even .22 rimfire ammo. So, with a couple of boxes of GAMO pellets, you can plink away to your heart's content or whittle down the local squirrel population and have a bunch of fun while doing it. (Shooting is supposed to be fun, remember?)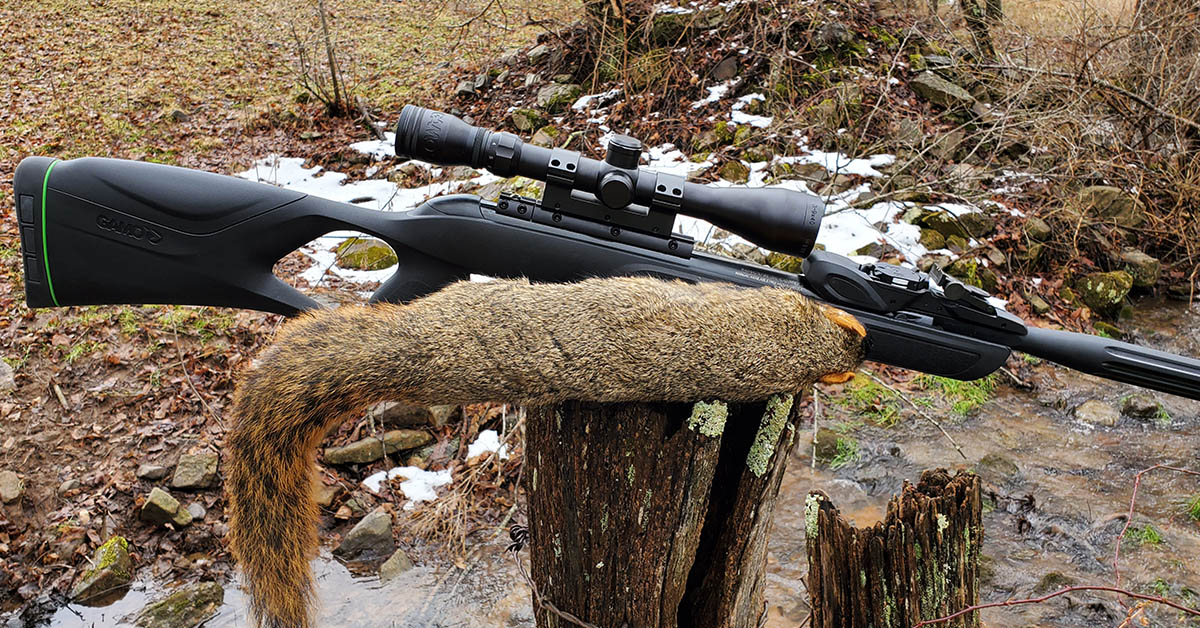 The GAMO Swarm Fusion 10X Gen2 (along with the GAMO Swarm Magnum 10X Gen2) is the world's only ten-shot break-barrel air rifle and the 10X Quick-Shot magazine allows the shooter to load ten pellets in the magazine, insert it into the rifle, and fire ten quick shots before you must reload. The Swarm Fusion in .177 caliber is capable of 1,300 feet per second pellet speed due to the new IGT Mach 1 technology. In short, GAMO put a large inert gas cylinder on this air gun to deliver speed and power unheard of in a manually operated air rifle. Other features include Whisper Fusion noise-dampening technology to quieten the report, the RRR (Recoil Reducing Rail), a CAT (Custom Action Trigger) that allows for first- and second-stage trigger adjustment, and an SWA recoil pad. The automotive grade glass-filled nylon all-weather stock features a large thumbhole to enhance comfort, and it comes with a 3-9x40mm air gun scope and a 5-year warranty. The barrel is a patented polymer jacketed steel. MSRP is $289.00.
I sometimes wonder what iconic shooters like Davy Crockett and Alvin York would have thought of some of today's modern firearms. In their formative years, just imagine what they could have done with a GAMO air rifle.
Daisy Air Rifles…Pick Your Flavor!
Mention Daisy air rifles and thoughts immediately jump to the iconic Red Ryder lever-action BB gun. If you never had one, you certainly know someone in the neighborhood who did. That feisty little shooter inspired not only high-adventure fantasies for thousands upon thousands of youngsters, it also set the pattern for many to carry firearm skills, safe handling practices, and ultimately hunting or competitive shooting into adulthood.
The Daisy Red Ryder continues to be a mainstay in the youth shooting segment to this day, with Daisy even releasing an adult version of this classic air rifle so that grownups can shoot alongside youngsters as they have fun and lead by example.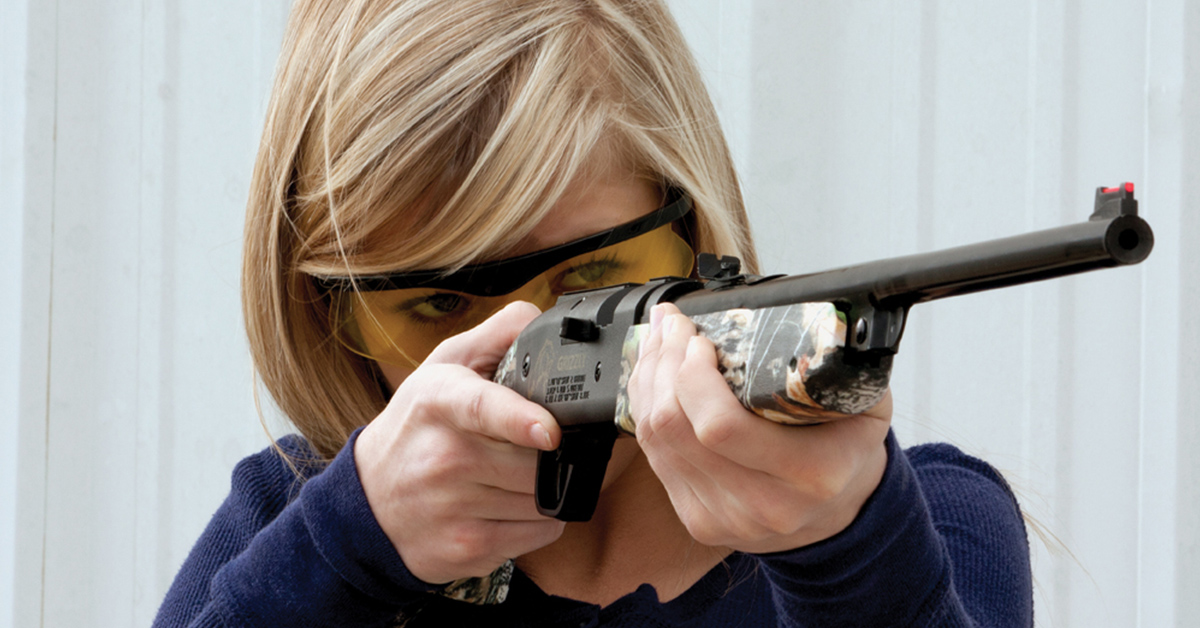 What you may not know is that Daisy offers more than the Red Ryder. The company produces pellet rifles that bring shooters to the next step in their firearm and shooting education with models such as the 2840 single-pump and the multi-pump Powerline series. These air rifles offer a more robust shooting platform with the expected accuracy enhancement necessary for continued engagement and skill development.
But that's not all. Daisy and its sister brand Winchester offer an up-level lineup of sophisticated air rifles aimed squarely at both competition and hunting pursuits.
For serious marksmanship training and for entry into the increasingly popular sport of 10M air rifle competition, Daisy offers the Avanti Model 753 Elite. Designed for intermediate competitive shooting, the 753 Elite is a single-pump cocking lever air rifle (meaning it does not require air tank charging) with a competition-style stock, precision barrel, and competition front and rear sights. Aside from being an affordable entry into 10M air rifle competition shooting, this is an ideal platform for anyone who wishes to hone their rifle marksmanship skills and refine their shooting techniques that translate directly to centerfire rifle shooting.
Taking air rifles to their maximum potential are the Winchester big-bore PCP (pre-charged pneumatic) models in .35 caliber and .45 caliber. Developed for effectively taking medium- and big-game animals within the 50- to 75-yard and under hunting window, these rifles alter the game for close-quarter hunting in tight environments or in areas where hunting with high-velocity ammunition or high noise levels are problematic. Plus, they're just great fun because their shorter-range nature demand skill refinement and present an added challenge for serious hunters. And at a time when centerfire rifle ammunition is downright tough to come by, the cast lead slugs employed by these rifles are easy to acquire and are much less expensive.