From the skyscrapers to the suburbs and cross-country, the new Ghost 20 EDC pack from ALPS OutdoorZ is ready for duty
by Rob Reaser
A little over a year ago we tested a new product from ALPS OutdoorZ called the Ghost 30 Backpack. For the on-the-road business traveler or the day hiker, the Ghost 30, with its innovative and hidden hook-and-loop interior panels, is the ideal everyday carry solution for those times when on-body carry is either not possible or discretely convenient. We like the Ghost 30, but the size and "backpack" profile doesn't lend itself to every situation. "Business casual" can only go so far.
Now, ALPS OutdoorZ has filled in the professional gap with their new Ghost 20 EDC pack. The Ghost 20 is smaller than the Ghost 30 backpack (1,220 cu-in capacity versus 1,809 cu-in) and lighter, but rather than being based on a modified backpack design, it is crafted more around the "office luggage" or soft briefcase concept. In other words, you can take it to a downtown Manhattan meeting as easily as a campus night class and no one would look twice at you.
And that, of course, is always the goal of discrete carry.
Although functionality, durability, and style are all part of the mission set, the Ghost 20's reason for being is its ability to accommodate a handgun for off-body carry. To that end, the bag has three fabric panels that aggressively secure hook-and-loop compatible handgun holsters and mag pouches. One zippered carry pocket is found on the front of the bag. It's ideal for quick access to a compact or micro-compact pistol or revolver.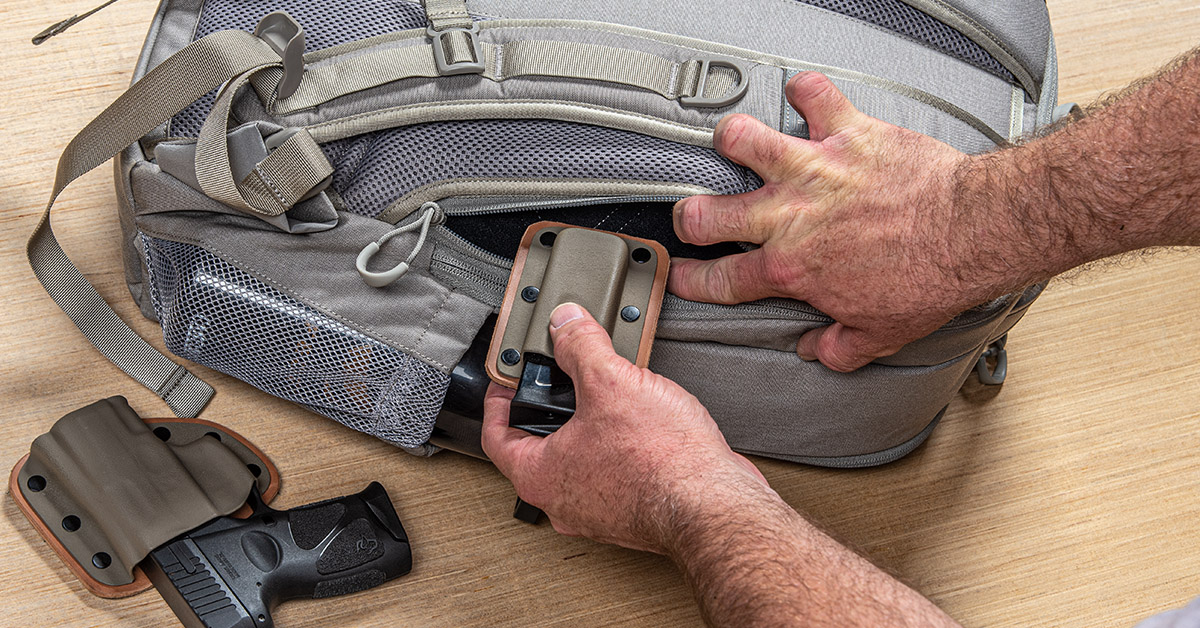 Behind the cushioned back panel is a hidden compartment that is also hook-and-loop holster and mag pouch compatible. Two zippers — one on each side — provide access to this pass-through compartment. The compartment is large, so there is plenty of room here for a full-size 1911 or GLOCK-style pistol plus a mag pouch or two. The ambidextrous access means you can position your firearm on whichever side gives you the quickest hands-on-gun maneuver for your carry style.
The main compartment is all business, with plenty of room for books, folders, binders, or whatever your workaday life entails. There's even a laptop sleeve in back to keep your computer from banging around.
As you can see, the inside of the compartment flap also has hook-and-loop compatible fabric. You can easily secure your gun and mag pouches here.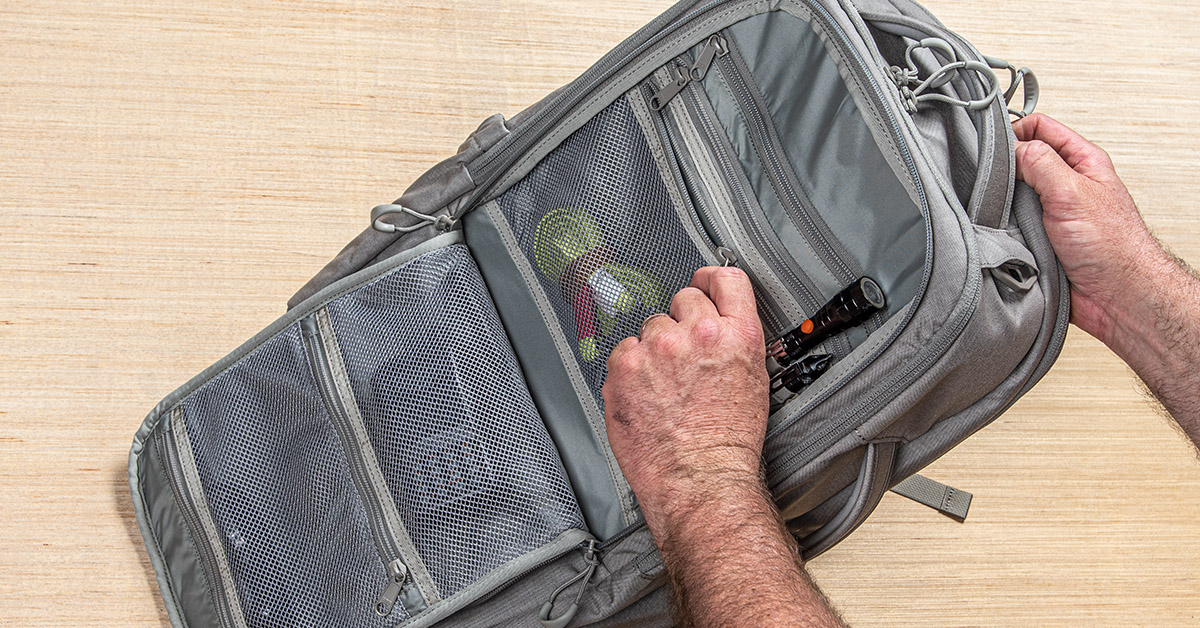 The front pocket of the Ghost 20 opens to reveal the small-item storage area. There are three zippered mesh pockets plus two enclosed zippered compartments, so organization is conveniently simple. Two sleeves accept pens or small penlights.
In true ALPS OutdoorZ style, the back of the Ghost 20 bag includes padded and adjustable shoulder straps so you can carry the bag in backpack fashion. For one-hand carry, there are two padded carry handles integrated into the pack — one on top and one on the side. A water bottle pocket on one side is big enough to take a 3/4-liter bottle.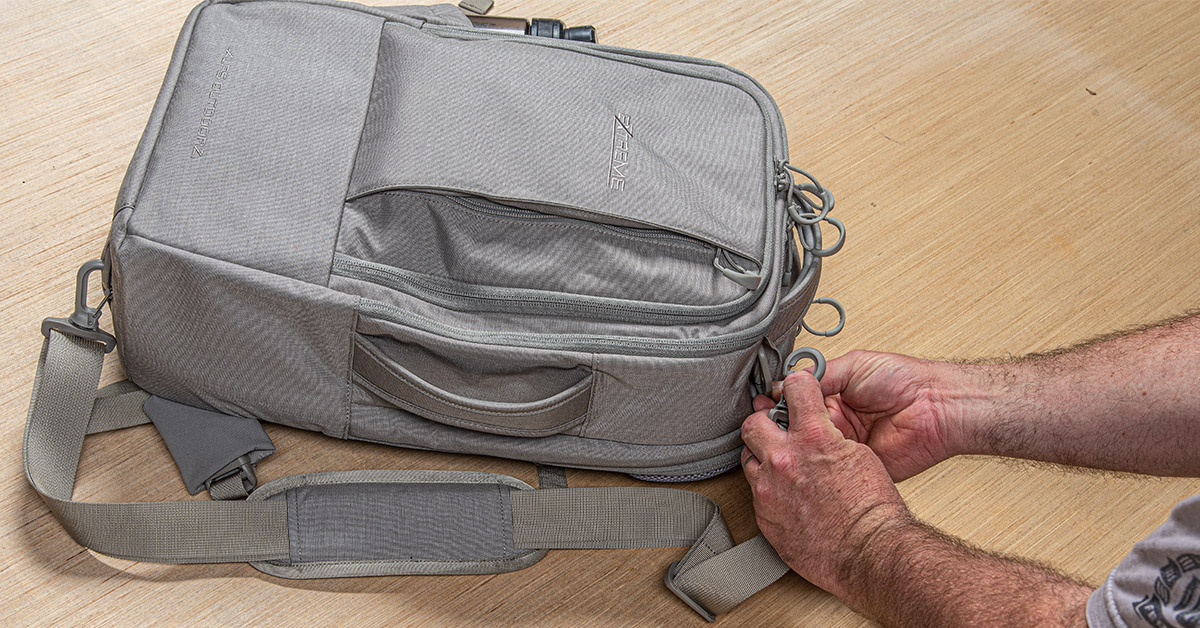 Should you prefer shoulder-carry, a removeable and adjustable shoulder strap is included. The folks at ALPS wisely made this strap long enough so you can carry the bag cross-body if you want. In this configuration, the front concealed carry pocket is right under your arm with the zipper on top. If you need to get to your gun fast, simply unzip and the gun is ready for draw. Carrying this way also keeps the bag from bring ripped off you by a grab-and-run thief.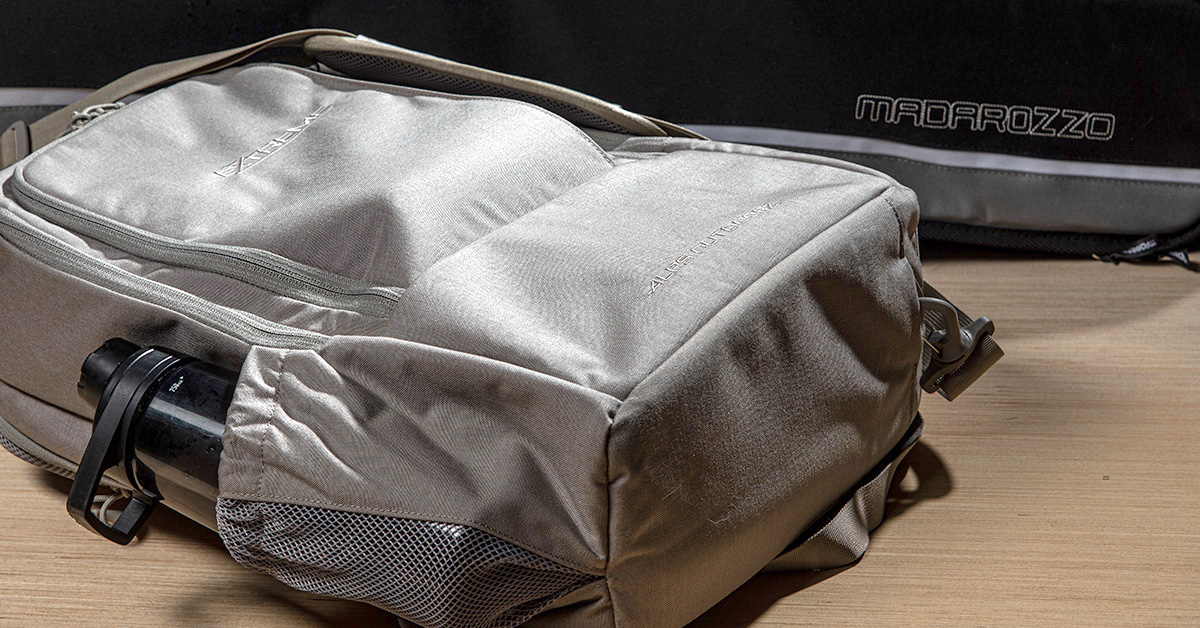 For a mobile, off-body carry solution that is styled to blend into high-profile environments, look classy in any setting, yet checks all the boxes the discrete personal defender requires, the ALPS OutdoorZ Ghost 20 pack hits the bullseye.