Benelli's Magnifico Set of Five reminds us that the gun world should not always be distilled to technology and obscure mathematics
by Rob Reaser
Few things, to me, epitomize the downfall of western civilization like single-serve coffee machines. Whether you have one in your kitchen, use them in your place of work, or have friends who excitedly offer to serve you a cup brought forth from the hissing, sputtering device sitting proudly on the countertop, you know the contraption of which I speak.
It is a representation of society's insatiable lust for instant gratification; a reflection of the "me first" culture writ large in a steamy, porcelain mug. Spin the carousel and pick your flavor—the decadence of limitless options. Push a button to choose your size. The black brew flows on command. Grab and go. Off to the next must-do or some culturally vapid diversion.
Tastes great? Maybe. Satisfying? Not if you have a more grounded—excuse the pun—perspective on the art of coffee making or can appreciate the edifying nature of a focused task and a calm mind.
One of my most enjoyable cups of coffee was consumed on a trailhead in southern Colorado's Weminuche Wilderness. We had hired an outfitter to pack us in to a spike about 11 miles deep for an elk hunt. Following several days in the backcountry, the outfitter returned to haul us out. After a grueling, hours-long pack-out (I appreciate horses, but I loathe riding them), we arrived back at the trailhead with the sun settling gently behind the high Rockies. We unloaded the pack train and, after watering and feeding the horses and mules, our rancher outfitter fired up a propane stove and began brewing a pot of coffee.
At 9,000+ feet and 30-degree temperatures, it took a while for the pot to percolate and bring the brew to that just-right richness. We chatted about the country we'd lived in for the last several days, the moose we'd seen, the trout we'd caught, about elk hunting, and life in general…all the while catching the occasional waft of bubbling java.
It was dark by the time the rancher gave the pot a satisfied nod a began pouring the dark brew into our tin mugs. The wait was worth it, as was the opportunity to sip and talk and ponder the time we'd spent deep in the mountains.
You may be wondering at this point, "What's this guy going on about? And what's coffee got to do with guns?"
Well, let me explain.
While at the SHOT show a few weeks ago, we took time to slip over to the Safari Club International gathering, which was held concurrently in Las Vegas. At the SCI event, Benelli had a "speak-easy" type of booth set up where the company was displaying its Magnifico Set of Five.
"Breathtakingly elegant" is the best way to describe this set of semi-auto shotguns. Billed as a "melding of Old-World firearm artistry paired with 21st-century design manufacturing," the Set of Five instantly fuses an emotional connection to anyone who not only appreciates quality firearm manufacturing, but also appreciates the all-too-rare firearm artistic craftsmanship that stretches back through the centuries.
Seeing the Set of Five regally nestled in their hand-crafted leather case provided a stark, almost shocking, contrast to the firearms we are immersed in every day. In a world rife with molded polymer stocks, spray-on metal finishes, plug-and-play accessories, and snap-together construction (somewhat figuratively speaking), the artistry and skill presented in these Benelli shotguns elicits a level of appreciation that seems almost lost in the modern gun world.
Here, time, talent and vision diverge from the mass produced in spectacular fashion—just as a hand-brewed and assiduously sipped cup of coffee distinguishes itself from the gauche gulping of machine-spewed slurry.
The Magnifico Set of Five
Admittedly, Benelli's set of hand-crafted shotguns resides far outside our orbit. Inspired by the European aristocratic traditions of the driven hunt, where the nobles and landed gentry approached hunting in a formal, ritualistic style, the Set of Five is an interpretation of what a modern, high-performance shotgun would be if crafted by firearm artisans calling on the spirit of the classical Italian gun making tradition. Think bespoke-style shotguns built around Benelli's technologically advanced Inertia Driven barreled action.
The five guns include two 12-gauge and two 20-gauge models, and one 28-gauge. Each feature walnut billet stocks hand-made and fitted by Italy's top custom gun house F.lli Piotti. The character of the wood is stunningly beautiful and finished in jewel-like hand-rubbed oil with buffalo horn butt plates.

The engraving is, arguably, the standout feature. Each shotgun received different game scenes of upland and waterfowl settings hand worked by master engravers from Italy's Creative Art Laboratorio Incisioni. Accenting the hunting scenes are embossed rose gold elements along the receiver.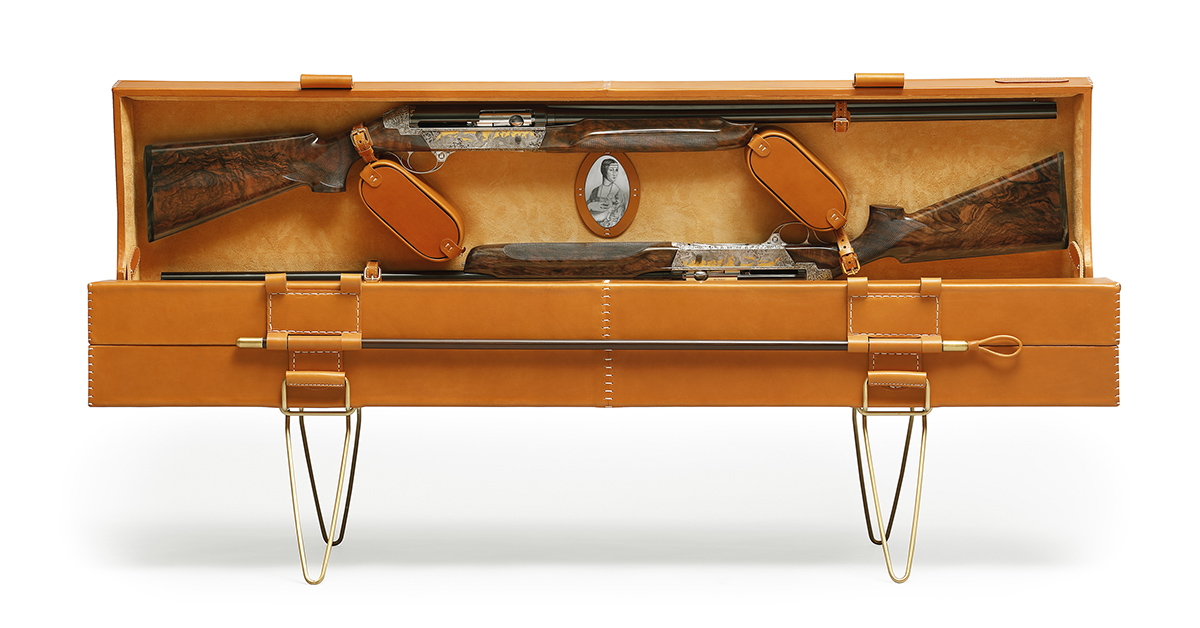 One of the many interesting aspects of the classical European approach to firearms is that craft and elegance are not lost on the shooting sport accoutrements. The Set of Five case, reflecting the triptych form of Renaissance art—comprising three unified panels—is made of a wooden frame dressed in hand-stitched leather and brass hardware. Included are gun care kits for each shotgun, also hand-crafted from leather by Italy's Oscar Maschera.
Aside from highlighting Benelli's Italian heritage and the country's long history of firearm craftsmanship, the Set of Five ultimately serves a greater purpose. Following the debut at Las Vegas and upcoming displays at Benelli's Dallas and New York City studios (with invitation-only receptions at the latter locations), the set will be auctioned. Benelli will then donate $200,000 to help fund SCI's ongoing conservation efforts and humanitarian services.
As mentioned, the Benelli Magnifico Set of Five hails from a world unfamiliar to and untouchable by most of us. Still, these shotguns serve as inspiration to us all.
In our realm of "crank it out" mass production firearms, the Set of Five prompts us to take a moment to consider more than ballistics data, trigger pull weight, and the latest advances in metal treatments. Rather, we are called to appreciate both the mechanical and the artistic craft of gun manufacturing and to revel, if only for a short time, in the "spirit of the gun" that we so often overlook.