Knives come in many styles with features intended for specific tasks. Sometimes, though, it is the simpler, well-thought-out tools that serve best.
by Dexter Ewing; photos by Marty Stanfield Photography
If you are a serious outdoors enthusiast, you know that a fixed blade knife is an essential part of your gear. A fixed blade can fulfill multiple roles, spanning field dressing and food prep to whittling fuzz sticks and splitting kindling for making the campfire. There are many companies that offer fixed blades for outdoor use, and careful selection of your edged tools will make your field dressing, camp chores, and food prep go easier.
When it comes to the best outdoor fixed blades, the ESEE Knives brand is one that sits tall on the "must consider" list. Jeff Randall and Mike Perrin are two noted authorities on outdoor survival and are the principals behind the ESEE brand. They developed this brand to bring forth purpose-built fixed blade designs that are American made and real-world tested. Today, the ESEE line has grown to over 30 different models of fixed blades that address every aspect of outdoor life. Each of their knives are expertly designed and meticulously crafted to perform under the most extreme conditions and challenging tasks.
Since many Shoot On readers are also avid outdoors adventurers and hunters, we wanted to introduce the ESEE brand to you. ESEE sent us two of their current models to try out, but this is just a sampling of what this company is all about. Here, we'll examine the Ashley Game Knife and the 4HM.
ESEE Ashley Game Knife
The Ashley Game Knife (AGK) was designed by Ashley Emerson, an experienced hunter and guide. Emerson set out to design the ultimate fixed blade to carry in the field, with a blade that could handle a multitude of tasks.
The AGK starts with a drop point blade of 3 ½ inches long. This length is ideal for handling all field dressing chores as well as working inside the cavity of deer—not too long and not too short. The blade consists of 1095 high carbon steel because it offers good edge retention and can be easily sharpened in the field. This is one of the endearing characteristics of 1095 that makes this steel an ideal choice for outdoor blades. Because 1095 is not a stainless steel, a black oxide coating is applied to the blade to prevent rust and corrosion.
The ergonomic handle incorporates several key features that make this a comfortable knife to use for extended periods. Most noticeable is the integral hand guard that not only prevents your hand from sliding up on the blade but also helps you to choke up on the handle for more precise control during tough cuts. Emerson chose green micarta to use for its exceptional grip quality in all weather conditions and for when your hand is covered in offal. The AGK is also available in an orange G-10 handle as well.
The radius of the handle scales is rounded for a comfortable grip without any harsh corners or hot spots. There also is a large lanyard hole in the butt end of the handle should you choose to add a lanyard.
Once you get this knife in your hand, you can feel how comfortable it is and that it is built for extended use. At 8 ¼ inches overall, the AGK is a knife that is sized just right and carries well in its included high-quality sewn leather sheath. The Ashley Game Knife in either orange G-10 or green canvas micarta has an MSRP $166.06.
ESEE 4HM
Another popular ESEE model is the 4HM. It features a more conventional design with a 4.3-inch drop point blade and a more traditional shaped, round profile handle. This knife is similar to the regular ESEE 4 but with a different handle.
The 4HM is a hunting knife that is distilled to its essence. Like the Ashley Game Knife, the blade of the 4HM is ground from 1095 high carbon steel for good edge holding and superior in-field maintenance. The drop point is a classic shape that excels at camp tasks and field dressing with its generous, sweeping belly that lends itself well to skinning and slicing tasks. The blade is finished with a powder epoxy coating to ward off rust and corrosion and to maintain a low-profile appearance.
In the handle department, the scales are green canvas micarta. This material is popular with experienced knife users because is nearly impervious to caustic fluids, is dimensionally stable, and offers excellent grip quality regardless of whether your hand is wet, dry, hot, or cold. The width of the handle is such that you can get a good purchase and it fills the hand nicely, so you do not have to grip it tightly, thus reducing hand fatigue during extended use. The rounded shape eliminates hot spots and accommodates the hand better than any other handle shape. Like the Ashley Game Knife, the 4HM comes with a well-made sewn leather belt sheath that carries the knife comfortably at your side. The 4HM has an MSRP of $178.36.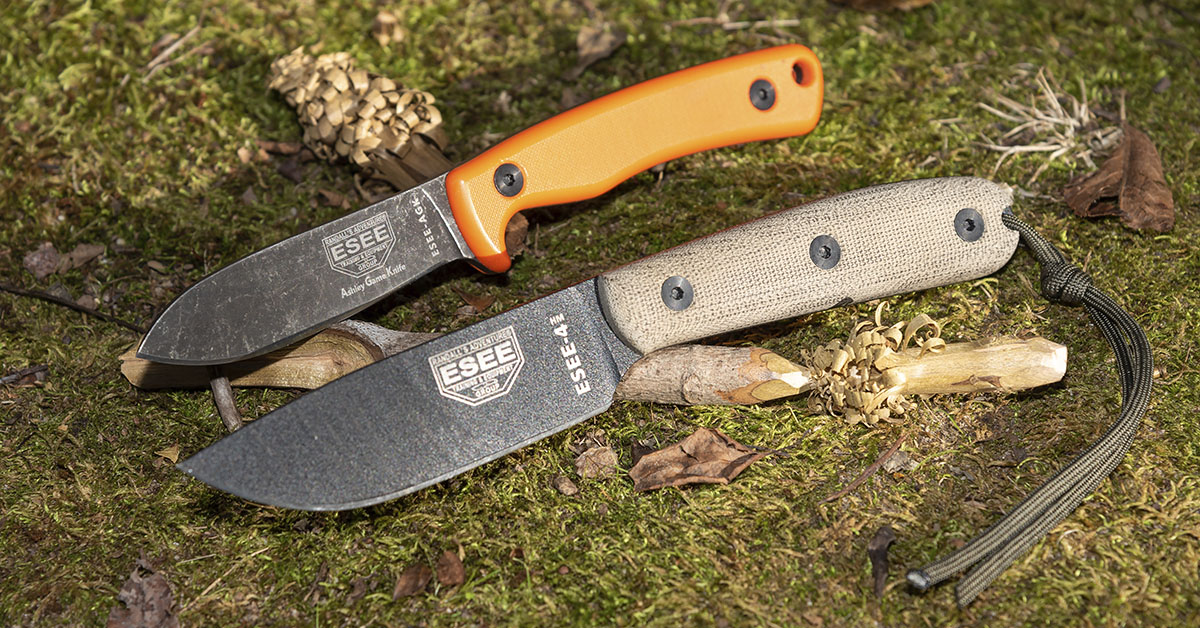 The Ashley Game Knife is a finesse type tool used for comprehensive field dressing of game animals as well as in-camp food prep. The design is agile and the blade belly has enough curve to it to handle most slicing tasks without unnecessary bulk. The 4HM, while it can tackle some field dressing chores, can also handle camp tasks with aplomb. This knife excels at heavy and rough use tasks such as but not limited to whittling, batoning, and meal prep.
When it comes down to it, what really matters when you are out in the wilderness is your survival skills and the quality and capabilities of the equipment you have with you. Either of these knives would serve you well, as well as any of the other fine outdoor blades made by ESEE. The rest of their line is like the 4HM and Ashley Game Knife—no nonsense designs that are proven to carry you through any wilderness outing.
Learn more about the ESEE Knives full product line and more by visiting the ESEE Knives website.