Ready to take an unconventional approach to home and mobile defense? Check out this two-barrel solution from Stoeger.
by Barb Melloni
As thoughts turn to firearms geared towards home defense or self-defense purposes, images of handguns and pump-action shotguns most often spring to mind. Emphasis is often put on round count first and foremost, with ease of use and maneuverability coming in as a close second and third.
Born and raised in Indiana, I always tease that I popped out of the womb with a shotgun in my hand. Growing up, it simply seemed a way of life to always have them around for shooting clays or a tasty whitetail during hunting season. I must admit that when I first unboxed the Double Defense from Stoeger, I was taken aback and had to laugh. An over-under shotgun for home or self-defense? Now how did that make sense? I soon put my foot in my mouth because after handling it and taking it out on a range session, I began to see the hidden values of this firearm, which lead me to now think of it as a wolf in sheep's clothing.

The black synthetic stock of this classic over-under style makes it ideal for whatever conditions you may throw its way. Additionally, the 14.5-inch length of pull is accommodating to most shooters. Moving up the gun, you will find a single trigger to control both barrels. This is intuitive should you need to rely upon it in a challenging scenario. Once the adrenaline is pumping, fine motor skills tend to fall by the wayside, so not having to fiddle around with figuring out which trigger controls which barrel can save you precious seconds when it matters most. The tang-mounted automatic safety is yet another favorable feature of this defensive shotgun.
The Double Defense comes optics-ready with a Picatinny rail preinstalled on the rear of the shotgun, able to accept your optic of choice. Of course, this is optional, as the gun is ready to use out of the box with its fiber optic front sight mounted on the end of the gun's twenty-inch barrel. Additional rail space is found towards the muzzle end of the firearm — perfect for additional Picatinny mounted accessories such as foregrips, flashlights, and lasers. Keep it lean and mean with just the fiber optic front sight or hang everything but the kitchen sink from the rails…you have options galore with this model.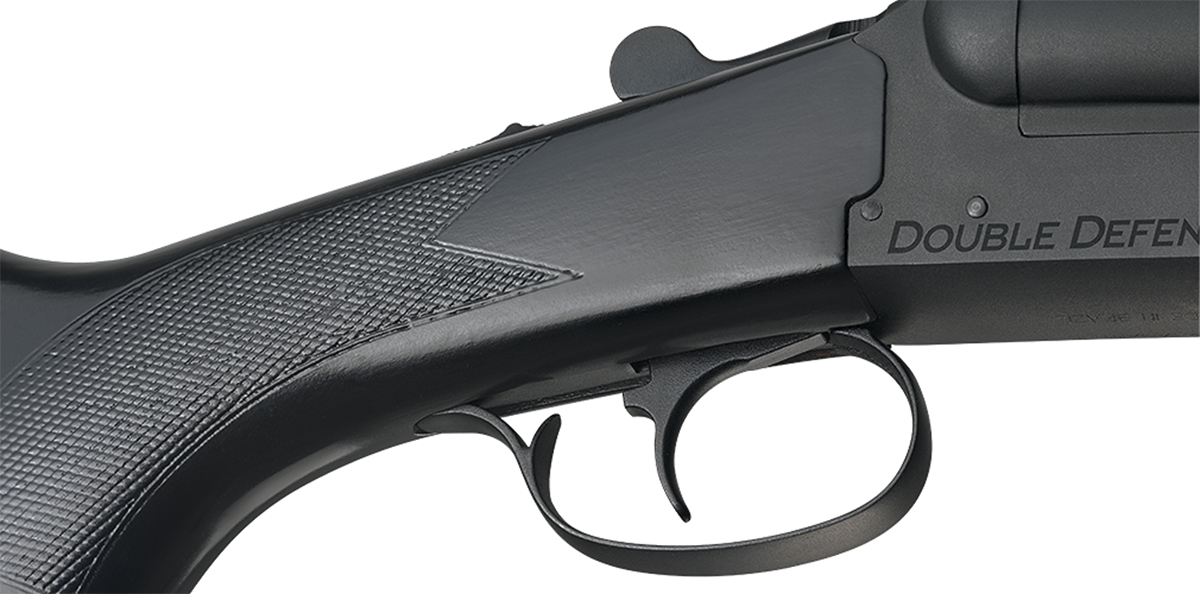 I mentioned how the Stoeger Double Defense had become a "wolf in sheep's clothing" in my mind. Let me explain. At first glance, this over under has "defense" and "unconventional tactical" written all over it. If you look into my safe, you will not find a single gun that has only one purpose. Enter stage right the wolf.
During our range session, of course, we tested this gun with buckshot often used for defensive style applications, but for a challenge with its twenty-inch barrel, we also threw some run-of-the-mill birdshot into it and took a crack at breaking clays. Was it a bit tougher than the typical shotgun I use with a 28- to 30-inch barrel? Yes! Was the Double Defense capable of breaking clays, dusting them into a sea of orange? Absolutely! Both the upper and lower barrels of this shotgun have a fixed improved cylinder choke, which puts a slight constriction on the shot being expelled, but still allows it to spread rather quickly once it leaves the gun, making it ideal for close-range scenarios.
Going back to defensive uses for this gun, if you are someone who likes to tent camp in the wilderness and not at an established campground, this gun has a nice and compact profile that makes it easy to maneuver in tight quarters. They say you can't judge a book by its cover, and the same goes for the name of a gun. The Double Defense serves double-duty as a defensive shotgun but also one for general recreation. And with a price point of less than $500, it is certainly budget-friendly.
The ammo du' jour used during our testing and evaluation of the overall functionality of the Double Defense was none other than Federal's Force X2 12-gauge 00 buckshot. As an avid fisherman, this specialized buckshot caught my attention right away, as they look nearly identical to a split-shot sinker. Specially designed to split into two separate pieces once the shot hits its intended target, this load is an excellent choice for defensive use. Each 12-gauge shotshell contains 9 of these bad boys, which doubles their impact potential upon contact. Additionally, the fact that each piece of shot splits into two is another safeguard against overpenetration, which can be a valid concern depending on your living situation.
The Double Defense ran these without any hiccups, and all controls on the gun were nice and smooth. Targets grouped well within reason at our distance of 15 yards, which is just outside the standard defensive distances of 7-10 yards.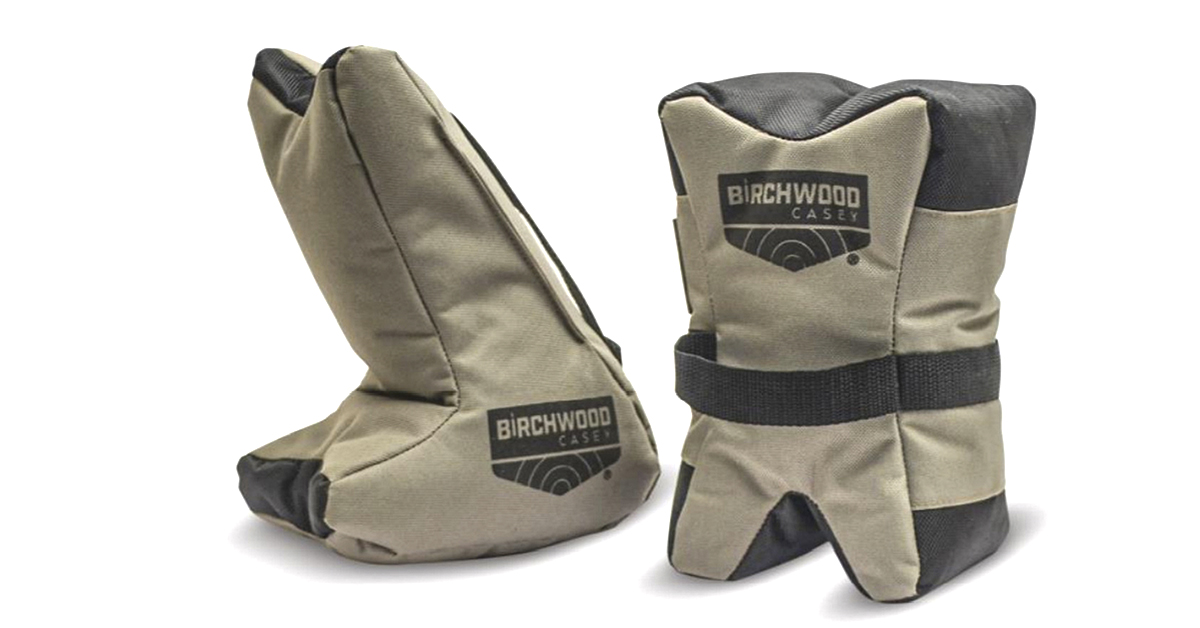 Proper testing couldn't be done without a good rest upon which to lay our gun, and in the name of things serving double duty, we called upon our Birchwood Casey Tactical Tac-Match Set shooting bags. This bag set allowed us the perfect amount of height to get us on target while the rear bag could be turned several ways to accommodate the shooter and the support needed to land shots in the x-ring. Another favorite feature of this set is the heavy-duty ballistic nylon fabric that lines the perimeter of the bag, protecting it from rips and tears due to the sharp edges of a Picatinny rail.
All in all, our experience with the Stoeger Double Defense was a pleasurable one and piqued our interest in what many may consider non-traditional platforms for defensive purposes.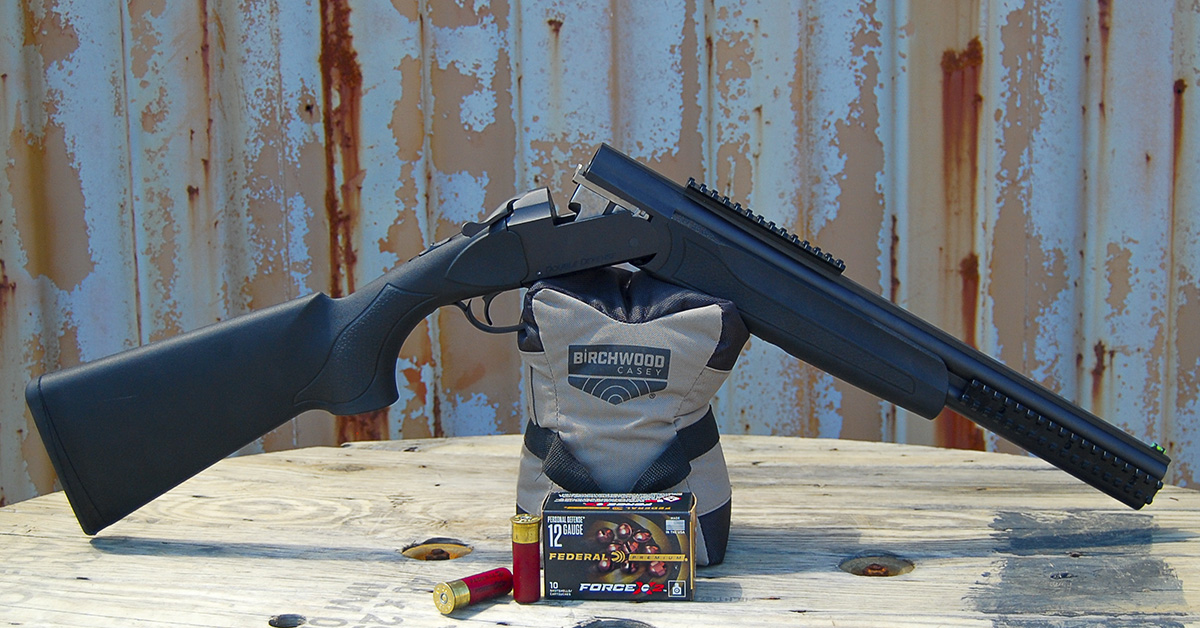 Stoeger Double Defense Specifications
Chamber: 12- or 20-gauge; 2 ¾-, 3-in.
Stock Finish: black synthetic
Receiver Finish: blued
Barrel Finish: blued
Barrel Length: 20 in.
Choke: fixed Improved Cylinder
Sight: fiber optic front
Optic Ready: yes
Action Style: over/under
Trigger: single trigger
Drilled & Tapped          : Yes
Length of Pull: 14.5 in.
Drop at Heel: 2.5 in.
Drop at Comb: 1.5 in.
Overall Length: 36.5 in.
Weight: 7.1 lbs.
MSRP: $449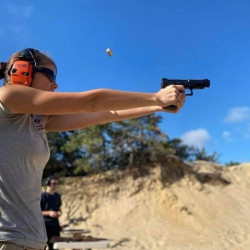 Latest posts by Barb Melloni
(see all)