Make a day at the range safe, easy, and productive with the purpose-built gear that doesn't cost a fortune
by Mark Houlahan
A trip to the range should never be frustrating. That's why we call it "range therapy." But frustrating it can be when you don't have everything you need for a safe and fun day on the firing line. This includes gear for proper organization of guns, ammo, tools, and cleaning supplies.
Maybe you installed a new optic and are heading out to zero it. Do you have the tools with you to, say, adjust eye relief? Perhaps you discover your pistol is shooting too far left or right. Did you bring a sight pusher or a hammer and brass drift to set it straight? Can you even define your pistol's shot groups without the use of a stable rest?
Forgetting the little things can ruin your big day in a hurry. We know because it's happened to us many times.
Few are lucky enough to step off their back porch and right onto their personal shooting range. With the typical range trip being anywhere from 30 minutes to an hour drive, you want to make sure you're not leaving anything behind that can put a quick end to your day. Whether it is your "eyes and ears" or that 1.5mm Allen wrench for your adjustable trigger, having what you need at the range is critical. If your gear requires a special tool, dedicate one to your range box instead of trying to remember to bring it.
Obviously, safe firearm storage is of paramount concern when heading to and from the range. Ditto for ammunition. Additional range items like safety gear, targets, extra magazines, speed loaders, and the like must also be considered as well as how you'll store them and transport them. We've all done the soft side rifle case thing, loading it with ammo, magazines, and everything else you might need to the point that the  zipper is about to bust apart. That's not the way to go. Hard case storage and separate storage for your ammunition is. Yes, you might have to make a couple trips between your vehicle and the firing line, but it is a safer way to transport your gear and keeps the shooting bench organized.
Then there are the range limitations. Most commercial ranges, be they part of your county or state's recreational system, or an indoor range at the local gun shop, usually provide limited materials for a day of shooting. For example, we have a couple of indoor ranges and one county park with an outdoor range in our area. The indoor ranges are air conditioned (a big plus during a Florida summer) but have narrow lanes with little to no ability to use sighting tools and the range is limited to 25 yards. The outdoor range at the county park has cheaper entry and goes out to 100 yards, but short of the soda machine and a bathroom at the end, is limited on niceties. And like most public ranges, we can't practice drawing from a holster.
If you or a friend has land that provides safe shooting opportunities, including a safe backstop with nothing (and the possibility of no one) downrange, that is the best option. Still, you'll need a few additional pieces of range gear, such as target stands, a shooting bench, and a gun rest. The small investment in this gear will make for not only a great day at your private range but will allow you to improve your shooting skills more easily. Best of all, everything is portable and can easily be taken home with you or stored on-site if the property has a small utility shed or garage-type building. We reached out to MTM Case-Gard for their thoughts on how best to setup a small personal range on private property and what support gear would be best suited for any trip to the range.
Firearm Transport Needs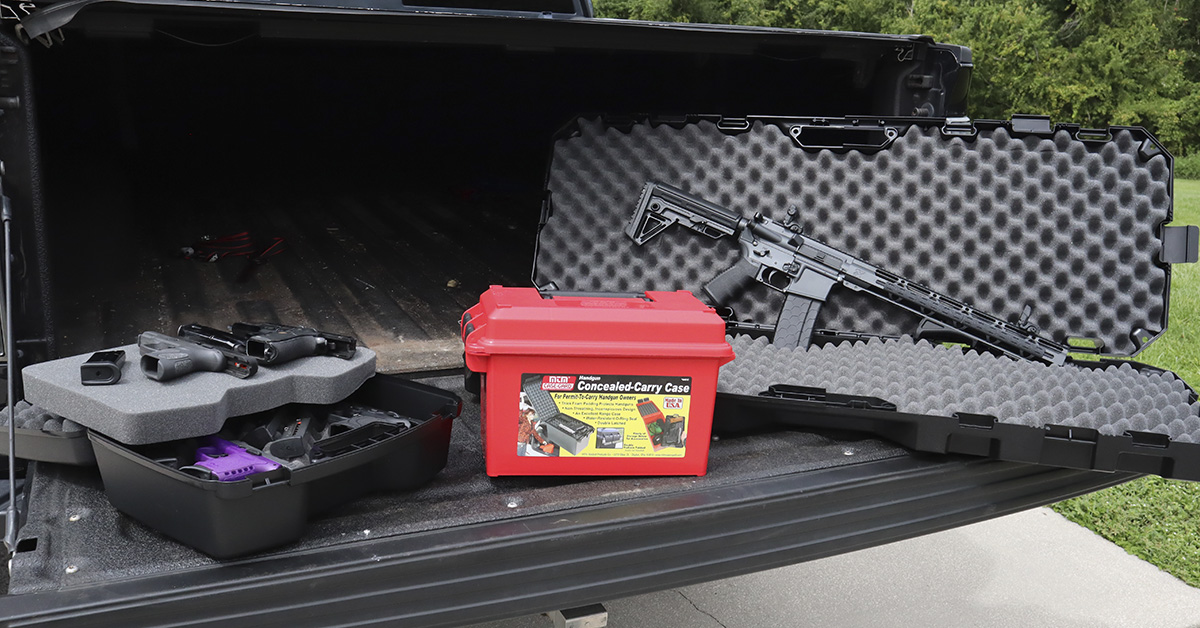 When you're ready to head out for a day at the range, you'll obviously need some secure firearm storage for the trip. Even if you're planning to shoot your EDC piece, you'll often want to bring extra magazines, maybe optional backstraps to test, and other essentials. Having a proper hard case not only protects your firearms from bumps and bruises on the road but also provides for stouter transport from the car to the range.
This is why we recommend a foam-lined plastic hard case for transport. We've all seen the single handgun hard cases that many firearms now ship in, and they usually work fine, but if your firearm arrived in a cardboard box or perhaps was a second-hand purchase, you'll need to grab some cases. MTM-Case Gard's selection of gun cases is vast. We're big fans of their multiple-gun cases, which allow you to bring several of your favorites just by loading up one case. We usually designate cases for similar-caliber firearms (say, load four 9mm pistols in one case).
MTM-Case Gard's four-pistol handgun case is the perfect solution when the whole family is going shooting, or if you like to shoot the same caliber come range day. The case easily swallows four pistols and extra magazines.
We're also fans of the MTM-Case Gard Conceal Carry Case. The ammo can-style case provides a lift out protective storage tray for your firearm and a nice bottom storage area for your safety gear, ammo, and small items.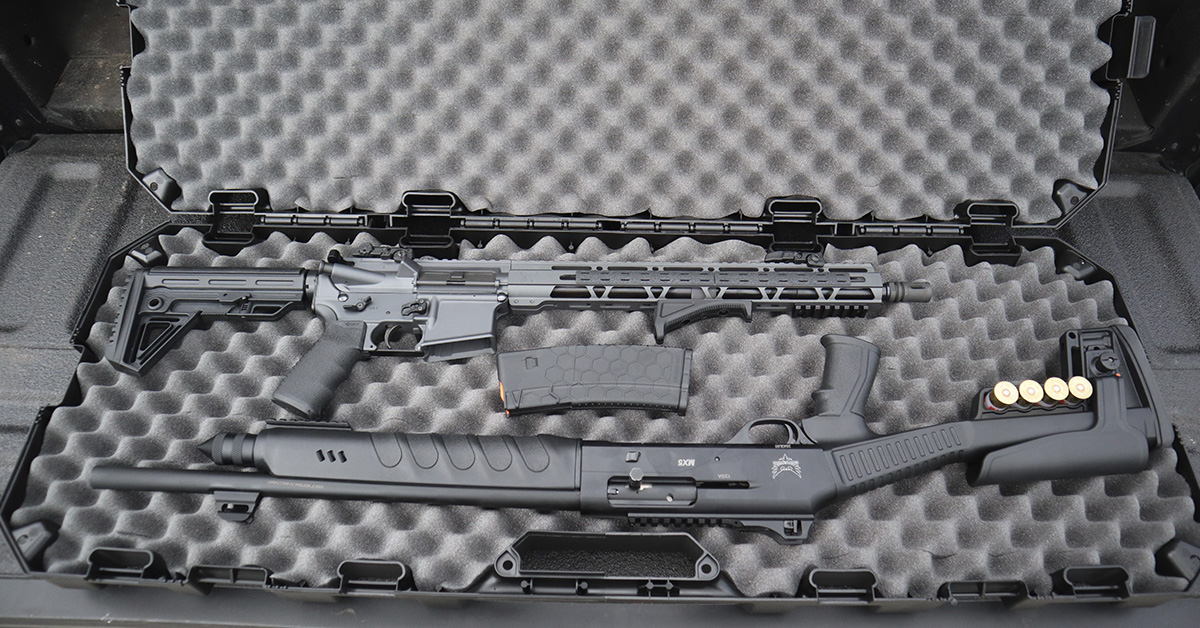 Can't forget those long guns! MTM-Case Gard's Tactical Rifle Case is the perfect solution for your AR, AK, or any long gun up to 42 inches long. We were easily able to fit our AR and tactical shotgun in this case and still have room for a magazine or two. Although not shown, the case also includes a retaining strap kit to prevent the guns from shifting around.
Ammunition Transport Needs
Much like your firearm needs safe and secure transportation, so does your ammunition. MTM-Case Gard's long list of made-in-the-USA plastic ammunition storage solutions provide plenty of options for commercial or hand-loaded ammo. From small arms cartridges to .50 BMG, MTM-Case Gard has your ammunition storage and transport needs covered. You can choose from simple flip-top storage boxes to more traditional bulk ammo cans. They even offer magazine cans to transport fully loaded magazines.
Your needs will often be determined by your range location and range time, but take it from us, you'll probably end up with a mix of storage case types, especially if you do your own reloading. The basic flip-top storage boxes are easy to transport and stack in your ammo or gun safe while providing instant visualization of round count. They also are great for the reloading bench. Larger ammo cans are good for bulk ammo storage, and MTM-Case Gard even offers .30- and .50-caliber ammo cans with storage crates for large quantity ammo transport. Finally, MTM-Case Gard's tactical magazine cans provide the perfect solution for those who prefer to do their magazine loading at home to save time at the range.
These flip-top storage cases are great for range trips. We like to order the translucent blue versions, as you can easily check cartridge count without opening them. The included cartridge ID stickers make similarly sized rounds easy to identify when grabbing ammo from your safe.
If your day at the range includes patterning that new shotgun or just busting some clays, MTM-Case Gard's flip-top shotshell holders are the perfect answer. They natively hold 12- and 16-gauge shotshells or can store 20-gauge shotshells with the included reducer insert.
Shooting Range Tools/Aids
Whether you're plinking around the farm or need to sight in a new rifle, being able to "bring the range with you" is priceless. This is where portable range gear like a folding shooting bench, convenient target stands, and compact shooting rests shine. Even on commercial ranges, things like a mobile shooting rest and your own dedicated target stand can make for more productive range sessions.
If you plan to bring your own targets and shooting table to a commercial range, it is a good idea to check with the range safety officer to verify that you can use your own gear. Some ranges only allow use of their target holders, stands, and other equipment for safety or liability reasons. Of course, if you're on private land your options are unlimited, and MTM has some handy solutions to turn an empty field into a custom range.
The most critical piece for any range day is going to be a shooter's bench like the Predator Shooting Table. It is compact, lightweight, and portable, yet provides you with a stable platform for general target shooting, zeroing, or to hunt open areas for varmints like groundhogs and prairie dogs.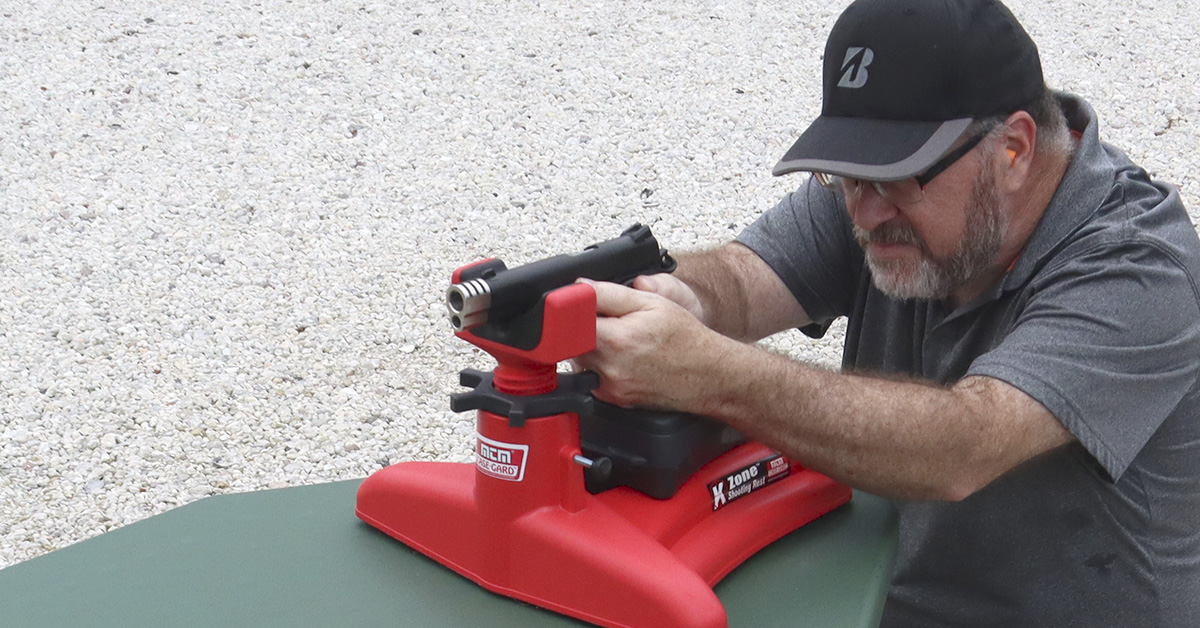 MTM-Case Gard's K-Zone Shooting Rest offers a solid support for handgun shooting — a must-have when adjusting open sights or zeroing a red dot. The rest is also adjustable for rifle use and can easily be weighted by adding lead, pea gravel, or other material to the removable weight compartment.
Obviously, you need something to shoot at. While pine cones and tin cans might be suitable for some plinking fun, precision shooting demands a bullseye or zeroing target. The MTM-Case Gard Jammit Target Stand and target backer fit the bill nicely. The two-piece design makes it easy to transport, and you can stick it in the ground at whatever distance you need.
Support Materials
A day at the range means a must-do shift at the workbench to clean all your firearms before they're placed back in the safe. You can do yourself a big favor by doing a "pre-cleaning" before packing up to head home. We're not talking about a full, detailed disassembly of the firearm but rather a quick "knock the gunk off" before packing up. Performing this at the range while the barrel is still warm will make bore cleaning much easier at home.
Additionally, we like to ensure we have basic firearm tools to allow us to make field adjustments, install or remove accessories, mount optics, adjust triggers, and the like. We won't lie. We've had our range day cut short because we forgot to bring the proper Allen wrench to adjust a new red dot. Another time our buffer tube retaining nut backed off and we didn't have an armor's wrench with us. Keeping a basic tool kit that covers your essential firearms, work gloves, work mat, and common replacement small parts can be the difference between a great day at the range and packing everything up and going back home for what should have been a five-minute fix at the shooting bench.
A quick wipe-down and running a bore snake through your barrel before packing up for the day will be a big help until you can do a proper bench cleaning at home. MTM-Case Gard's Tactical Range Box is a great solution for these quick clean procedures, or if your rifle needs any work at the range. The upper tray is perfect for all your needed cleaning bits, and you can store larger items like a cleaning mat in the bottom. Our Real Avid cleaning kits and cleaning chemicals fit perfectly in this box.
We prefer to keep our range tools in this MTM-Case Gard Sportsmen's Plus Dry Box, separate from our cleaning items. This allows us to leave our dry box in the vehicle, but still be within close walking distance if we need a tool to tighten a loose screw or, in this case, move an angled foregrip. Our Real Avid Smart Drive set, Bench Block, and other tools fit perfectly.
Once you're home, it's time to break out the work mat, cleaning supplies, and perform a deep clean. Real Avid's line of Smart Mats feature integrated parts storage trays, no-slip backing, and are oil-resistant — the perfect solution to bench top cleaning sessions. Grab one of Real Avid's caliber-specific cleaning kits along with Bore-Max solvent and Gun-Max lubricant and you'll have your firearms cleaned, protected, and ready for the next range day in no time.
Latest posts by Mark Houlahan
(see all)