A factory rifle with several customizable features and winning technologies make Benelli's BE.S.T Lupo Bolt-Action a shooter that will put lead on the mark and make all your big-game dreams come true.
by Jace Bauserman
I've crumpled my share of ducks and geese with Benelli shotguns. Models like the Super Black Eagle, Super Black Eagle 3, Nova, and SuperNova are held in high regard in the world of waterfowl. 
Why?
They perform as advertised. Benelli's shotshell shooters are as tough as they come, cycle brilliantly, throwdown and swing with gentle ease, and are loaded with purposeful technologies. Build shotguns that heed the waterfowl call and waterfowlers will take notice. 
While I've cycled thousands of rounds through multiple Benelli shotgun models during my outdoor tenure, I'd yet to hold one of the manufacturer's rifles. 
I'd heard good things — the BE.S.T. Lupo Bolt-Action had some great reviews, and a few of my rifle-hunting amigos had taken down elk and mule deer with the rifle. Benelli brands the bolt-action as remarkably accurate, adjustable, comfortable, and, of course, durable. It was time to see what all the fuss was about.

I'm a sucker for Sitka's Open Country camo pattern, and the stock with included Combtech cheek pad grabbed my attention from the get-go. Upon further inspection, it was clear the rifle had a chassis-style configuration. Unlike most bolt-action rifles that boast one-piece stock designs, Benelli's BE.S.T Lupo Bolt-Action features an individual stock, receiver, and forend. More to come on why. 
The rifle's receiver greatly resembles features from top-end Benelli shotgun models. I like the angled trigger guard, the adjustable trigger position, and the trigger's distance in relation to the stock's gridded palm-swell area. I also appreciated the spacers (several included), which fit between the stock and receiver to further customize finger reach.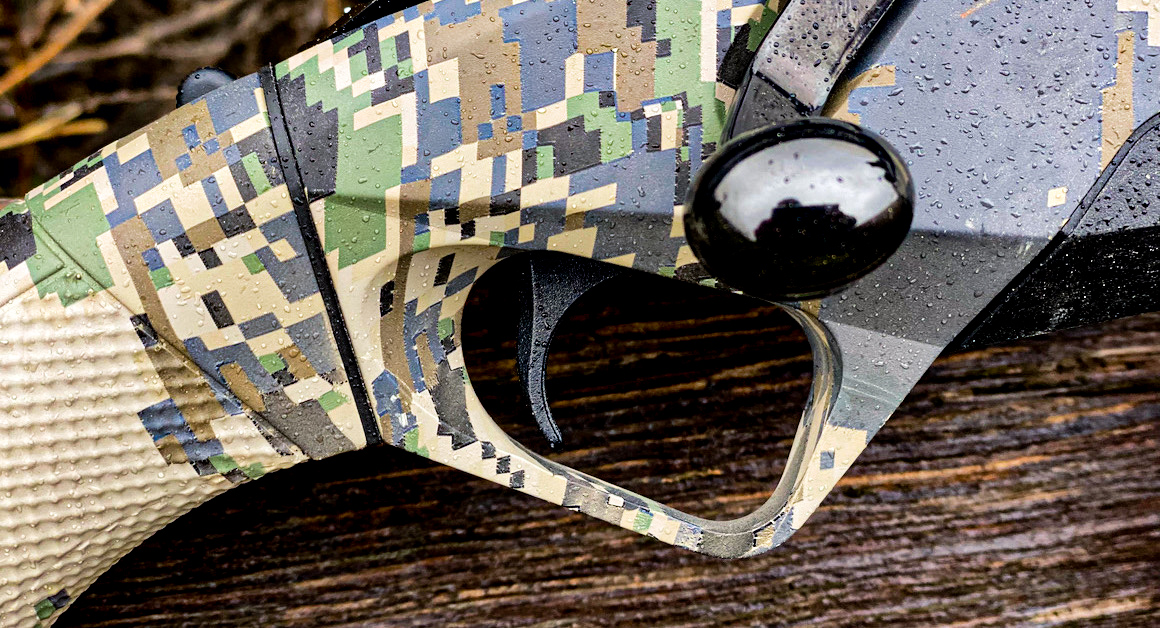 Other immediate noticings include a smooth action with a solid bolt design that features a semi-short throw for rapid reloading. The 24-inch barrel is threaded, and Benelli includes a muzzle brake. Also, Benelli had gone the extra mile in the customization department — the rifle comes with multiple length-of-pull spacers.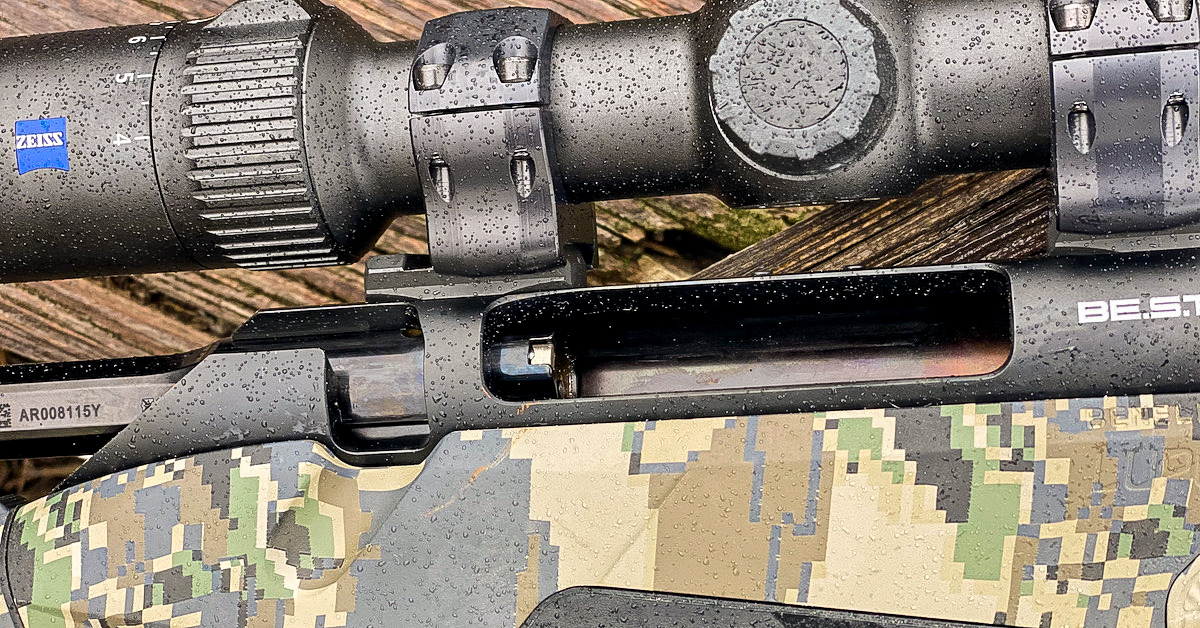 Benelli sent its BE.S.T. Lupo Bolt-Action chambered in .300 Win. Mag. — an excellent western big-game caliber. I love the cartridge's knock-down power, and I've found few rounds to be more accurate at extended ranges. 
The removable spring-loaded magazine is smooth, and I appreciated the individual slots (double-stack), which made feeding the mag a breeze. Benelli dubs the magazine as a 5-round magazine; I could fit four Hornady 200-Grain ELD-X rounds with ease.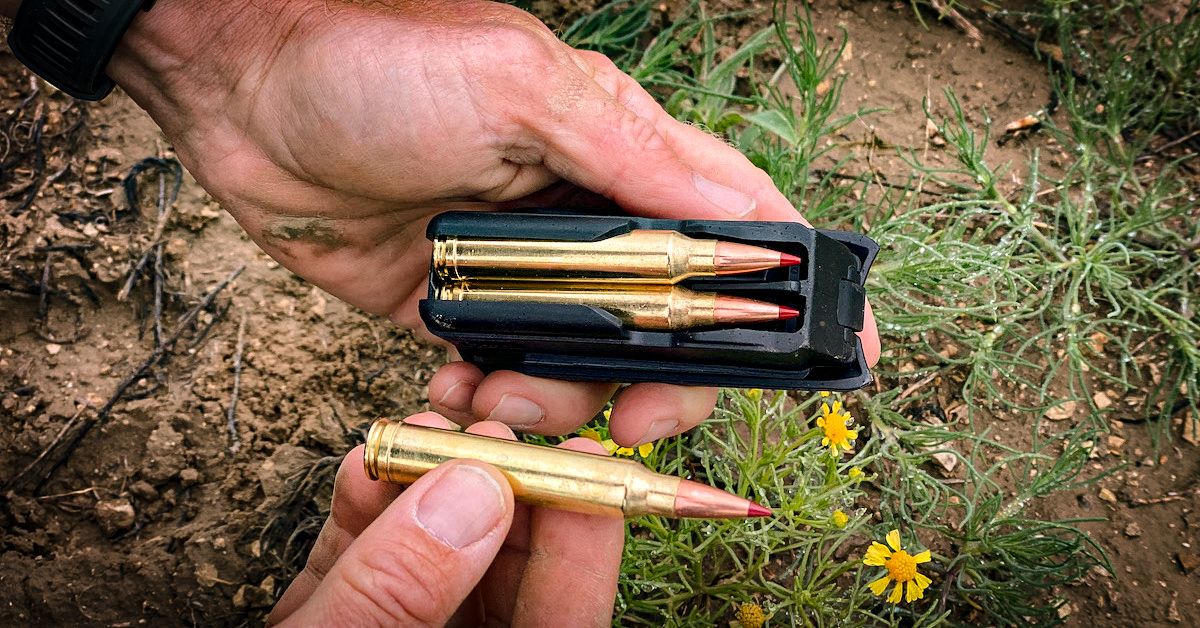 The rifle is neither ultra-heavy nor ultra-light at 7.1 pounds without an attached scope or payload. The attached Zeiss Conquest 4 4-16×44 added some bulk, and while this scope doesn't add to the rifle's carry-across-the-West appeal, it does add to its long-range ability. 
The gun felt solid and balanced on the bench as most rifles do. I like the location of the safety — right at the top of the stock where the stock and receiver join. The thumb-activated safety is smooth and easy to operate.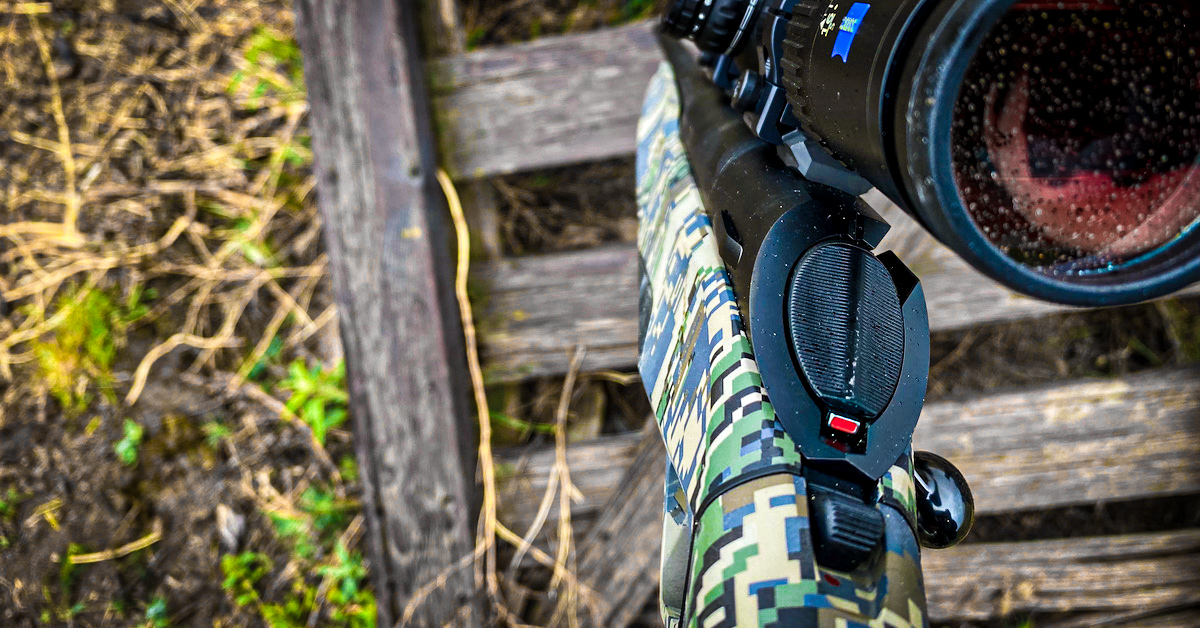 The Combtech cheek pad is a pillow for the face, and I applaud its build. The cheek pad promoted the ideal eye-to-scope alignment, and after removing the bolt and magazine and performing a quick in-the-field bore sight, I sent lead at 50 yards. 
Before I get too far ahead of myself and dive into how this rifle will be a tremendous long-range hero, let me first address the adjustable trigger. I didn't adjust the trigger, and in my opinion, there is no need. The trigger welcomes the finger, and when pressure is applied, it's right there — zero creep — crisp, smooth, and clean. I will dub this from-the-factory trigger as one of the best I've ever pulled.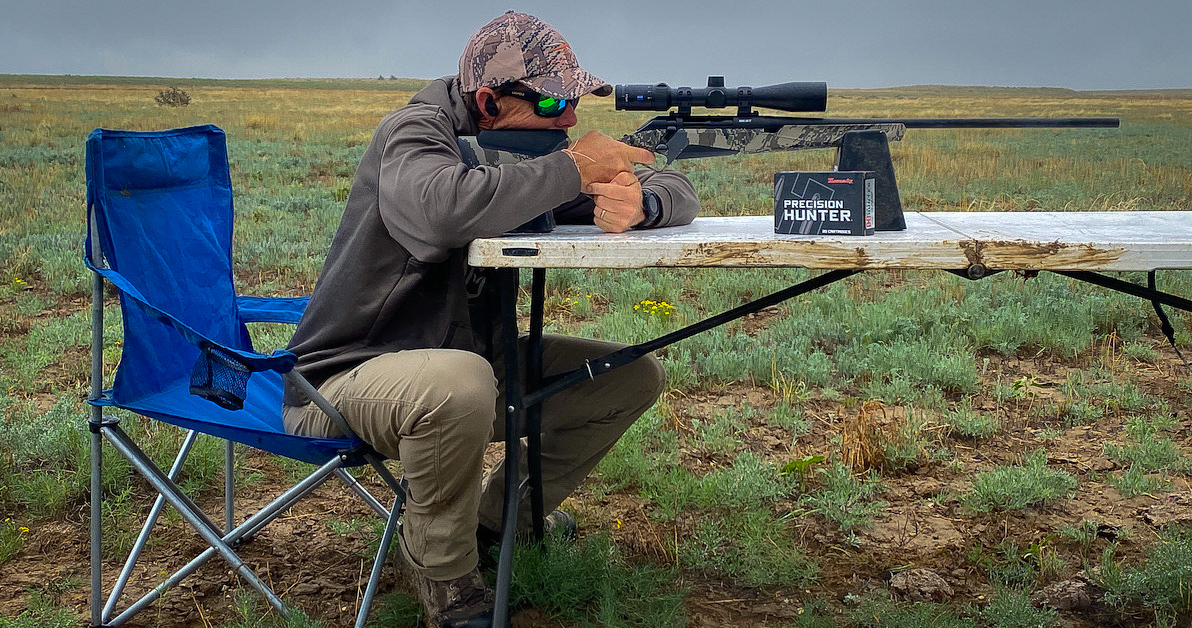 Before squeezing off that first shot, I opted not to add the threaded muzzle brake. I've shot .300 Win. Mags that were zero joy to shoot, and I wanted to see how bad this rifle abused the shoulder without the muzzle brake in place. 
Yes, there is recoil, and no, it's not bad. In fact, after my first shot, I had my 16-year-old son shoot the Lupo Bolt-Action off a pair of BOG Adrenaline Bipod Shooting Sticks. He squeezed off a two shots and said, "Dang, that's not too bad." Of course, recoil was reduced further when I added the brake. The Progressive Comfort System recoil pad is another feature that keeps the Ibuprofen in the bottle. This rifle does not produce the type of recoil that causes target panic and herky-jerky trigger squeeze.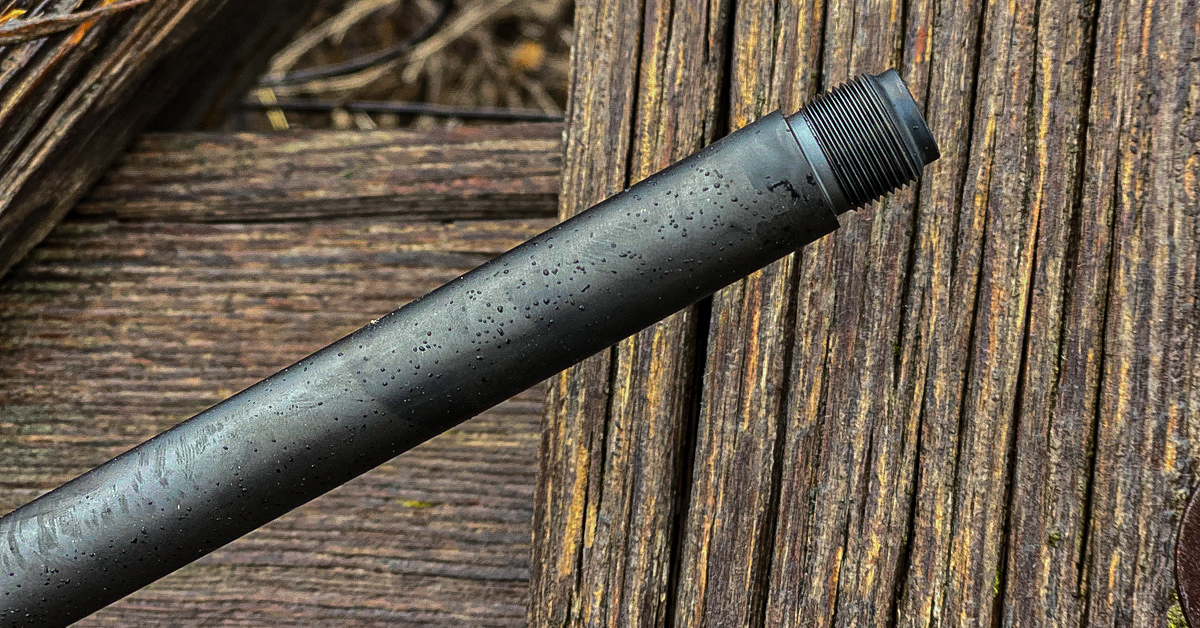 After getting the rifle zeroed 1.5-inches high at 100 yards, I started to stretch its legs. Of course, the combination of Hornady ammo and Zeiss' Conquest 4 scope helped the process along, but I can promise you this 1:11 twist-rate shooter is a tack driver, and over two days, I rang steel at distances of 500, 600, 700, and 800 yards with ease. The bolt's throw is quick and smooth, and the double-stack box magazine ensures no hang-ups. 
As for grouping, my best 3-shot group at the max test distance of 800 yards fit inside a 10.5-inch diameter circle. I was using Birchwood Casey's Nest Two-Piece Shooting Rest off the bench. I don't claim to be a long-range shooter, but I would have zero issues settling the crosshairs on an 800-yard elk and squeezing the trigger with this setup.
I also shot Benelli's fancy-to-do .300 Win. Mag. off shooting sticks and prone off a backpack. The gun is as accurate as the day is long. It liked Hornady's 200-Grain ELD-X bullets, and though drop at 500 yards was over 40 inches, if I did my job, the rifle did its work.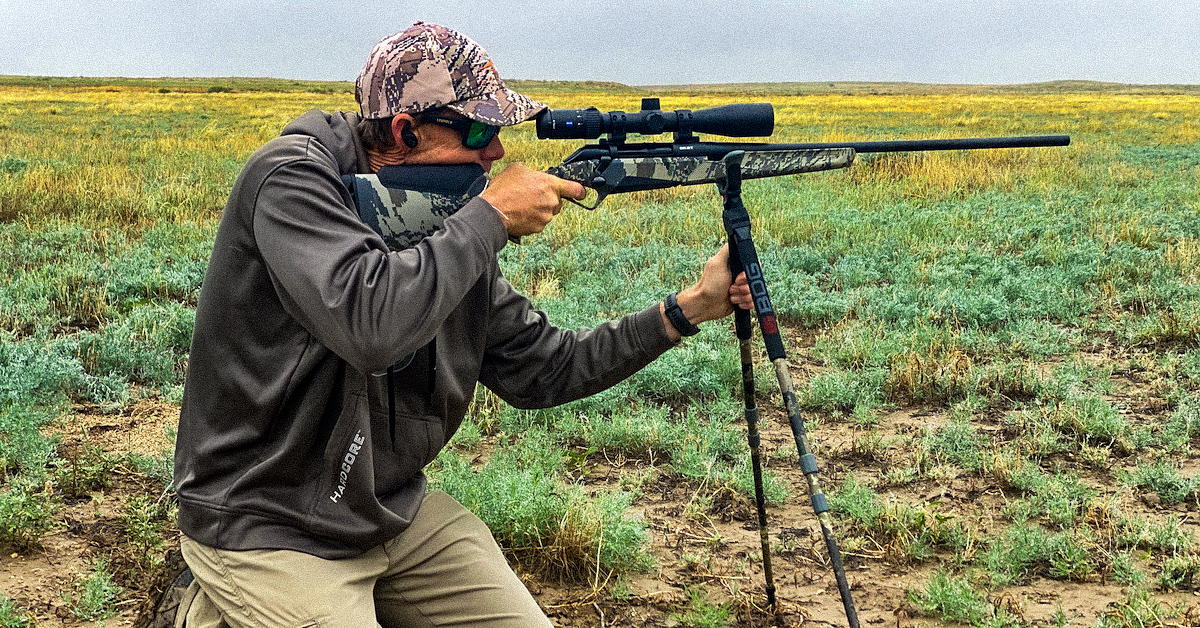 Originally, Benelli sent me this gun to tote along on an Alaskan black bear adventure. This is the reason for the uber-heavy bullets. For testing, I also fired Norma's TipStrike .300 Win. Mag. 170-grain rounds and Hornady's 180-grain SST rounds. Drop was less with both rounds, and the 180-grain SSTs provided the most consistent downrange accuracy. An illness kept me from the hunt, but I have long-range elk plans this fall.
I didn't add shims or alter the rifle's length of pull, and it fit me perfectly; however, if you opt to add shims or swap out the Performance Comfort System to adjust the length of pull and take advantage of 36 drop and cast stock positions via included shims, the process is easy. Insert a Phillips screwdriver into the holes in the recoil pad, remove the recoil pad, two more set screws, and you're good to go. With the Performance Comfort System pulled out, you can also remove the stock via a bolt — like with a shotgun — and add shims. Customization is why this rifle sports an individual stock, receiver, and forend.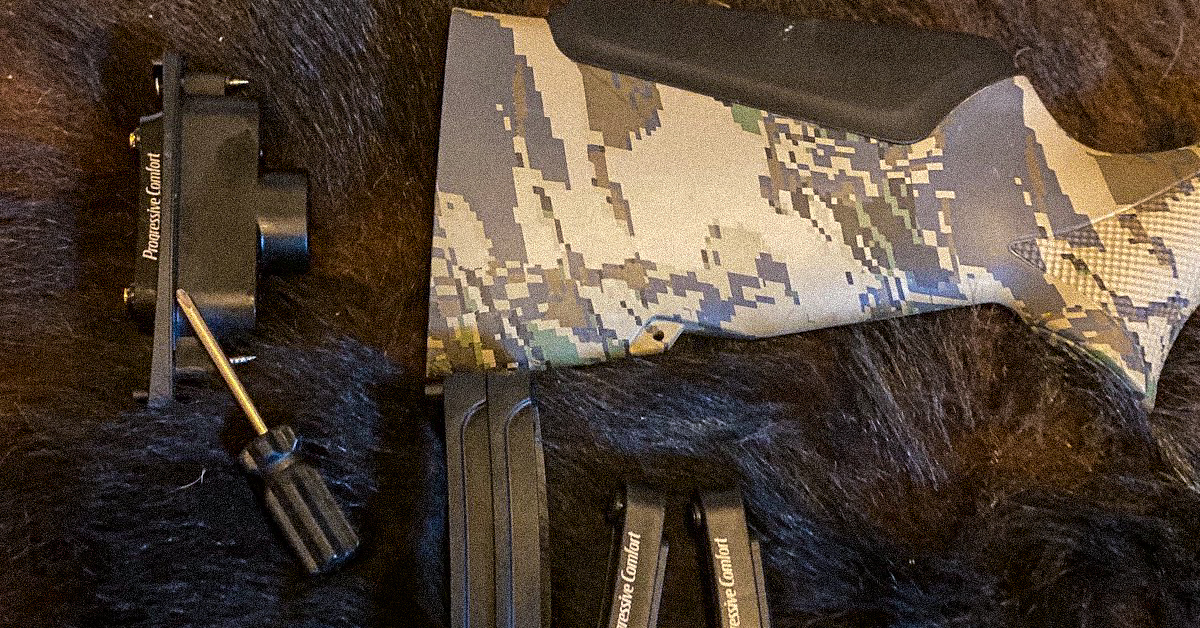 I can't pen much about the rifle's durability, as I didn't get to tote it on the planned bear hunt, but I will write that the BE.S.T. surface coating does a remarkable job of protecting the steel, as two days of testing were performed in the rain. I do believe that as much as this rifle reminds me of some of Benelli's shotgun greats — shotguns that can take a beating and keep on keepin' on — it will be an excellent in-the-field companion.
Though the BE.S.T. Lupo Bolt-Action .300 Win. Mag isn't a gun I'd want to tote across the western landscape for days on end for spot-and-stalk ventures, especially with the long-range Zeiss scope attached, it will be hard to beat in terms of a sit-and-wait western rifle that will deliver remarkable accuracy and tremendous knock-down power. 
Benelli B.E.S.T Lupo Bolt-Action .300 Win. Mag
Caliber: 

.300 Win. Mag

Barrel Length: 

24 in.

Grip:

standard

Stock Configuration:

 Progressive Comfort

Hand-Dominance:

r

ight-hand

Twist Rate:

 1:11

Magazine Capacity:

 5+1

Action:

bolt

Threaded Barrel:

yes/adjustable/13.8 in. -14.75 in. 

Length of Pull:

adjustable/46.625 in.

Weight: 

7.1 lbs.