The BATFE will implement rule changes to "firearms with an attached stabilizing brace" in a few months. Now is the time to legally convert your AR pistol with an arm brace to a short-barrel rifle.
by the Shoot On staff
The Bureau of Alcohol, Tobacco, Firearms and Explosives believes the number of "stabilizing braces" — devices attached to the buffer tube of AR-platform firearms with sub-16-inch barrels in order to stabilize the gun for one-handed shooting — is between 3 and 7 million units (as sold between 2013 and 2020).
Wrap your head around that for a second. Just assuming the average, that would be 5 million AR pistols with stabilizing braces currently in the hands of American citizens with the intended use for lawful purposes.
Now, here's the cold shocker for those of you who haven't been paying attention to the goings on of BATFE decision-makers since at least last summer. Those 3 to 7 million owners of AR pistols featuring stabilizing braces will risk being turned into felons on August 1, 2022, if they have said firearm(s) in their possession and have not previously completed NFA Form 1 and obtained an NFA tax stamp for these firearm(s).
You read that correctly.
Most AR fans are familiar with "AR pistols" and stabilizing arm braces. AR pistols are considered to be AR platform firearms with barrels under 16 inches in length (the minimum length for a non-NFA rifle) and lacking any device intended to make the firearm operational via shoulder mounting (fired from the shoulder). In other words, a conventional AR buttstock mounted to a sub-16-inch barrel AR firearm is considered by the BATFE to be a short-barrel rifle, not a pistol. Such a firearm is regulated under the National Firearm Act and requires a proper BATFE application and NFA tax stamp to be legally possessed.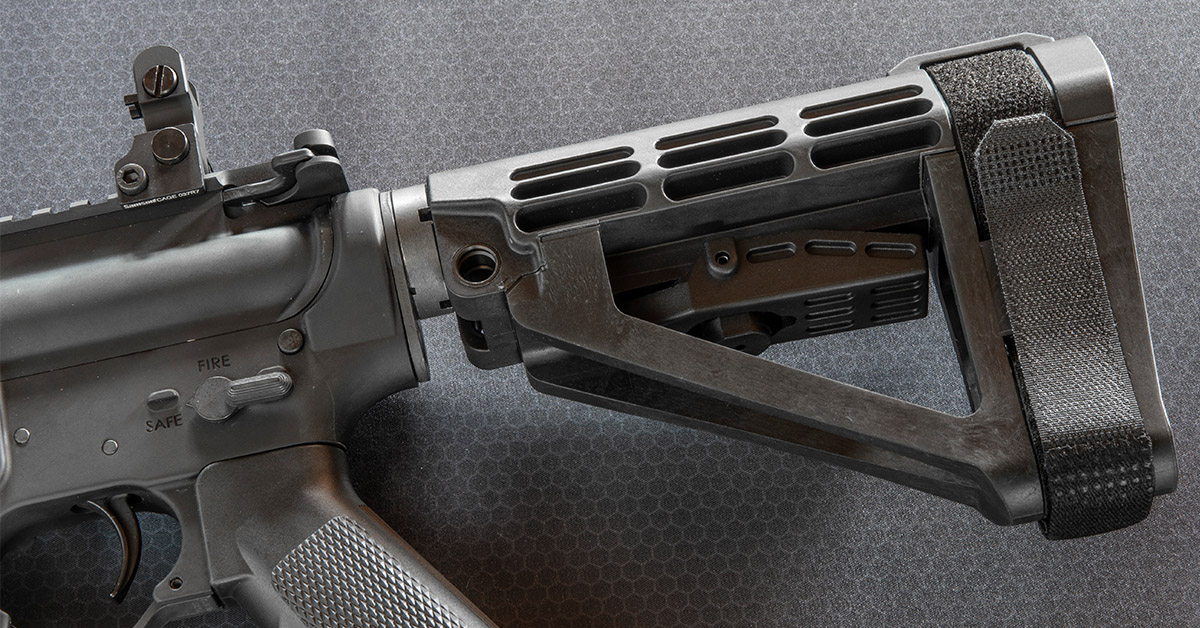 Last summer, the BATFE signaled their intent to eliminate the "stabilizing brace" exemption because they felt legal gun owners were abusing the design intent of the stabilizing brace, using the devices as a "shoulder mount workaround" as opposed to the intended purpose of stabilizing an AR pistol against the support arm. Cries of protest from the shooting community and industry notwithstanding, the BATFE moved forward with their plan to remove the stabilizing brace exemption for AR pistols, effectively classifying former AR pistols with stabilizing braces as NFA short-barrel rifles.
We were alerted to the timeline for this rule implementation with the publication of Introduction to the Unified Agenda of Federal Regulatory and Deregulatory Actions-Fall 2021, which dropped on January 31, 2022. According to BATFE published documentation, the final rule will go into effect in August of this year. So, as of this writing, everyone who wants to continue legal possession of their AR pistol with an arm brace has about four months to submit NFA Form 1, pay the $200 NFA tax stamp, and receive final approval from the BATFE to convert their pistol to a short-barrel rifle.
You may be wondering why, with such a large number of firearm owners being impacted by this rule change (the cost to the individual being, at minimum, the financial loss of their arm brace or $200 for the NFA tax stamp), the BATFE would not at least "grandfather in" all existing AR pistols with stabilizing braces? Well, you can wonder all you like, but it's not happening. According to the BATFE, "Without this rule, public safety will continue to be threatened by the criminal use of such firearms, which are easily concealable from the public and first responders."
The net result: criminals are going to criminal and law-abiding gun owners are going to suffer more restrictive rules, regulations, and financial impact.
Since this new regulation will certainly not be rolled back during the span of the current administration, we are left with few options. Here they are per the BATFE:
Options for Affected Persons
As mentioned, ATF wants to assist affected persons or companies and is providing additional information to aid them in complying with Federal laws and regulations. Below are options for those persons that may be affected upon publication of a final rule.
Current Unlicensed Possessors
In order to comply with the provisions of the NFA, current unlicensed possessors of a firearm equipped with a "stabilizing brace" and a barrel length of less than 16 inches that would qualify as a "short-barreled rifle" as indicated on the ATF Worksheet 4999 contained in this proposed rule would need to take one of the following actions before the effective date of a final rule.
(1) Permanently remove or alter the "stabilizing brace" such that it cannot be reattached, thus converting the firearm back to its original pistol configuration (as long as it was originally configured without a stock and as a pistol) and thereby removing it from regulation as a "firearm" under the NFA. Exercising this option would mean the pistol would no longer be "equipped with" the stabilizing brace within the meaning of the proposed rule.
(2) Remove the short barrel and attach a 16-inch or longer barrel to the firearm thus removing it from the provisions of the NFA.
(3) Destroy the firearm. ATF will publish information regarding proper destruction on its website, www.atf.gov.
(4) Turn the firearm into your local ATF office.
(5) Complete and submit an Application to Make and Register a Firearm, ATF Form 1 ("Form 1"). As part of the submission, the $200 tax payment is required with the application. Pursuant to 27 CFR 479.102, the name, city, and state of the maker of the firearm must be properly marked on the firearm. All other markings, placed by the original manufacturer, should be adopted. Proof of submission of the Form 1 should be maintained by all possessors. Documentation establishing submission of Form 1 includes, but is not limited to, eForm submission acknowledgement, proof of payment, or copy of Form 1 submission with postmark documentation.
Obviously, options 3 and 4 are non-starters. Option 1 results in the financial loss of the stabilizing brace and reduces practical function of the firearm. Option 2 has merit, but it nullifies the firearm's mobility and CQB effectiveness — the very reasons many personal defense practitioners acquired an AR-platform pistol in the first place.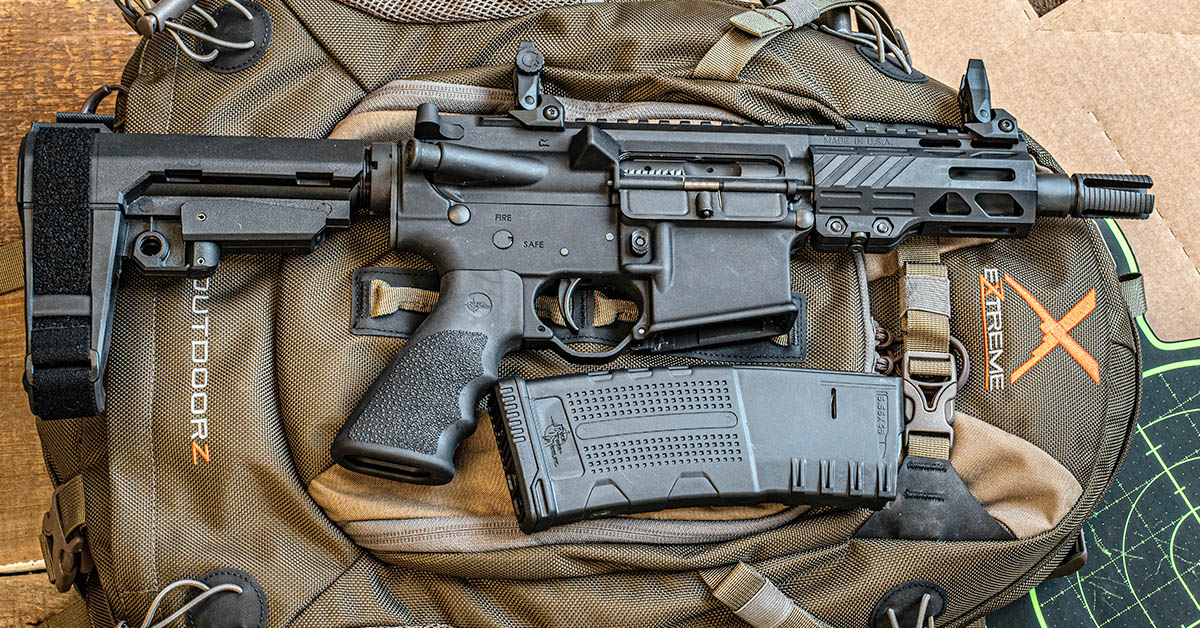 For most of us, option 5 is the best option. By submitting Form 1, paying the NFA tax stamp, and receiving BATFE approval, the AR pistol with a stabilizing brace becomes a legal-to-possess NFA short-barrel rifle. Yes, you spent $200 on the tax stamp, but you saved the cost of the arm brace (should you decide to keep it) and can now shoulder the rifle for operation. Better yet, in our opinion, this allows you to install a proper buttstock, providing much-improved function and accuracy potential.
Of course, the ability to "convert" your AR pistol to a short-barrel rifle is dependent upon state and local laws, so you will need to check with the proper authorities before going down this road.
Should you decide that you want to convert your pistol to an SBR, we have a bit of good news. The process is fairly simple thanks to the recently introduced BATFE eForm application process. This new electronic filing system eliminates the old paperwork submission circus and makes the application process quicker and more efficient. Word on the street is that the turnaround time for application approval runs 60-90 days. We've heard that it can be much quicker than that. As soon as we receive our final approval, we'll amend this here and let you know how long it took.
Interestingly, we knew nothing about this new process until we stumbled across it while visiting the 80% Lowers website. These folks do a FABULOUS job of walking you through each step of the eForm application process to convert your AR pistol into an SBR. We followed their steps while making our own application and it was straightforward and not at all confusing. If you plan to do the same with your AR pistol, we recommend you run through their tutorial to get comfortable with the process and familiarize yourself with what you need to know before you do it. We set aside an evening after work to do it and found it to be stress-free. If you have everything lined out before you start, you can complete the process in 30-45 minutes.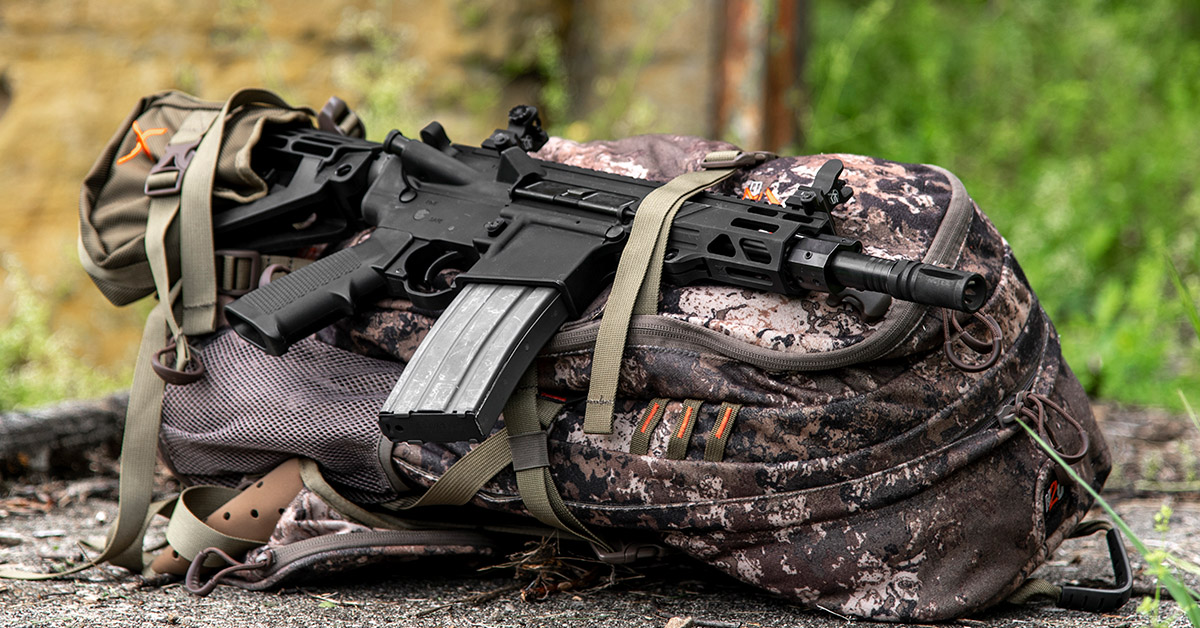 The only non-electronic part of the process is obtaining and submitting your fingerprints on the approved FD-258 fingerprint card. For this, we hit our county courthouse, where a LEO friend helped with the print swiping. You can also order the cards (you need to submit two sets of prints) direct from the BATFE or order a fingerprint kit with ink and the FD-258 cards from Amazon and do it yourself.
The caveat is that once you have completed the electronic Form 1 and have received the cover letter from the BATFE (which must accompany the fingerprint cards), you only have 10 days to get the fingerprint cards and cover letter to the BATFE. So, definitely get your fingerprints taken care of BEFORE you start the filing process.
Owners of AR pistols with stabilizing braces are certainly being served a crap sandwich with these new rules. For now, it looks as if we're going to have to swallow it. The important thing is that the window is fast closing for compliance. We wanted to get the heads up to Shoot On readers now so you can take advantage of the quicker online filing process and beat the rush that will inevitably come as the rules change goes into effect in August of this year.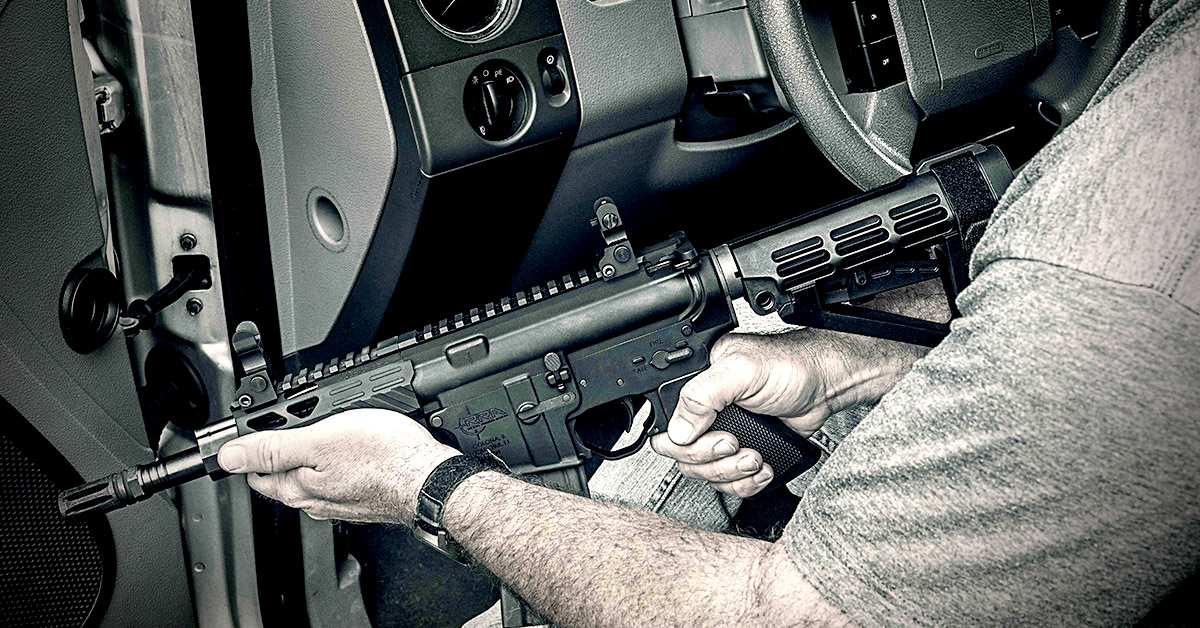 Latest posts by Shoot On Staff
(see all)