A top-shelf look at one of the more interesting holster brands on the market today
by Barb Melloni
Searching for the right EDC holster can be a frustrating exercise. One reason is because there are so many to choose from in terms of style, material construction, carry style, and features. The pragmatist in us says only practical function matters. Well, that is certainly the first box to check off in the hunt for a holster. It must, before all else, serve its primary purpose of keeping your handgun at the ready and quick to draw in the event of a defensive situation. After that, the options quickly widen to areas involving taste and personal style.
Versacarry is one of those holster manufacturers that understands the big picture and gets that versatility is a key component of any reliable EDC holster system. Whether you are looking for options that include retention, accommodations for red dots, adjustable cant, tension, and more, versatility is the name of the game with the products that Versacarry brings to the table.
With more and more states finally yielding to our Constitutional right to carry firearms unrestricted, style is becoming more important to many EDC practitioners. This is one area where Versacarry holsters set themselves apart, with delicious blends of rugged leather, Kydex, and carbon fiber holster materials that not only perform their core function but look darn good while doing it.
Here, we want to look at several of the top EDC holsters offered by Versacarry to help those of you who are in the market for a new holster to wade through the options and styles.
Trooper OWB Holster
Constructed of buffalo leather, the Trooper OWB holster stands out from the rest — notably for its retention strap. Adjustable and released with a quick snap of the thumb, access to your sidearm happens in a blink. Drawing from this holster once the retention system is released is quite effortless, as the forward cant of the holster positions the gun into an optimal position, eliminating fumbling and awkward draws. MSRP $54.99.
Obsidian Deluxe IWB Holster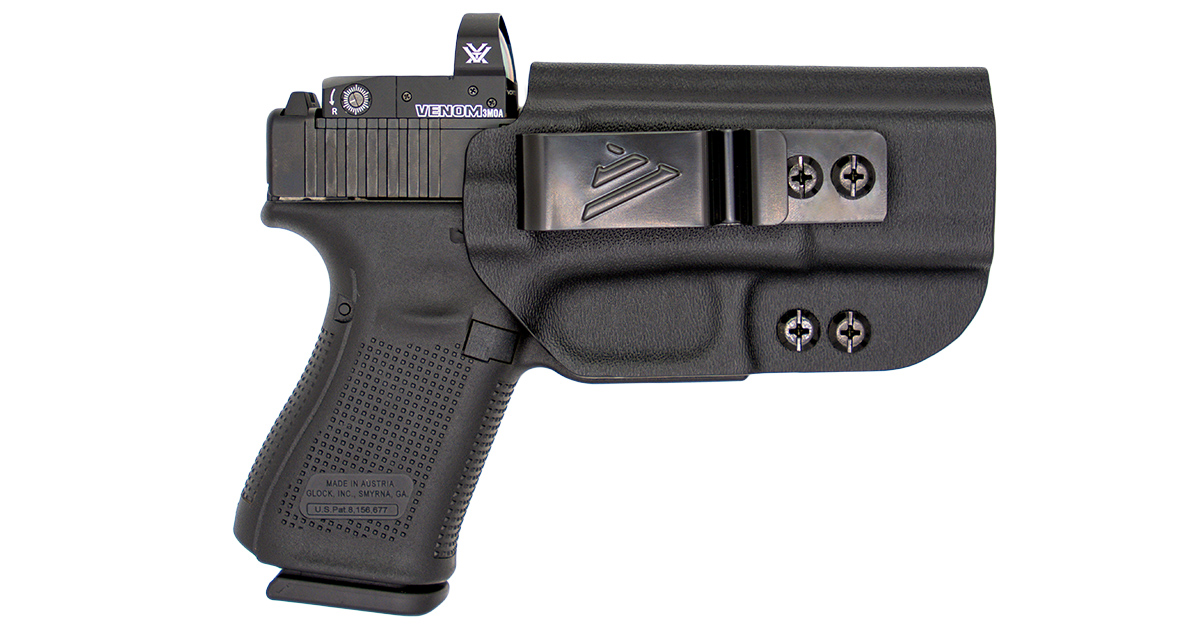 Bringing a bit of variety to those who may prefer polymer over leather is the Obsidian Deluxe IWB holster. This is part of a new line recently launched by Versacarry that boasts customization options allowing you to create a sacrifice-free EDC holster solution. Upon slipping onto your belt, you will have the option to adjust the cant, grip concealment, retention, and more while remaining comfortable all day long due to the raised backer. MSRP $34.99.
Modular Bag Holster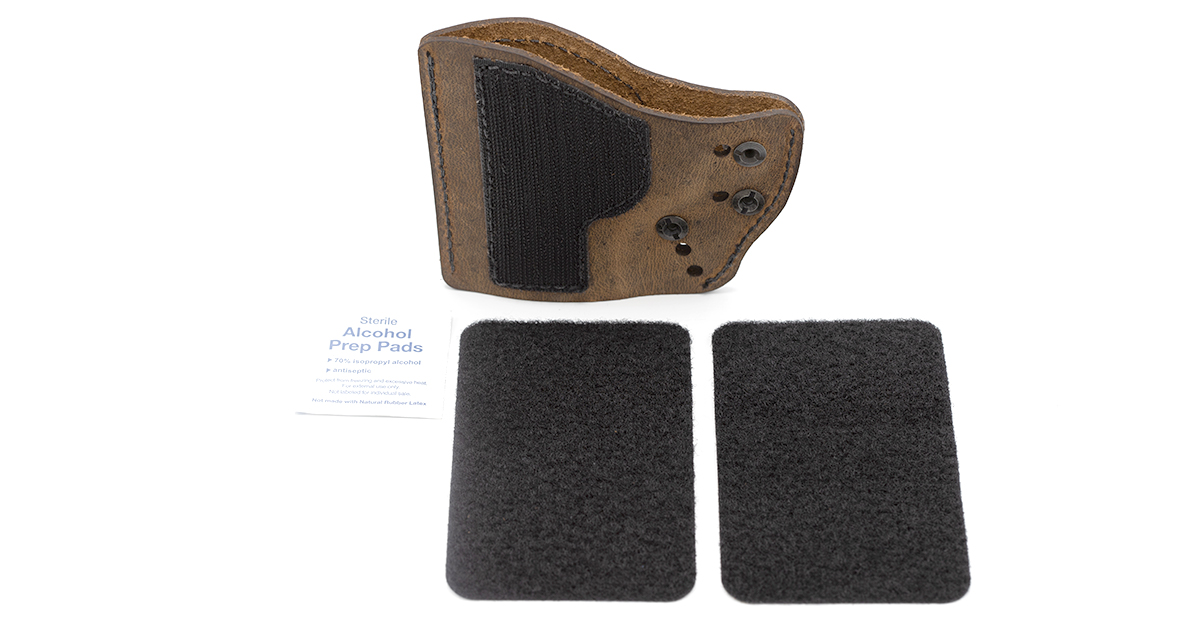 Speaking to the concept of versatility and providing solutions for all, the Versacarry Modular Bag Holster caters to those looking for off-the-body carry solutions. Typically, when we hear this, our minds go straight to conceal carry purses designed for women. While certainly able to be used in a purse, this holster is also quite handy for use in briefcases, laptop bags, and backpacks. The included pair of Velcro patches are placed inside the bag (or purse) of your choice, which keeps the holster secure. This holster, made from high-end buffalo leather, has double-sided Velcro patches incorporated into its construction to your carry gun safely as you travel to and from work. Additional Velcro pads are available for purchase should you wish to use this method in multiple bags. MSRP $30.
Multitool OWB Holster
Short on pocket space? Holsters aren't just for guns anymore with Versacarry's Multitool OWB Holster. This holster, made from the same fine buffalo leather as many Versacarry holsters, slides right onto any 1.5-inch-wide belt. Helping to keep your EDC gear organized and easily accessible, the Multitool OWB holster has three slots to accommodate your flashlight, multitool, and pen. Your multitool is kept secure with a retention strap similar to the one used in the Trooper OWB holster while the light pouch can accept lights with a 1-inch diameter tube. Upgrade options are available should you wish to add on the Versacarry light and pen combo to your order. MSRP $44.99.
Compound Deluxe (IWB) Holster
Why choose between leather and polymer when you can have both? The Compound Deluxe IWB holster combines the best of both worlds by sandwiching a layer of tough polymer between two layers of high-end buffalo leather. Comfortable, classy, and tough as nails, this holster will keep its shape through years of use. Additional features include a forward draw cant, adjustable tension, and raised backing for additional comfort and protection. MSRP $69.99.
Zerobulk® Pro (IWB/OWB) Holster
Geared towards those who prefer more of a minimalistic approach to their gear, the Zerobulk Pro Holster fits the bill. This high-speed, low-drag dual IWB/OWB holster is made from buffalo leather, which wraps around both sides of the trigger guard and is held in place up top by industrial strength magnets. A bonus feature of the Zerobulk Pro is the handy clip that allows for removal without taking off your belt — another reason why this option is touted as one of the most comfortable offerings from Versacarry. MSRP $44.99.
Shoulder Holster w/ Double Mag Pouch
Versatility is proven once more with Versacarry's Shoulder Holster and Double Mag Pouch set up. When carrying on your waist isn't an option — be it due to physical limitations, comfort, disability, or personal preference — this system ensures you have easy access to your sidearm. Constructed of buffalo leather and fully adjustable, you will find retention straps on both the holster and magazine pouches to keep everything secure. The mag pouches can accommodate both single-stack and double-stack mags while the holster accepts a wide array of handguns with or without optics. MSRP $219.99.
Adjustable Pocket Holster
Keeping it classy with its dual-colored buffalo leather build, this Adjustable Pocket Holster tucks easily into your pocket and is held secure upon draw by the built-in Kydex retention claw. This holster ships with three different sized Kydex claws, allowing the user to adjust retention based on their specific firearm and clothing choices. MSRP $44.99.
Comfort Flex Deluxe (IWB) Holster
Comfort, structure, and style come together in the Comfort Flex Deluxe IWB holster. With the same tough polymer layer sandwiched between layers of buffalo leather similar to the Compound Deluxe holster, the Comfort Flex Deluxe has one additional feature. The backside is not leather but instead a closed-cell foam padding. This padding rests against the skin, providing all-day comfort while acting as a barrier for sweat. Additional features include forward cant, adjustable tension, optics compatible fit, and more. MSRP $64.99.
Protector S3 (IWB/OWB) Holster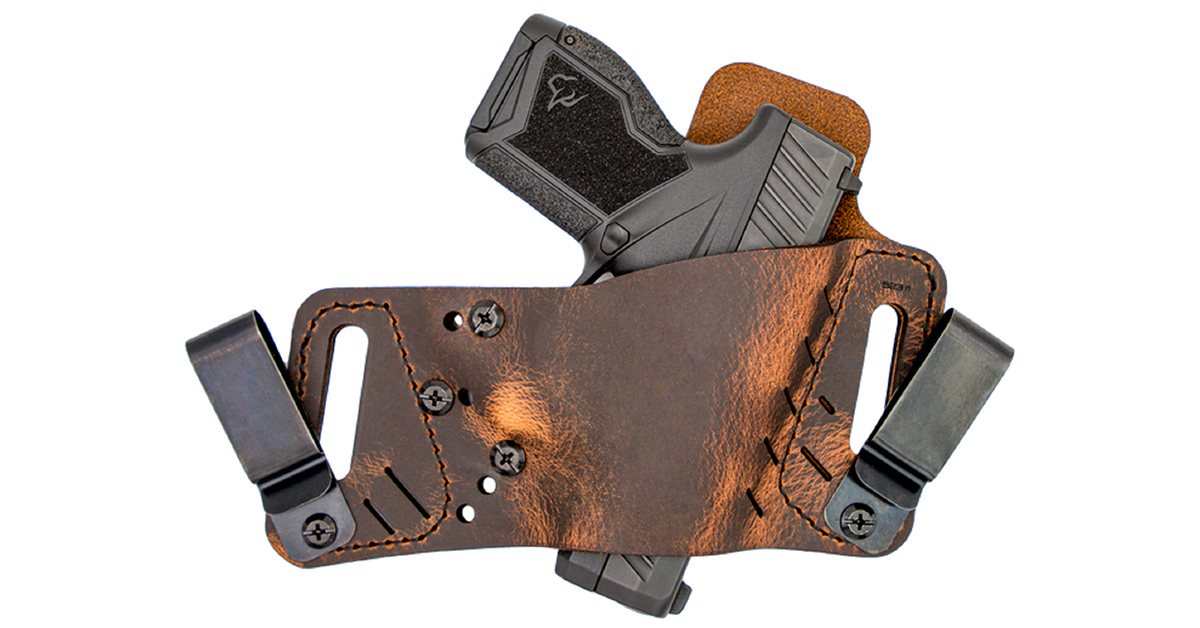 Available in your choice of black or brown buffalo leather, the Protector S3 Holster has all of the bells and whistles when it comes to versatility and getting a fit that is just right. Carried IWB or OWB on a 1.5-inch belt, the holster can be removed without taking off your belt via the easy on/off clips. Adjust to fit your specific firearm while dialing in for optimal tension. The raised backing adds an additional layer of comfort and protection during use. While not optics compatible, this holster has become a favorite amongst many for year-round carry. MSRP $54.99.
Revolver (OWB) Holster
Knowing that not everyone carries semi-autos, Versacarry caters to those who favor a wheel gun as their EDC gun of choice. Featuring dual-toned brown and black buffalo leather, the Revolver OWB holster is worn OWB on a 1.5-inch-wide belt. Like the other holsters manufactured by Versacarry, features abound, such as adjustable tension, forward cant, raised protective backing, and more. MSRP $54.99.
Rapid Slide Micro (OWB) Holster
Built specifically for the smallest of carry guns, the buffalo leather Rapid Slide Micro OWB holster is made for micro guns, specifically those similar in size to the Ruger LCP, Smith & Wesson Bodyguard, Sig Sauer P238, and many others. Despite this holster being minimalistic in its approach, it does include a spare magazine pouch. This is a bonus given that guns of this size typically have reduced capacity. MSRP $34.99.
Versacarrier® Magazine Holder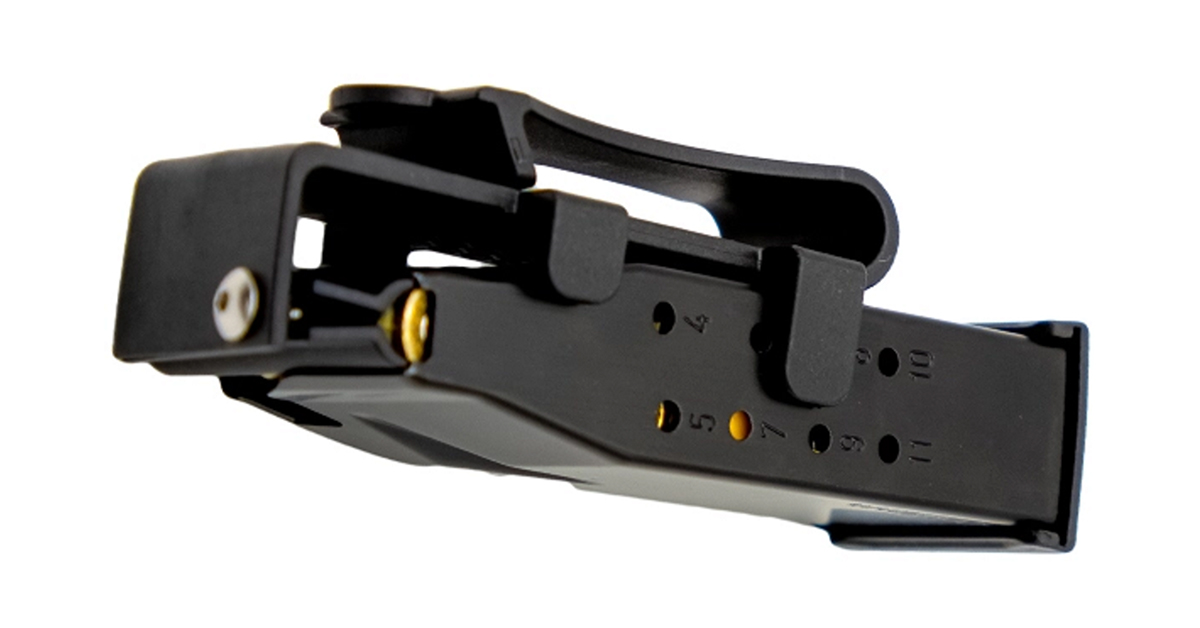 Perhaps one of the most innovative and minimalistic approaches to a magazine pouch or retention device of any sort, the Versacarrier Magazine Holder uses the little bit of space remaining in a magazine once filled with ammunition (partially or to capacity) in which to affix itself… similar to inserting another round of ammunition. The holder and magazine are then secured to your belt, either OWB or IWB style, just as you would any gun holster via the built-in clip. Upon drawing, the holder remains attached to your belt as the magazine lifts off the device. The Versacarrier Magazine Holder is available in your choice of a single- or double-stack in either 9mm, .40 S&W, .45 ACP, or .380 ACP. MSRP $19.99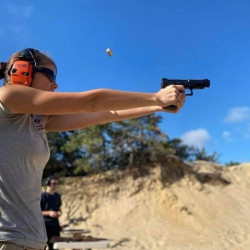 Latest posts by Barb Melloni
(see all)