Bone-Dri long gun and pistol cases are a multi-functional solution for firearm transportation and protective storage
by Rob Reaser
We can't always run from the rain. Hunters understand this well enough, and so do dedicated competitors and personal defense practitioners. Simply put, "wet happens." And wet, of course, is the enemy of iron — something that guns have in abundance.
Diligent gun owners work hard to mitigate rust formation on their firearms. This is accomplished by thoroughly cleaning and lubricating rifles, shotguns, and handguns after every range session or field excursion. It is not always possible, though, to tend to our guns immediately after exposure to rain or high humidity conditions.
My first lesson in wet weather gun care came in my 8th grade year, and I believe it was my first year solo hunting for whitetail with a rifle. The weather was particularly atrocious, with steady rain and 40-degree temperatures. Back at camp, my uncle Bill told me to spray my 94 Winchester down with WD-40. I didn't understand the concept of water displacing oil at that time, but I did as he told me. What a stinky mess. I didn't get a deer that year…probably because the stench of that oil-soaked gun scared any respectable buck into the next county.
I understand now that water displacing oil can get the job done when it isn't possible to do a thorough drying of a wet gun. Using it, though, makes for a sloppy and smelly gun. So, when we came across a new line of gun cases earlier this year that promised to solve the wet gun dilemma, it piqued our interest.
Bone-Dri represents a new line of gun cases that serve the dual purpose of safely storing your gun for transport and, more importantly, offers a means to eliminate rust-causing moisture that may have settled deep inside your gun in areas you can't reach without a complete disassembly.
The company makes several products, including single and double long gun cases, a shotgun sleeve, handgun case, range and tool bag, and a gun and ammo bag. On the surface, these products a smart solution for normal storage and transport. The difference is found sewn inside the nylon panels of the cases and bags.
Inside, each Bone-Dri product hosts numerous Absorbits packs. These are desiccants (silica gel) sandwiched between moisture-wicking nylon. As with any desiccant packets, Absorbits attract and capture moisture. So, in the case of Bone-Dri gun cases, the Absorbits packs that are sewn into the case panels absorb any moisture on or inside a gun. The company claims the process takes anywhere from 6 to 24 hours, depending on the amount of moisture and its location in the firearm.
Of course, we had to sample the products and try them for ourselves.
We started with the Bone-Dri Rust Prevention Handgun 2.0 case. This is sized to hold a couple handguns and five magazines.
One side of the case has elastic mag loops.
The other side secures one or two handguns with a loop-and-hook tab.
For our test, we gave our Sig Sauer P320 a solid soaking with a spray bottle. We applied water 360 degrees to ensure a thorough wetting down and to make sure water entered into the slide assembly and receiver. The next step followed Bone-Dri's instructions to wipe down the gun as thoroughly as possible in a field condition. This eliminated the bulk of the water but left ample moisture in the sharp corners and tight places of the gun.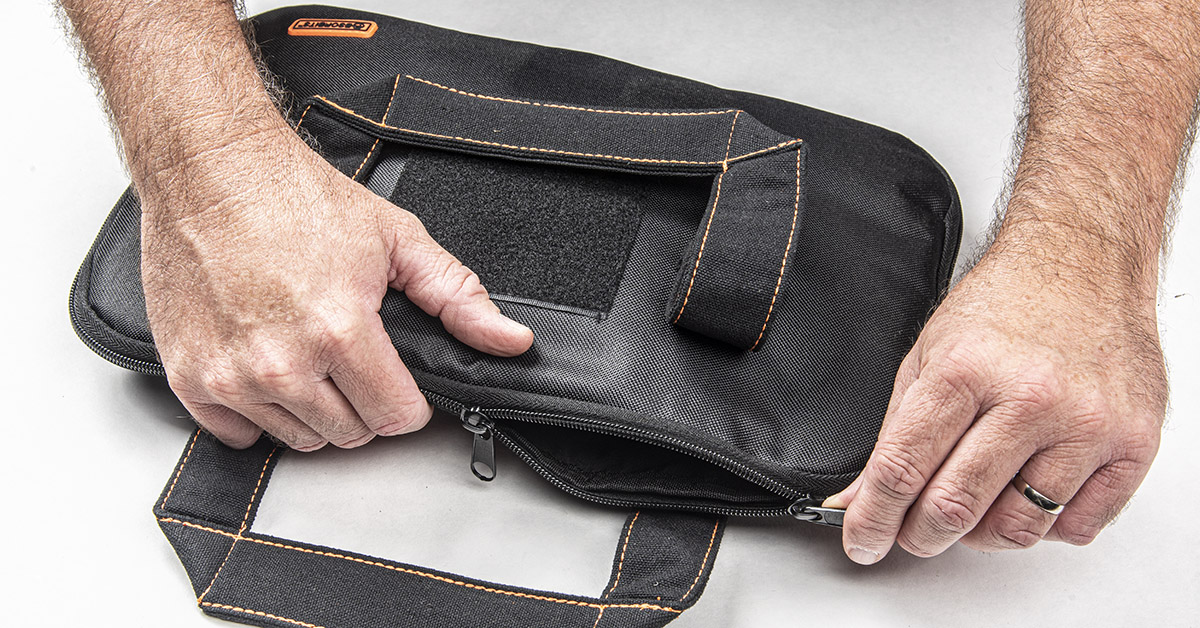 Next, the still-damp Sig went into the bag. We allowed six hours of storage for the Absorbits packs to do their thing. When the time had passed, the gun was removed, field-stripped, and examined for any remaining moisture. None was found and the only "gleam" seen on the metal was the light lubricant coating from our previous cleaning session.
Keep in mind that Bone-Dri cases need not be used only for wet guns. They can also be used for daily storage of your firearms to combat humidity and condensation much like an electronic humidifier in a gun safe.
Obviously, there is a limit to how much moisture the Absorbits desiccant can absorb until it is rendered ineffective. The good news is that, as with other desiccant packs, these can be indefinitely "recharged" by allowing the open cases to dry in the sun on a low-humidity day or by applying low heat from a hair dryer.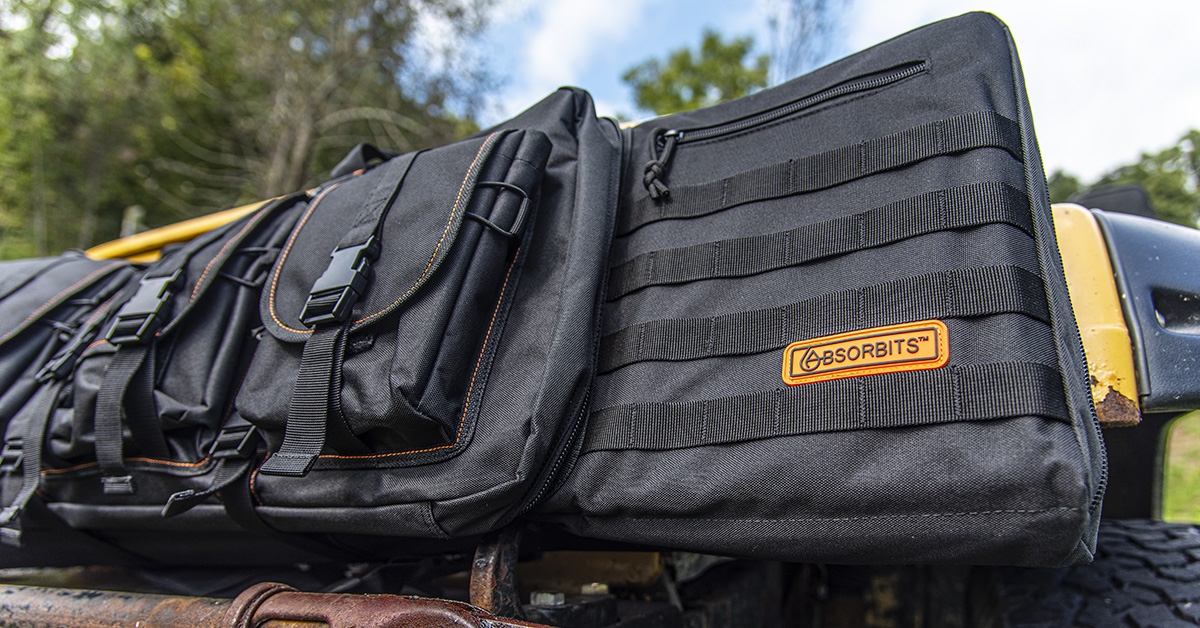 For your long guns, the Bone-Dri Rust Prevention Dual Rifle Case stands ready with the same moisture-absorbing technology as the Handgun 2.0 case.
My first impression of this rifle case was, "Wow…this is heavy." At 7.2 lbs. empty, it certainly has some heft to it, but with that heft comes a lot of features beyond the desiccant packs sewn into the interior panels. The case is made of heavy-duty 800D PVC nylon and measures 46.75 inches long, 14 inches wide, and 6 inches deep.
The primary compartment is divided by a padded panel. Buttstock and muzzle pockets work with dual hook-and-loop straps to keep guns secure during transport. By our interior measurements, the case will hold guns up to 44 inches in length.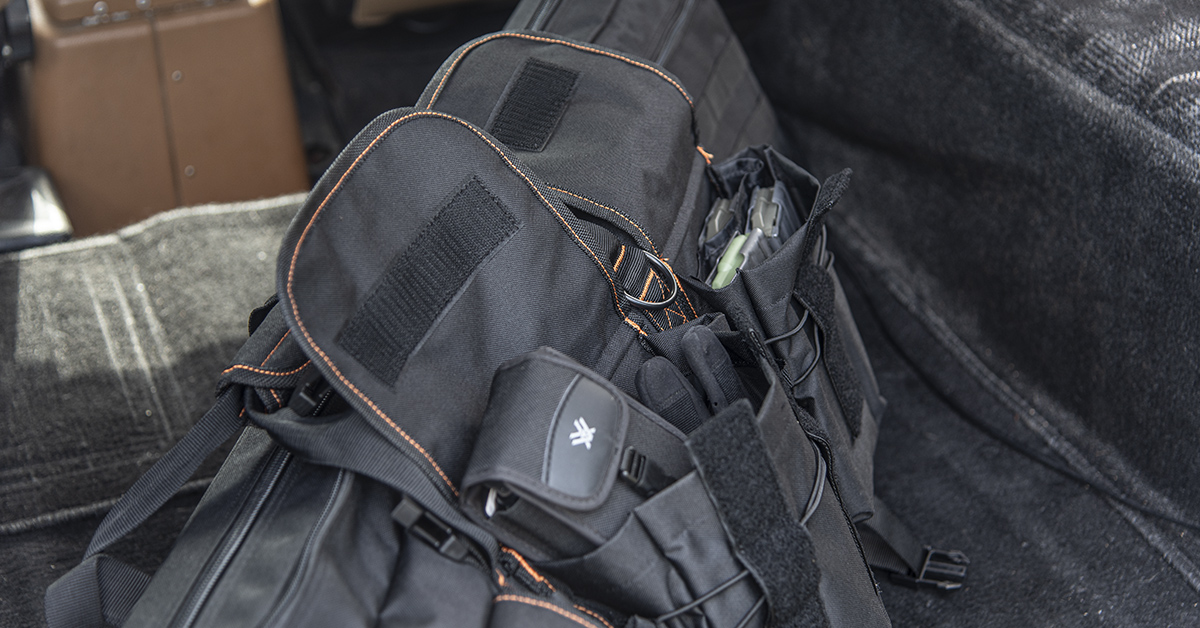 The three exterior pockets are perfect for holding magazines and other essentials. Hook-and-loop patches work with quick-release buckle straps to keep contents secure.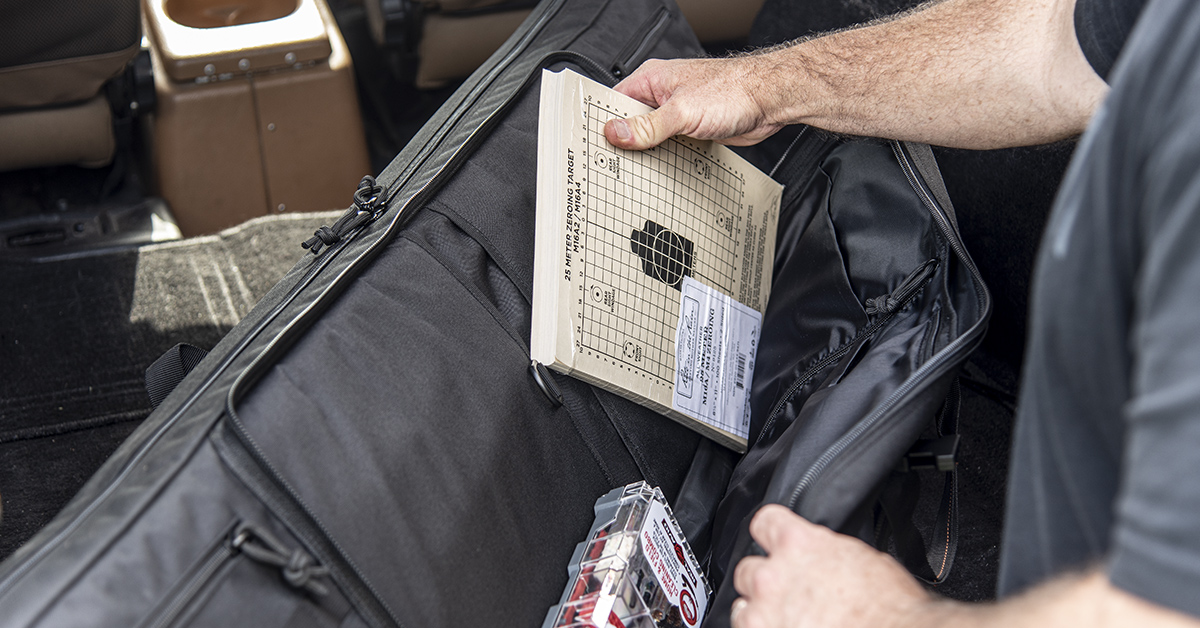 Larger items can be stowed in the secondary zippered compartment. There are also two pockets at the back of this compartment to store handguns.
For long hauls from the truck to the range, the rifle case includes padded adjustable shoulder straps and a sternum strap.
The Bone-Dri cases are not a substitute for a thorough cleaning, drying, and lubrication treatment of wet firearms. They are ideal, though, for drying out guns when you are away from the home bench, and they offer a solid home storage solution to prevent moisture and condensation that can lead to rust. For more info and to see the other dry storage products from Bone-Dri, visit their website.